MLB.com Columnist
Mike Bauman
First and foremost, Selig a true baseball fan
Commissioner's enduring legacy a product of his boundless love for the game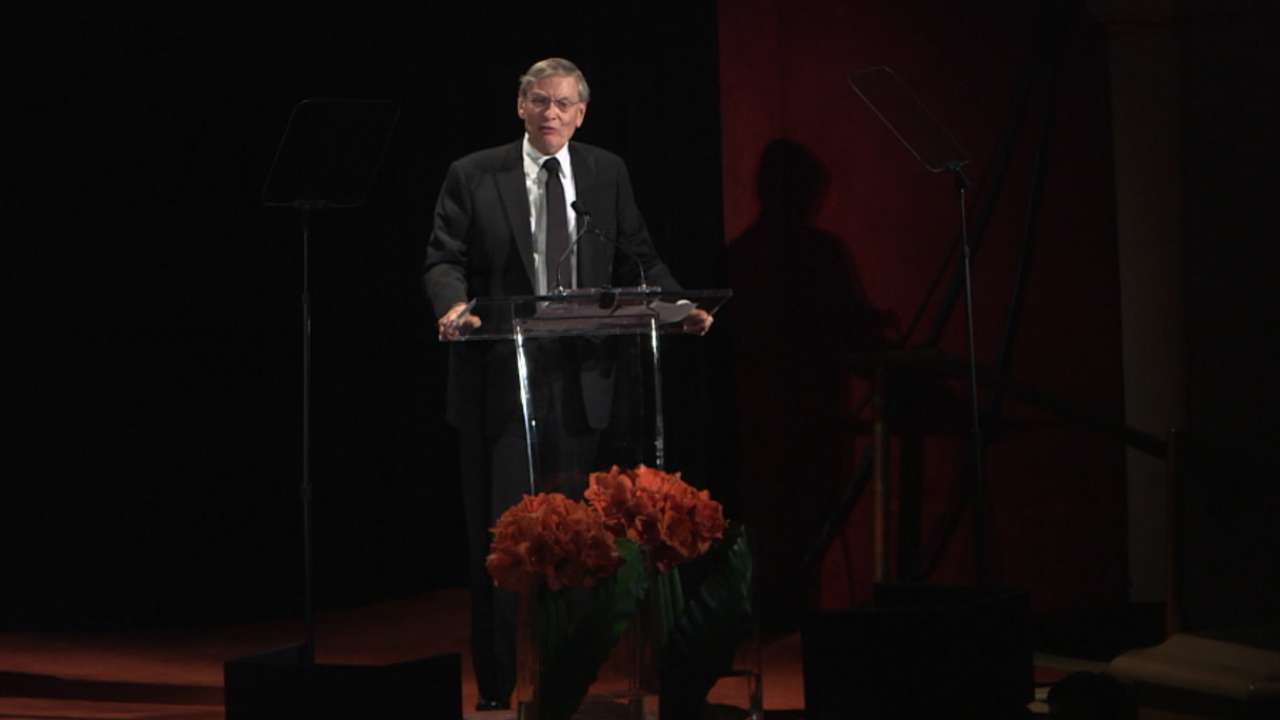 When the legacy of Bud Selig as Commissioner of baseball is the topic, there is no shortage of issues, innovations, changes and improvements up for discussion.
But one aspect underlies all of this and has informed each and every decision Selig has made in 22-plus years as Commissioner:
He is a baseball fan. He loves the game.
Having the second-longest tenure in office of any Commissioner did not dull these sentiments for Selig. He was able to take a lifelong passion for the game and make it an all-consuming vocation.
Selig, 80, will be retiring as Commissioner in January, although he will remain as an advisor to the next Commissioner, Rob Manfred, in the newly created post of Commissioner Emeritus.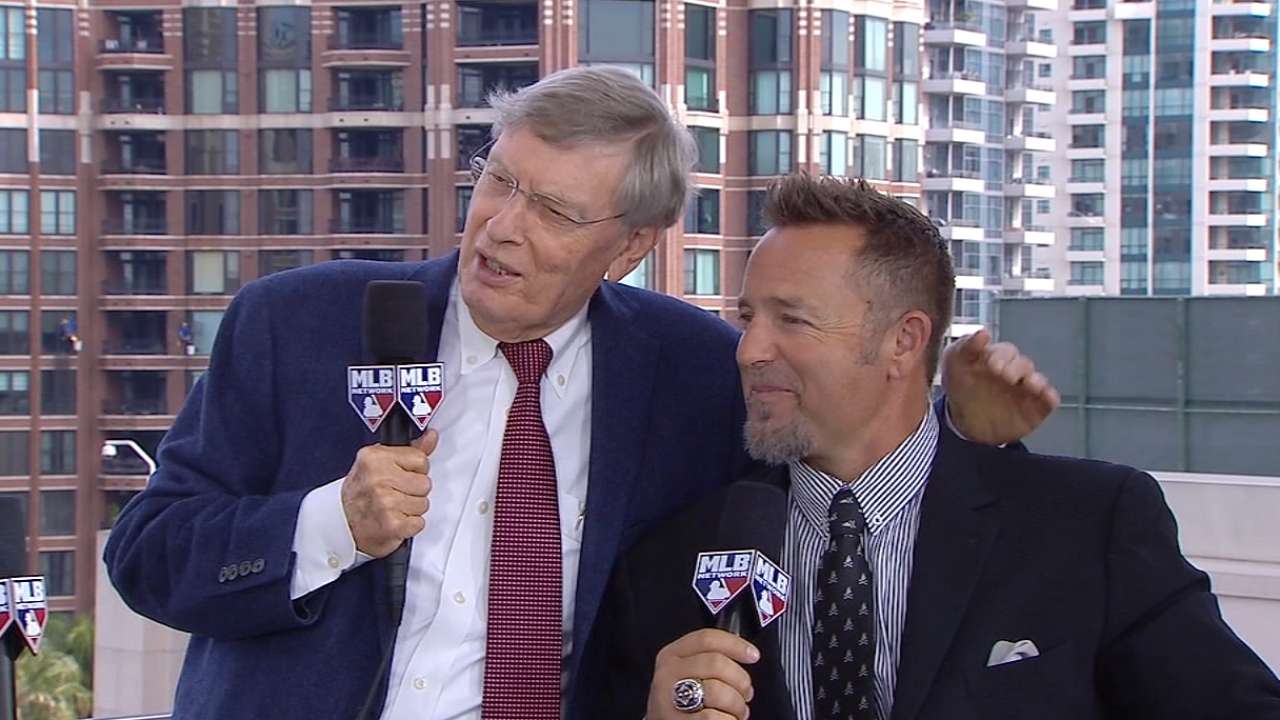 What won't change for Selig is a total commitment to baseball's continuing betterment.
"I've always said that to be in this sport, you have to have an abiding passion for it," the Commissioner said. "If you don't have that, you shouldn't be in it.
"I have always been a fan at heart. I have always loved the game."
The truth is, the man who was later to champion the cause of small-market franchises with an economic reform of the game was, as a youngster growing up in Milwaukee, a Yankees fan.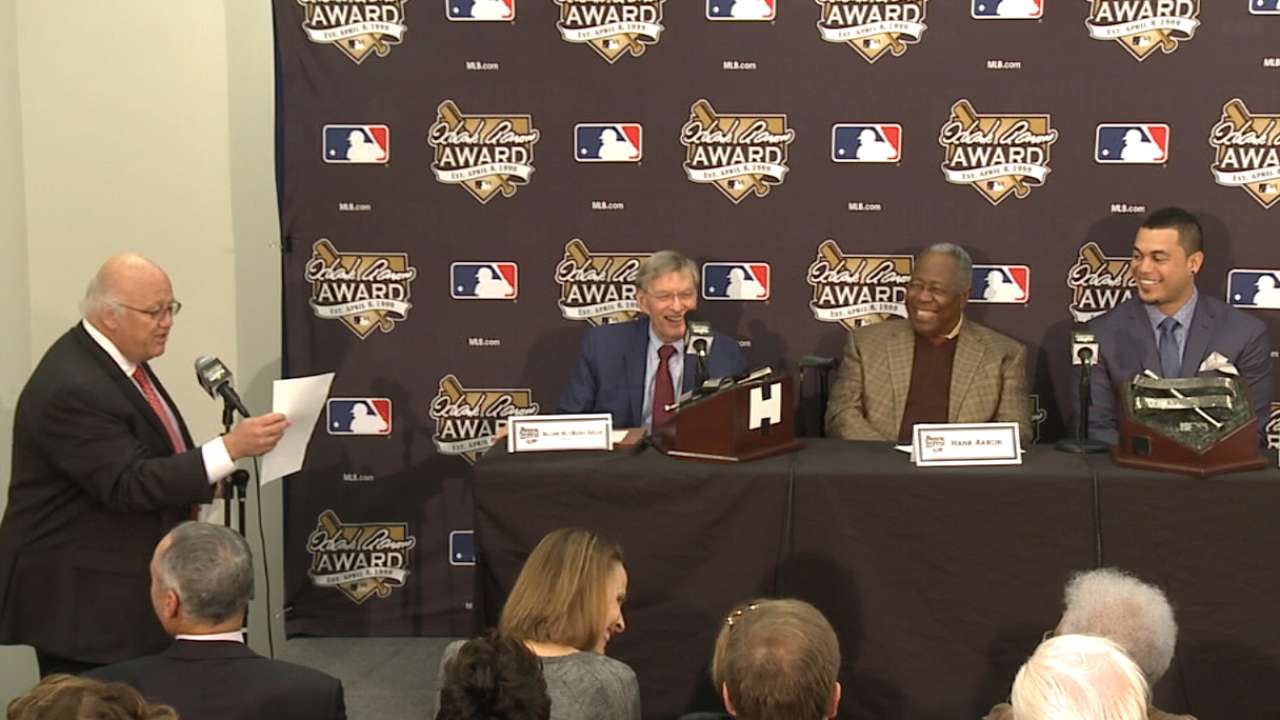 One of his favorite players on the Milwaukee Brewers, then an American Association team, was outfielder Hershel Martin, who played with the Yankees in 1944 and '45. The young Selig also became, like much of America, a big fan of Joe DiMaggio.
Selig's love for the game was fostered by his mother, Marie, who frequently took him to Brewers games at old Borchert Field. In 1949, on his 15th birthday, Selig's mother took him to Yankee Stadium. A huge birthday cake was brought out onto the field -- but not in honor of the young fellow from Milwaukee. It was also Casey Stengel's birthday.
On the same trip, Selig made excursions to the other shrines of New York baseball, Ebbets Field and the Polo Grounds. Then he and his mother went to Boston, a portion of the trip that was to be part American history lesson and part visit to Fenway Park to see the Red Sox host the Yankees.
But when the Seligs arrived at the ticket booth at Fenway, the man in the booth said: "Sorry, lady. We're sold out," and slammed the window shut.
This episode had a delayed happy ending. Thirty years later, Selig, then owner of the Brewers, took his mother to a game at Fenway Park. This time, they had tickets. His mother, in fact, had a seat next to the Red Sox's dugout. She turned to her son and said:
"It's a little different than 30 years ago, isn't it?"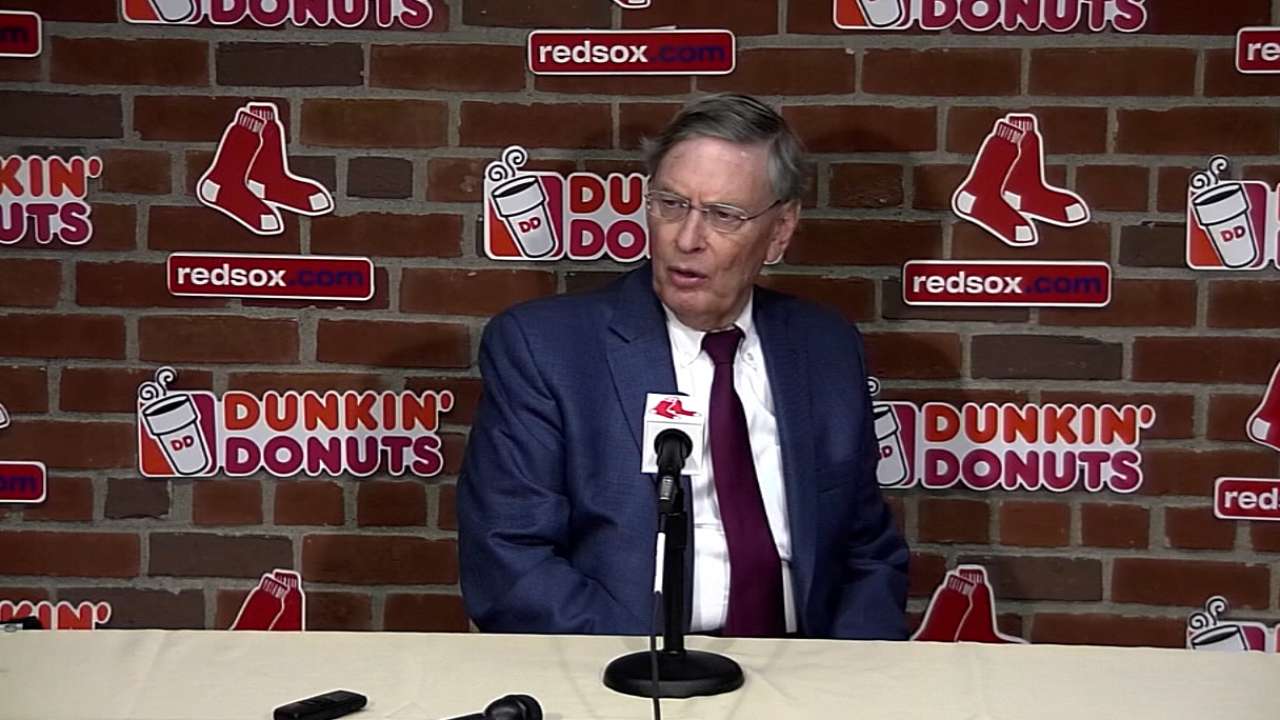 Selig was among those describing themselves as broken-hearted when the Milwaukee Braves departed for Atlanta after the 1965 season. He put together a group of leading civic and business figures in an effort to obtain another team for Milwaukee. After more than five years of frustration, the group bought the Seattle Pilots out of bankruptcy court in '70. After everything else Selig has achieved in baseball, he still describes returning baseball to his hometown as his proudest moment in the game.
Selig's endless affection for baseball has guided him through every decision he has had to make in more than two decades as Commissioner. He has always understood that ownership of the game is a temporary condition -- that the game is there to be maintained and nurtured for those in a position to do so.
For Selig, the phrase "best interests of the game," is not merely a description of how the Commissioner may employ his powers. It is, instead, a way of life.
"Those of us who have had the opportunity to be caretakers of baseball for some time have been fortunate," Selig said in a recent interview with MLB.com. "As I've said to the owners many times, the best interests of the game should always be paramount. The best interests of baseball have to transcend everything else. Protecting the game in every way is always essential, always paramount."
Mike Bauman is a national columnist for MLB.com. This story was not subject to the approval of Major League Baseball or its clubs.