Wild ride back to October shaped Bucs in 2014
Year in review: Harrison's All-Star campaign among Pirates' top 5 storylines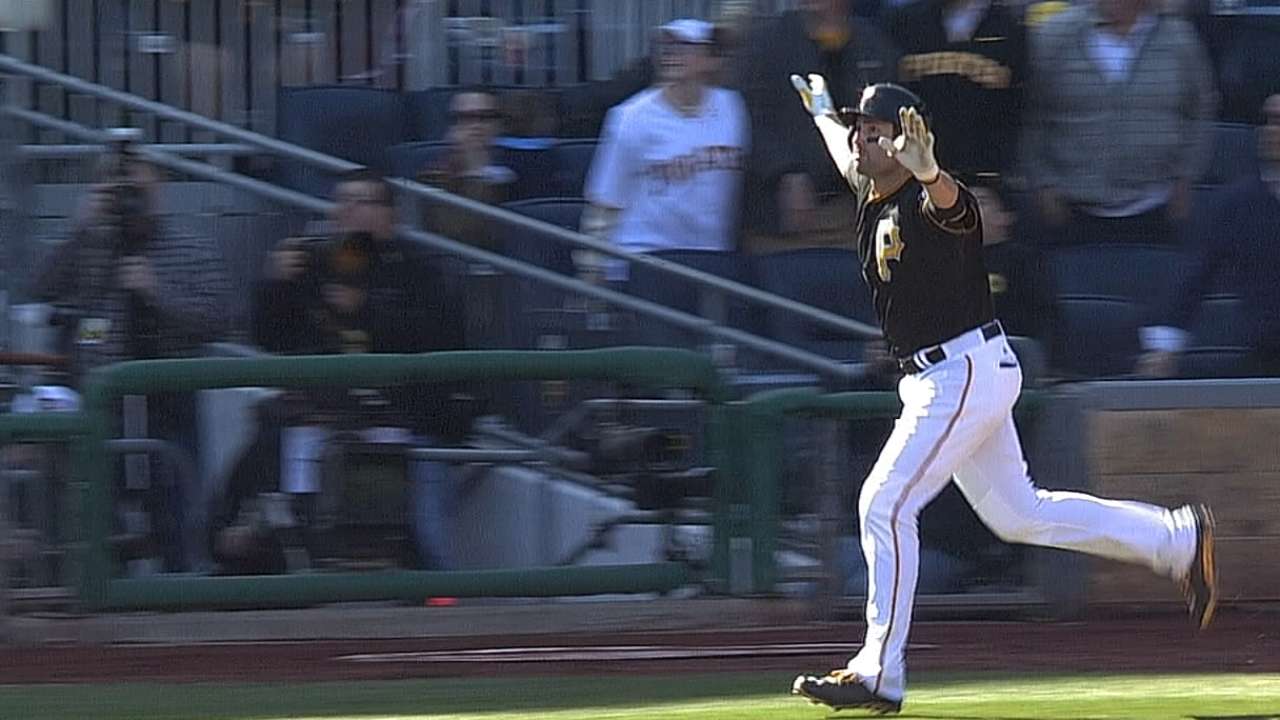 If 2013 was a "historically" good season for the Pirates, as manager Clint Hurdle often portrays it, the 2014 return to the playoffs was a "tenaciously" good season.
The Bucs dealt with everything from emotional and physical injury to disillusioning episodes on the field. In mid-June, they still reposed below .500, and chances of digging out were not promising, with only one cog of their season-opening rotation still standing.
As late as Aug. 19, the Pirates had only two more wins than losses, in stark contrast to that historic '13, when they boasted the Majors' best record for much of the summer. The significant regression that had been almost universally forecast for them appeared to be a very real possibility.
"We have to do a lot of digging," Hurdle said from the hole.
Everyone got their hands dirty. For the longest time, the Pirates bailed just enough dirt to keep the hole from getting deeper and to remain in position to pounce. On Sept. 5, they did, taking off on a 15-3 tear through the Sept. 23 clinching of a return to the postseason.
"I loved the club last year, but I love this one for a lot of different reasons," Hurdle summarized. "The resiliency of the guys who continued to post up. We took some severe hits, and responded with tremendous pushes from a number of different guys."
Here are the top five storylines from a season that again ended in October.
5. And in closing ... : Countless contenders have been sunk by the crash of their closer, arguably the most critical and irreplaceable cog of the modern baseball machine. So when injury and control issues ganged up on '13 All-Star Jason Grilli, the Bucs' prospects looked dim.
The Pirates were in fourth place when Grilli, having already lost his job, lost his Pittsburgh uniform, traded to the Angels. That's when Mark Melancon became one of those post-up poster boys. Despite not picking up his first save until May, Melancon wound up eighth in the National League by saving 33 games. He also saved the Bucs' bacon.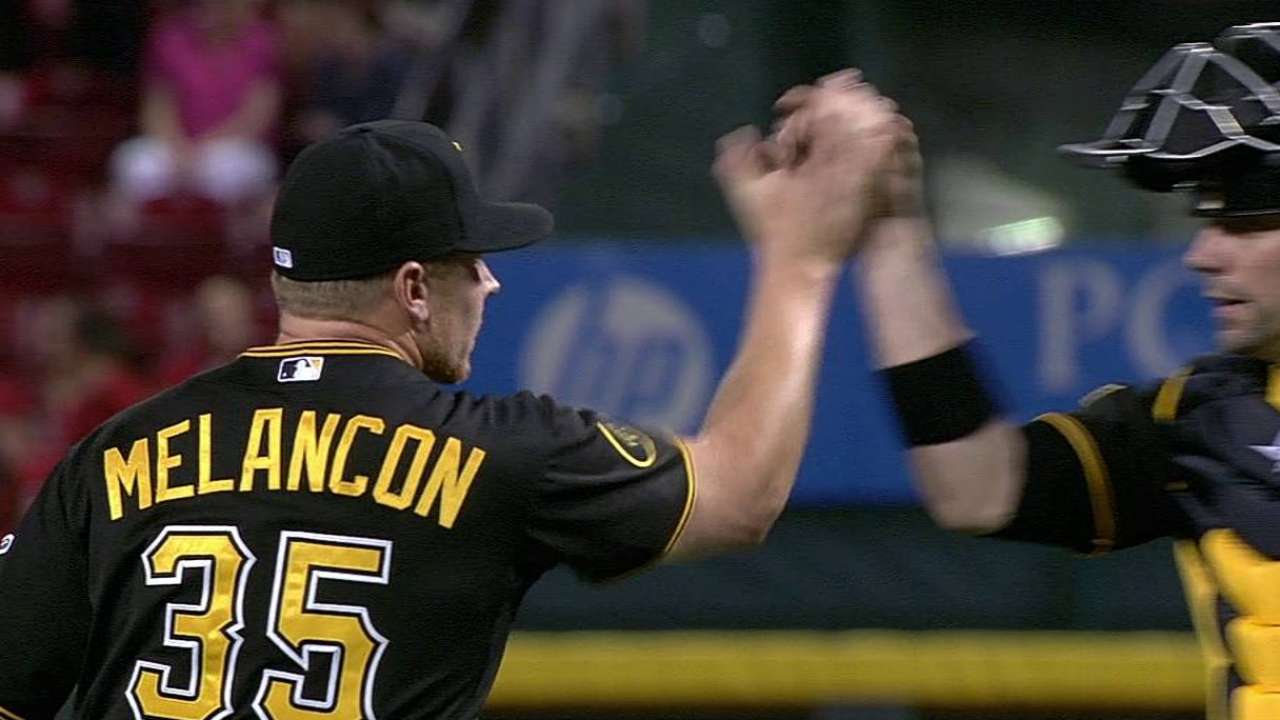 4. The man behind the mask: As the stop-and-go summer wore on, people turned on their hindsight to try to explain the slow start still weighing the Pirates down. They overthought it, because they could have stopped at two words: Russell Martin.
A team that finished the season 14 games over .500 was 25-30 when Martin did not start behind the plate. Most of those misses came early, when he dealt with a sore left hamstring that eventually landed him on the DL for a month, late April into May. The whole package -- chaperoning pitchers, getting on base or driving others in, the spunk -- was missed, before it became the Pirates' fuel.
3. The W(orley)-L(ocke) record: Meet two reasons general managers always say you can never have enough pitching. Jeff Locke had fallen so far off the Bucs' map, he was virtually invisible in Spring Training. Vance Worley was a small-type late-spring pickup from the Twins after he'd been rocked in exhibition games. Both were on back burners without a pilot light.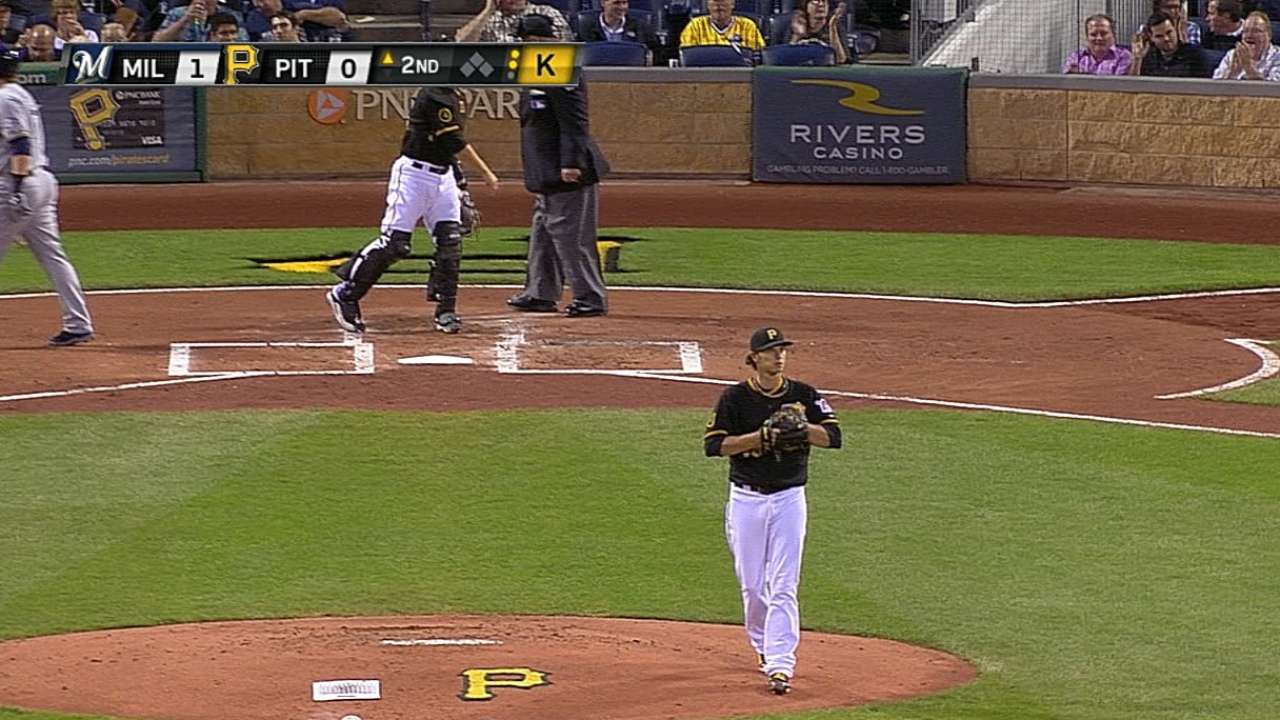 Then Gerrit Cole went on the DL on June 8 and Francisco Liriano followed on June 11. Here came Locke, followed by Worley. The Bucs won six of their first eight starts, and 23 of their 38 total. Without them, September and October doesn't happen for the Bucs.
2. The Polanco splash (subtitled: Snider to the rescue): If general manager Neal Huntington considered the early-season cry for Gregory Polanco deafening -- and he did, saying he was "getting beat up" for keeping Polanco down on the farm -- he really had to cover his ears through the prospect's introduction. The "I told you so!" chorus was in amplified mode as Polanco debuted with an 11-game hitting streak, a career-opening club record.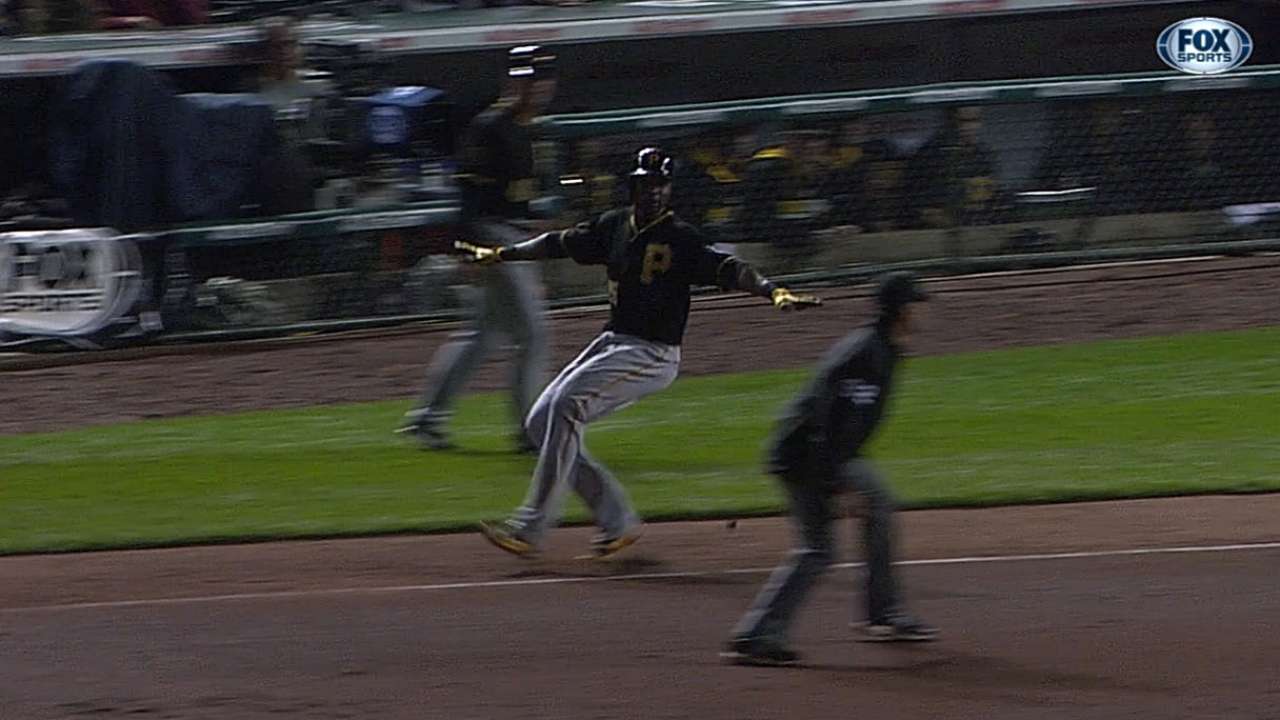 Then, quickly, Polanco was collared by the adjustment police, as big league pitchers began finding and exploiting his holes. His average dipped below .300 by late June, he eventually lost his starting job, and he batted .130 between Aug. 10 and Sept. 13, with a Minor League demotion mixed in there. Yet it wasn't a damaging slump because Travis Snider came off the bench to hit .305 during the same stretch as the old-new kid in right, injecting new life both into the Bucs and into his career.
1. Say, the J-Hay Kid: In Spring Training, the Pirates seemed to be looking for a reason to move past Josh Harrison, a three-season utility player who spent 2013 shuffling more between Pittsburgh and Indianapolis than between positions. Six weeks into the season, Harrison still had only eight starts and 51 at-bats.
Then necessity invented an All-Star. From that point on, Harrison missed five of 120 games, at first still rotating positions then dropping anchor at third base, and batted a high-energy .318.
He drove in runs and drove the opposition crazy, particularly on two occasions when he beguilingly survived no-chance rundowns between second and third.
"Those rundowns were the definition of our season," teammate Chris Stewart said. "No matter the situation, we never felt we weren't going to get out of it."
Tom Singer is a reporter for MLB.com and writes an MLBlog Change for a Nickel. Follow him on Twitter @Tom_Singer. This story was not subject to the approval of Major League Baseball or its clubs.