Hello, goodbye: 5 storylines that defined White Sox in 2014
Abreu's arrival, Konerko's exit among most memorable moments
CHICAGO -- A 73-win effort during the 2014 season represented a 10-victory increase for the White Sox from the previous campaign. But as part of the ongoing reshaping process under Rick Hahn's direction, this effort really stood as another small step toward the overall goal of sustained excellence and the potential to win multiple World Series championships.
With that target in mind, an argument could be made that the plethora of offseason moves engineered by Hahn, chairman Jerry Reinsdorf and executive vice president Ken Williams rank just about as exciting as the team's most recent body of on-field work. Of course, there were some standout individual accomplishments en route to the fourth-place finish in the American League Central.
Jose Abreu was even better than expected, and the expectations were set pretty high for the free agent from Cuba. Chris Sale moved closer to the inevitable, finishing third in the AL Cy Young Award voting with a 12-4 record and 2.17 ERA during a 26-start performance that was shortened by a flexor mass muscle strain. Meanwhile, Adam Eaton established himself as a top leadoff hitter.
On the flip side, the bullpen struggled and Avisail Garcia was out from April 10 to Aug. 16 after suffering a torn labrum and an avulsion fracture in his left shoulder while diving for a ball in right field at Colorado. Along with the good and the bad, here are the top five White Sox storylines from 2014:
1. A man on a mission
When the White Sox began this reshaping process at the 2013 non-waiver Trade Deadline, the sort of unofficial target date for contention was the 2016 season. But apparently Hahn, Williams, Reinsdorf and everyone else in the organization was tired of losing after 188 setbacks over two years. So they sped up the process over the past two months.
It all began with the addition of left-handed reliever Zach Duke via a three-year, $15 million deal. First baseman/designated hitter Adam LaRoche joined the team on a two-year, $25 million deal, followed by the acquisition of right-handed starter Jeff Samardzija from Oakland in a six-player trade and the signing of closer David Robertson to a four-year, $46 million deal. Left-handed reliever Dan Jennings was acquired from the Marlins, and outfielder Melky Cabrera came on board with a three-year, $42 million agreement. One need after another was checked off by Hahn, who still might not be done with a little less than two months to go before Spring Training.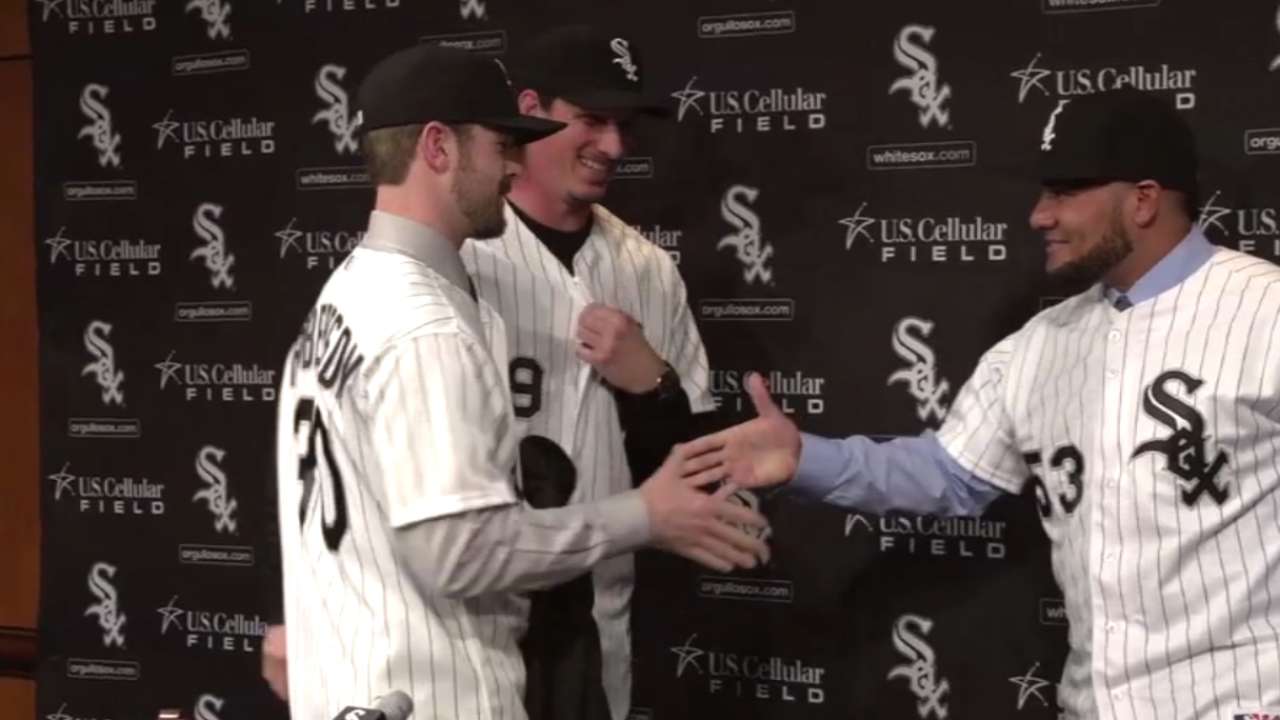 2. Konerko says goodbye
The illustrious 16-year career with the White Sox came to an end for the man nicknamed "King" by his teammates. The captain bowed out with his typical understated graced, replaced by Andy Wilkins at first base during the fifth inning of the season's final contest at home against the Royals. Konerko acknowledged the thunderous standing ovations with a couple of curtain calls and then moved on to the next phase of his life.
How important was Konerko to the White Sox? They put together a moving and highly memorable tribute ceremony prior to the season's final Saturday contest at U.S. Cellular Field, which included gifts that featured the presentation of the baseball from his 2005 World Series grand slam. They dedicated a statue to him on the left-field concourse, will retire his jersey No. 14 this coming season and created a limited-edition book commemorating his career, with proceeds going to White Sox Charities. It truly was the end of an era, with standout players rarely staying five years with a team -- let alone almost two decades.
3. Abreu arrives with a bang
Abreu battled ankle issues and the expected slowdown caused by his first season playing a 162-game schedule. Yet, he still swept every AL Rookie of the Year honor with well-deserved ease. Abreu broke the White Sox single season rookie home run mark at 36, topping Ron Kittle's 1983 total by one. His .581 slugging percentage led the Majors, and the Cuban slugger became the first rookie in baseball history to rank among the top five in his league in each Triple Crown category. He joined Hal Trosky (1934), Ted Williams (1939) and Albert Pujols (2001) as the only rookies to record at least 30 doubles, 30 homers and 100 RBIs in a season.
Now think about Abreu's potential production in 2015, factoring in an accomplished two-hole hitter (Cabrera) stationed in front of him and an equally accomplished first baseman (LaRoche) who can get Abreu off his feet as designated hitter from time to time. It should be an interesting sophomore follow-up for a man who helped propel the White Sox into this next reshaping phase.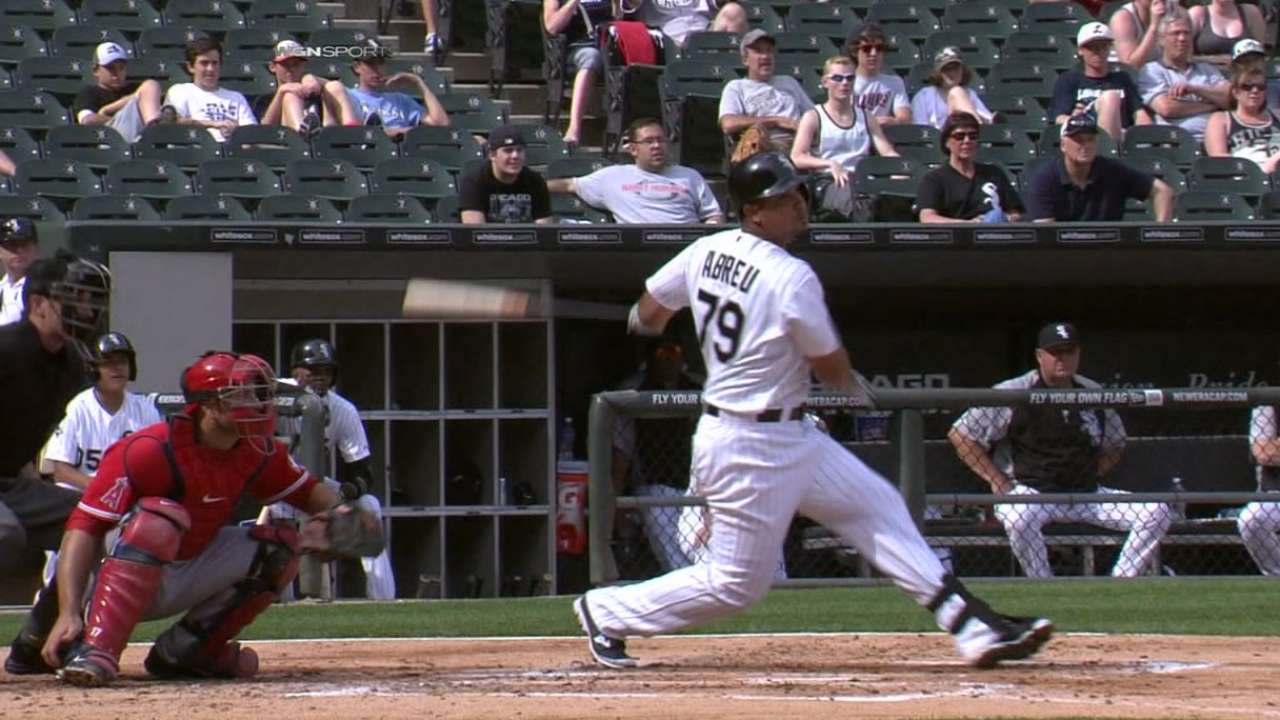 4. Cy Sale? Not quite
AL Cy Young winner Corey Kluber, Felix Hernandez and Sale were worthy candidates for the top pitching award, and that fact says a great deal about the season turned in by the White Sox southpaw. Although he missed from April 18 to May 22, Sale still finished with a 0.97 WHIP that ranked second to the Seattle ace. He struck out 208, walked 39 and yielded a mere 129 hits.
His adjusted ERA+ of 178 led the AL and his 2.57 FIP trailed only Kluber and Hernandez. Left-handed hitters finished just 20-for-121 against Sale, who had an overall batting average against of .205, with two doubles standing as the lone extra-base hits among 128 left-handed plate appearances.
Simply put, Sale is one of the game's best starters. If he stays healthy, winning the Cy Young seems inevitable.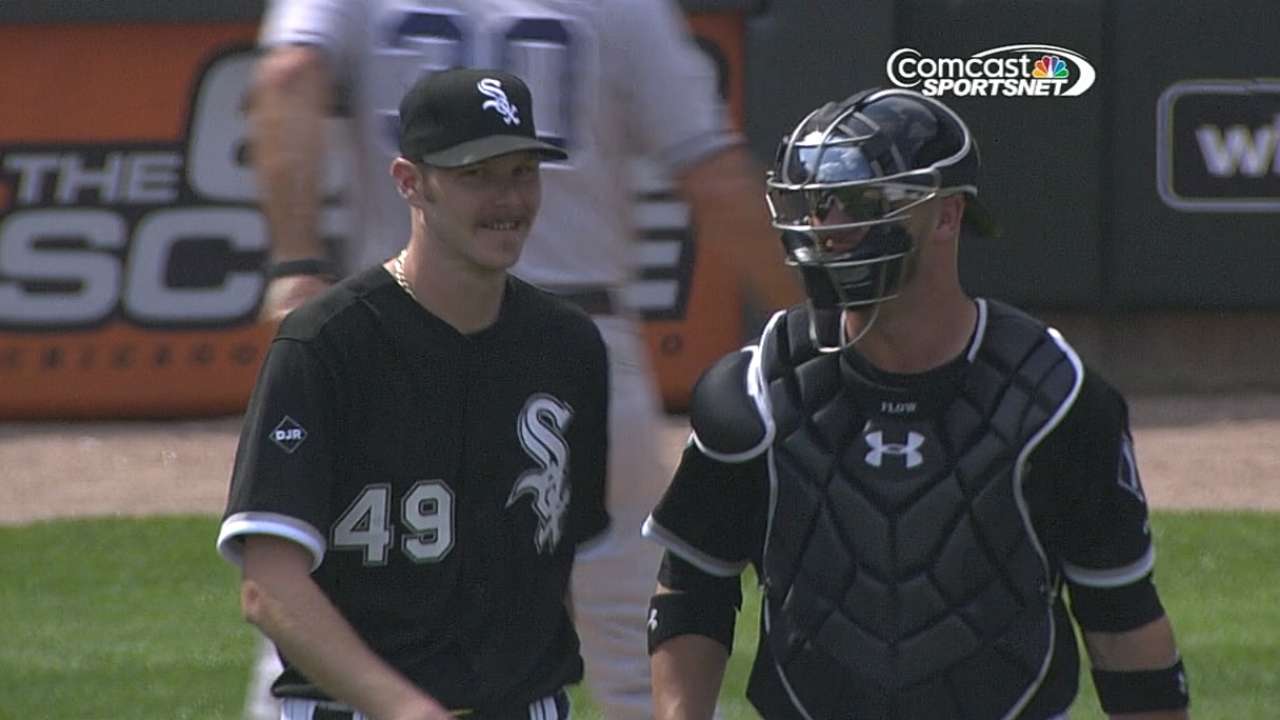 5. Thomas gets enshrined
Frank Thomas cried. He thanked 138 former teammates (unofficial count) over the final two minutes of his 18-minute speech. He professed love for his family and friends, but more than anything, Thomas relished every moment of his Hall of Fame induction.
The Big Hurt spoke in Cooperstown before an estimated crowd of nearly 50,000, along with his Hall classmates Greg Maddux, Bobby Cox, Tom Glavine, Joe Torre and Tony La Russa. One of the game's most feared hitters, Thomas received 83.7 percent of the vote from the Baseball Writers' Association of America and became the 14th member elected with the White Sox serving as his primary team.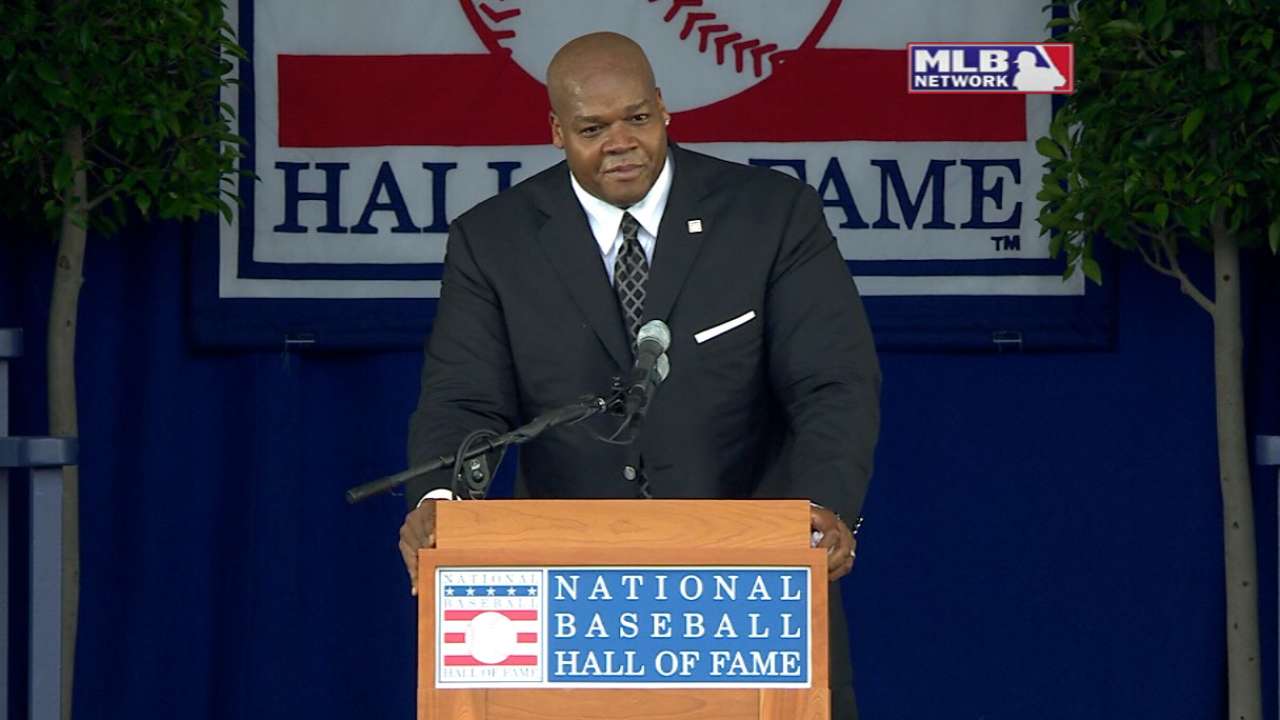 Honorable mention: Selecting a third ace
With the third overall pick in the 2014 First-Year Player Draft, the White Sox selected left-hander Carlos Rodon. Most people thought the polished product from North Carolina State would go No. 1. Most people believe Rodon will significantly contribute to the White Sox in 2015.
Honorable mention: Dunn pitches in
Adam Dunn was popular in the clubhouse, great with the media and as entertaining and cordial of a player as one could hope to find. His four years with the White Sox didn't completely pan out offensively, but Dunn's one inning of relief at home on Aug. 5 against the Rangers was one to not be forgotten. Dunn retired after the season with 462 homers.
Scott Merkin is a reporter for MLB.com. Read his blog, Merk's Works, and follow him on Twitter @scottmerkin. This story was not subject to the approval of Major League Baseball or its clubs.