Tekulve home for holidays with gift of new heart
Former Pirates pitcher can enjoy Christmas with his family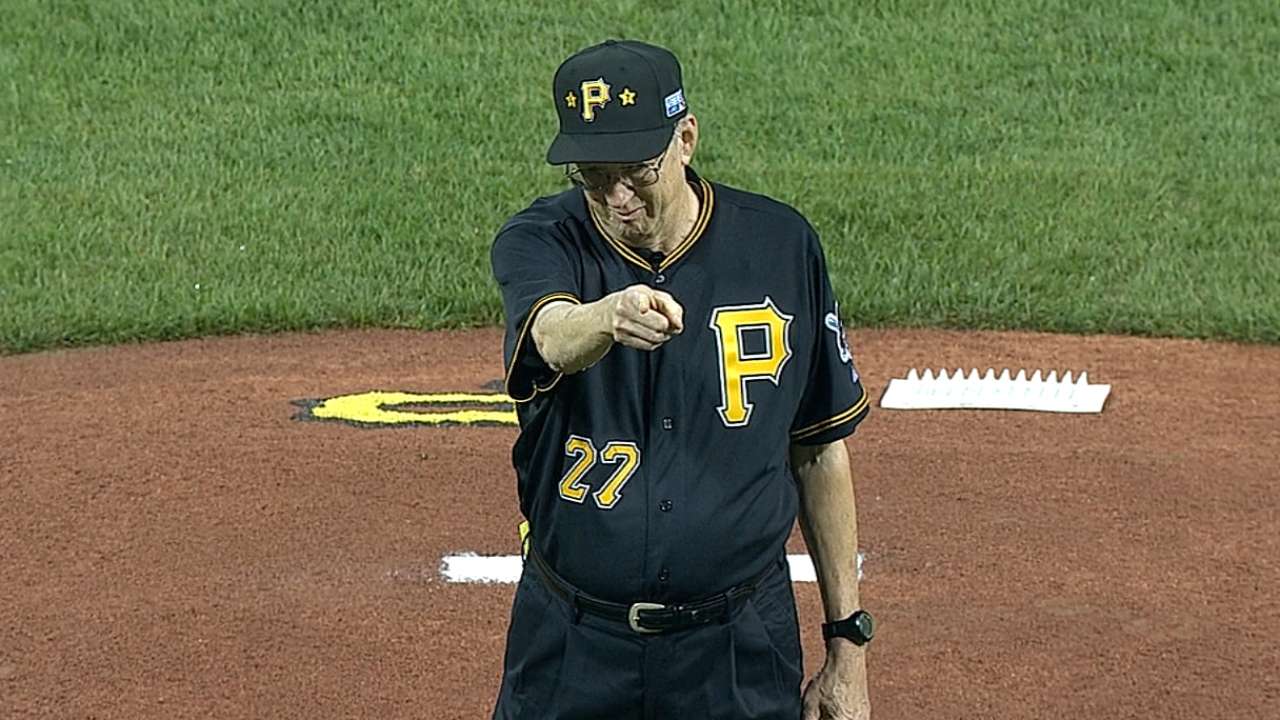 SCOTTSDALE, Ariz. -- Rain was pelting PNC Park, delaying the game and putting ROOT Sports television programming on stand-by mode. The set in a lobby flickered with images of the 1979 World Series and the gangly right-hander delivering pitches from his knee tops.
Then Kent Tekulve walked through the door and followed the gazes of the people up to the screen to see himself retiring Baltimore Orioles. The crowd on TV cheered loudly -- the crowd in the lobby cheered even louder, patting the back of Tekulve's wet raincoat.
"Who is that guy?" Tekulve asked with a broad grin, gesturing up at the TV. "Looks familiar."
Tekulve soaked up the impromptu salute with a tinge as bittersweet as possible. It was early in the 2014 season. And the former Pirates workhorse reliever and current studio TV analyst couldn't be sure whether he would have another.
He had been on a transplant waiting list for his failing heart since April, walking around with a pump circulating blood through the weakened heart muscle.
The left ventricular assist device had been inserted by Dr. Stephen Bailey after Tekulve had suffered a massive heart attack on Christmas Eve.
"My first Christmas present that day was the pump," Tekulve said.
On Sept. 5, Bailey got to again work on Tekulve -- to insert his new heart.
"When I came out of the anesthesia after the surgery and saw the doctor standing there," Tekulve said last week, "I told him, 'You know. It's a lot better seeing you this time than last time.'"
And the doc replied, "If you hadn't seen me last time, you wouldn't be seeing me this time."
Christmas this time around will be immeasurably merrier for Tekulve, thanks to his Secret Santa -- the unknown donor whose heart now beats in his chest. He doesn't know where to begin counting his blessings.
Instead of surrounding him in the hospital, his family will surround him in his South Hills home. His wife, Linda; oldest son Chris and his wife, Joanna, and their two kids; daughter Beth and her husband, Marc, and their two little kids.
"Same stuff, as all the time," Tekulve said, dryly. Not really. "Grandma [Linda] is as happy as she can be."
Tekulve, who had to take a leave of absence from his television duties in late June (Ken Macha relieved the reliever for the rest of the season), not only plans to return in 2015 but can't wait.
"Everything is going good, right according to schedule," he said of his recovery. "If the doctors aren't complaining, I'm not. I plan to be in Spring Training on the first day. Well, the third day -- I'll need to have a checkup and get the doctor's OK.
"But I don't plan on missing any days. It'll be a lot better than the last few years, when I could feel everything and I wasn't allowed to do as much as I wanted."
In a dozen seasons in the Pirates' bullpen, Tekulve made 722 appearances, most of them longer than the one inning that has become de rigueur for closers; in 1978-79, he worked in 185 games and 269 2/3 innings. So, obviously, he had great bounce-back ability.
He still does.
On Oct. 1 -- 26 days after the heart transplant -- he scaled the PNC Park mound to deliver the ceremonial first pitch prior to the Bucs' National League Wild Card Game against the Giants.
"I never anticipated that 26 days after having the transplant I'd feel anywhere near as good as I do," Tekulve said then.
He felt good physically, that is. Emotionally, he already felt the pangs.
"As soon as that game was over, I was already counting down the days to Spring Training," Tekulve said. "I had my offseason in the summer. There's still a lot of waiting to get back to doing what I love to do. It's going to be a long winter."
But a wonderful spring. The red carpet awaits.
Tom Singer is a reporter for MLB.com and writes an MLBlog Change for a Nickel. Follow him on Twitter @Tom_Singer. This story was not subject to the approval of Major League Baseball or its clubs.