Twins eye improvement under Molitor in 2015
Minnesota hopes fresh voice, stronger rotation will lead to better results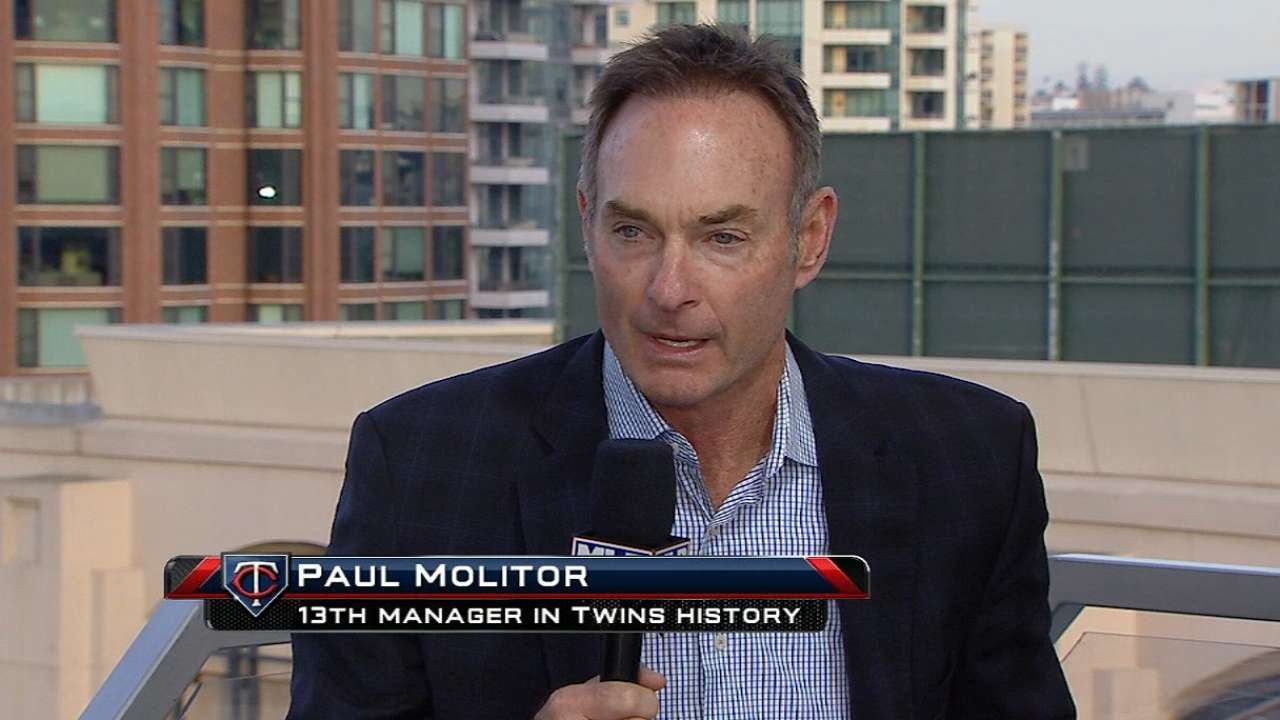 MINNEAPOLIS -- After four-straight seasons with at least 92 losses, the Twins are ready to move on to a new era in 2015 under newly hired manager Paul Molitor, who replaces Ron Gardenhire.
The Twins reached the 70-win mark for the first time since 2010, but it wasn't anything to celebrate, as it led to Gardenhire's dismissal after his 13th season at the helm. Molitor was hired on Nov. 4, and the Twins filled out the rest of his coaching staff shortly before the Winter Meetings.
With a strong farm system and the additions of Ervin Santana and Torii Hunter via free agency this offseason, the Twins are moving in the right direction. But the American League Central isn't getting any easier, as the top three clubs from last year -- the division-winning Tigers, the defending AL champion Royals and the Indians -- all figure to be solid yet again, and the White Sox have been one of the busiest teams this offseason, adding key pieces such as Jeff Samardzija, Adam LaRoche, Melky Cabrera and David Robertson.
So while the Twins should improve and the near future looks bright, the Twins will still have their work cut out for them in '15. With that in mind, here are 10 questions to consider as Minnesota heads into the 2015 season:
10. How will Joe Mauer fare in his second year at first base?
Despite moving away from catching after suffering a concussion in '13, Mauer struggled to stay healthy in his first full season as a first baseman. He missed time with a strained oblique and played in just 120 games, while hitting .277/.361/.371 with four homers and 55 RBIs. If the Twins are to surprise in '15, they'll need a big year from Mauer.
9. How much left does Hunter have left in the tank?
Hunter brings a much-needed veteran presence to the clubhouse, but the Twins also need to see production from him after he signed a one-year, $10.5 million deal. Hunter, who turns 40 on July 18, hit .286/.319/.446 with 17 homers and 83 RBIs in 142 games last year. So he's remained a productive hitter, but there have been question marks about his defense in right field.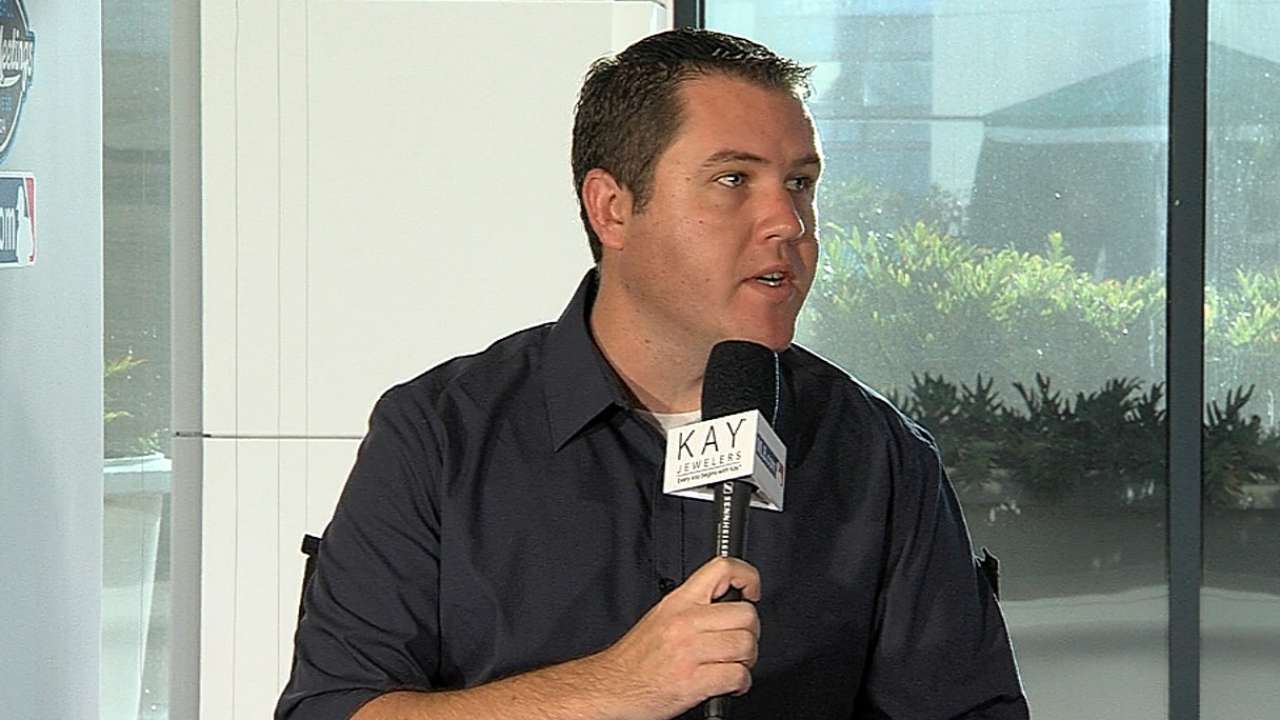 8. How will Oswaldo Arcia fare in left field?
Arcia will move from right field to left field with the addition of Hunter, and his defense still needs work. The 23-year-old has shown intriguing power, hitting 20 homers in 103 games, but will need to be more consistent at the plate and cut down on strikeouts.
7. When will top prospects such as Byron Buxton, Miguel Sano and Alex Meyer arrive?
Buxton and Sano both saw their timelines to the Majors pushed back due to injuries, but both 21-year-olds could make their debuts in '15. They are expected to start at Double-A New Britain and if all goes well, one or both prospects could be up by late summer. Meyer will compete for the fifth spot in the rotation out of Spring Training, but is more likely to be recalled from Triple-A Rochester by early summer if he stays healthy.
6. How much better will the rotation be?
It's well-documented that Twins starters combined to post the worst ERA in the Majors for a second-straight year, so Minnesota has nowhere to go but up. The addition of Santana should help, but the Twins will need a bounce-back year from Ricky Nolasco, who posted a 5.38 ERA in 27 outings. Phil Hughes pitched like an ace in 2014, so it'll be important for him to continue his run in '15.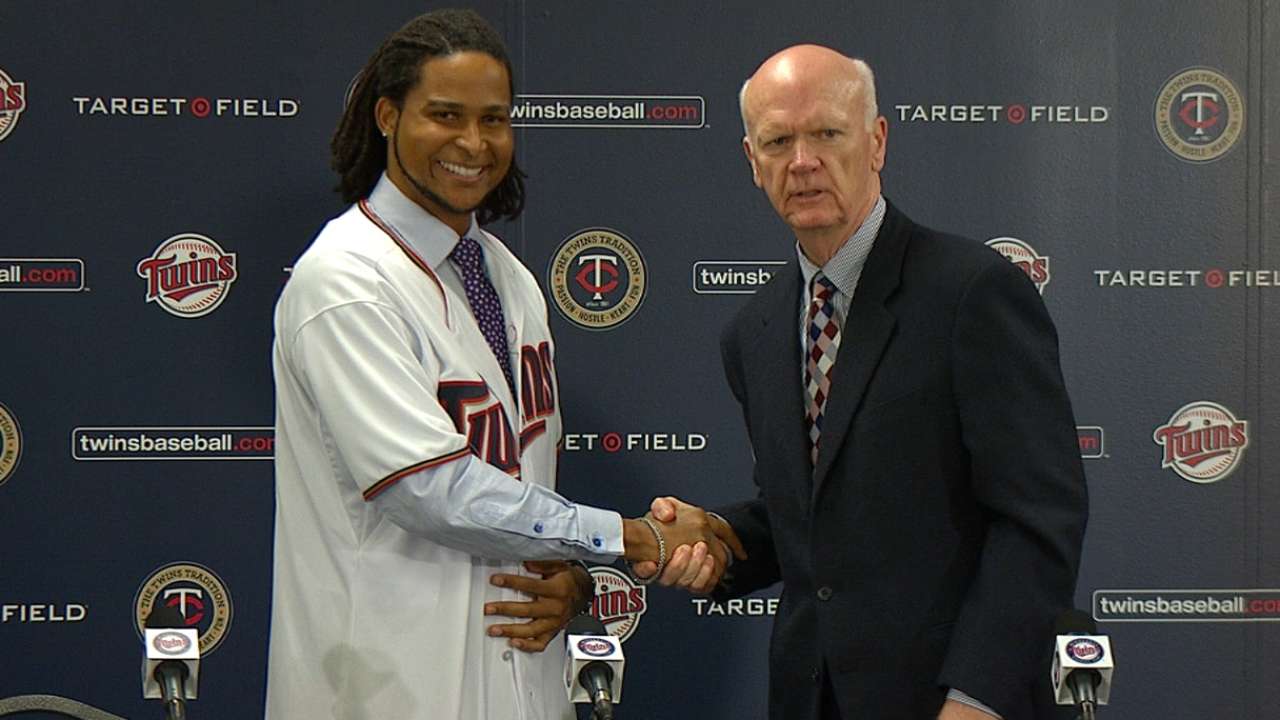 5. Who will be the fifth starter in the rotation?
The top four spots of the rotation appear locked in with Hughes, Santana, Nolasco and Kyle Gibson, but the fifth spot is up for grabs. The Twins have several options for that spot, including Mike Pelfrey, Trevor May, Tommy Milone and Meyer. Pelfrey could also be an intriguing bullpen candidate if he doesn't make the rotation.
4. Can Danny Santana and Kennys Vargas build on their strong rookie campaigns?
Santana was one of the club's best players as a rookie, and appears headed back to his natural position at shortstop after serving mostly as a center fielder last year. Vargas hit enough after his callup on July 31 that he's expected to be the club's regular designated hitter moving forward.
3. Who will start in center field?
With Santana moving to shortstop, the Twins now have an opening in center field. Minnesota is likely to keep it in-house, as Aaron Hicks and Jordan Schafer are expected to share time in center until Buxton is ready to take over.
2. What will Molitor bring as manager?
Molitor is known as having one of the sharpest baseball minds around, as the Hall of Famer sees things on the field that most others don't. But he also brings a much different personality than his predecessor, as he's more calm and reserved than the fiery and entertaining Gardenhire. There's only so much a manager can do, but Molitor will bring a fresh voice to the organization at the helm.
1. Is the AL Central simply too tough?
The Twins should be an improved club in 2015, but it might be tough for them to escape the basement of the AL Central, especially after the improvements made by the fourth-place White Sox, who finished three games ahead of Minnesota in '14. Simply improving isn't likely to be enough in next year, but the Twins are looking for a better season to help build for the future.
Rhett Bollinger is a reporter for MLB.com. Read his blog, Bollinger Beat, and follow him on Twitter @RhettBollinger. This story was not subject to the approval of Major League Baseball or its clubs.