Marlins ready to fly above the radar in 2015
After a surprisingly strong '14, major offseason additions have club set to contend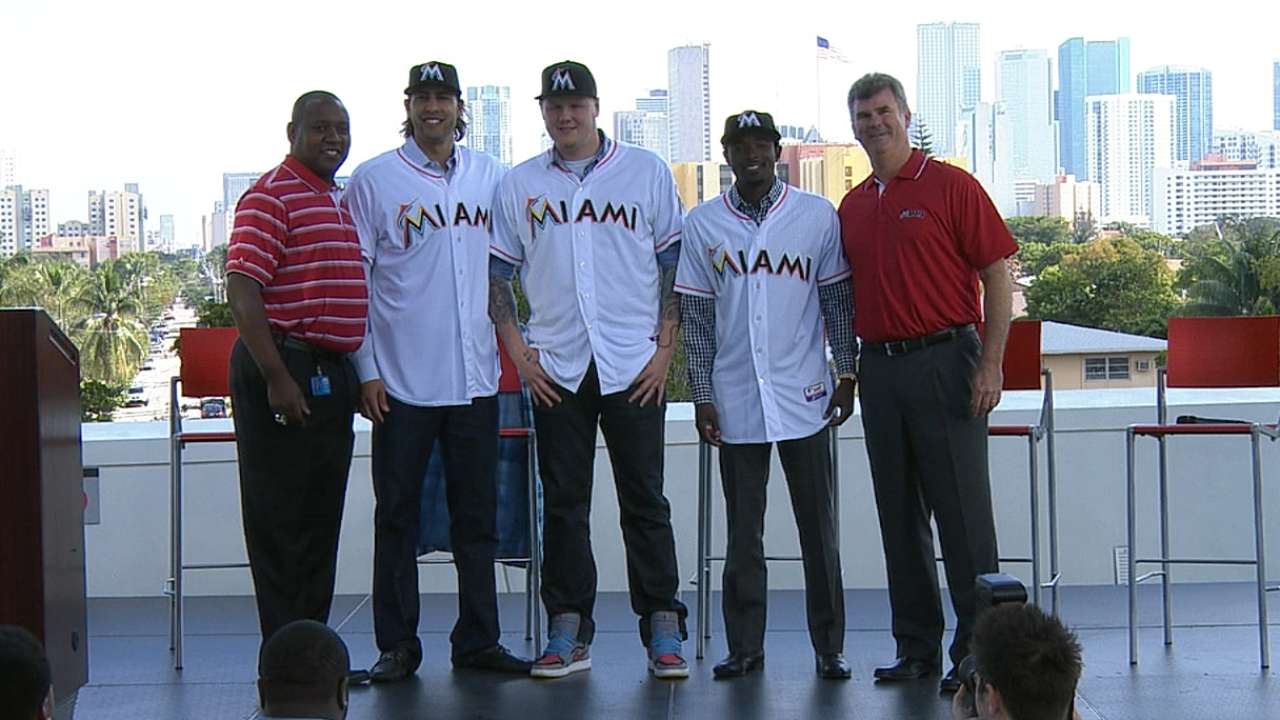 MIAMI -- No longer will the Marlins be flying under the radar. A string of impressive personnel moves has raised the club's profile and placed them in position to go toe to toe with the rest of the National League East.
As far-fetched as it may seem, two years after losing 100 games, Miami is expecting to make the unlikely leap from worst to first. Its optimism is rooted in a 15-game improvement in the standings, coupled with the additions of several marquee players.
"We made a lot of strides in 2014," president of baseball operations Michael Hill said. "But as we've said, we still have more to do and further to go -- because we still aren't playing into October, and that's the ultimate goal."
Heading into the offseason, the front office drew up a priority list that included signing Giancarlo Stanton to a long-term deal, upgrading their speed and power, and adding a top-of-the-rotation starter.
To its credit, all four objectives were met before Christmas.
Adding Dee Gordon, Michael Morse, Mat Latos, Martin Prado, David Phelps, Dan Haren, Aaron Crow, Miguel Rojas and Andre Rienzo via either free agency or trades, has increased expectations. At least on paper, the Marlins have the pieces to contend for a playoff spot. Nothing, of course, is guaranteed, and there are plenty of questions that must be answered. MLB.com looks at 10 issues to focus on heading into 2015.
10. Hechavarria primed to take next step
Adeiny Hechavarria is one of the more polarizing players in the game. Miami's front office, coaching staff, players and a number of league-wide scouts believe he is a future All-Star. Advanced metrics, however, are less flattering when it comes to the 25-year-old shortstop, who had a Wins Above Replacement (WAR) of 0.6 in 2014, according to Baseball Reference. Hechavarria showed improvement at the plate, hitting .276 with a .308 on-base percentage, compared to a .227 average and .267 on-base percentage in '13. But he lacks power -- tallying just one homer and 34 RBIs.
9. Piecing together the 'pen
Putting together a bullpen is not an exact science. Often, you never know what you're getting from year to year. The Marlins do know they have a number of quality arms. They've also added some more experience through trades. They acquired Crow from the Royals and Rienzo from the White Sox. Steve Cishek remains the closer, coming off a 39-save season. There will be plenty of jockeying for setup roles. A.J. Ramos, Bryan Morris, Carter Capps, Crow and Rienzo are right-handers, while Mike Dunn is an established lefty. Defining roles will be a closely followed storyline in Spring Training, especially the search for a second lefty.
8. Solidifying a suddenly crowded rotation
You never can have too many starting pitchers, can you? The Marlins are pretty close to an overflow situation. If Haren doesn't retire and opts to join the club, there will be eight front-running contenders for five rotation spots. Henderson Alvarez, Latos, Jarred Cosart, Haren, Tom Koehler, Phelps, Brad Hand and Justin Nicolino are all in the mix. Nicolino, a standout on Double-A Jacksonville's Southern League championship team, likely will open the season at Triple-A New Orleans. Hand is out of options. So the battles will be interesting, and the team could explore trading a rotation piece during Spring Training. A starter moving to the bullpen is another possibility.
7. Fresh start for Salty
Transitioning from one league to the other isn't always easy. Now that Jarrod Saltalamacchia has a full season in Miami under his belt, the club anticipates a bounce-back campaign from its 29-year-old catcher. Team insiders believe the veteran tried too hard to live up to his three-year, $21 million contract, and ended up pressing. Salty was learning a new pitching staff and new league. Still, he presents a power threat, and is capable of being highly productive.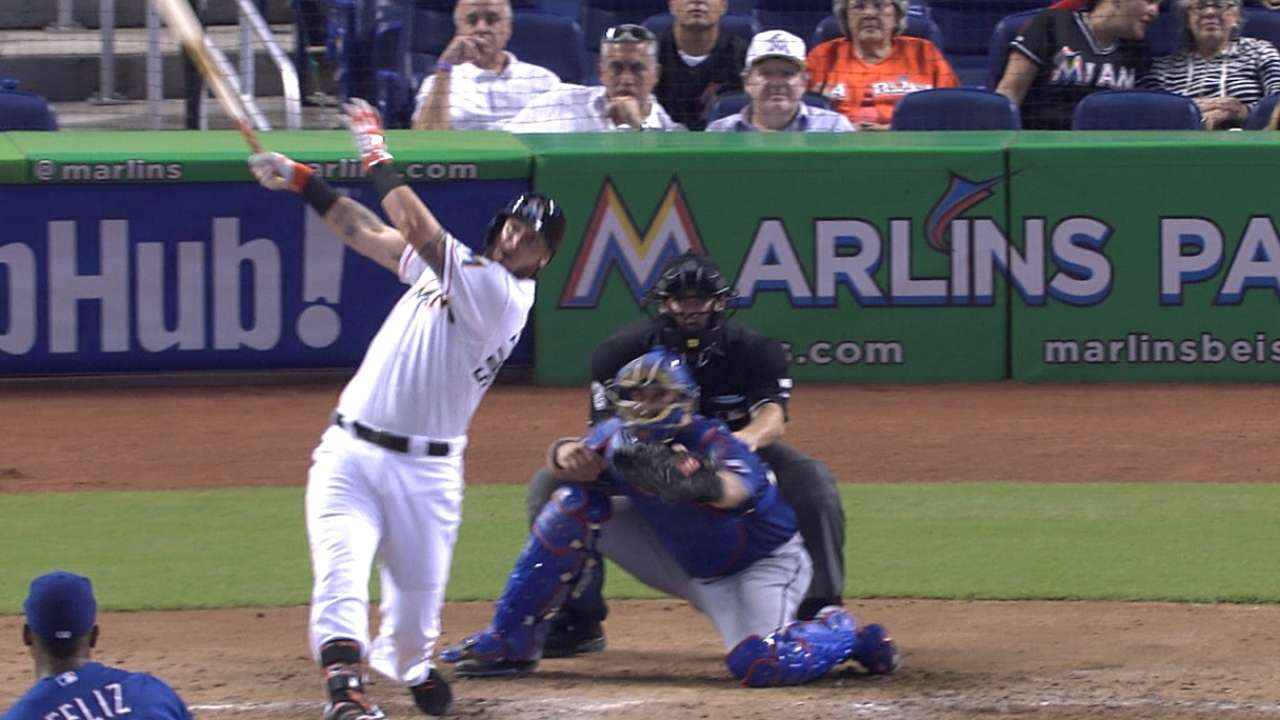 6. Prado takes over the hot corner
The Marlins made a surprising move, acquiring Prado and Phelps from the Yankees on Dec. 19. Until then, it appeared the club was prepared to head into 2015 with Casey McGehee, the '14 NL Comeback Player of the Year, at third. But McGehee was dealt to the Giants once Prado was acquired. Prado, 31, is a proven veteran who gives the club flexibility because he can play so many positions. But Miami sees him at third. He can bat anywhere from second to seventh, adding versatility.
5. Miami is spelling speed D-E-E
Their lack of speed was glaring in 2014. As a team, Miami swiped just 58 bases. Christian Yelich led the way with 21, and Stanton had 13. No one else on the club had as many as 10. Enter Devaris "Dee" Gordon. Dee, as he goes by, was an All-Star second baseman with the Dodgers, who paced the Majors with 64 stolen bases. Gordon will take over the leadoff spot and set the table for a dramatically improved lineup. The key will be his ability to get on base. He had a .326 OBP with the Dodgers last year, to go with a .289 batting average.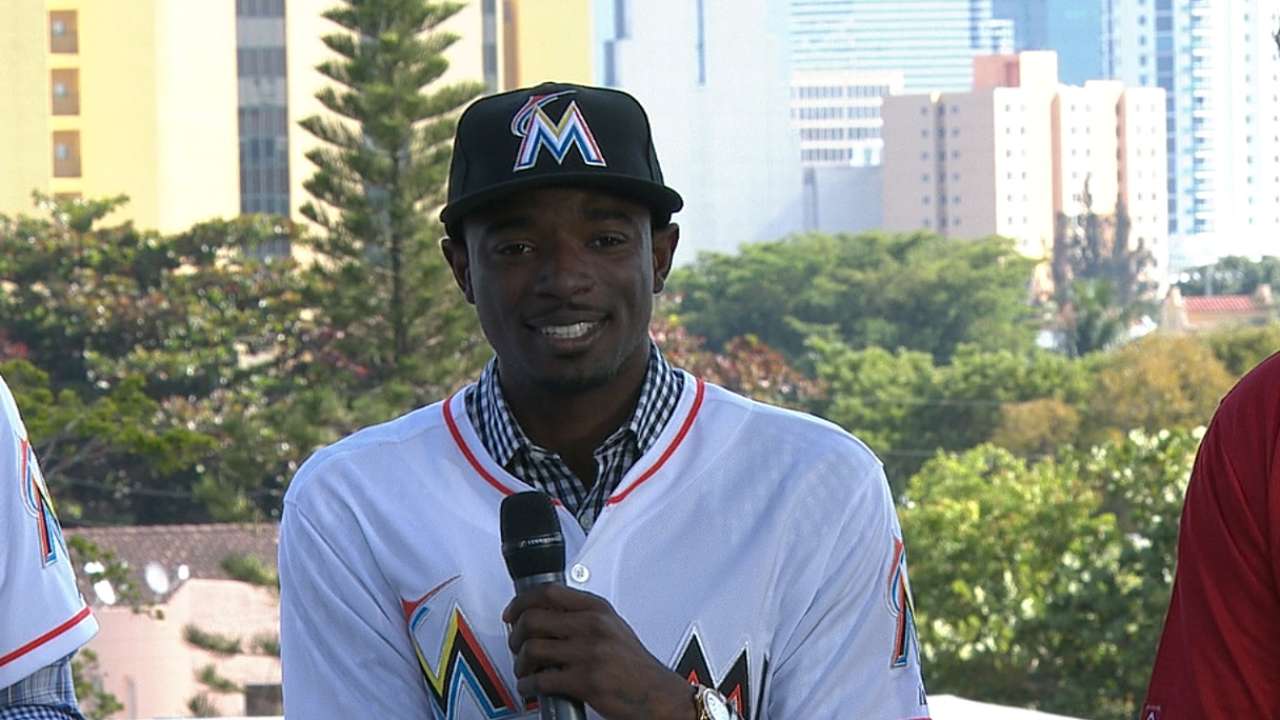 4. Morse adds some more muscle to the lineup
It takes some clout to muscle the ball out of Marlins Park. Morse certainly measures up to the task. The recently signed slugger is now Stanton's tag-team partner in the meat of Miami's order. Stanton is listed as 6-foot-6, 240 pounds, and Morse tips the scales at 6-5, 245. Teams will now have to think twice about pitching around Stanton. Morse may not be the dominant home-run threat that Stanton is, but he is a proven power bat who also came up clutch in the playoffs for the Giants.
3. How will Latos bounce back from an injury-plagued year?
It's been a rough 15 months physically for Latos, who has dealt with right elbow (bone chips) and left knee (meniscus) surgeries. If healthy, and the Marlins are confident he is, the 27-year-old South Florida native should be a major contributor. As part of its offseason plan, Miami set out to sign a frontline starter. It didn't simply want an innings-eater or fifth starter. It sought a potential ace to help ease the stress on the staff until Jose Fernandez returns.
2. Fernandez's elbow
So many pitchers have returned as good as new from Tommy John surgery. The Marlins anticipate Fernandez will join the list. The 2013 NL Rookie of the Year, Fernandez has spent most of his offseason sticking to a throwing program. But he isn't expected to rejoin the rotation until midseason, around the All-Star break. If that is the case, what can the club expect in the second half? Most likely, his innings and pitch counts will be closely monitored. If he builds up as planned, chances are Fernandez will be getting stronger in late August and September, which may be in time for a stretch run.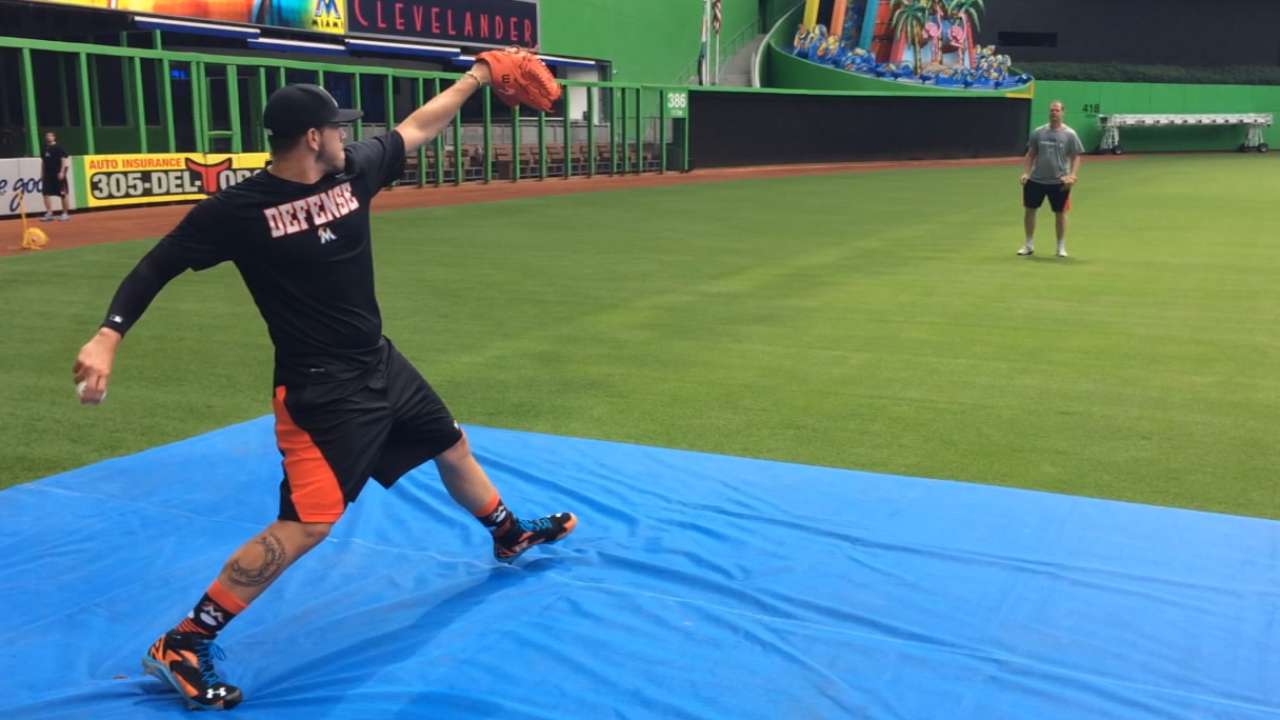 1. Stanton's mindset
All the facial fractures have healed, and Stanton is medically cleared to play with no restrictions during Spring Training. What remains to be seen is if there are any lingering psychological side-effects from being struck in the face by a Mike Fiers fastball at Milwaukee on Sept. 11. Stanton insists there won't be. But just in case, he plans on wearing a protective face guard on his helmet. The Marlins are banking on the slugger shaking the incident off, and not flinching every time a pitch is thrown inside. The club is so sure its two-time All-Star right fielder is fine that on Nov. 19 it signed him to a record-setting 13-year, $325 million contract.
Joe Frisaro is a reporter for MLB.com. He writes a blog, called The Fish Pond. Follow him on Twitter @JoeFrisaro. This story was not subject to the approval of Major League Baseball or its clubs.