MLB.com Columnist
Phil Rogers
Cain resurgence could be difference-maker in '15
Righty's return to All-Star form would be major boost for Giants' rotation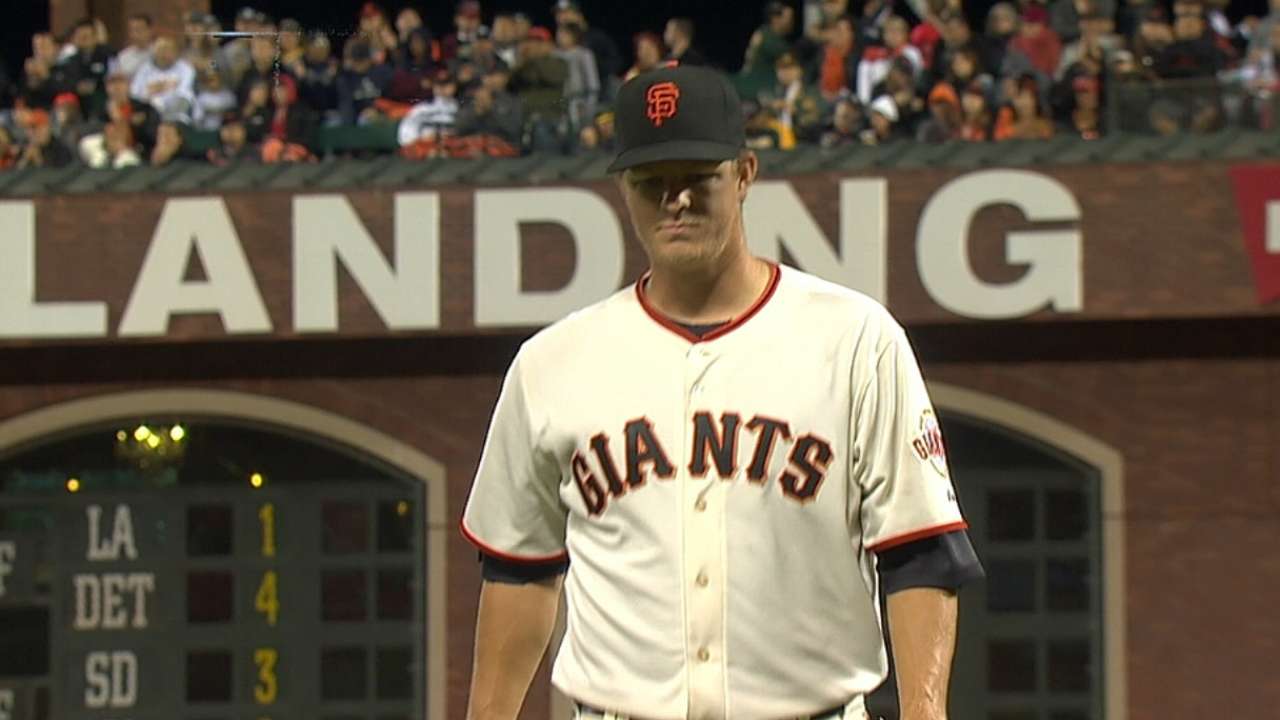 It's been a surprising, slow-to-develop Hot Stove season for the Giants. But all could be forgotten in a hurry next spring if Matt Cain returns strong to join Madison Bumgarner in one of baseball's best 1-2 combinations
The Giants didn't bring back the one free agent everyone thought they would, Pablo Sandoval, and kept a couple that seemed likely to head elsewhere in Jake Peavy and big-ticket setup man Sergio Romo. They lost third-base coach Tim Flannery to retirement. And they saw their top free-agent target, Jon Lester, say "no thanks" to go in search of the Holy Grail with the Cubs.
But you know there will be the usual plethora of World Champion gear under Christmas trees in the Bay Area. Bumgarner, Hunter Pence, Buster Posey and even Joe Panik jerseys have been big sellers.
Cain? Not nearly as much as usual.
This time around, the guy who carried the Giants to championships in 2010 and '12 was a high-profile spectator -- a development that makes it even more remarkable that San Francisco became the first team to ever win 12 games in one postseason.
"I am amazed at what these guys did, how much heart and determination they played with,'' manager Bruce Bochy said. "Because we did go through a lot. … If you told me Matt Cain wouldn't have been with us, and then we would win the World Series, I probably wouldn't have believed you.''
Cain really hasn't been himself since he threw 248 1/3 innings in 2012, including 30 in the postseason. He held up for only 15 starts last season (2-7, 4.18 ERA) before undergoing two surgeries -- to remove bone chips and spurs in his elbow in August and to remove a bone spur from his right ankle in September.
There's optimism that the repairs will help Cain become dominating again, like he was from 2009-12, when he was an All-Star three times and posted a 55-35 record with a 2.93 ERA in 882 innings. He's close to beginning a throwing program that should have him ready for a full Spring Training.
"I'm really optimistic that he's going to be just fine,'' Bochy said. "He goes about his business -- how hard he works. There was a lot of junk taken out of that elbow, and it's probably going to be an adjustment period for him, throwing, bouncing back -- depends how much we can work him. But you can't answer that until he gets to a point where he's throwing off the mound, and we'll see where we're at.''
In their best season together, Cain and Bumgarner combined to go 32-16 with a 3.07 ERA over 427 2/3 innings in 2012. If they come anywhere close to that next season, the Giants will have a running start toward the return to the postseason that eluded them in 2011 and '13.
Given his Herculean feats in October, Bumgarner bears watching as closely as Cain in Spring Training. He threw 270 innings in 2014, including a record 52 2/3 in the postseason. His epic five-inning stint in relief in Game 7 has elevated his profile into the historical elite, but raises questions about any residual impact.
Bochy says he'll talk to Bumgarner about whether they should trim his workload a little bit in 2015 and possibly give him an extra day's rest when it's possible. He does not expect the 25-year-old from North Carolina -- a left-handed Catfish Hunter -- to be overly receptive, however.
"This is a big, strong man that has tremendous discipline in his conditioning,'' Bochy said during the Winter Meetings. "I think it showed at the end of the year last year. [Bumgarner] showed no signs of wear. A lot of guys are starting to run out of gas, but if anything, he hit the accelerator, and he was throwing better than the beginning of the season.''
In trading for Casey McGehee on Friday, the Giants made their first significant addition since Game 7. McGehee is coming off a good year in Miami, but the only thing he does better than Sandoval is drawing walks and getting on base.
General Manager Brian Sabean is searching for ways to improve the lineup. There are outfielders available in trades, including guys like Allen Craig, Seth Smith, Gerardo Parra and Dayan Viciedo. But the common currency in the flurry of deals made recently has been young pitching, and historically Sabean has been far more likely to add strong arms than deal them away.
Kyle Crick, Clayton Blackburn, Ty Blach, Chris Stratton and lefty reliever Steven Okert -- all of whom were picked by the pitcher-savvy Giants in the 2011 and '12 Drafts -- have risen quickly through the San Francisco system.
Continuing to develop them and then slide them into Bochy's staff is not as exciting as someone like Lester. But there will be a lot of other pitching targets available to the Giants in the next 12 months. A nice comeback by Cain and the continued success of Bumgarner would go a long way in lessening the importance in adding one.
Phil Rogers is a columnist for MLB.com. This story was not subject to the approval of Major League Baseball or its clubs.