Braves head into 2015 with eyes on the future
Club stockpiling talent as it prepares to open new stadium in 2017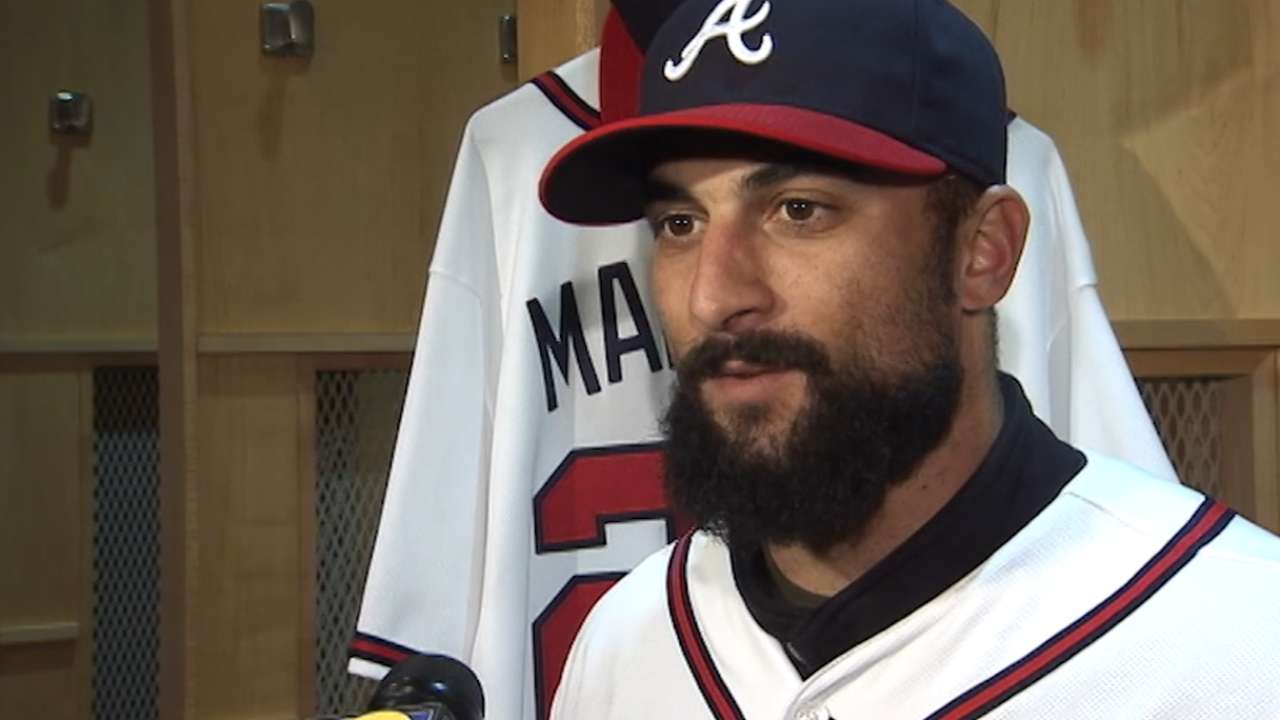 ATLANTA -- Now that they have had time to digest and evaluate all that went wrong in 2014, the Braves are looking toward '15 with the hope that it serves as a building block for a bright future.
Atlanta has made it known that it wants to put the pieces in place to be a consistent playoff threat when SunTrust Park opens in 2017. John Hart, the club's president of baseball operations, believes he can satisfy this desire and also field a competitive team during the upcoming season.
There is no doubt that the Braves will look a little different, as they utilize Nick Markakis to fill the right-field void that was created when Jason Heyward was traded to the Cardinals in November. Their reconstructed rotation will now include Shelby Miller, a potential ace who was acquired in the Heyward deal.
Markakis and Miller will join forces with Freddie Freeman, who continues to stand as the cornerstone of a Braves club that anxiously awaited the chance to flip the calendar to a new year.
Here are nine questions the Braves face entering 2015:
1. What should be expected from B.J. Upton?
There's some optimistic hope that new hitting coach Kevin Seitzer proves to be a blessing for Upton, who has compiled a .593 OPS since signing a franchise-record contract two years ago. Given that they can't eat the $46.4 million still owed with this deal, the Braves will likely give the 30-year-old center fielder a couple of months to prove this year might be different. If he doesn't, the role might be given to one of the offseason acquisitions -- Zoilo Almonte or Dian Toscano.
2. Will the rotation once again be an asset?
When Kris Medlen and Brandon Beachy suffered season-ending elbow injuries in March, few could have expected the Braves' rotation would end up with the National League's third-best ERA. This certainly wouldn't have been predicted if it had been known Mike Minor was going to endure an ugly campaign. Now that Minor has had time to recover from an odd season that was plagued by an internal surgical procedure, he will once again join Julio Teheran and Alex Wood to form a solid nucleus that should be enriched by Miller's presence. There is still a need to find a fifth starter. But if the four previously mentioned pitchers stay healthy, they should be able to keep Atlanta in games on a consistent basis.
3. What role will Evan Gattis fill?
Power hitter seems to be the best answer. Now that the Braves traded Justin Upton, Gattis will find himself in left field. There are understandably defensive concerns about Gattis, who produced a -10 Defensive Runs Saved while logging just 342 1/3 innings (equivalent to approximately 38 games) in left in 2013. But as long as he remains in the NL, he will simply have to prove that his powerful bat can negate any shortcomings he has in the field.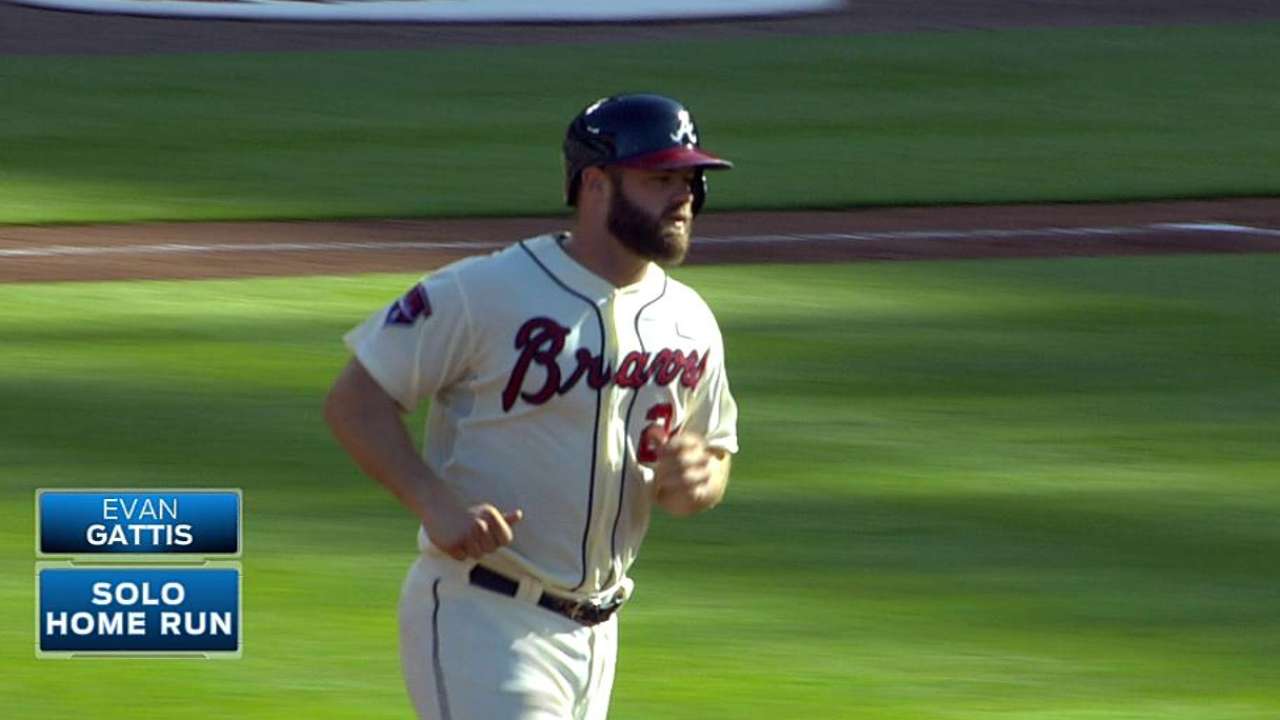 4. When might top prospect Jose Peraza arrive?
Peraza stands as the first homegrown leadoff hitter the Braves have produced since Rafael Furcal. While there is certainly reason to be excited about this fleet-footed second baseman's arrival, he will likely spend at least a couple more months in the Minors before he gets the call to Atlanta. With that being said, the Braves plan to give him every opportunity during Spring Training to prove he is ready. The 44 games Peraza has played at the Double-A level matches the total Andrelton Simmons had before he got his call to the Majors two months into the 2012 season.
5. Who will serve as Craig Kimbrel's primary setup men?
Jim Johnson certainly has the credentials to be the primary eighth-inning option. But he must first prove his ugly 2014 season was a fluke. In the meantime, the Braves will utilize Shae Simmons in this role. Atlanta's bullpen could truly be an asset if Michael Kohn regains the command he had in '13. With Johnson, Simmons and Kohn, Atlanta could have three power arms to bridge the gap to Kimbrel.
6. What should be expected from Markakis?
There probably isn't a better defensive right fielder in baseball than Heyward. But Markakis, who has won two Gold Gloves, is no slouch in the field. More importantly, the Braves are hoping that their new right fielder recovers from his recent neck surgery and reintroduces himself to the success he had before he began battling a herniated disc two years ago. Along with having the capability to be a solid defender and consistent table-setter near the top of the lineup, the highly respected veteran outfielder should improve a clubhouse culture that decayed as last year's troubles mounted.
7. What should be expected from Simmons at the plate?
Given what he provides in the field, Simmons does not have to do much at the plate to be regarded as an asset. But the Braves know he is capable of providing more than he did in 2014, when he produced a .617 OPS. Now that he's a full season removed from a 17-homer season that might have had harmful long-term effects on his plate discipline, Simmons might start to harness his overaggressive approach that has produced a plethora of ugly swings.
8. What kind of production should be expected from Freeman?
When Freeman finished fifth in the 2013 NL MVP balloting, he compiled a 149 Weighted Runs Created Plus. Though his numbers dipped slightly this past season, he had a 140 wRC+. The steady first baseman remains one of the game's most talented young players. His production this season will be heavily influenced by whether Gattis is still around to protect him in the batting order. If Gattis is traded, pitchers will likely consistently pitch around Freeman and prevent him from producing the elite numbers he has shown he can compile.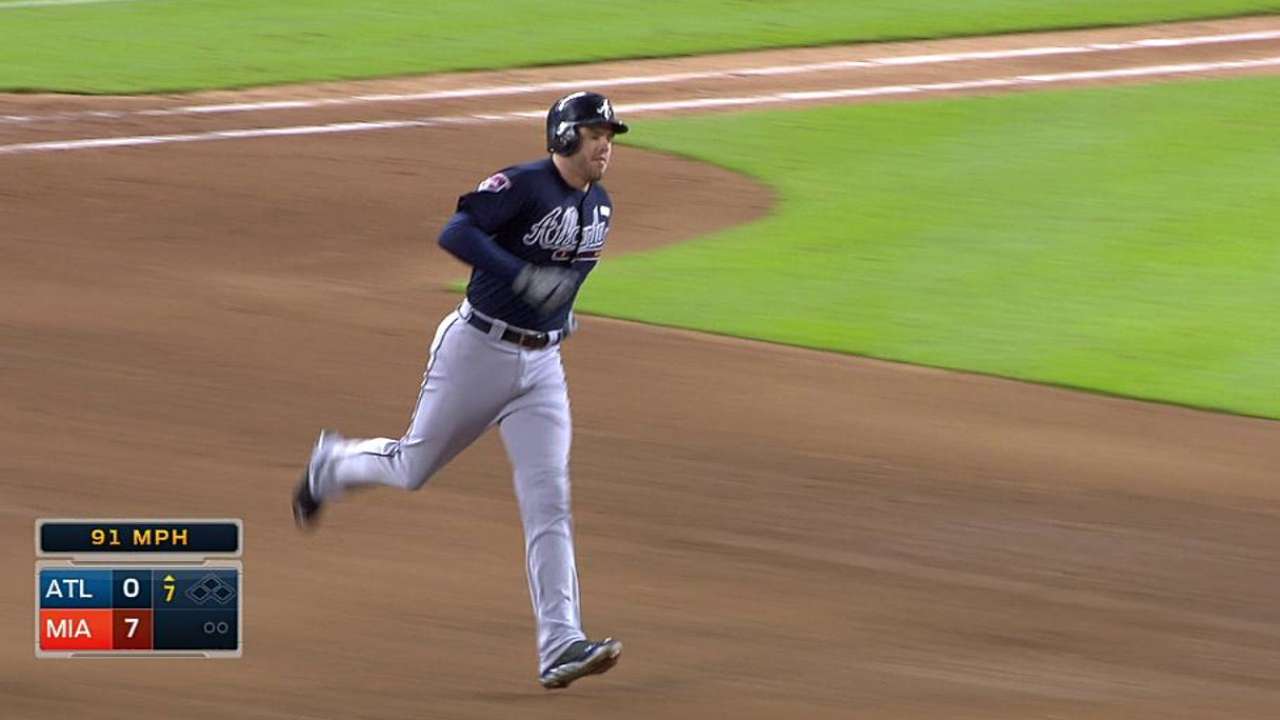 9. How will the Braves fare in 2015?
Pessimism increased once the Braves traded both Upton and Heyward. Suddenly, there is reason to wonder how the offense will score runs. But remember this same question was asked when Upton and Heyward were in the lineup this past season. To be successful, the Braves are going to need Markakis, Simmons and Chris Johnson to produce better than they did in 2014. But, most importantly, Atlanta is going to have to hope its pitching staff compensates for the shortcomings of a restructured lineup.
Mark Bowman is a reporter for MLB.com. This story was not subject to the approval of Major League Baseball or its clubs.