All-Star Game, youth movement highlighted season
Santana, Vargas, Arcia stood out during disappointing 2014 campaign
MINNEAPOLIS -- It was another trying year for the Twins in 2014, as they went through a fourth straight season with at least 92 losses, which led to a managerial change with Paul Molitor replacing Ron Gardenhire after the season.
The starting pitching was again the culprit, with Twins starters combining to post the worst ERA in the Majors for the second straight year. The offense, however, held its own, as the Twins finished seventh in the Majors in runs scored.
There were certainly some bright spots, such as Phil Hughes breaking Major League Baseball's single-season strikeout-to-walk ratio, the emergence of rookies Danny Santana and Kennys Vargas and the steps forward made by Brian Dozier and Trevor Plouffe. Closer Glen Perkins and catcher Kurt Suzuki both had solid years. They represented the Twins in the 2014 All-Star Game at Target Field, and Perkins got the save with Suzuki behind the plate.
The Twins have also bolstered their roster heading into next season by signing both Torii Hunter and Ervin Santana this offseason, while top prospects such as Byron Buxton, Miguel Sano and Alex Meyer all could make their debuts in '15.
So plenty went on with the Twins in '14, and of all the storylines that played out over the past 12 months, here were the five biggest:
5. A youth movement for the Twins
The Twins saw impressive performances from both Danny Santana and Vargas, while 23-year-old outfielder Oswaldo Arcia continued to show promise with his impressive power numbers. Santana, 24, served as the club's sparkplug atop the lineup and finished seventh in the balloting for AL Rookie of the Year. He saw most of his time in center field, but will move back to his natural shortstop position next year even though Eduardo Escobar, who is also just 25, had a solid season at shortstop in '14. Vargas, 24, has now put himself in position to be the club's regular designated hitter in '15.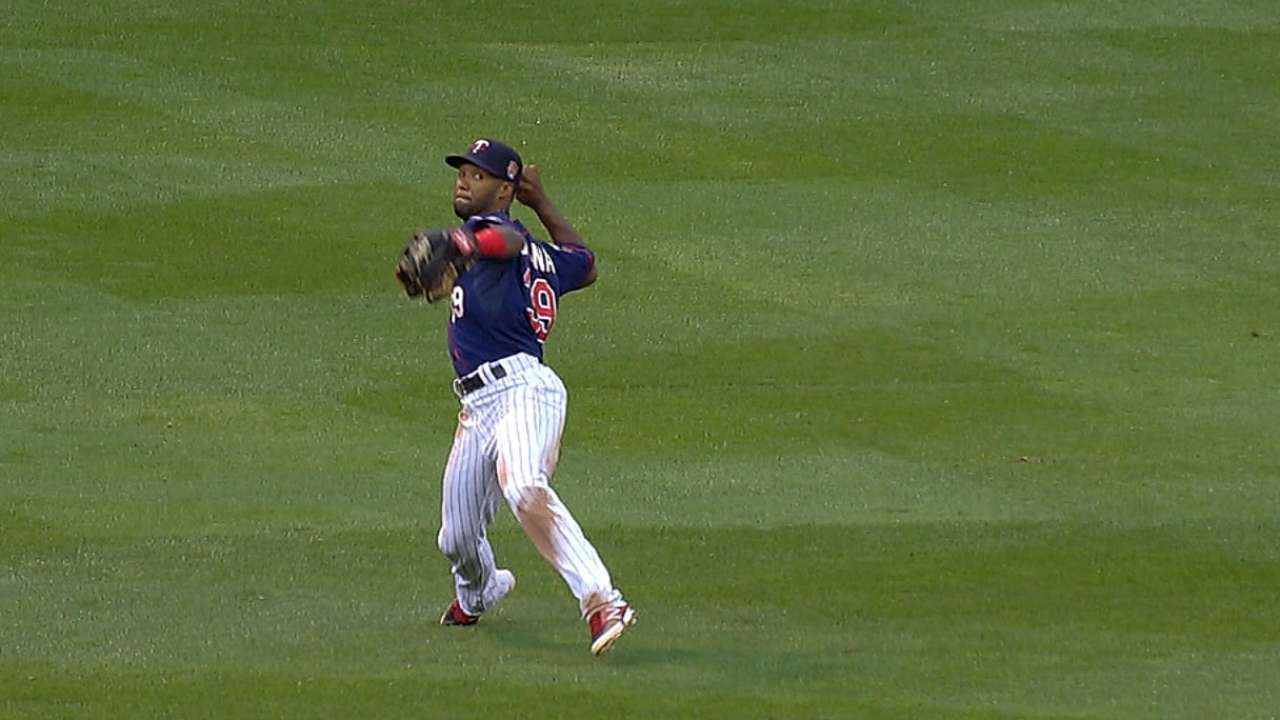 Sano and Buxton, who are both 21, suffered through injury-plagued campaigns in the Minor Leagues last season. Sano missed the season after the third baseman underwent Tommy John surgery, while Buxton extended time with a injured wrist, a concussion and a broken finger. But both are on Minnesota's radar in '15.
4. An All-Star showcase at Target Field
One of the bright spots for the organization was showing off Target Field and the Twin Cities in July, when it hosted the All-Star Game for the first time since 1985. Despite a rain delay that pushed back the start of the Home Run Derby, it was a smashing success, and even the rain led to a picturesque rainbow above Target Field. Dozier also participated in the Home Run Derby, while Perkins picked up the save in the AL's 5-3 win with Suzuki behind the plate.
3. Mauer moves to first base but can't stay healthy
Joe Mauer saw his season end due to a concussion suffered while catching in August of '13, and he moved to first base in '14 to avoid the risks of suffering another debilitating concussion. The hope was Mauer would stay healthy at first base without having to endure the rigors of catching and could perhaps put up even better offensive numbers as a result.
Instead, Mauer had an uncharacteristically down year, hitting .277/.361/.371 with four homers, 27 doubles and 55 RBIs in 120 games. This time it was a strained oblique that forced him to miss 34 games from early July to mid August.
2. The rotation continues to struggle
The Twins had high hopes for their rotation after signing Ricky Nolasco, Mike Pelfrey and Hughes to a combined $84 million worth of deals entering the season, but it was more of the same in '14. Nolasco dealt with a strained elbow and posted a 5.38 ERA in 27 starts, while Pelfrey had a 7.99 ERA in five starts before undergoing season-ending forearm surgery.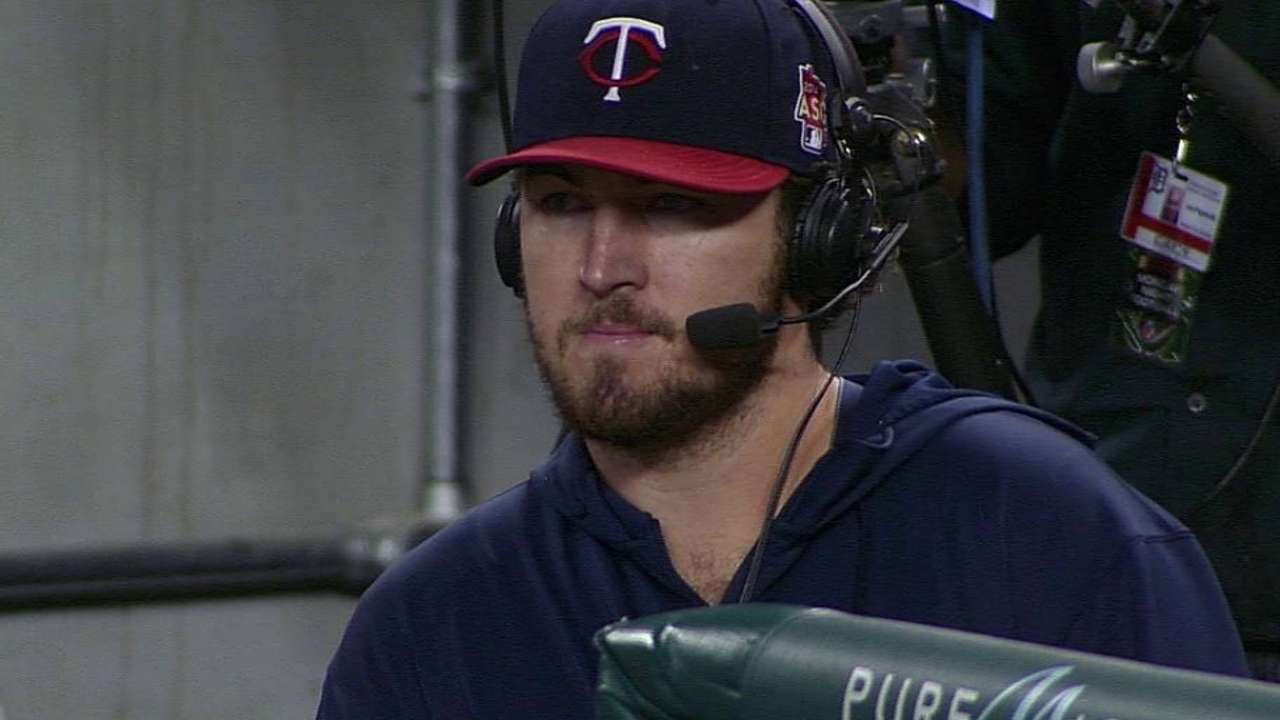 Hughes was the lone bright spot, as he had a career year and established himself as the club's ace. Kyle Gibson showed promise in his first full year in the rotation, while prospect Trevor May struggled but did get his feet wet in the Majors. It should be better in '15 with the addition of Ervin Santana, while Meyer is also expected to make his Major League debut at some point.
1. Twins replace Gardenhire with Molitor
Gardenhire had an impressive run with the Twins, winning six division titles in his 13 seasons as manager of the Twins. But the club went just 6-21 in the playoffs under his watch, and since their last postseason appearance in '10, the Twins were a combined 265-383 (.409) over the last four seasons. So Minnesota made a managerial change, dismissing Gardenhire with one year left on his deal and bringing in Molitor.
The Twins also shook up the coaching staff, with hitting coach Tom Brunansky and bench coach Joe Vavra the only holdovers from Gardenhire's staff. Pitching coach Neil Allen was brought over from Tampa Bay's organization, while the Twins promoted third-base coach Gene Glynn and assistant hitting coach Rudy Hernandez from the Minors. Former Twins closer Eddie Guardado was hired as bullpen coach, while longtime Orioles Minor League coach Butch Davis was named first-base coach.
So the Twins will be looking to better results in '15, and will have a new coaching staff that will bring fresh voices into the organization.
Rhett Bollinger is a reporter for MLB.com. Read his blog, Bollinger Beat, and follow him on Twitter @RhettBollinger. This story was not subject to the approval of Major League Baseball or its clubs.