Astros seek to build on gains made in 2014
New additions make club's climb toward .500 a realistic goal for '15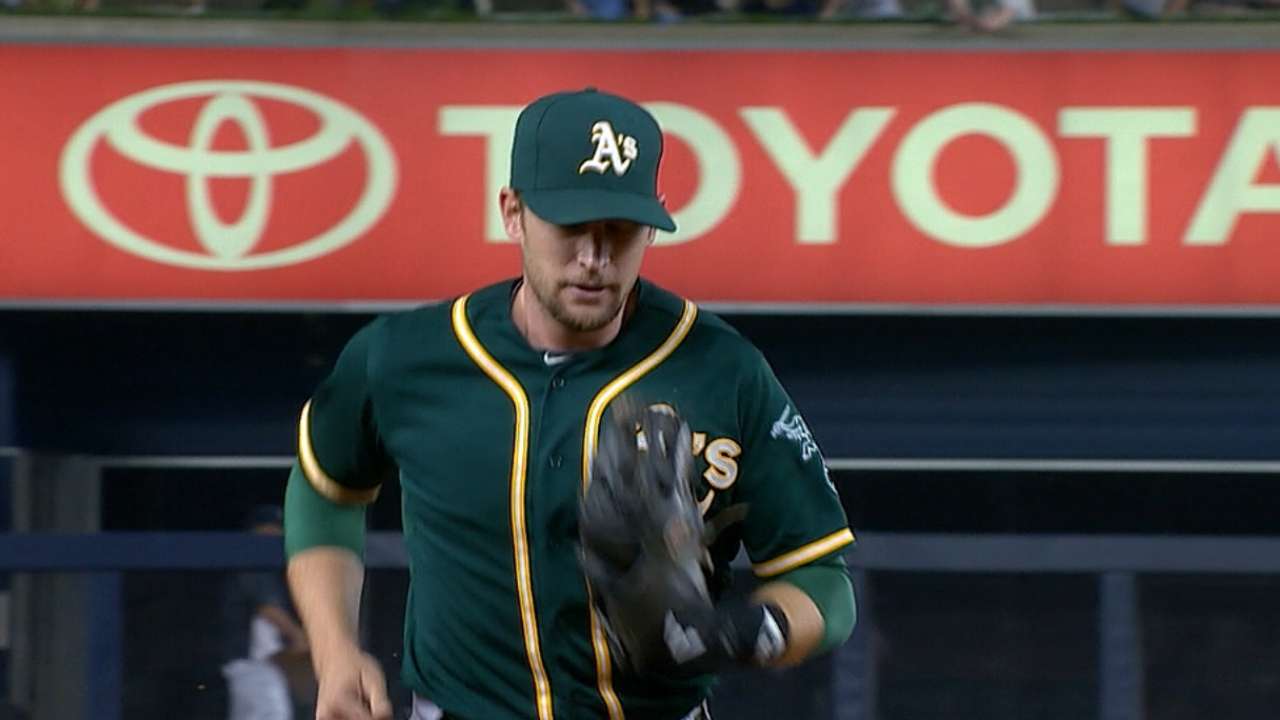 HOUSTON -- The Astros are ready to win. They took a huge step toward that goal last season when they improved by 19 games over 2013. This offseason, they signed free-agent relievers Luke Gregerson and Pat Neshek, as well as shortstop Jed Lowrie, to address some of their biggest needs.
Those moves fall in line with what owner Jim Crane promised when he bought the club, saying the team would start to add free agents to fill in around the upcoming young players. And, perhaps more than anything, those young players hold the key for 2015.
A full season of outfielder George Springer, as well as some progression offensively by outfielder Domingo Santana and first baseman Jon Singleton, could give the Astros a strong lineup. When combined with Lowrie, second baseman Jose Altuve, designated hitter Chris Carter and catcher Jason Castro, Houston's lineup could be much improved.
The Astros won't say it, but .500 would be a realistic goal for the club in 2015, though it won't be easy in the tough American League West. Still, if the Astros' free-agent acquisitions pay off, their young players take a step forward and the starting-pitching staff is more consistent, they suddenly have the look of at least an 81-win team.
Here are some questions facing the Astros entering 2015:
10. Can Singleton get it together at the plate?
Singleton was called up shortly after fellow top prospect Springer, but the slugging first baseman largely struggled -- other than hitting an occasional home run. He hit .168 in 95 games, with 13 homers and 44 RBIs. But he struck out 134 times in 310 at-bats and struggled to make contact as the season progressed. Still, the Astros are committed to him for 2015.
9. What can we expect from a full season of Springer?
Springer, though striking out a lot in his Major League debut, was electrifying at times last season. He could have a huge season if he stays healthy (he hit 20 homers in 79 games). Springer, who missed the final 2 1/2 months with a quad injury, plays the game hard, so injuries will always be a concern. But a healthy Springer will be a threat to hit 40 homers and, perhaps, steal 40 bases.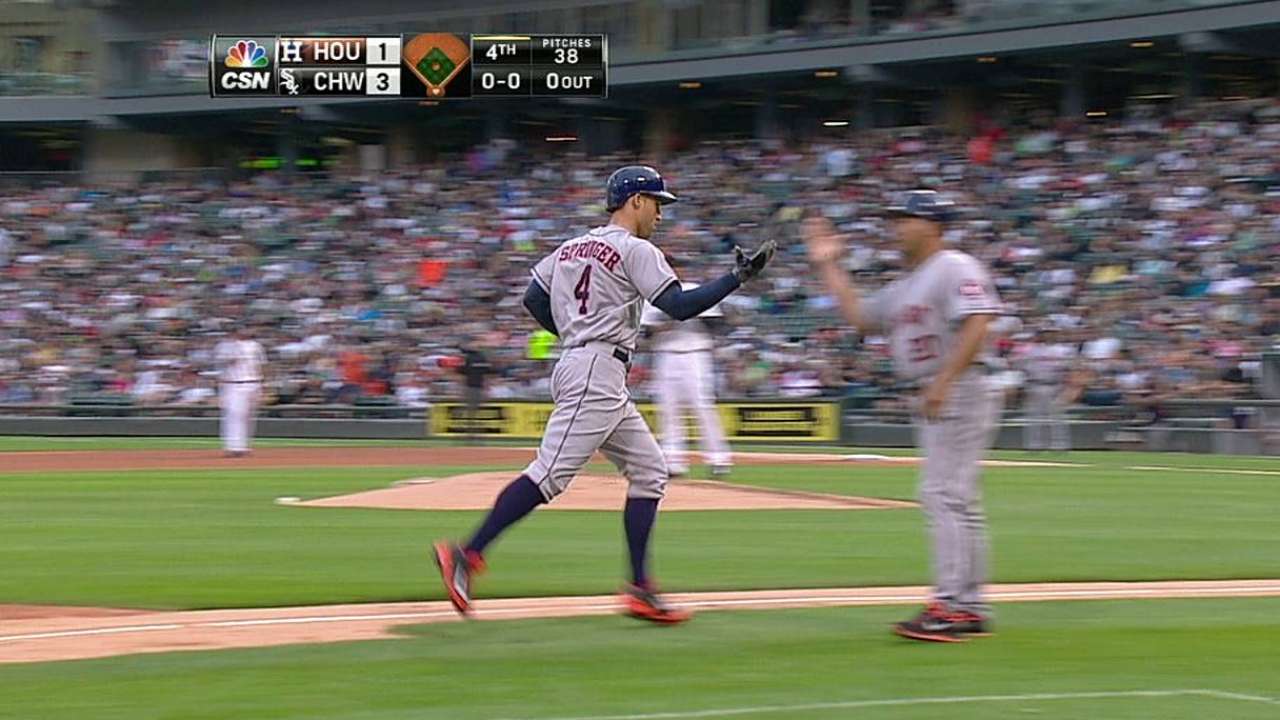 8. Can Dallas Keuchel and Collin McHugh prove last season wasn't a fluke?
Keuchel and McHugh had patches of success in their careers prior to their breakout seasons in 2014, but they both appeared to figure things out. The challenge for the pair now will be to duplicate those performances and make the necessary adjustments as opposing offenses learn more about what made them so difficult in '14.
7. With the additions of Gregerson and Neshek, who will close?
Astros general manager Jeff Luhnow, who addressed the team's biggest need by signing Gregerson and Neshek, hinted that Gregerson will get his first shot to be a full-time closer. But it's not set in stone. Incumbent Chad Qualls did a nice job closing in 2014 -- at least when he wasn't facing the A's, who absolutely owned him (0-4, 27.00 ERA in seven games). Regardless of who pitches the ninth, the bullpen is now a strength.
6. Is there any way Altuve can approach what he did last season?
Altuve will be hard-pressed to reach 225 hits and hit .341 again like he did in 2014, but he really doesn't have to. He has emerged as a threat with the bat and could still be a valuable offensive weapon -- even if he doesn't come close to last season's numbers, which were remarkable.
5. What kind of effect will new manager A.J. Hinch have on the club?
Hinch isn't new to managing, but this is his first opportunity to manage in five years. It's also his first chance to manage when he's had time to prepare and help mold the club he's taking over. There might be some bumps in the road, but a manager who works in lockstep with management and works well with his players has a chance to succeed.
4. Will Mark Appel, Carlos Correa of any of the other top prospects arrive in 2015?
After Springer, Singleton, Santana and Mike Foltynewicz reached the Majors last season, more prospects could be on the way. Appel and Correa, a pair of former No. 1 overall picks, could see Houston in 2015. Appel is more likely to contribute to the Astros than Correa, who hasn't reached Double-A yet and is coming off a broken leg that cost him the second half of '14.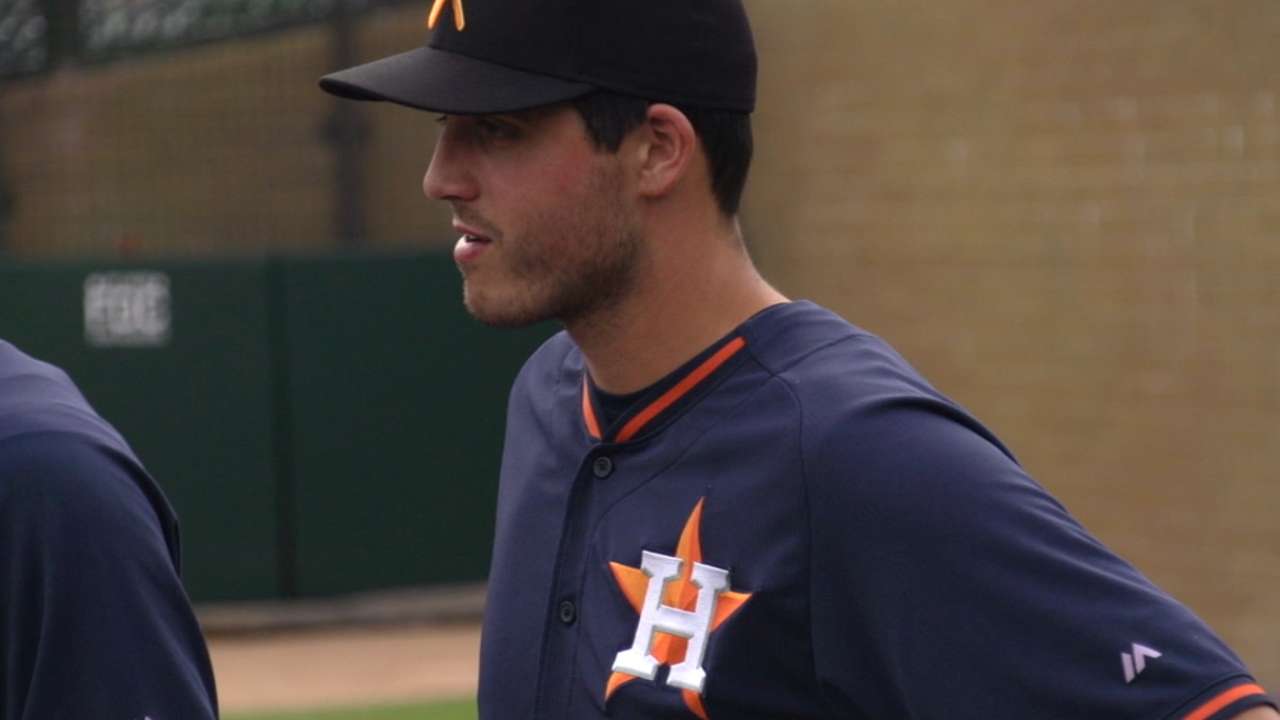 3. How will the return of Lowrie help the offense?
Lowrie's best season at the plate came in 2013 -- his first season with the A's after one year in Houston. But the Astros signed him to a three-year deal with the hope he can boost them offensively. He'll undoubtedly provide more offense than the trio of Marwin Gonzalez, Jonathan Villar and Gregorio Petit did in '14. But he'll have to stay healthy, which has been a concern.
2. Can Castro have a bounce-back year?
Castro had a breakout season in 2013, when he was finally healthy and lived up to the billing of a first-round Draft pick. He hit .276 that year, with 18 homers and 56 RBIs, but slumped to .222, with 14 homers and 56 RBIs last season. The Astros need the '13 Castro to return. He could use a good year at the plate, too, considering he's nearing free agency.
1. Is this the year the Astros get back to .500?
Don't expect another 19-game improvement in 2015 for the Astros, who won 70 games last season after winning just 51 in '14. Sure, the team figures to be better after the additions of Gregerson, Neshek and Lowrie. An 11-game improvement (which would mean an 81-81 record) would be a huge step in the right direction and represent a realistic goal.
Brian McTaggart is a reporter for MLB.com and writes an MLBlog, Tag's Lines. Follow @brianmctaggart on Twitter. This story was not subject to the approval of Major League Baseball or its clubs.