Cueto wins 20, but injuries derail Reds' plans in '14
Chapman rebounds from comebacker, but Votto, Phillips among key players sidelined
CINCINNATI -- As the year 2014 is poised to move into the past, Reds fans might be inclined to wish that some of the good moments their favorite club enjoyed lasted a little longer and the struggles could have been shorter and less frequent.
It won't be a season to savor in the grand scheme and the 76-86, fourth-place outcome in the National League Central is impossible to sugarcoat. The Reds entered the season with ambitions on not just making the playoffs under first-year manager Bryan Price, but having a long postseason run. They came up well short.
While the team, its fans and a city eagerly await what 2015 has to offer -- a year when the All-Star Game will return to Cincinnati -- it's time to take one final look at the previous season.
Here are five of the biggest storylines from the Reds in 2014:
5. Injuries, injuries and more injuries
The regular season began with a Major League-most eight players on the disabled list and would end with 15 different players having had 19 stints on the DL, overall. Numerous key players were affected -- from Joey Votto (left quad), Jay Bruce (left knee) and Brandon Phillips (left thumb) in the lineup to Mat Latos (right elbow, left knee), Homer Bailey (right flexor mass tendon) and Sean Marshall (shoulder) on the pitching staff.
It was a team that rarely felt whole during the season and had Price constantly looking around to plug holes. A lack of depth at some spots was exposed and, unlike other clubs that endured injuries, there weren't enough players to step in, step up and help carry on.
4. Chapman's scary injury, amazing return
On March 19 vs. the Royals in a Spring Training game, one of the scarier moments to ever happen in a Major League setting happened. That's when Salvador Perez lined a 99-mph fastball off of the face of Reds All-Star closer Aroldis Chapman. The horrifying sound of the ball striking Chapman and his being down for over 10 minutes silenced the crowd at Surprise Stadium before the rest of the game was called off.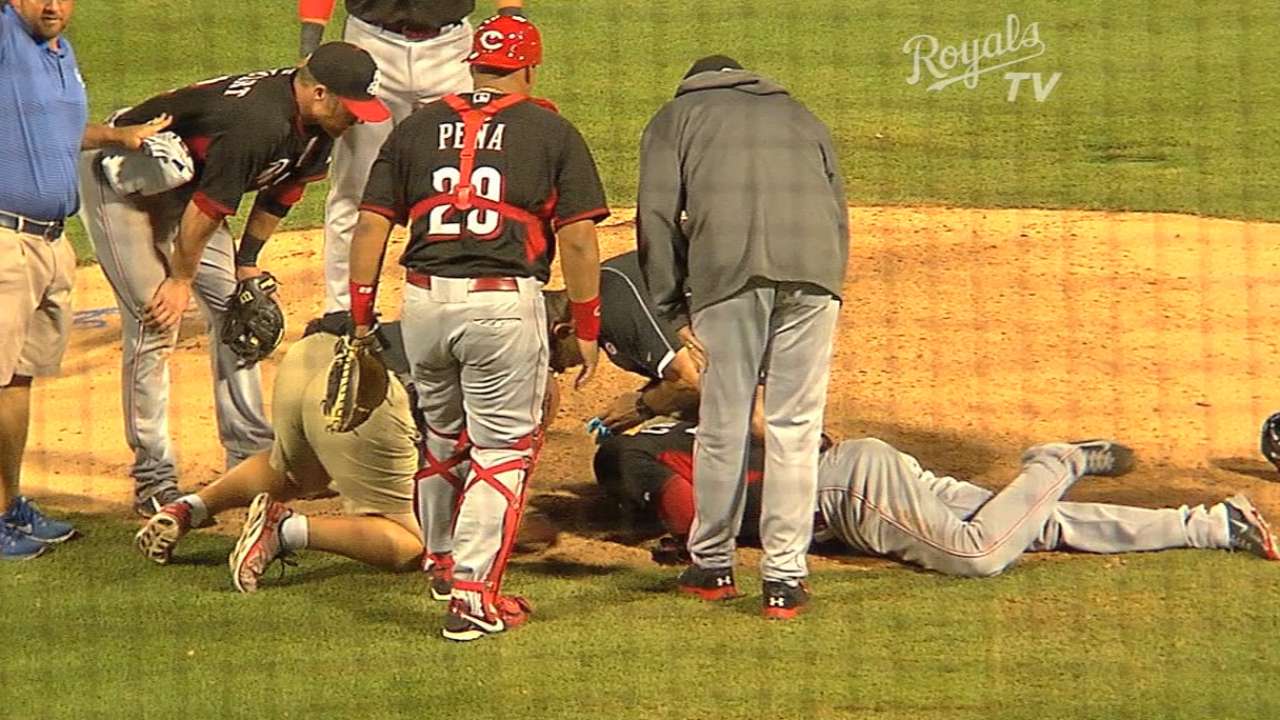 Chapman was hospitalized with fractures above his left eye and nose. Surgery required a metal plate and screws to stabilize the bones. Three days later, he was visiting the clubhouse. Less than two months later, he was back on a mound.
An injury that could have ended his career, and life, became merely a temporary roadblock for Chapman as he turned in a spectacular season. After returning on May 11, he saved 36 out of 38 games and posted a 2.00 ERA with 124 strikeouts. His 17.67 strikeouts per nine innings ratio set a new Major League record. Since the advent of Pitch F/X tracking, he became the first pitcher to average 100 mph with his fastball (100.3 mph) and smashed a Major League record for relievers by striking out at least one batter in 49 consecutive games.
"At any point, I can't remember him coming in and throwing with that consistent velocity, game in and game out, 99-102 almost every single game," Price said on Aug. 31.
3. Votto's lingering injury
From May 16-June 9 and from July 6 through the end of the season, Votto was on the disabled list with what was called a distal strain of his left quadriceps. What it essentially meant was that Votto lacked strength and agility around his knee.
In the 62 games that he did play, Votto batted .255/.390/.409 with six home runs and 23 RBIs in 272 plate appearances -- his least productive season in the Majors. But there was a constant mystery surrounding the 31-year-old because there were few details offered about the nature of the injury and a timetable for a return. Votto was often cagey and evasive when asked about his situation or sometimes didn't talk at all.
The issue led to questions from the public about his desire and whether Votto wanted to return. It prompted a memorable push back from Votto on Aug. 21.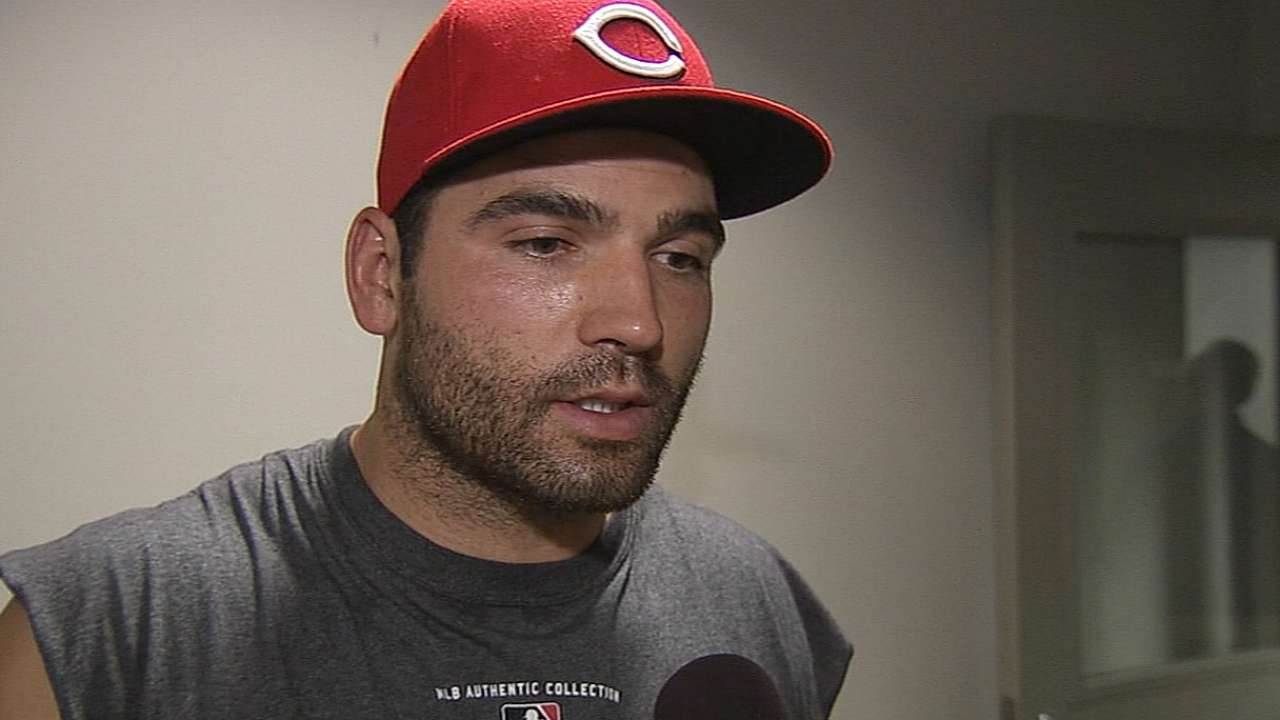 "I think there's been a real gray area and I feel like I've been the one in the crosshairs -- I've been injured," Votto said that day. "I feel like this is something I've had hanging over me in the general population, the fans, I think it's a toughness, or playing through pain sort of thing, or playing hurt sort of thing. I've been injured. I played injured. I went on the DL because I'm injured. I'm trying to be un-injured now. So the second I'm capable of playing and I'm no longer injured, I'll be back on the field. In the meantime, you can assume I'm injured."
2. Hamilton is off and running
The baseball nation was anticipating what a full season of Billy Hamilton would bring and the rookie center fielder often did not disappoint. Every game with Hamilton in the lineup held the promise of seeing something interesting.
Hamilton finished second in NL Rookie of the Year voting after he led all NL rookies in runs, hits, steals, RBIs, doubles, extra-base hits and total bases. The 24-year-old stole 56 bases, which broke a 105-year-old single-season club record for a Reds rookie.
There was no shortage of exciting moments. Hamilton once tagged up and scored on an infield popup. He made spectacular running plays in center field that made him worthy of being a Gold Glove Award finalist.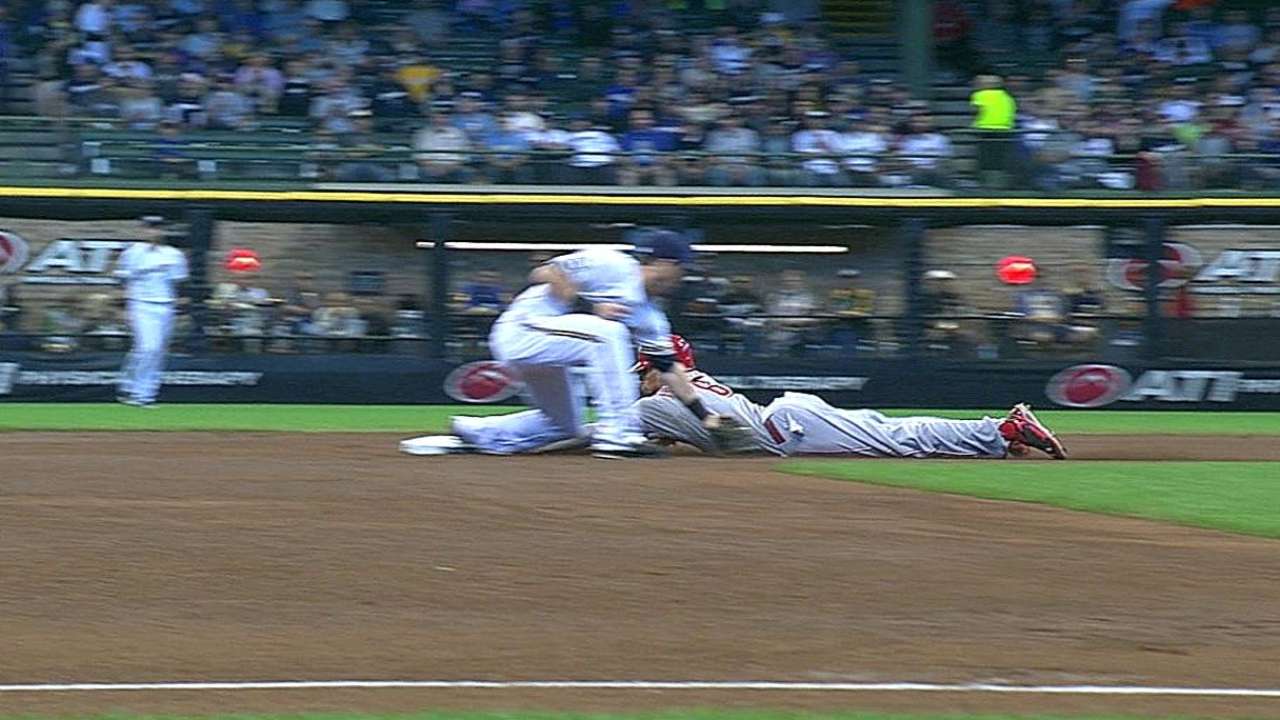 It wasn't all perfect. Hamilton also led the Majors overall by being caught stealing 23 times. He had a .292 on-base percentage for the season and batted .200 after the All-Star Game. But there are high hopes that he can keep building and improving heading into 2015.
"He needed to have Year 1, which he accomplished," Price said during the Winter Meetings. "I anticipate from the growth standpoint he will improve exponentially as far as his strike zone command, his stolen base percentage increasing, and his on base percentage. I think he's going to be a dynamic player."
1. 'Johnny Beisbol' wins 20 games
It may have been a year to forget for the Reds as a whole, but no one will soon forget the special season enjoyed by ace Johnny Cueto. In 34 starts, Cueto was 20-9 with 2.25 ERA, became a first-time NL All-Star and the club's first 20-game winner since 1988. Bouncing back from an injury-filled 2013 season in which he had only 11 starts, he ranked first in the league in innings (242 2/3), starts, opponents' batting average (.194), tied for the first in strikeouts (242) and second in ERA.
Only Cueto and Jim Maloney (1963 and '65) have recorded at least 20 wins and 240 strikeouts in a season for the Reds since 1900. Cueto's ERA was the club's lowest since Gary Nolan (1.99) in 1972. Unfortunately for Cueto, Clayton Kershaw had an even more exceptional year and was the unanimous winner of the NL Cy Young Award while he finished second.
"A lot of people, including my mom, said 'I want 20 games.' A lot of people in Spring Training said they want 20 games," Cueto said through interpreter Tomas Vera after his 20th win on the final day of the season. "I thank God for being able to commit and give them what they ask for. It's not just my personal goal, it was more than one person, including my mom, and I'm doing it for them."
There was an old-school intensity and competitive drive in Cueto's starts. Even as the Reds' offense spun in neutral, he usually found a way to keep the team in the game by working deep into them. Cueto had 29 quality starts and 15 games where he pitched at least eight innings and gave up two or fewer runs.
And many of those outings usually ended with an appreciative Great American Ball Park saluting him with a rousing ovation.
Mark Sheldon is a reporter for MLB.com. Read his blog, Mark My Word, and follow him on Twitter @m_sheldon. This story was not subject to the approval of Major League Baseball or its clubs.