Awe-inspiring ace led way for Dodgers in 2014
Kershaw's year for the ages helped define LA's bubble-popping 94-win season
LOS ANGELES -- For the second consecutive season, they won the NL West. But this time, the general manager lost his job. To borrow a Scullyism, only the Dodgers.
On the field, they followed the formula of 2013 and fell behind by 9 1/2 games in June. Then they unleashed a furious comeback, moved back into first place before the All-Star break and pulled away late to a six-length margin and a 94-win season.
And like 2013, they stumbled out of the playoffs in St. Louis, again with Clayton Kershaw on the mound. A season that opened with high expectations in Australia ended in frustration in America's heartland.
So the World Series drought reached 26 years, although there were strong indications that ownership was going to part ways with Ned Colletti no matter how the season finished.
Colletti's run as general manager saw five postseason appearances in nine seasons. In the last one, the face of the franchise, Kershaw, became the first National League pitcher to win the Most Valuable Player Award in 46 years, as well being a unanimous choice for his third Cy Young Award.
Matt Kemp regained his health and form to become a second-half offensive force. Carl Crawford overcame a bad ankle sprain to bat .300. Yasiel Puig was so good early that he made the All-Star team. His talent, magnetism and unpredictability overshadowed two lengthy slumps and his struggles in the postseason.
By contrast, Adrian Gonzalez typified consistency to the point that he led the Majors in RBIs while winning Gold Glove and Silver Slugger awards. A good thing, too, because Hanley Ramirez didn't match his production from the year before.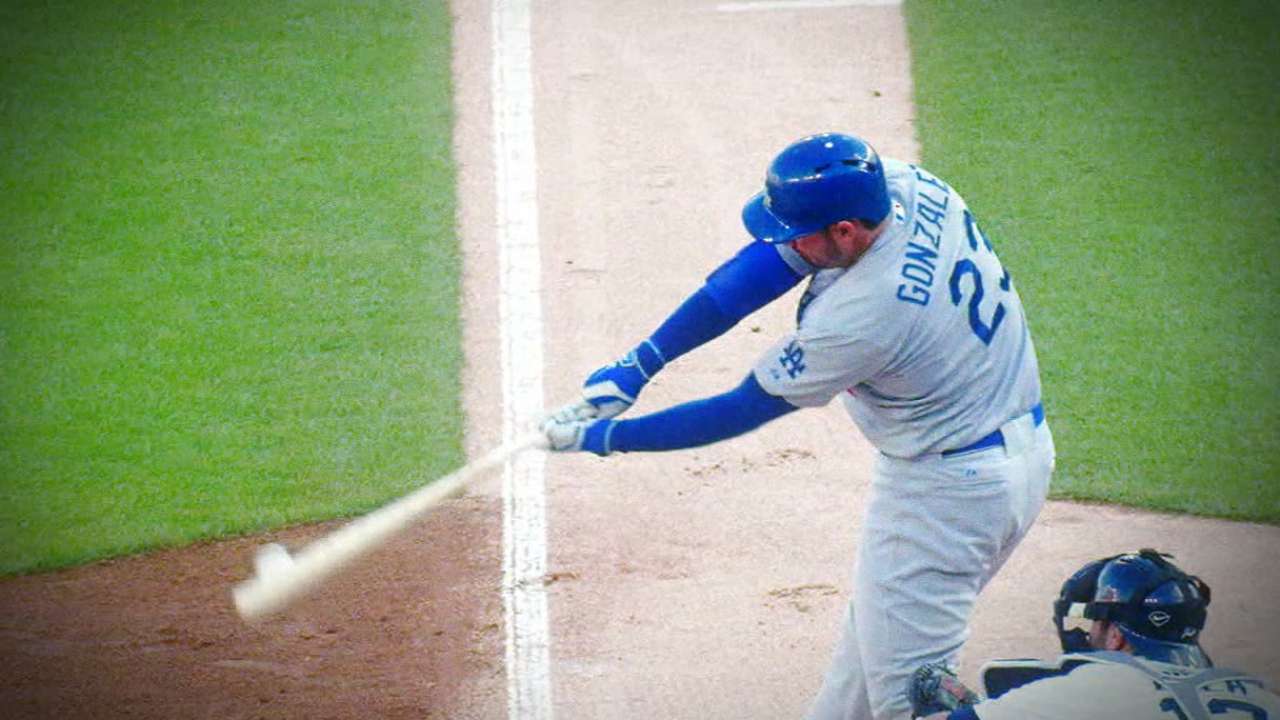 Kershaw's season for the ages was supplemented by Zack Greinke's career-high 17 wins and 14 more from Hyun-Jin Ryu, despite two stints on the disabled list with a sore shoulder. Dan Haren added 13 wins as the fourth starter, the first time the club had four 13-plus-win starters since 1985.
Closer Kenley Jansen upped his save total to 44, which should lead to All-Star consideration in 2015. The setup situation was complicated: Brian Wilson was never right, the staff lost confidence in Chris Perez, and Chris Withrow broke down.
Dee Gordon revived his career as an All-Star second baseman who led the Majors in stolen bases and triples. The team never had a losing streak longer than three games, while manager Don Mattingly was the ringmaster, manipulating lineups.
Oh, and the bubble machine became a dugout fixture.
The Highlights
Kershaw: He really is the next Sandy Koufax. MVP, third Cy Young, fourth straight ERA title with a career-best 1.77, fourth All-Star berth, first no-hitter, 0.86 WHIP. Along with the MVP and Cy Young honors, he won three GIBBYs, Players Choice awards (voted by his peers) for Major League Player of the Year, NL Outstanding Pitcher and Marvin Miller Man of the Year, the Warren Spahn Award for best left-handed pitcher in baseball, the Dodgers' Roy Campanella Award and was the club nominee for the Roberto Clemente Award. He joined Boston's Pedro Martinez (in 1999) as the only pitchers since World War II with 20 wins in fewer than 30 starts. The Dodgers were 23-4 in his starts, seven games above .500 in everybody else's. He led the league in pretty much every pitching stat that mattered, including the advanced analytic metrics.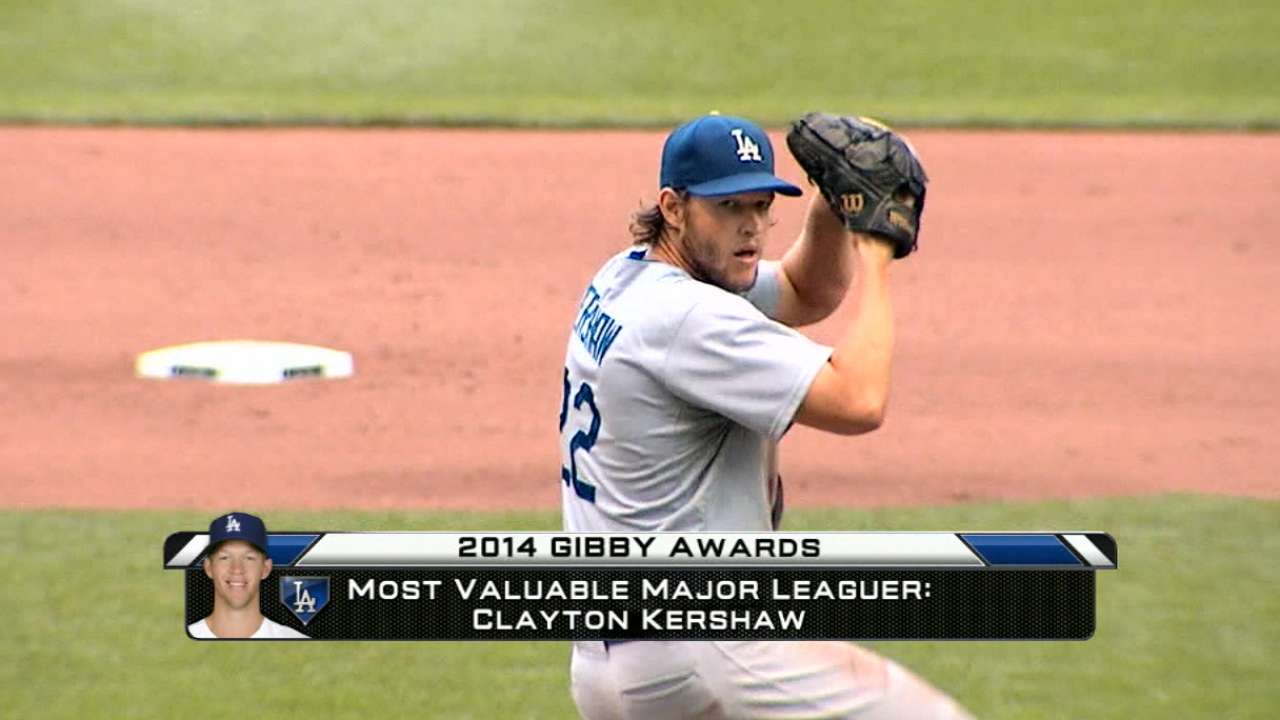 Defining moment: After a June 4 loss that left the Dodgers 31-30 and 8 1/2 games out, Mattingly called out his club for not pulling in the same direction. The deficit would reach 10 games, but by June 30 the club was 11 games above .500 and in first place. In late July, with all of his outfielders finally healthy, Mattingly settled on Kemp in right field, Puig in center, Crawford in left and Andre Ethier on the bench. On July 27, the Dodgers moved back into first place and stayed there the rest of the season.
Twin no-hitters: Josh Beckett, after throwing his first no-hitter in Philadelphia in what would be his final season, joked that he'd pass along tips so Kershaw could get his. And 24 days later, Kershaw bested Beckett with his first no-hitter, a 15-strikeout masterpiece that missed perfection only because of a Ramirez error. It was only the second time the Dodgers threw two complete-game no-hitters in the same season -- the other time being 1956 (Carl Erskine and Sal Maglie) -- and the first time in MLB since 1972.
Comebacks: Gordon revived his career by winning the starting second-base job and going to the All-Star Game. Beckett returned from thoracic outlet surgery to throw a no-hitter. Justin Turner turned a non-roster invitation into his best season as a Major Leaguer. Brandon League shaved his ERA in half, but it went largely unnoticed. Juan Uribe hit .300 for the first time in 13 years. And Kemp rebounded from shoulder and ankle operations to reclaim his place as one of the elite players in the game.
Gonzalez: If you're looking for disabled-list injuries, choking in pressure situations, lack of power, careless defense or general drama, don't look at Gonzalez. Nobody in the game had more RBIs. He won Silver Slugger and Gold Glove awards. He missed only three games. If he hadn't played on the same team as Kershaw, he likely would have finished higher than seventh in MVP voting.
Ken Gurnick is a reporter for MLB.com. This story was not subject to the approval of Major League Baseball or its clubs.