Rebuilding Phillies need plenty to break right
Young players to get an extensive look at the big league level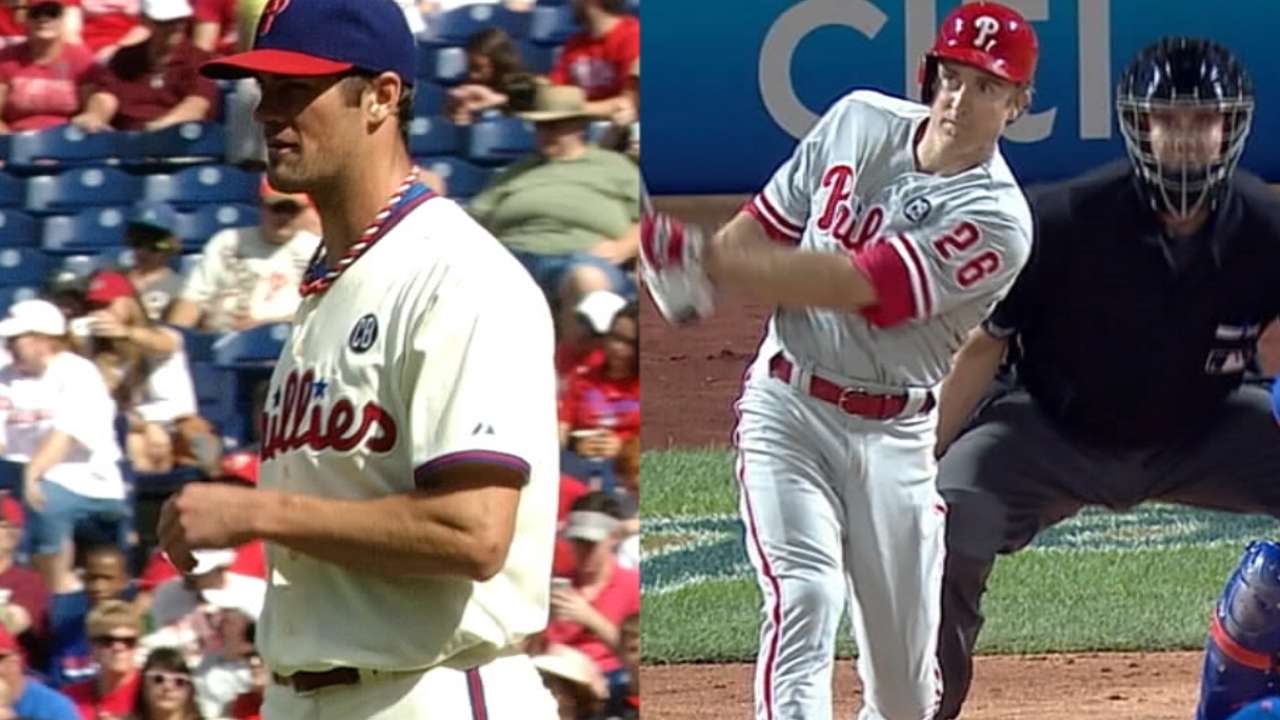 PHILADELPHIA -- Phillies interim president Pat Gillick offered some sobering news this offseason when he said the club would likely not contend again until 2017 … at the earliest.
That is how far the Phillies have fallen since a franchise-record 102-victory season in 2011. General manager Ruben Amaro Jr. said five years ago if he could not build a championship-caliber club with a $140 million payroll, then that is his fault. The Phillies had a franchise-record $180 million payroll in 2014, but lost 89 games for the second consecutive season and finished last in the National League East for the first time since 2000.
Amaro, who is entering the final year of his contract, is leading a painstaking rebuilding process. Further missteps could push back the organization's rebuild even further, so it is critical the front office gets things right.
Here are 10 questions for that team as the calendar flips to 2015:
10. Who is going to play shortstop?
It looks like Freddy Galvis. Phillies manager Ryne Sandberg sings Galvis' praises because of the energy he shows on the field, while Sandberg had issues with the way Jimmy Rollins hustled, etc. But while Galvis hustles, he has not shown he can hit big league pitching. Galvis has a .621 OPS and a 69 OPS+ in 550 career plate appearances since his big league debut in 2012. Compare that to Rollins, who has a .751 OPS and a 97 OPS+ and will be a Hall of Fame candidate once his career is finished. Rollins also ranked in the top third of qualifying shortstops last season in OPS. The Phillies hope top prospect J.P. Crawford accelerates his development and gets to the big leagues sooner rather than later.
9. Are the Phillies going to give Domonic Brown another shot?
Yes, they are. They really have nothing to lose at this point. They want to see if he can rediscover the swing he had in 2013, when he made the NL All-Star team based on a strong first half.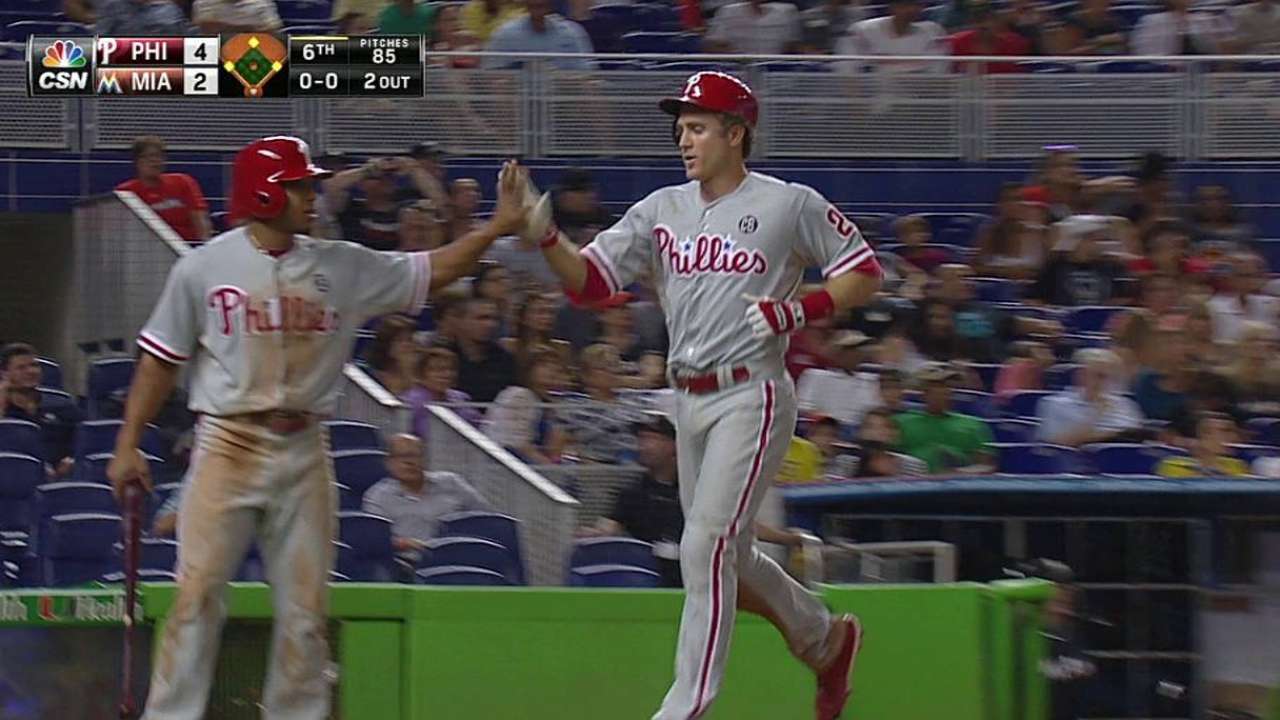 8. If the Phillies trade Cole Hamels, who makes up the rotation?
Cliff Lee is there, if he is fully recovered from an injured left elbow. David Buchanan is a near certainty following an encouraging rookie season. The Phillies signed Jerome Williams to a one-year contract following a nice season. Miguel Alfredo Gonzalez is getting a shot to start, despite a shaky health history. Expect the Phillies to explore the free-agent market for bottom-tier starters looking to rebound from injuries or poor seasons as the club tries to bridge the gap from 2015 to 2017.
7. Will Jonathan Papelbon be upset if he is not traded?
Papelbon made it clear he wanted to be traded and play for a winner, but he said in July he believed Amaro when he promised him the Phillies planned to compete. One wonders how Papelbon's opinion has changed now that Gillick and Amaro have said they have no plans on contending for the postseason through the end of Papelbon's contract, which could run through 2016 if his club option automatically vests.
6. Could Ken Giles replace Papelbon as closer?
Sandberg said at the Winter Meetings that if Papelbon is back and he is pitching well then he will close. Why? Well, a couple things are at play: First, if the Phillies are ever going to trade Papelbon, they want him closing. Second, setting up for another season will not cripple Giles' development.
5. How will the Phillies use Cody Asche and Maikel Franco at third base?
That remains to be seen. The Phillies like both players, but they have to find both a place to play. The Phillies believe Franco is better defensively at third base, which is why Sandberg said they could try Asche at first base and left field in Spring Training. Either way, whoever performs the best is going to get the playing time, unless the front office dictates otherwise.
4. If Ryan Howard comes back, how much will he play?
Amaro said at the Winter Meetings that Howard's contract would have no bearing on his playing time next season, which is a change from last July. Sandberg planned to cut Howard's playing time the final two months of the season, but the front office overruled him. Howard will still get to play, but Darin Ruf, Franco, Asche and possibly Chase Utley could see some time at first next season. Of course, if Howard improves offensively he will play, because it will improve the team's chances of trading him.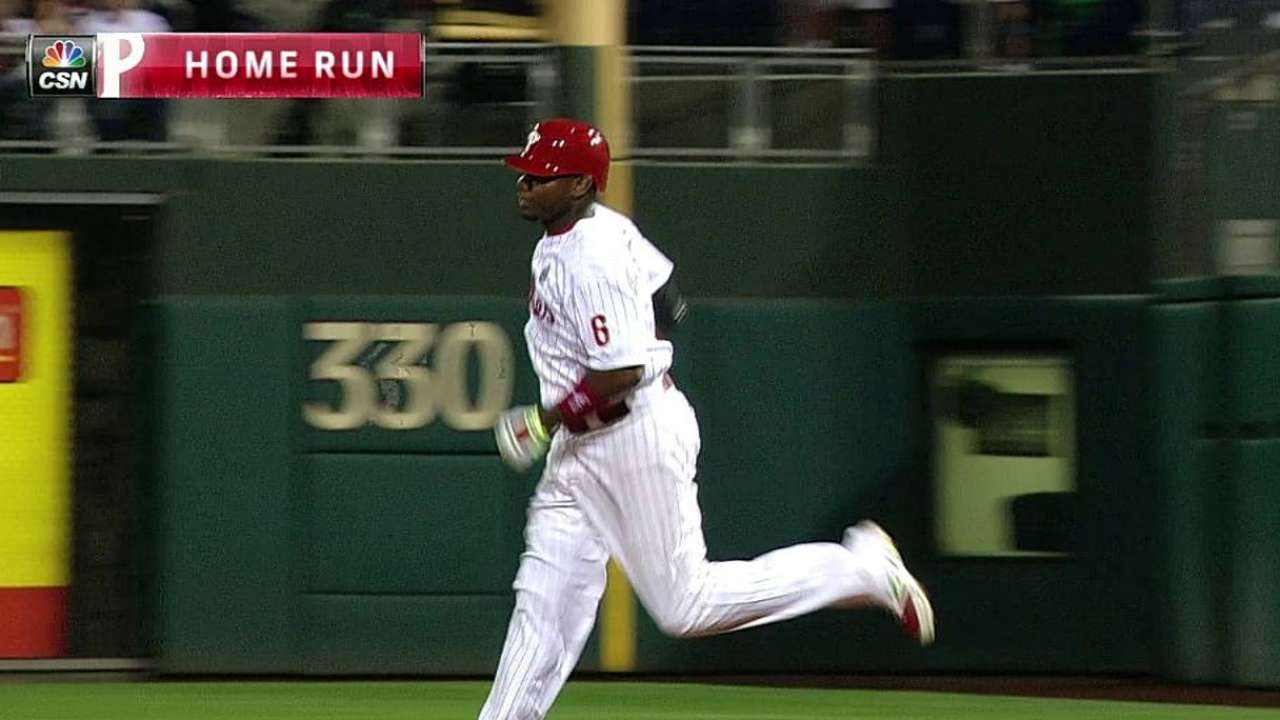 3. Will Utley be happy playing on a rebuilding team?
Utley is intensely competitive, so it is hard to believe he will be enjoying himself next season. But he has 10-and-5 trade rights and indications are he remains reluctant to leave Philly. There could be several reasons for that: First, he is comfortable in Philadelphia. Second, his career is not unfulfilled having already won a World Series championship. Third, he is comfortable with the athletic training staff and its ability to treat his chronic knee condition.
2. Will Amaro be back in 2016?
It is hard to say. The best thing that could happen to Amaro is he trades another veteran or two and the prospects the Phillies receive for Rollins, Antonio Bastardo and others immediately show promise in the Minor Leagues. If that happens and other prospects in the system continue to develop as hoped, Amaro could say the rebuilding process is working. But if those prospects struggle, it could finally lead to significant change in the front office.
1. Will it really take until 2017 to be good again?
It is too early to say. The offseason is not finished, so there could be more trades. Everybody needs to see what happens with Franco, Asche, Brown, Buchanan, Giles and others at the big league level. Everybody also needs to see what happens with prospects like Aaron Nola, Crawford and others at the Minor League level. If everything breaks right, maybe the rebuild goes quicker than expected.
Todd Zolecki is a reporter for MLB.com. This story was not subject to the approval of Major League Baseball or its clubs.