Revere family set for a relaxing Christmas
Phillies center fielder to welcome relatives into his new Kentucky home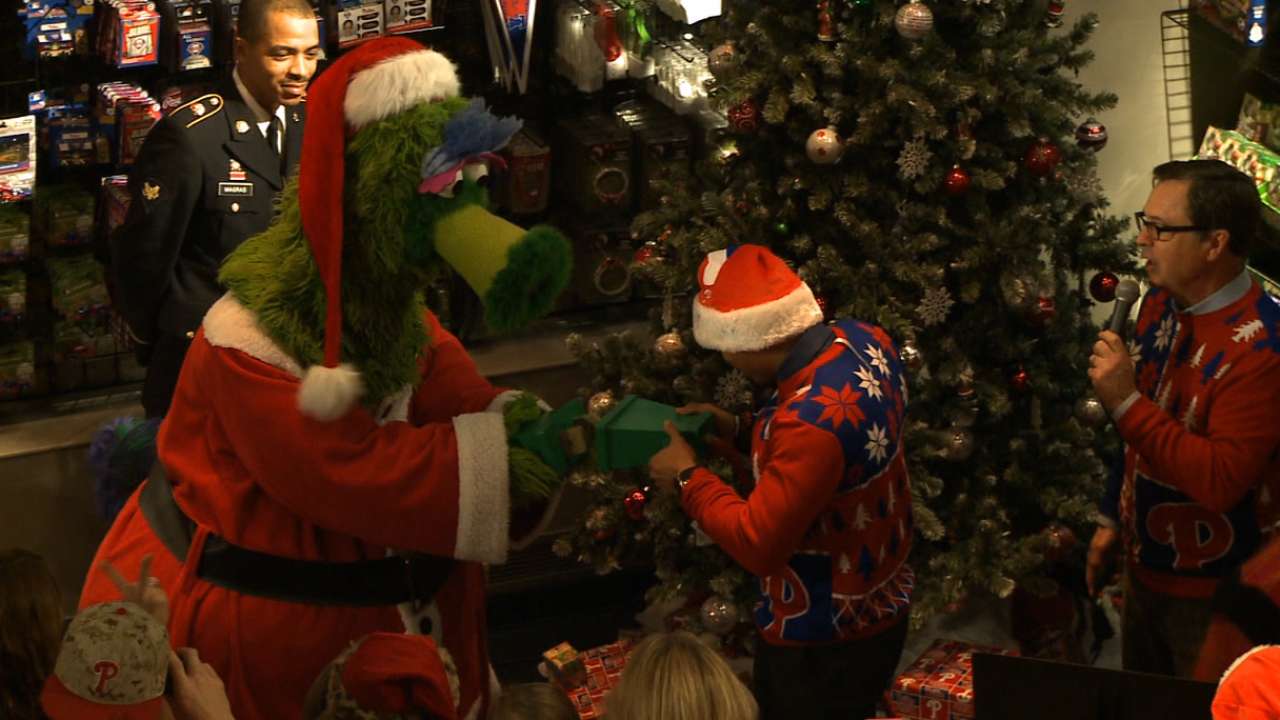 PHILADELPHIA -- Phillies center fielder Ben Revere is feeling better these days after he had a couple pins removed from his right ankle in September.
He hopes it leads to a better 2015.
But before Revere heads to Clearwater, Fla., for Spring Training, he will spend the holidays with his family at home in Kentucky. Revere chatted for a few minutes earlier this month at Citizens Bank Park, where he helped the Phanatic light the Phillies' Christmas tree. He talked about Christmas in the Revere home, and some of his better holiday memories.
Q: Is Christmas big in your family?
A: It's big. I just bought a house in Kentucky, so I have some family coming to my house. It's real big. I'm the youngest. I'm 26. But since we're all grown up we'll wake up, have breakfast and everything. Then by eight or nine o'clock at night we'll open presents.
Q: Is that Christmas Eve or Christmas Day?
A: Christmas Day. Yeah, we'll open up presents then, then get up and go right back to work.
Q: What do you remember about Christmas as a kid?
A: I remember I got Ken Griffey Jr.'s cleats. I was a little kid. I wanted them so bad. I woke up early. I woke up at 6 or 7 in the morning when I was a young kid. I went downstairs and I opened the one box with my name on it from Santa. I just went absolutely crazy when I got them. I was showing them to all my friends. That was the one gift I really got that really pumped me up.
Q: Were gifts typically sports related?
A: When I was younger, I got a jersey of my favorite player -- Griffey. I got a Griffey jersey. I got a little bat, ball and glove. My dad bought me my first batting glove and I was psyched. When I got a little bit older it was game systems, like PlayStation or PS3 and everything. But now my parents say, "We don't know what to get you because you buy yourself everything." I'm like, "That's true." But it's the same with them. I'm just like, "What do you want for Christmas? I don't know what you want."
Q: So what do you get?
A: They usually give me T-shirts and boxers. The thing is I need them most because I'm losing my boxers and T-shirts. So I'm like, "Yeah, just give me that." It's a great time at the Revere household on Christmas.
Q: What about food? Anything special?
A: Not really. My mom says she's going to cook something. But usually we wake up early in the morning, cook breakfast and we eat that. We just kind of relax, say Merry Christmas to all the relatives calling. I'll watch basketball, then we open presents, then call it a night. It's a low-key type of holiday. Then after that it's Spring Training. I'm getting pumped for that.
Todd Zolecki is a reporter for MLB.com. This story was not subject to the approval of Major League Baseball or its clubs.