Christmas traditions are special to Miller
Braves' new righty discusses his all-time favorite gifts, family and more in special Q&A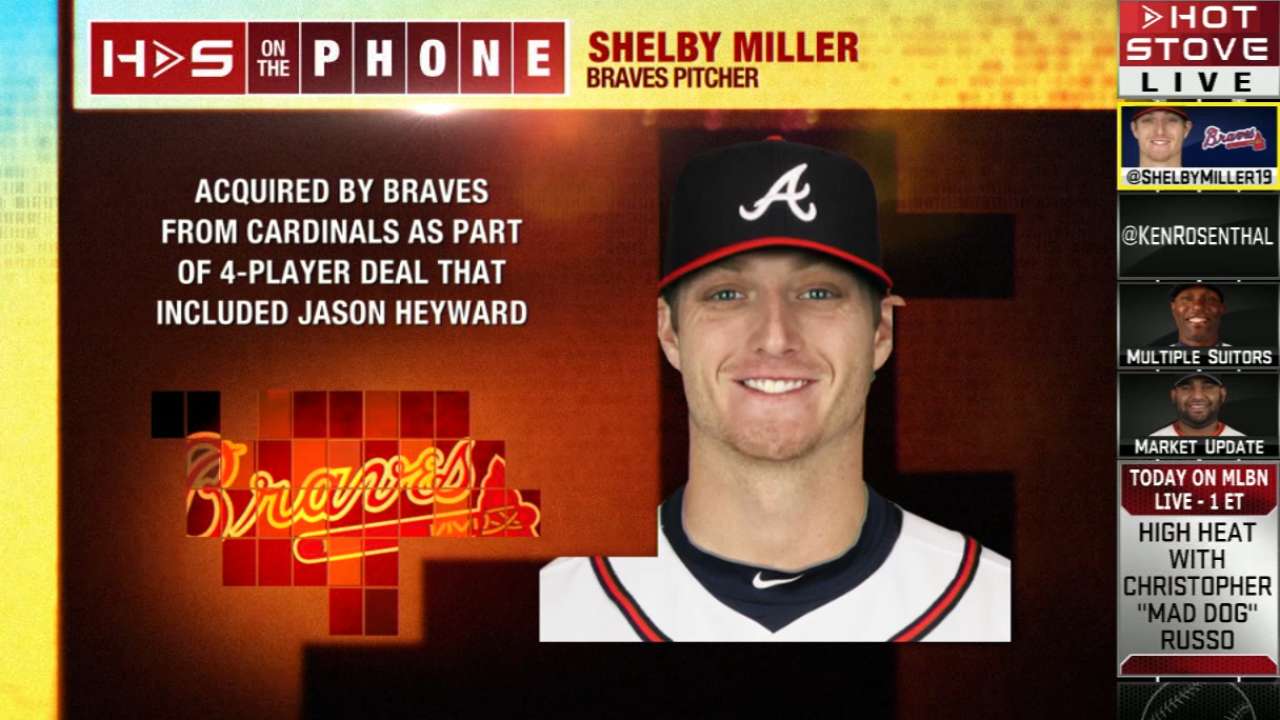 Shelby Miller served as the centerpiece of the Braves' return when they traded Jason Heyward to the Cardinals in November. Miller, who has the potential to be one of Atlanta's top starting pitchers, recently spoke to MLB.com about his favorite Christmas traditions and memories.
MLB.com: Is there a Christmas show or movie you always look forward to watching this time of the year?
Miller: Our favorite family movie is Christmas Vacation.
MLB.com: Are you one of those guys who can recite many of the lines from that film?
Miller: No. The movies I can just recite the lines to are Happy Gilmore, Billy Madison and stuff like that. I remember my parents got me Happy Gilmore for Christmas when I was like 10 years old, which is not a movie you want for your 10-year-old. We were leaving to go to New Mexico to ski the next morning, and I watched it like three times before we left. I thought it was just the best movie ever. It's one of those movies I can sit and watch and never get tired of it.
MLB.com: Did your family always go skiing during the holiday season?
Miller: Yeah, usually a day or two after Christmas we would always go to New Mexico or Colorado. It was always fun to go skiing with a bunch of the family members. We'd all carpool out there and rent a house or a condo. It was just great to be together during that time of year.
MLB.com: Are you still good with the skis or a snowboard?
Miller: I haven't been [skiing] since I signed [with the Cardinals] in June of 2009. But I'm sure I could go out there and hold my own.
MLB.com: Now that you're married, do you still spend every Christmas with your family in Texas?
Miller: This year, we did Thanksgiving with Amy's family. So, we'll do Christmas with mine. I know with most marriages it goes back and forth. We're just going on our second year of being married for Christmas. We might change the arrangement over the years. But for right now, we're just pretty much playing it by ear.
MLB.com: Are there any favorite traditions in your household?
Miller: My mother still makes cookies for Santa Claus. I've got a 6-year-old sister who still believes. So, Santa Claus still comes to our house. Opening presents is kind of a big deal for us.
MLB.com: What was the best present you got as a kid?
Miller: You never forget the excitement of waking up and going to the tree to see what you got as a kid. Growing up, I got a lot of great presents. I got a go-cart one year and a cellphone. There was always that one big gift that we got that we really, really wanted. The go-cart stands out to me.
MLB.com: Were you able to drive the go-cart around on Christmas day?
Miller: I grew up pretty close to the high school football stadium. One of my best friends got a go-cart that same year. So we went over to the parking lot, drove them around and raced them and all of that fun stuff with each other.
MLB.com: Will any of your family members be getting Braves items for Christmas?
Miller: I'm sure somebody will be getting something Braves-related. My family members are always excited to get new things. My parents watch all of my starts. But my grandma and grandpa are huge fans. They watch every single game throughout the year. So, they're going to be finding where to watch the Braves -- and I'm sure they'll have some Braves gear.
Mark Bowman is a reporter for MLB.com. This story was not subject to the approval of Major League Baseball or its clubs.