MLB.com Columnist
Terence Moore
Selig ranks among Wisconsin's sports icons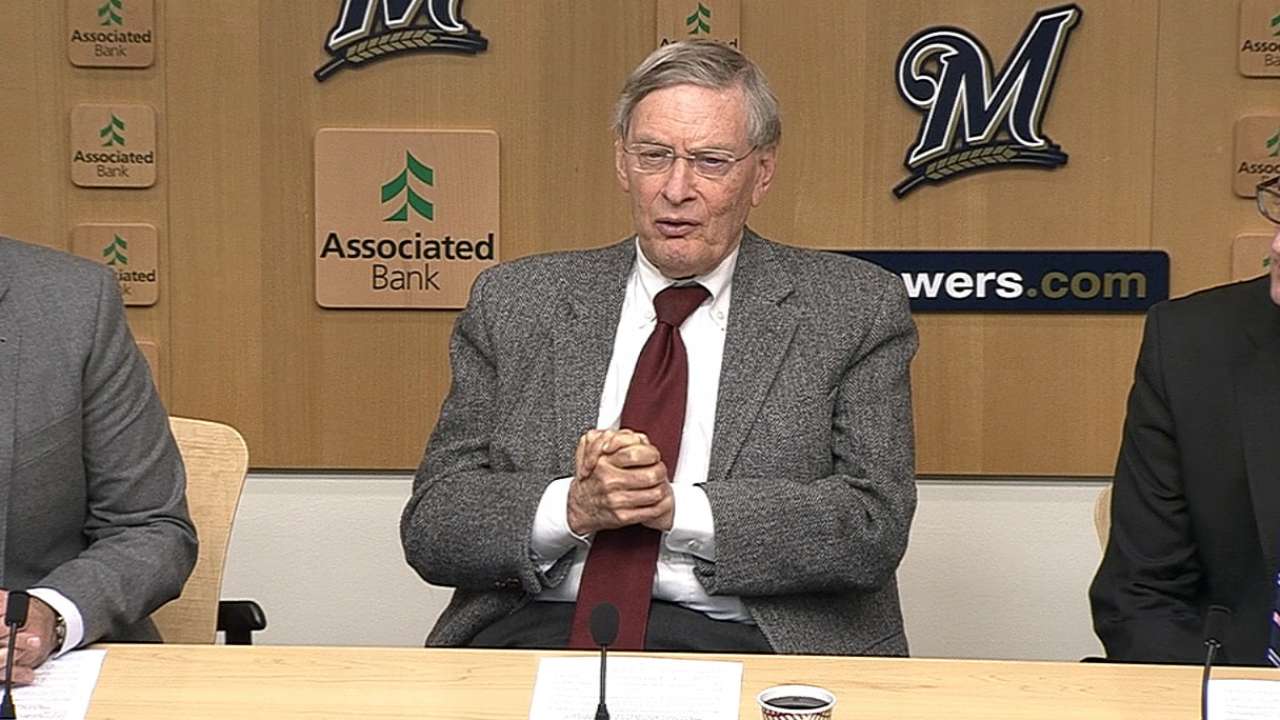 When it comes to significant people in the history of Milwaukee baseball, Warren Spahn is up there. The same goes for Eddie Mathews, Robin Yount and Paul Molitor. Then, if you move "just a bit outside" of those Hall of Fame players, you'll find Bob Uecker, the legendary Brewers announcer.
That leaves two folks in Milwaukee baseball lore who rank higher than the elite of the elite: Hank Aaron and Bud Selig.
It's so appropriate that Aaron, the former Braves legend and the legitimate home run king in the minds of many, is splendid friends with Selig, the Milwaukee native who went from cheering for Aaron and those old Braves before they bolted for Atlanta in 1966 to bringing Major League Baseball back to town four years later, purchasing the Seattle Pilots.
Those Pilots became the Brewers before the 1970 season, and Selig evolved into something otherworldly in Milwaukee.
No, Wisconsin. I spent part of my youth in Milwaukee, where my parents lived for three decades, which is why I know Selig also sits among the candidates for the Mount Rushmore of the state's all-time sports figures. In no particular order, you have Vince Lombardi, you have any given star from those powerful Green Bay Packers teams of the 1960s, you have Marquette basketball icon Al McGuire, you have Brett Favre, and you have Aaron and Selig.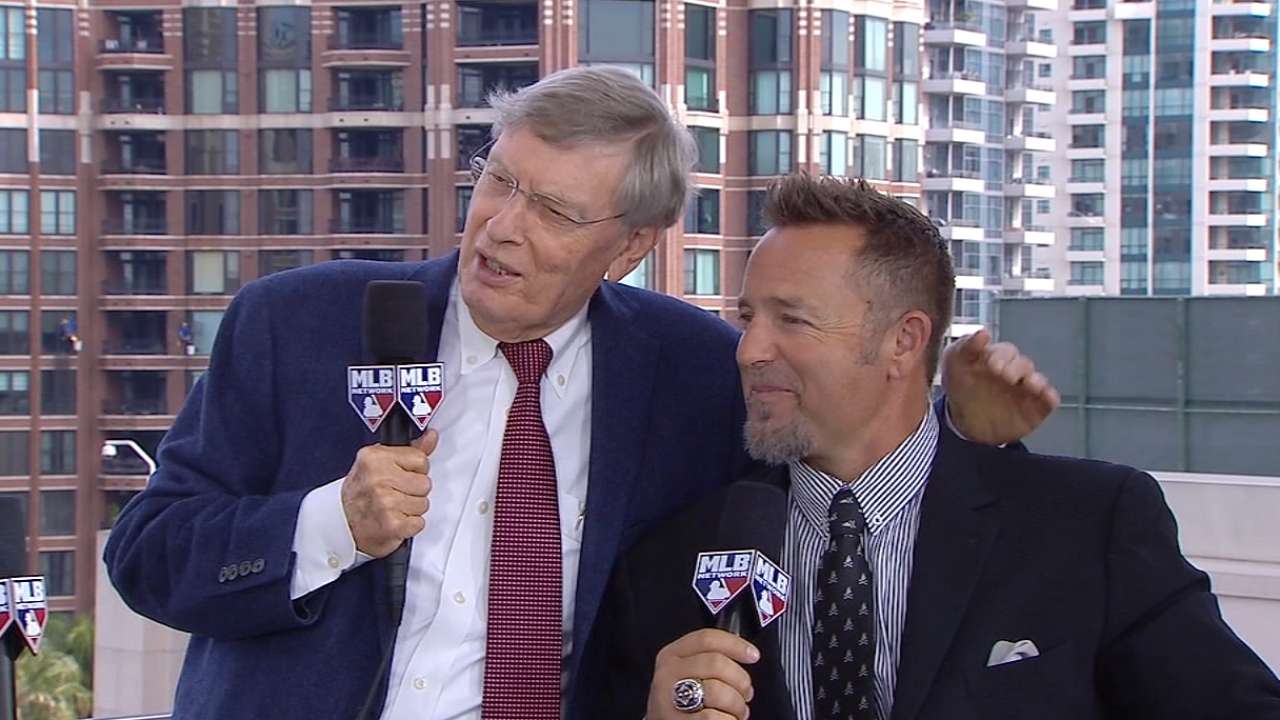 Everything about Selig screams "Cheesehead." For one, Wisconsin is the ultimate blue-collar state, and he always carries himself as just another citizen who shovels his own snow despite growing up in Milwaukee with a father who owned a car-leasing business. He roomed at the University of Wisconsin with Herb Kohl, the former U.S. Senator from the state and past owner of the Milwaukee Bucks. He spent years on the board of directors of the Packers. When he bought the Brewers, he still mixed with the crowd. In fact, he continues to eat a hot dog every day at the same Milwaukee Frozen Custard stand.
If that isn't Wisconsin enough, Selig went from Brewers owner to Baseball Commissioner in 1992, but he resisted the urge to move his office to New York, where the headquarters of Major League Baseball have been for decades. He stayed in Milwaukee, where he joins relatives, friends and neighbors in smiling at the sounds of the Beer Barrel Polka and in frowning when those not from Wisconsin call drinking fountains, well, "drinking fountains" as opposed to "bubblers," the preferred term for Cheeseheads.
Here's my point: Those in Wisconsin cannot honor Selig enough, and not just because he is slightly a month away from retiring as baseball's most accomplished commissioner.
So the Brewers did well this week, when they announced they were adding an interactive fan experience to the left-field corner area of Miller Park called "The Selig Experience." This is the same Miller Park that Selig willed into existence to replace antiquated Milwaukee County Stadium that housed the old Braves and the new Brewers. As a result, the "experience" inside the new place will have fans dealing with a 3-D multimedia version of Selig in a replica of his old office that was located at Milwaukee County Stadium. There will be his famously cluttered desk, and there will be a slew of artifacts involving Selig's baseball life in Wisconsin in general and the Brewers in particular.
"I've often said, with all the things that have happened to me, the thing that I'll always be proudest of is bringing a team back here," Selig told those gathered this week at a news conference at Miller Park. "It was a long, tough 5 1/2 years, with a lot of rejection, a lot of sadness, and the ultimate happened."
Yep, yep and yep, regarding all of Selig's points.
During those "5 1/2 years" of which Selig spoke, he dealt with those numerous times of "rejection" by bringing Major League exhibition games to town. He eventually convinced the White Sox to play some of their home games in Milwaukee.
Video: Selig on his statue
Still, that "sadness" lingered over the loss of the Braves until "the ultimate" happened. Selig turned the Pilots into the Brewers, and he was entrenched forever as a Wisconsin superhero.
This isn't to say Selig's work as Baseball Commissioner didn't contribute to his wonderful standing among most Cheeseheads. He brought Interleague Play to the game. He instituted expanded instant replay. And under his watch, there was a proliferation of old-new ballparks everywhere. Baseball's attendance never has been higher. The same goes for its television revenue.
Speaking of revenue, the majority of estimates say the yearly revenue for Major League Baseball is now $9 billion, which represents a 400 percent increase since Selig first became commissioner.
In the mind of your average Cheesehead, there is that Selig, who everybody shares. But there mostly is this one: The Milwaukee guy, who did as much as anybody to keep Wisconsin relevant nationally and internationally in sports beyond the Packers, and he did so by replacing the Braves with another Major League Baseball team sooner rather than later.
No wonder there was a Selig statue built four years ago, and it was placed near the ones of Yount, Uecker and Aaron outside of Miller Park. The Brewers will retire uniform No. 1 in his honor on Opening Day, and now they have the coming of that interactive exhibit to honor Selig.
What's next for Selig from his hometown folks?
Whatever it is, it will be well deserved.
Terence Moore is a columnist for MLB.com. This story was not subject to the approval of Major League Baseball or its clubs.