Red Sox acquire catcher Hanigan in deal with Padres
Trade sends Middlebrooks to San Diego, solidifies backstop role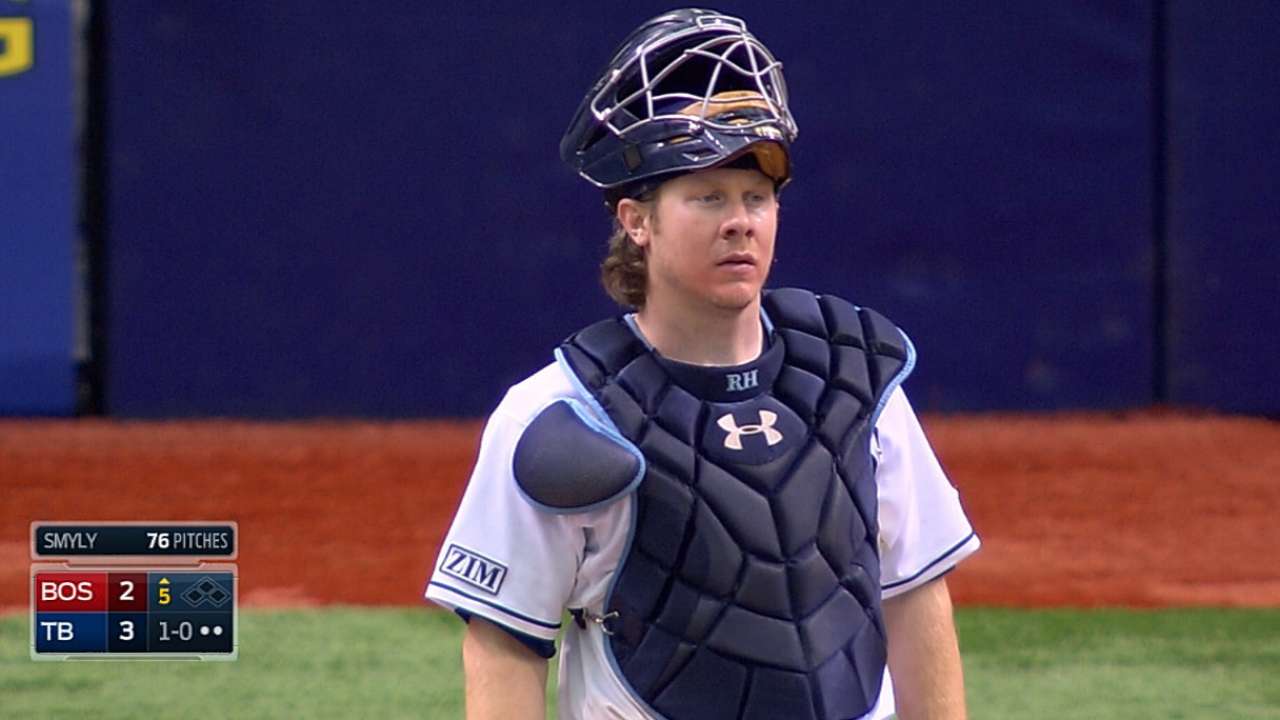 Unable to acquire Ryan Hanigan during the 2013 offseason, the Red Sox made sure they wouldn't miss out for the second straight year. With a logjam at third base and the need for a backup catcher, the Red Sox traded Will Middlebrooks to the Padres on Friday in exchange for Hanigan.
"We've had our eye on him for awhile. He has a great reputation," Red Sox general manager Ben Cherington said. "Now was the time we could get him, so we acted quickly."
The signing of Pablo Sandoval earlier this offseason made it likely that Middlebrooks would be traded.
Hanigan was acquired by San Diego from Tampa Bay on Friday in an 11-player, three-team deal.
Adding Hanigan answered the question of whether the Red Sox would re-sign free agent David Ross, who signed with the Cubs late Friday night.
"Looking at the criteria of what we wanted, Ryan checked all the boxes," Cherington said. "He's a great defender, a great game-caller, has good at-bats and has plenty of experience in the Majors."
After hitting 15 home runs in just 267 at-bats during his rookie season in 2012, Middlebrooks wasn't able to duplicate that same kind of success over the last two seasons. In 157 games during that span, he hit just .213/.265/.364 with 19 homers and 168 strikeouts in 608 plate appearances.
Cherington said that plenty of teams expressed interest in Middlebrooks, but the Red Sox felt like a deal with the Padres made the most sense.
"We still believe in [Middlebrooks'] talent. We are rooting for him," Cherington said. "While the trade meant getting rid of Will, it marked an opportunity for both clubs."
Hanigan, an Andover, Mass., native, said his favorite player growing up as a diehard Red Sox fan was Mo Vaughn.
"I'm pumped. It's been a little crazy with so many friends and family calling me," Hanigan said. "I feel a comfort here. It is home. I want to try and bring a ring back for the team."
Hanigan has a caught-stealing rate of 38 percent for his career and led the Majors in caught-stealing rate (minimum 50 games) in 2012 (48 percent) and '13 (45 percent).
However, the veteran backstop has battled injuries each of the past two seasons. He played in only 84 games for the Rays last season (hitting .218) and 75 for the Reds in 2013.
Hanigan will share the catching duties with 24-year-old Christian Vazquez, who made quite a splash last season showcasing his cannon of an arm and his ability to frame pitches.
"I'm ready to play in whatever role they need me. I'm going to train like I'm playing 140 games," Hanigan said. "The injuries the past few seasons have been a bummer, but I've made strides and spent time training and really doing things differently."
Hanigan owns a .256 career batting average with 57 doubles and 25 home runs and has a lifetime .353 on-base percentage over the better part of eight seasons.
The 34-year-old Hanigan is set to make $3.5 million next year and $3.7 million in 2016, with a $3.75 million option for '17 as part of a contract extension he negotiated following his trade to the Rays last offseason.
Quinn Roberts is a reporter for MLB.com. This story was not subject to the approval of Major League Baseball or its clubs.