Rollins understands why Utley is staying in Philly
The longtime double-play partnership ends, but not their friendship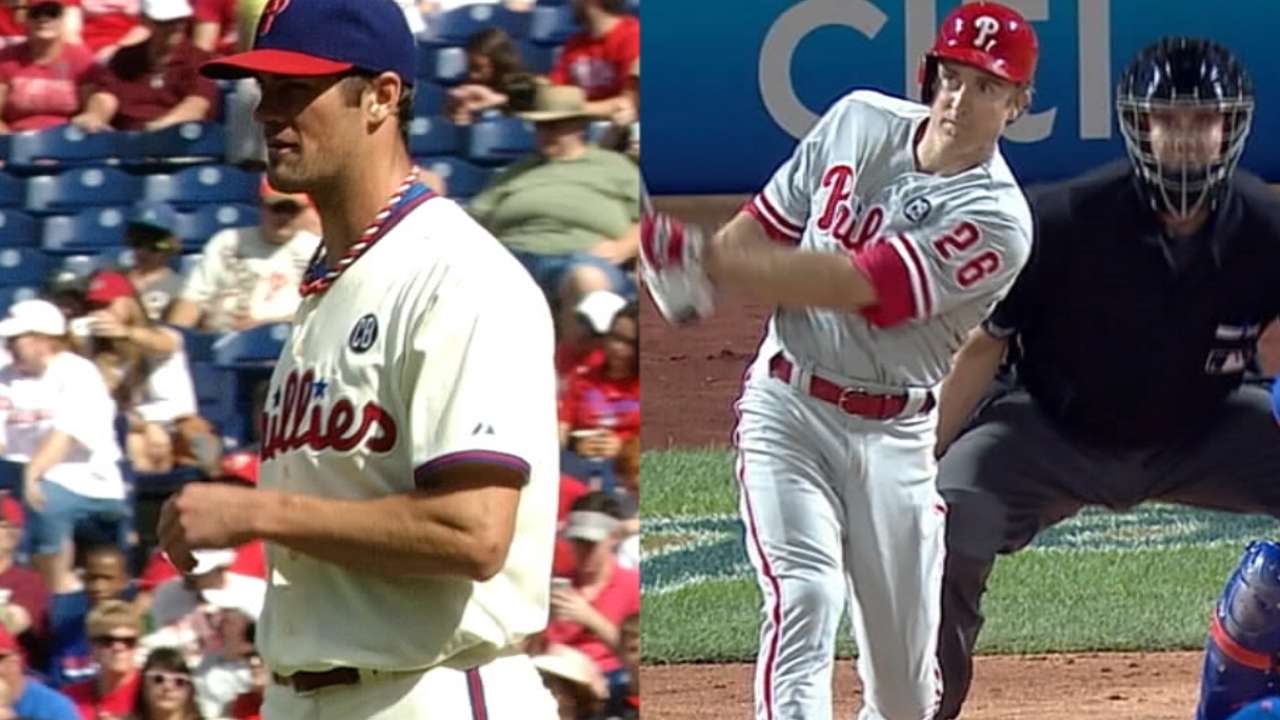 PHILADELPHIA -- It makes perfect sense to Jimmy Rollins why Chase Utley wants to stay in Philadelphia, despite Phillies interim president Pat Gillick saying the team will not win again until 2017 at the earliest.
"You don't just get up and walk away from something you've built just because things aren't going great at that moment," Rollins said Friday, when the Phillies announced they traded him to the Dodgers. "You just don't do that. I don't think anyone in that clubhouse is a quitter and just, 'You know what, I give up. I don't want to be here because we're not winning now.'
"We came from nothing, pretty much, and if you end at nothing, then oh well. But you keep on trying. And I think that's something we felt as core players, that we always had a chance. We become believers in ourselves, become believers in what the organization is trying to do once we showed them we were in position to win. The last few years it hasn't happened, but you always keep your eyes ahead and looking to better days."
Rollins and Utley helped transform the Phillies from wannabes to World Series champions in 2008. They won the NL pennant in 2009 and five consecutive NL East titles from 2007-11.
That history is tough to leave.
But Rollins ultimately waived his 10-and-5 no-trade rights to accept a trade to the Dodgers, the only place he said he would accept a trade. It ends one of the best runs of any professional athlete in Philadelphia history.
It also ends a remarkable run for Rollins and Utley, who has told the Phillies he has no plans to waive his 10-and-5 rights.
Rollins and Utley started 1,187 games together as a double-play combo, the most in National League history and second most in MLB history. Detroit's Alan Trammell and Lou Whitaker started 1,607 games together to hold the MLB record.
"The Dodgers are very lucky to acquire a player like Jimmy," Utley said in a statement. "I've said it time and time again that Jimmy makes everyone around him better. The team will miss his leadership on the field and his infectious smile, but most of all, I will miss our pregame handshake."
"Chase and I have been texting," Rollins said. "He's actually been sending me different homes to possibly stay at out there. I'm just looking like, man, that extra $5 million [in salary] sure goes a long way."
Rollins laughed. They will see each other again. The Phillies play in L.A. in July, and the Dodgers play in Philly in August. But it certainly will be different.
Todd Zolecki is a reporter for MLB.com. This story was not subject to the approval of Major League Baseball or its clubs.