Padres build stacked offensive lineup with bevy of moves
Kemp, Upton, Myers bring power to roster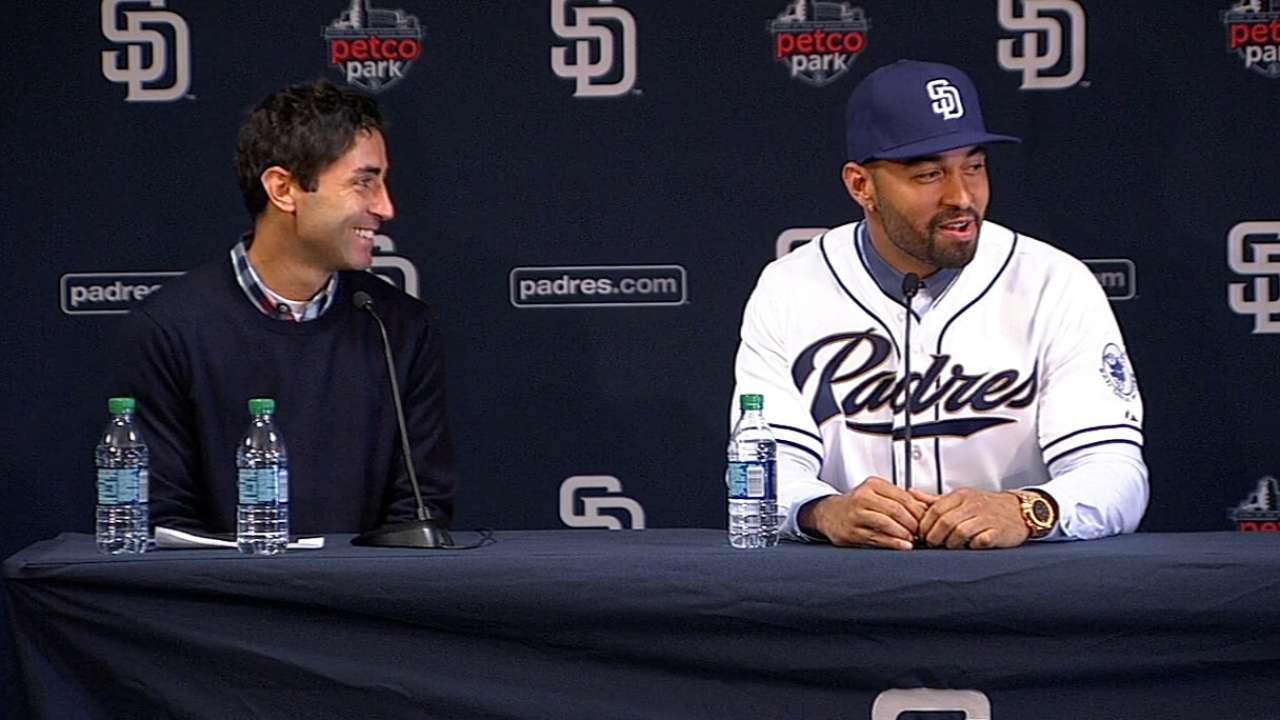 SAN DIEGO -- During his introductory press conference Friday at Petco Park, new Padres outfielder Matt Kemp pulled on a home white jersey and hurriedly attempted to button it before posing for photos with general manager A.J. Preller and manager Bud Black.
There was only one problem; Kemp didn't have the buttons aligned and had to start over, but not before he poked a little fun at himself, which drew laughter from the gathering of media, family and front office types.
"This is new to me, guys," he said, smiling.
Kemp wasn't the only one treading in unchartered waters Friday, as the Padres -- who haven't advanced to the playoffs since 2006 and haven't been very relevant since -- continued a frenzied and unusually bountiful offseason with a bevy of notable roster moves, squeezed into a 24-hour window.
How busy have the Padres and Preller, hired in August to remake the team, been? In a 24-hour period, the team added, most notably: Kemp, Braves outfielder Justin Upton and Rays outfielder Wil Myers, giving them a collection of former All-Stars and a Rookie of the Year to fill what was a barren lineup.
"It's getting stacked," Kemp said of the lineup.
That was the plan Preller put in the place shortly after being hired, though he admitted he could have never imagined such a haul, even if it came at the cost of moving 12 players, many of them prospects, to various teams. He has adhered to a win-now mentality since accepting taking job -- even if the roster he inherited didn't reflect that at the time.
It just might today, though.
"We looked at it, starting off the offseason, as having your wish list or target list. But now to look at it on Dec. 19 and have all of them in the fold … that was probably unlikely," Preller said.
Kemp, looking and sounding enchanted and excited about joining the Padres after spending his entire career with the Dodgers, admitted to being impressed at what Preller has pulled off.
"He's a GM rock star now," Kemp said of Preller, who smiled sheepishly.
This is a franchise that has long struggled to deliver homegrown impact players to the big leagues. Manager Bud Black, heading into his ninth season, knows this better than anyone. He's long presided over teams built on run prevention, where runs were scarce and probably at times felt non-existent.
Only the Mariners have scored fewer runs since 2007, Black's first season as manager.
"What those guys can do is exciting. I've gotten so many messages about the impact of what these guys can do. It's guys with all-field powers, guys who are athletic. You're talking about players who are in the wheelhouse of their careers. It's exciting," Black said.
Kemp will play right field with Myers initially slotted for center and Upton in left. The Padres, during this busy week, also traded for A's catcher Derek Norris for stability behind the plate.
Long after Kemp's press conference ended, after the cameras and reporters left, Preller retreated to his office to finalize another deal, landing third baseman Will Middlebrooks from Boston for Ryan Hanigan.
Yes, that's catcher Hanigan, who was a Padre for less than 24 hours, in case you're trying to keep track of these moves at home.
"The last 10 years with Texas, seeing the game the last 15 years from a front office perspective, it's a little unusual that you get one after another," Preller said. "It's definitely an unusual situation. But we went one decision at a time and had a lot of different balls in the air."
What it will lead to is anyone's guess, but this team will surpass the club-record $90 million Opening Day payroll of a year ago. That's a sizeable commitment for a team long overshadowed in its own division.
"Ultimately, we feel we have a chance to put a pretty good product on the field next year. It's been a lot of fun. It's been a fun process. Hopefully, it's a win now and win later attitude," Preller said.
Corey Brock is a reporter for MLB.com. Keep track of @FollowThePadres on Twitter. This story was not subject to the approval of Major League Baseball or its clubs.