Cruz a kid at heart during offseasons at home
Mariners' new slugger spreads Christmas joy with toy drive in Dominican Republic
SEATTLE -- He may have just signed a four-year, $57 million deal that makes him a wealthy man, and he's the reigning Major League home run champion, but Nelson Cruz hasn't forgotten where he came from.
The Mariners' new slugger returned to his hometown in the Monte Cristi area of the Dominican Republic on Friday and passed out toys and books to some 550 kids at his former elementary school, where his mom taught when he was growing up.
This is the third year Cruz has participated in a toy giveaway in Las Matas de Santa Cruz, a community of about 18,000 on the northwest corner of the Dominican. The event has become a Christmas festival, with clowns and food and smiles that would light up a Christmas tree.
"When I was a kid, I didn't have the chance to have many toys," said Cruz. "When my dad did give me one, I remember how happy I was. There's nothing better than seeing a kid smile. Even now, when I go back and see kids there, they come up and say, 'I still have the toy you gave me from a couple years ago.' That's something you can't buy, that joy they have as kids."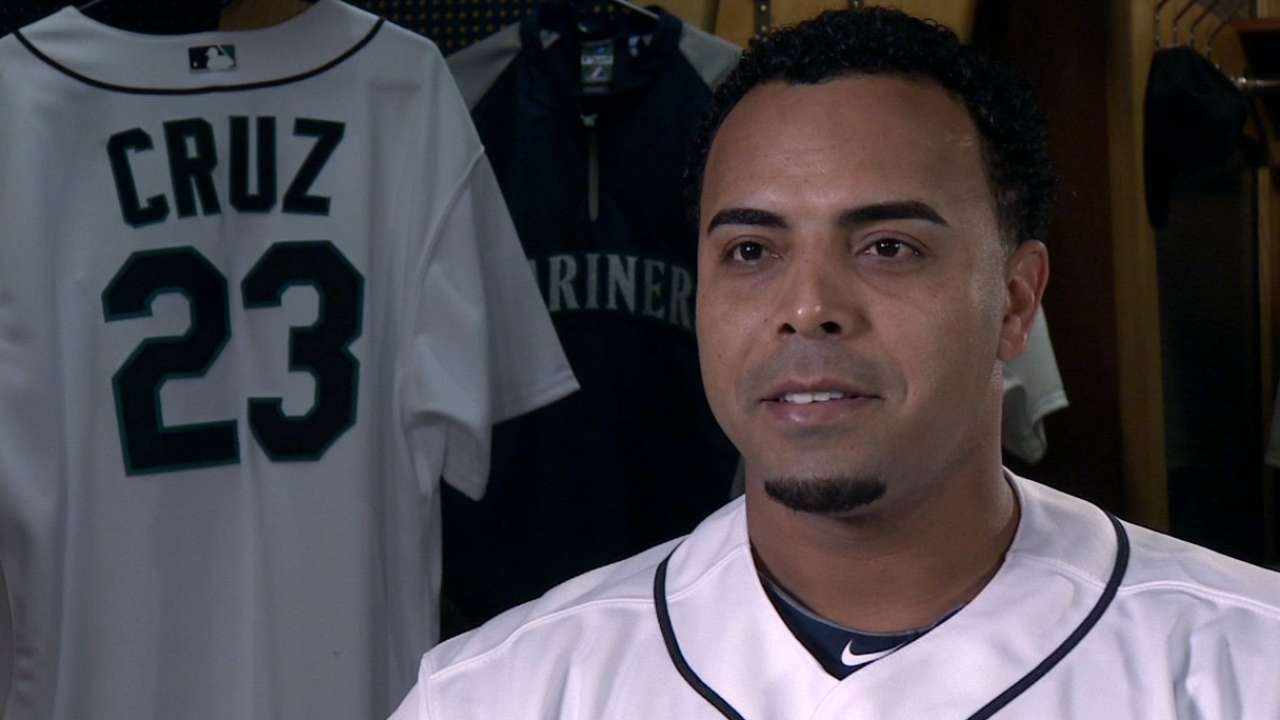 The 6-foot-2, 230-pound Cruz is a big attraction in his hometown and still spends his offseasons in the area, living on a farm much like the one his grandfather owned. While Cruz is now a well-paid, three-time Major League All-Star, he didn't get anything handed to him in his youth.
He grew up working on his grandpa's farm and later fixing tractors for his uncle's mechanics shop. His parents were both teachers, Dominga at the elementary school and Nelson Sr. a social studies instructor at the high school.
Education was an important factor in his life and that is a big part of the message he delivers to school children, along with the toys.
"Most of those kids, they like baseball," he said. "But my parents were teachers and I had to go to school even after I signed [with the Mets] to go to their academy. My dad said, 'No, he has to finish before he goes.' I played baseball in the daytime and went to school at night. I know how important it is to have an education and at least finish high school. If you aren't a pro baseball player, you can be a doctor or a lawyer."
Cruz donates some of his own money to the toy drive and also gets help from the Major League Baseball Players Trust. What he receives in return is worth far more, he said, as he enjoys reliving the days of his own youth.
"I hadn't been there in a while," he said of his former elementary school. "I also went back to my old high school about two to three weeks ago and they surprised me with some stuff. I got tears in my eyes. It's pretty special."
Cruz and his wife, Solanyi, have two young children. And he remains something of a Pied Piper around youngsters in his hometown.
"I love to be around kids," he said. "I bring kids to my batting cage at my house and teach them to hit and work out and stuff like that. It's something I enjoy. My wife tells me I'm still a kid. I don't think you're going to grow old when you're still playing baseball. You have to have fun."
Christmas is a festive time at the Cruz house. Much of his immediate family now lives in New York, but returns to the Dominican to share time at the holidays, with trips to the nearby rivers and beaches and "cooking every day like crazy," he said.
And he does have a special Christmas wish for his new fans in Seattle, which he'll now call home for the next four years during baseball season. One of the reasons he signed with the Mariners was the feeling of family that Robinson Cano conveyed from his first year with the franchise, and Cruz is eager to embrace and build on that.
"It's something I feel," he said. "Last year, we were so close, one game behind to make the playoffs. There'd be nothing better than to be able to clinch and give the fans what they're looking for. I wish them all a Merry Christmas. And it should be a good New Year with new players and everybody pulling together for the same reasons."
Greg Johns is a reporter for MLB.com. Follow him on Twitter @GregJohnsMLB as well as his Mariners Musings blog. This story was not subject to the approval of Major League Baseball or its clubs.