Hinch to add Texas flavor to holiday traditions
Astros' new manager recounts childhood memories of Christmas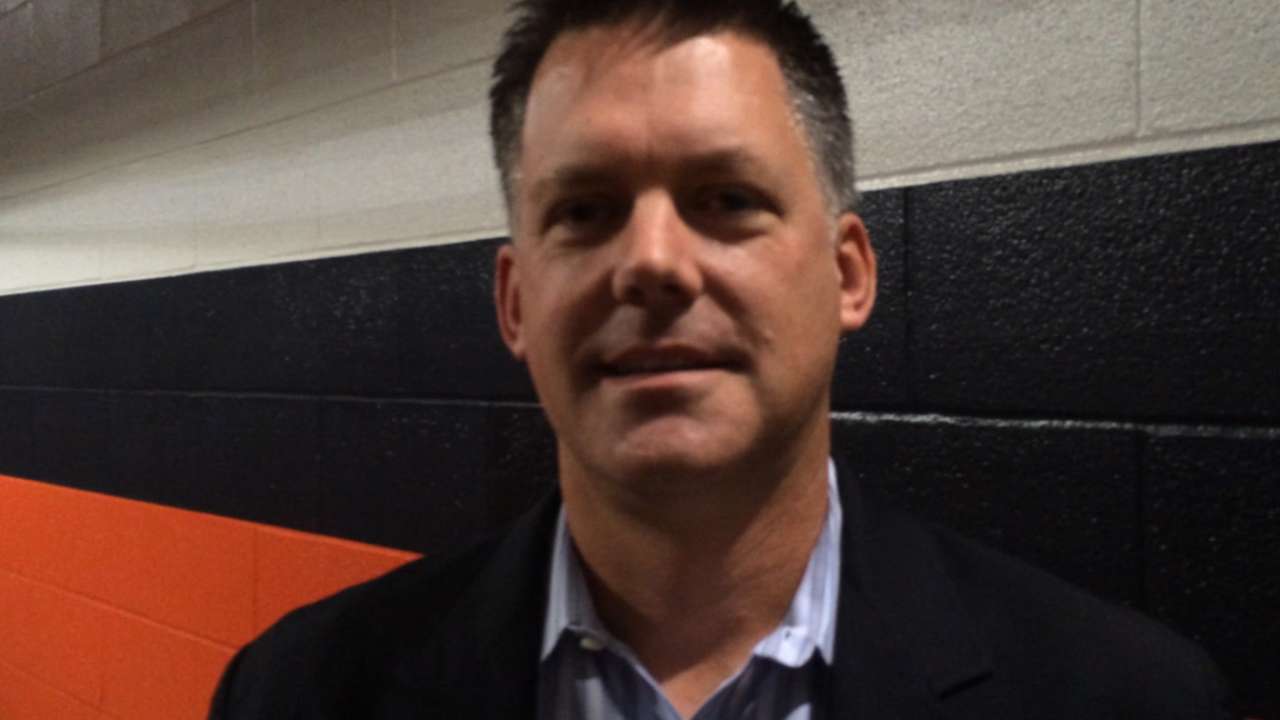 HOUSTON -- Astros manager A.J. Hinch will soon be calling the Houston area home, which means this is the final holiday season his family will spend in California before packing for Texas.
Hinch, who along with his wife, Erin, has two daughters -- Haley, 12, and Kaitlin, 9 -- was hired to manage the Astros in September, and the family decided to move from La Jolla to put down some Texas roots in the Houston area.
Hinch grew up near Oklahoma City, so having a southern Christmas will be nothing new to him. The skipper took some time recently to answer a few questions about what the holidays mean to him and his family:
Q: How big were the holidays in the Hinch household when you were growing up?
A: Growing up, oh, they were big. They were exciting, just the buildup to Christmas Eve, Christmas Day. All the guesses as to what Santa was going to bring, and then, as I got older, the pursuit of trying to find out what you were going to get, trying to find out where the secret stash was. So, great time to be around family, great time to celebrate, and as I got older and into baseball, Christmas meant the turn of the calendar, which meant Spring Training was close.
Q: Were there any special gifts you got growing up that stick out in your mind to this day?
A: Anything baseball was good by me, you know. Whether it was Nintendo back in the day, to things I could use in the back yard, a batting cage, stuff I had in my back yard -- supplies for baseball practice. I loved anything all sports. There were the electronic football games, electronic baseball games. Christmas was always good for a box of Topps baseball cards, so it usually surrounded sports.
Q: Any special traditions from when you were a kid that you do today with your children?
A: You know, we always used to open up a gift the night before on Christmas Eve from my aunt, and we've sort of continued that a little bit with my wife's family, where my kids will get to open up a present on Christmas Eve, sort of helps the buildup. There's usually a meal after church on Christmas Eve that my wife's family has always had her grandparents' chili, so we've continued that tradition. Now it comes with a present for my kids.
Q: What do you think Christmas will be like this year considering all the big life changes you've been through?
A: It's going to be a lot of orange and blue, that's for sure. My wife did some damage in the team shop during these first couple of months [since I was hired]. It will be fun to outfit a lot of family and friends in Astros orange.
Q: So you could be spending Christmases in Texas. What do you think Christmas in Texas will be like?
A: We'll jump right into the spirit of Christmas in Texas. We'll have lights on the house, we'll have a big Christmas tree and we'll do it up right and make sure we celebrate Texas style.
Brian McTaggart is a reporter for MLB.com and writes an MLBlog, Tag's Lines. Follow @brianmctaggart on Twitter. This story was not subject to the approval of Major League Baseball or its clubs.