MLB.com Columnist
Richard Justice
Preller sure keeps things moving as rookie GM
Padres standing out in the crowd with offseason makeover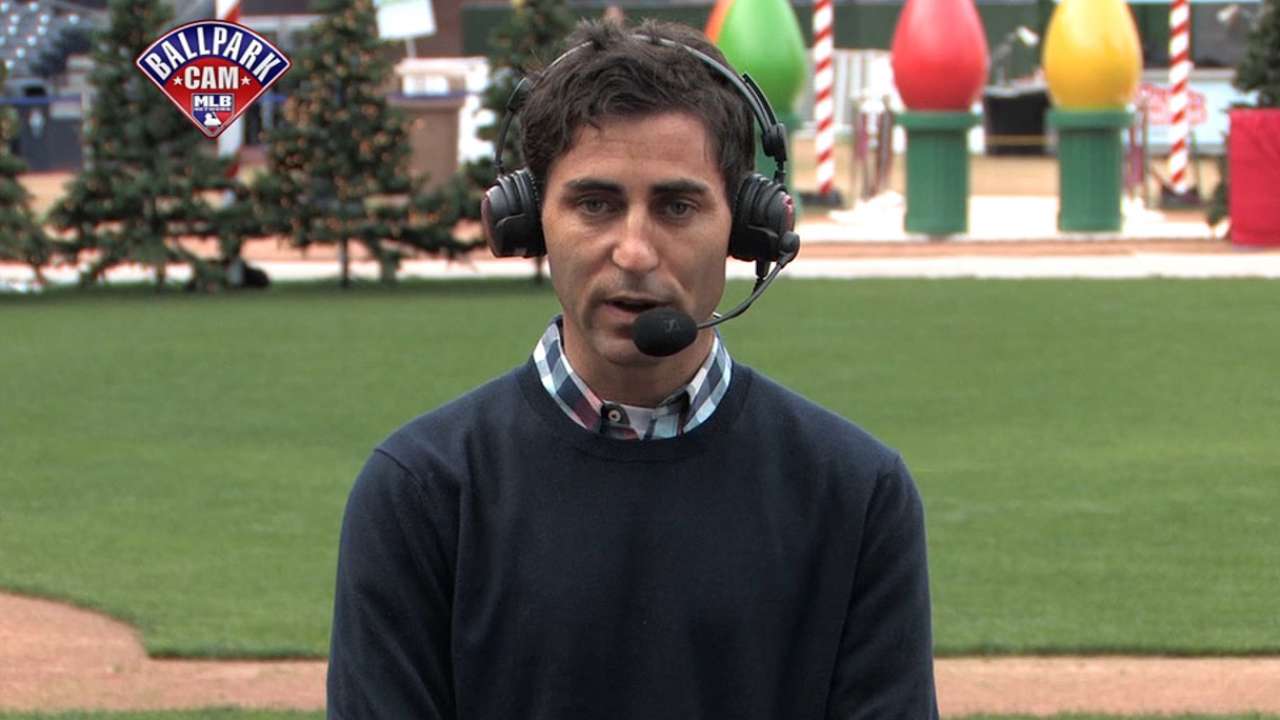 John Hart was still figuring out what he wanted to do with the next chapter of his life when the telephone call came last September. At the time, he was a special assistant to Atlanta Braves president John Schuerholz and wasn't sure he wanted to be much more than that.
In the wake of Frank Wren's dismissal as general manager, Hart simply saw himself as part of a transition team that would reshape the franchise's baseball operations. That's when A.J. Preller telephoned.
Preller was the new Padres general manager and had been close to Hart for a decade. Preller, who was still putting a staff together, was already thinking ahead.
"John," Preller said, "I just wanted to let you know we've got interest in Justin Upton if you decide to move him."
Hart laughed on Friday when he thought about that conversation after he and Preller had indeed completed a trade sending Upton from the Braves to the Padres. That brief chat was exactly why he'd once hired Preller.
"He has no off button," Hart said.
That has become obvious the last two weeks as Preller has pulled off a sweeping remake of the Padres, trading for Matt Kemp, Wil Myers, Derek Norris, Will Middlebrooks, and yes, Upton.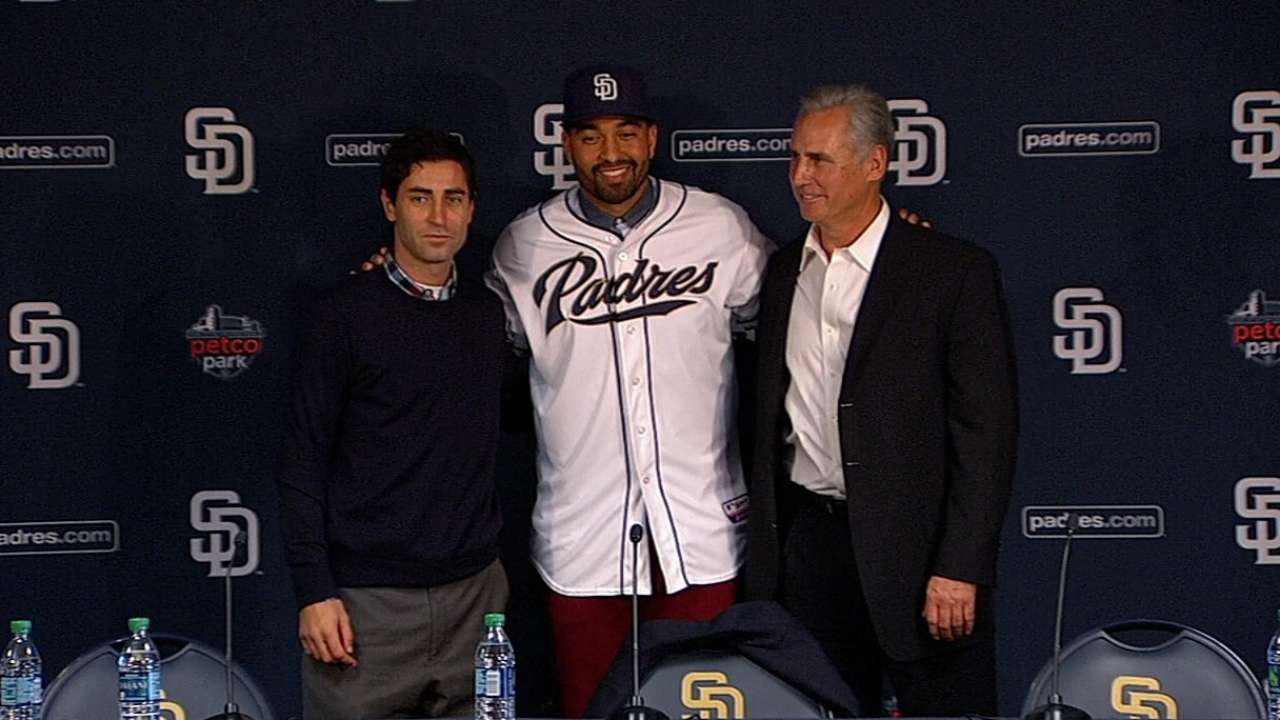 Working on little sleep and an addition to his cell phone, Preller has done all of this while holding onto his top three starting pitchers -- Tyson Ross, Andrew Cashner and Ian Kennedy.
Beyond the moves Preller actually made are the ones he attempted to make. The rookie GM appears to have been in on almost every free agent and he has toiled to make trade after trade. Suddenly, it's impossible to think of the Padres the same way we did a month ago.
On Friday, the team's ticket offices were doing a brisk business as reflection of this hyper-energetic general manager and his new roster.
"I once told him sleep is the enemy of getting things done," said Don Welke, a career baseball guy who is one of Preller's closest friends.
One of the more amazing parts of Preller's story is that, until the last few weeks, he was a relative unknown outside of baseball. Inside the industry, he was something of a mystery man.
Preller was the driven personnel guy who helped transform the Texas Rangers by pouring himself into scouting and player development, sometimes spending 300 nights a year on the road. He studiously shunned publicity.
"He doesn't need a whole lot of love," Hart said. "His love is in doing the job well."
Hart and Preller met in 2004 when Hart was Rangers president of baseball operations and Preller was working for Frank Robinson at Major League Baseball. Preller was 26 at the time, a Cornell graduate who'd started his career in baseball by showing up at the 1999 Winter Meetings to shake hands, introduce himself and look for an opportunity.
Preller found a couple, too, working for the Phillies and Dodgers and then the Arizona Fall League. None of the jobs paid much in terms of money, but Preller seemed not to care. He was there for the experience.
Preller was recommended to Hart by Rangers GM Jon Daniels, a college friend. Eventually, Preller would be one of Daniels' most important assistants and an important member of a front office that constructed teams that won back-to-back American League pennants in 2010-11.
By the time that happened, Hart had moved on and was working as a consultant. Still, he followed the young guy's career. Three years ago when someone asked Hart if there was a young guy out there who might just be baseball's new great general manager, he didn't hesitate.
"A.J. Preller," he said.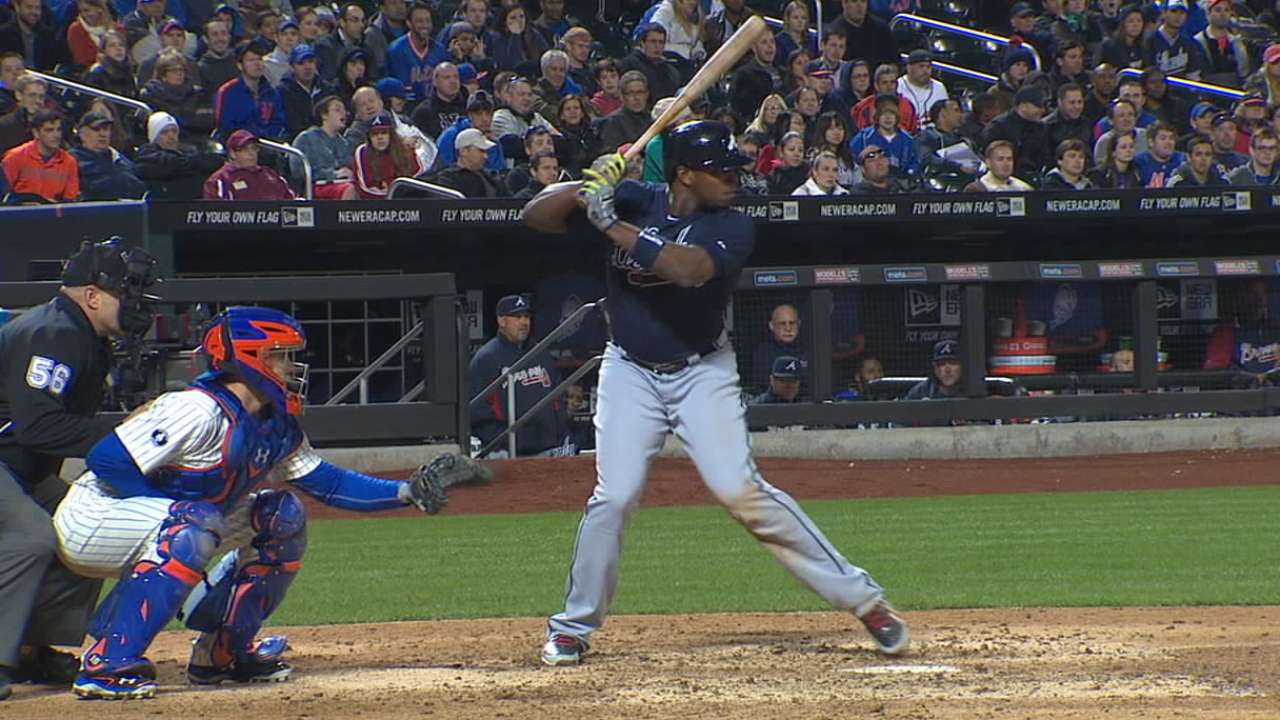 That name didn't immediately ring a bell. He wasn't one of the go-to names for teams looking for a general manager.
"That's the guy in Texas, right?" the guy said. "The international guy."
On Friday, that same guy telephoned Hart again.
"You were right about A.J. Preller," he said.
The Padres would agree.
"He's so thorough," Padres president and CEO Mike Dee said. "He leaves no stone unturned whether it's due diligence on a player he's considering trading for or someone in our own system. He'll tear into their background. His patience is impressive. He has demonstrated a willingness to wait things out. For someone who is so passionate and has such strong beliefs, that's a rare combination to also be patient."
Dee interviewed at least 10 candidates for the job. He said that Preller methodically separated himself.
"His passion for the game stood out," he said. "He had a diversified background, and by the second interview, his preparation stood out. It's something we've seen on the job. He's a guy who consumes information on players. When you mention a player, he'll tell you where he saw him, what he thought of him, his makeup. He has such a working knowledge. The one thing we didn't have a track record on is if he could make deals. We knew he could scout and identify talent. But until you sit in that chair, you really don't know. Those questions have been answered."
Former Dodgers general manager Dan Evans, who hired Preller in 2003, was immediately impressed.
"He was inquisitive and relentless, had great energy and an amazing capacity to retain information," said Evans, now a Blue Jays scout. "He was extremely analytical and wanted to scout so badly. That was his dream. He's intense without being obsessed. Just very focused and persistent, yet able to adapt. Those of us who've worked with him aren't surprised. We thought he'd be outstanding."
Hart said he was attracted to Preller on a number of levels.
"He's a very smart guy," Hart said. "No question about that. With A.J., the separator were his intangibles. It was his passion for scouting, his desire to learn. He wanted to go out and see players and get his hands dirty. He felt that was the one baseball piece he had to develop."
Growing up in New York, Preller devoured the Sporting News -- once the baseball bible -- at an early age. He charted Yankees games, thought up imaginary trades and became obsessive with statistics, lineups, etc.
When Preller joined the Rangers, his career took off.
"Let me tell you a story about A.J.," Welke said. "When Jon asked him to take over the Latin America operation for the Rangers, A.J. went at it 900 percent. He poured himself into Spanish lessons like no one you've ever seen. You're not going to believe this, but I think he needed about two months to become fluent in Spanish. My point is that he did that just like he has done everything else in his life. If he was going to do it, he was going to do it better than anyone else ever had."
Daniels saw that same drive when they were both at Cornell. He said Preller would sleep three hours or less a night on his way to graduating summa cum laude. He also taped Yankees games and would watch them and chart them in what little spare time he had.
"He loved it," Daniels said.
Daniels told U-T San Diego that one of the things that always impressed him were the long-term relationships Preller built through the years.
"He talks to people he was friends with in high school and college," Daniels said. "He has 20-, 30-year relationships. I view that as a strong character trait. I've seen people say 'tireless' and 'relentless.' It sounds cliche, but it's the truth."
Others were impressed.
"He's 100 percent baseball," Hall of Famer Greg Maddux told U-T San Diego. "It's almost like I'm not sure if he has a life outside of baseball. He's all in. I don't think the days are long enough for him to get done what he wants to do in a day. He's a very hard worker. He lives, eats, sleeps baseball. There's not gonna be a player missed as long as he's there."
Welke met Preller when both worked for the Dodgers. After home games, they'd head over to a deli and talk baseball until the wee hours.
"My first impression is that this was a down-to-earth guy who wanted to learn, learn, learn," Welke said.
When Daniels put Preller in charge of the Rangers Latin American scouting, Welke said he was struck by how Preller developed relationships with players.
"He got close to those kids and them to him," Welke said. "He was tough on 'em, too. It was almost a parental thing. But that's where I saw his love of scouting really grow."
Daniels eventually gave him responsibilities in domestic scouting and player development as well. Preller did them all well, and with a background in analytics as well as scouting, it was only a matter of time until he got a chance to be a general manager.
Preller lured Welke away from the Rangers to join him in San Diego.
"We've been going at it 12-15 hours a day," Welke said. "A.J. will have a conversation, come in and report it to us. And then he's back on the phone working on something else. We loved our time in Texas. We both love Jon Daniels. But this was a new challenge, and I think that's the word A.J. would use.
"A competitor wants a challenge. What's that challenge here? The Dodgers and Giants. That's huge. They've been very good, and we've been mediocre. This is what he loves. He's ultra-aggressive, ultra creative."
Welke said Preller understands that they haven't won a thing, that projecting victories now is different from actually winning them. Besides that, the Dodgers probably remain the favorites to win the National League West.
But things have changed, and dramatically. The Padres have gotten everyone's attention, and so has their new general manager.
Richard Justice is a columnist for MLB.com. Read his blog, Justice4U. This story was not subject to the approval of Major League Baseball or its clubs.