Despite new uniform, Rollins knows legacy is with Phillies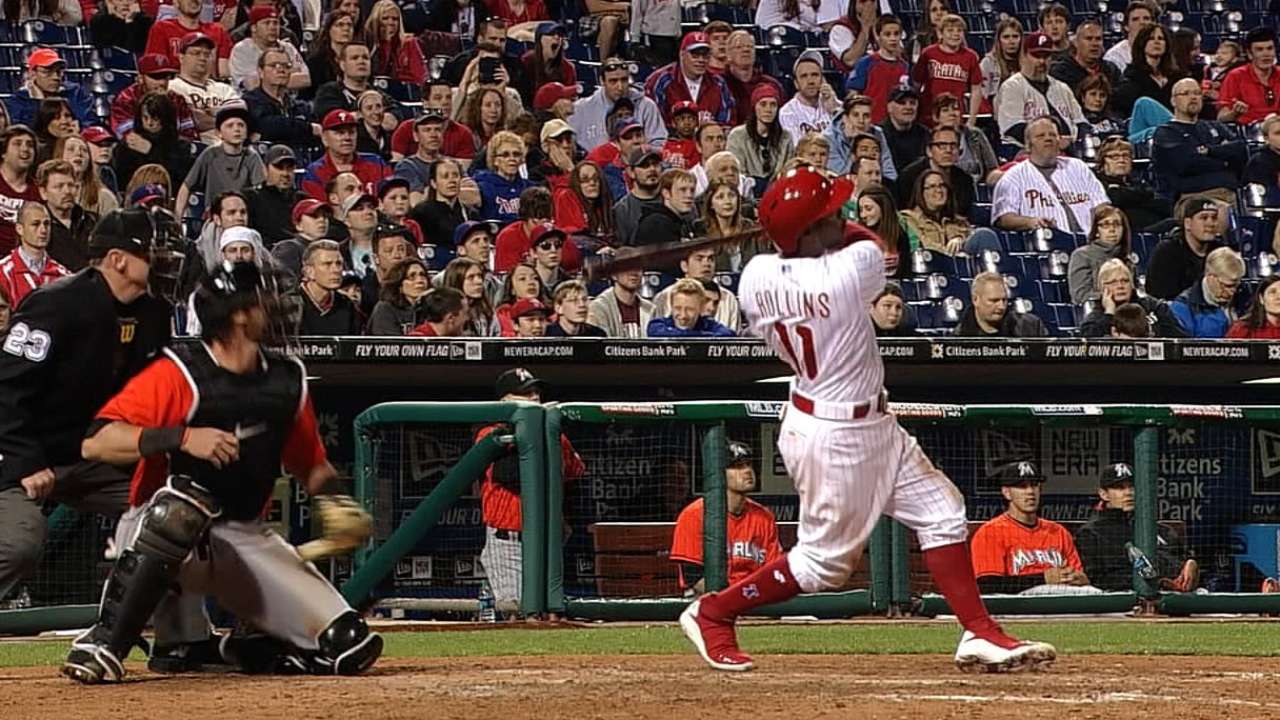 PHILADELPHIA -- Jimmy Rollins leaves Philadelphia with a legacy few have matched or surpassed.
Yet he carefully considered his time and tenure when Phillies general manager Ruben Amaro Jr. contacted him in November about potential trades with the Yankees, Mets and Padres. Rollins still planned to honor his contract with the Phillies, he said, but a short time later Rollins' agent texted Amaro and said the shortstop would accept a trade to the Dodgers.
"I just kind of looked at the guys that I grew up watching," Rollins said on a conference call Friday, hours after the Phillies announced they traded him and $1 million to the Dodgers for two Minor League pitchers. "49er great Joe Montana. As great as he was, there eventually came a point that it was Steve Young's turn. When he left, I don't think it hurt his legacy. He was obviously going to always be a 49er, and that short time in KC was at the end of his career. The bulk of his career and all of his accomplishments happened in one uniform and that's pretty much the same with me. I hope to accomplish a number of more things in whatever uniform I'm wearing. But my career and accomplishments, and me becoming who I am, all happened in one uniform."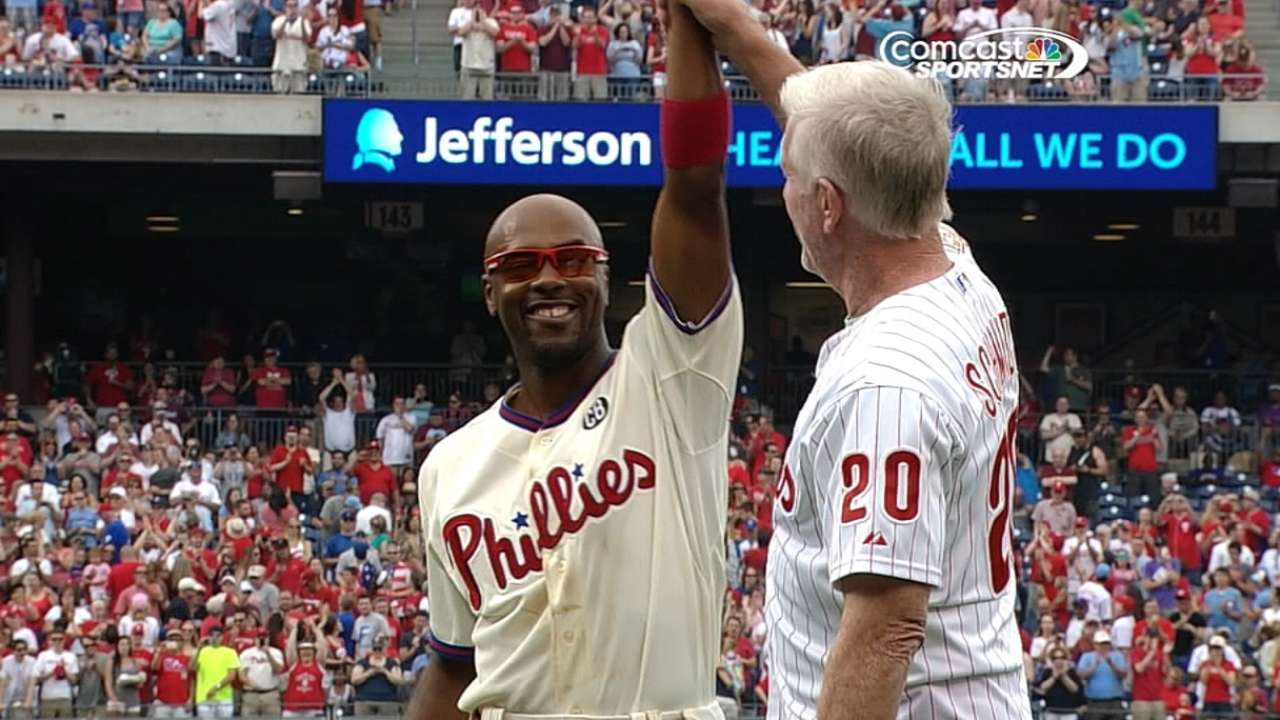 The trade ended Rollins' memorable 15-year run in a Phillies uniform.
"Fourteen, man," he said. "You guys all gave me extra credit. Fourteen."
Fourteen-plus, actually. His big league career began in September 2000 and ran through this season. But it was a heck of a run. It included one World Series championship, two National League pennants, five NL East titles, one NL MVP, three NL All-Star appearances, four Gold Gloves, one Silver Slugger Award, memorable predictions and proclamations, a 38-game hitting streak and a franchise-record 2,306 hits.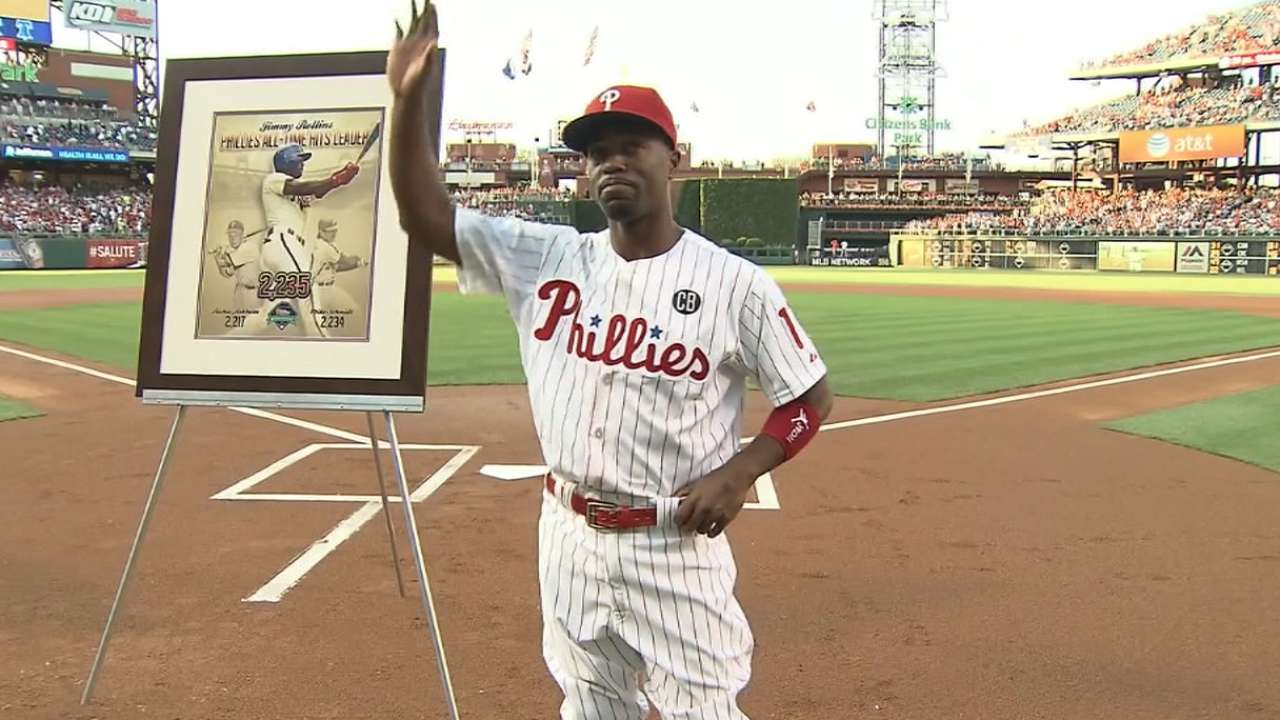 It is difficult to imagine Rollins in a different uniform.
It is difficult to picture anybody other than him at shortstop on Opening Day.
"It just means, really my time there is up," Rollins said. "The Phillies are going one way and now I'm going in a different direction."
But why the Dodgers? Why were they the one team Rollins would approve in a trade?
"It's west, one," said Rollins, who is from Alameda, Calif. "But most importantly, they're like where we were in our run. Maybe even slightly younger than when we were in the middle of our run. They have a great staff. They have a team over there that is built to win right now. And that's what is important, going out there every day knowing that you're going to compete with a chance to win -- and not just win April through September, but a chance to win October."
If Rollins wins a second World Series with the Dodgers it should enhance his chances at the Hall of Fame. And Rollins has a legitimate chance to make it. He ranks 28th in baseball history among shortstops with a 45.7 WAR, according to baseball-reference.com. Rollins is one of only four shortstops in history to have 2,000-plus hits and 200-plus home runs while playing that position. Derek Jeter, Cal Ripken Jr. and Miguel Tejada are the others.
"I didn't really put it in that context, but winning always helps," Rollins said about the Hall of Fame. "You don't necessarily have to win to get in, but winning always helps. And again, being a key part always helps. I was ready to honor the contract and if that meant going through another year of not winning, I was ready for it.
"You don't just get up and walk away from something you've built just because things aren't going great at that moment. You just don't do that. I don't think anyone in that clubhouse is a quitter and just, 'You know what, I give up. I don't want to be here because we're not winning now.' We came from nothing pretty much and if you end at nothing, then oh well. But you keep on trying. And I think that's something we felt as core players that we always had a chance. We become believers in ourselves, become believers in what the organization is trying to do once we showed them we were in position to win. The last few years it hasn't happened, but you always keep your eyes ahead and looking to better days."
Better days are ahead for Rollins, but the Phillies still have a long way to go.
Todd Zolecki is a reporter for MLB.com. This story was not subject to the approval of Major League Baseball or its clubs.