Kendrick ready to make history with Dodgers
Longtime Angel excited to join new double-play partner Rollins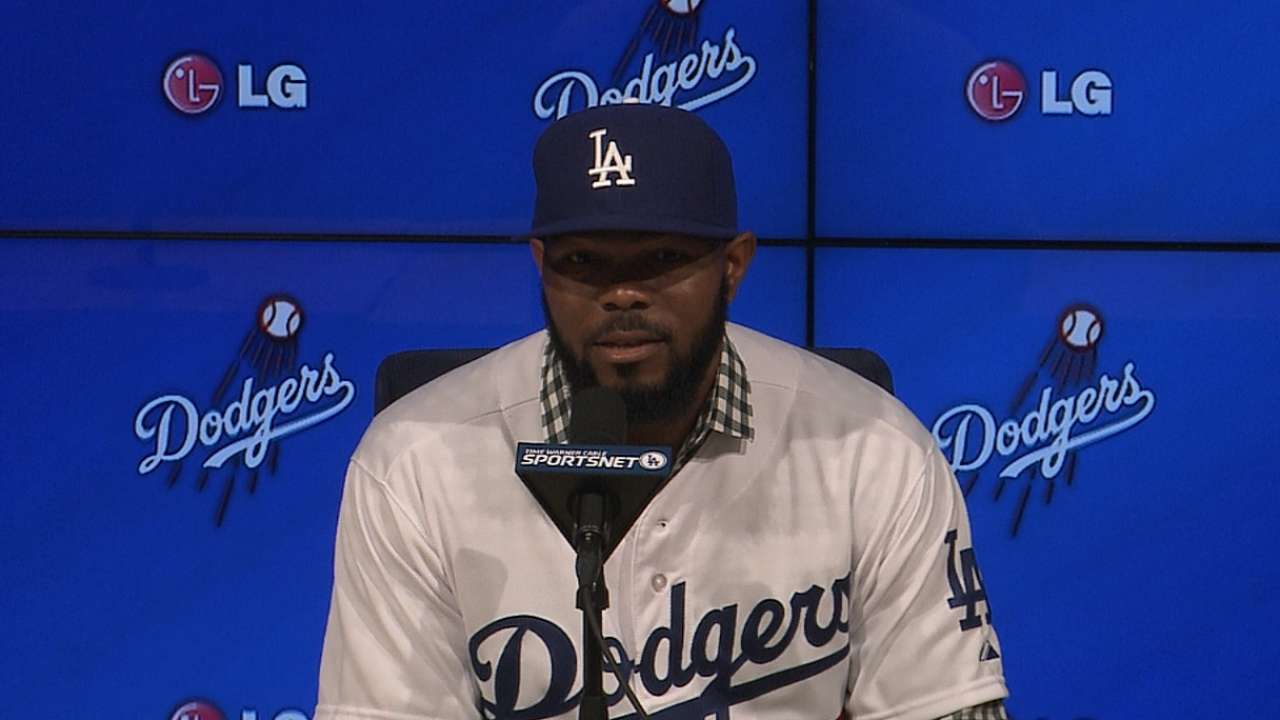 LOS ANGELES -- The face for one of baseball's great anomalies -- a major trade between the crosstown Angels and Dodgers -- arrived with a stylish plaid shirt, a pearly white smile and two charming young boys, one of whom ultimately seized control of the microphone on Friday morning.
Howie Kendrick -- and 3-year-old Tyson, and 5-year-old Owen -- is a Dodger now, coming over from the Angels in the first significant deal between the two teams since a reliever named Jim Brewer did the opposite in 1975.
His oldest son had mixed feelings.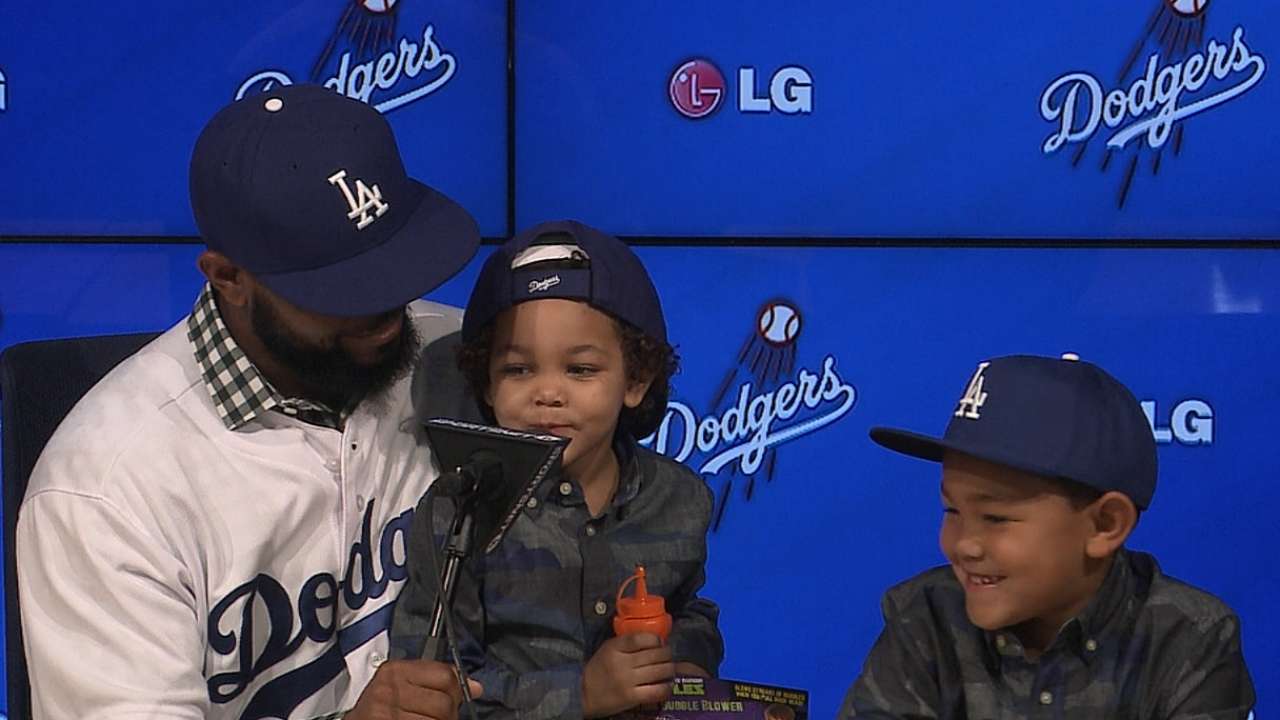 "I woke up the next morning and had to tell Owen he wasn't going to be with the Angels anymore," Kendrick said of the Dec. 10 trade that saw the Angels flip Kendrick to the Dodgers for young starter Andrew Heaney, who was acquired from the Marlins moments earlier. "He was sad for a second and then I said, 'But look at it this way, you get a new jersey.' Then he was all excited."
Kendrick grew up with the Angels, delayed his free agency to stay with the Angels, and if he had his druthers, he would've retired with the Angels -- but he ended up with a pretty favorable alternative.
"I've played against this organization for a long time and it's definitely great to be a part of this, all the history that the Dodgers have," Kendrick said from the podium at Dodger Stadium. "Hopefully, we can make some more history."
Kendrick was drafted by the Angels in the 10th round of the 2002 First-Year Player Draft and established himself as one of baseball's best second basemen over the last five years, posting a .288/.332/.420 slash line and a 17.8 Wins Above Replacement score (per FanGraphs) that ranked sixth at his position.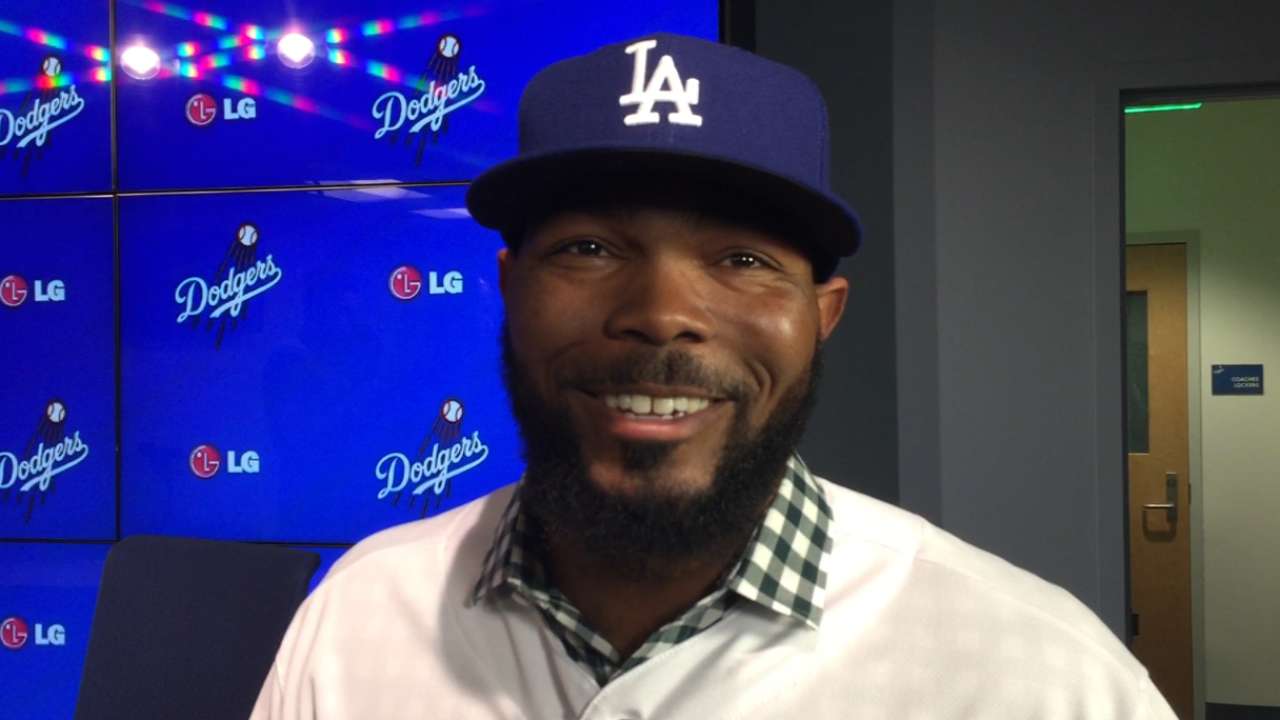 The 31-year-old right-handed hitter was almost traded to the Marlins for Miguel Cabrera in 2007, was about to be traded to the Dodgers for Zach Lee in July 2013 and has seen his name get tossed around the rumor mill almost every offseason.
"We rented in Anaheim every year," Kendrick said, "just because of the fact that I've almost been traded every year."
Kendrick exchanged text messages with longtime Angels ace Jered Weaver, who told him how much he'd miss having Kendrick play behind him, and talked about how weird it'll be to turn double plays with someone other than Erick Aybar.
"I'm going to miss Erick," Kendrick said of the Angels' homegrown shortstop. "He's like a brother to me."
Kendrick and Aybar were the second-longest-tenured active double-play combo, trailing only Chase Utley and Kendrick's new shortstop, Jimmy Rollins, who's coming over from the Phillies.
"I've never played with him, but I've seen him play," Kendrick said of Rollins. "I've been a fan of his for a while."
Kendrick and Rollins will head into their walk years together in 2015. Kendrick's agent, Larry Reynolds, reached out to the Angels early in the offseason about negotiating another extension -- perhaps similar to the four-year, $33.5 million deal he signed prior to the 2012 season -- but they respectfully declined.
"I understand," Kendrick said. "I understand the game."
Kendrick and the Dodgers have yet to engage in any extension talks to stay in Los Angeles long term, but both sides sounded open to the possibility.
"I'm sure that conversation will happen at some point," Dodgers president of baseball operations Andrew Friedman said.
"I had a lot of heartfelt moments with the Angels organization," Kendrick said, "but sometimes you move on from that. I think the biggest thing for me is I'm coming to another great organization, a championship-caliber organization. When you move from a winning team and go to another winning team, that says a lot."
Alden Gonzalez is a reporter for MLB.com. Read his blog, Gonzo and "The Show", and follow him on Twitter @Alden_Gonzalez. This story was not subject to the approval of Major League Baseball or its clubs.