Adding relievers to mix remains a top priority for Toronto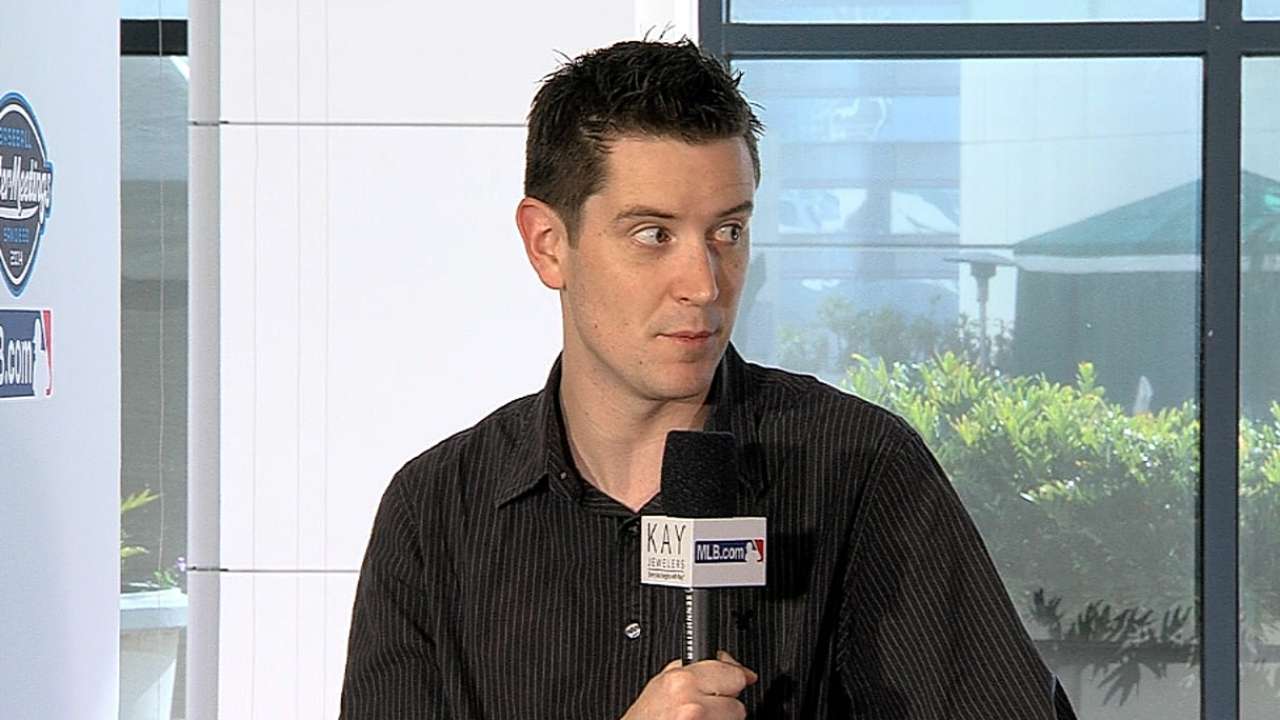 TORONTO -- The Blue Jays' bullpen remains a work in progress as the club continues to search for ways to improve what became a noticeable area of weakness throughout the 2014 season.
Toronto is expected to add at least a couple of relievers in the coming weeks and one of those will have to be a closer if -- as expected -- free agent Casey Janssen doesn't return to the organization.
There's no question that changes are on the way, but in the meantime, let's take a look at some of the current options Toronto has:
Brett Cecil: If the Blue Jays are unable to acquire a bonafide closer this winter, then Cecil likely would become the top internal candidate for the job. That scenario still seems unlikely, though, and the organization would prefer to keep him in a setup role. Cecil has proven to be extremely valuable over the past two seasons and he'll have a prominent position once again in 2015.
Aaron Loup: Loup has been one of the most underappreciated relievers in Toronto over the past three years. He can be used against lefties or righties and has the ability to throw multiple innings. He has appeared in at least 68 innings during each of the past two seasons and has a respectable 2.77 career ERA. Loup also could receive some consideration for closer but -- like Cecil -- he has more value in his current setup role.
Marco Estrada: Estrada joins Cecil and Loup as the only relievers with guaranteed jobs. The veteran righty technically will compete for the final spot in the rotation, but his future seems to be in the bullpen. He'll likely be the first line of defense in case a starter goes down with an injury; he held more value as a reliever in Milwaukee. Estrada had 2.89 ERA out of the bullpen in 2014 compared to a 4.96 ERA as a starter.
Chad Jenkins: Jenkins always seems to find himself in the unfortunate role of being shuttled between Triple-A Buffalo and the Majors. The uncertainty's had little to do with his overall performance and more to do with the fact that there were options on his contract. Unfortunately for Jenkins, one of those options still remains, which means he could be in for another season on the bubble.
Kyle Drabek: Drabek is about to enter his make-or-break season. He's out of options and cannot be sent to the Minors without clearing waivers. That should force the Blue Jays to give Drabek a long look during Spring Training, but unless he can solidify himself as a middle reliever, it's hard to envision how he can get a spot on the team. Estrada and Todd Redmond are the other options in long relief, so Drabek will have to set himself apart from the rest of the pack.
Redmond: Redmond won a job last spring and never looked back. He spent the season in long relief and even had a brief stint as a setup man. He has a durable and versatile arm and could enter the rotation in a pinch. Like Drabek, Redmond also is out of options and cannot be sent to the Minors. He had to compete during last year's camp and could be in a similar situation in 2015, but Redmond at least appears to have an inside track.
Steve Delabar: Delabar will head to Spring Training hoping to forget about a disappointing 2014 season that saw him relegated to the Minors. The 31-year-old battled control problems early in the season and never seemed quite right. Some health concerns played a role and the hope is that he'll be ready for a fresh start in 2015. The ability is there and it would be foolish to completely write him off, but he's also going to have to win a job because a guaranteed position is something he won't be afforded. He's overcome much bigger obstacles than this in the past.
The rest: Aaron Sanchez technically could be a candidate to close, but as of now he projects to begin the year as a No. 5 starter. Daniel Norris, ranked as Toronto's No. 1 prospect by MLB.com, also could audition for a bullpen role but he's better served beginning the year at Triple-A Buffalo and continuing his development in the rotation.
Other pitchers who could enter the mix include left-hander Rob Rasmussen, right-hander Bo Schultz, right-hander Ryan Tepera, right-hander Cory Burns and lefty Colt Hynes. Toronto isn't short on candidates, but the overall level of talent is certainly in question and that's why the addition of at least two more relievers remains a top priority.
Gregor Chisholm is a reporter for MLB.com. Read his blog, North of the Border, and follow him on Twitter @gregorMLB. This story was not subject to the approval of Major League Baseball or its clubs.