Friedman: Moves make Dodgers 'highly functional'
President of baseball operations discusses trading Kemp, acquiring Rollins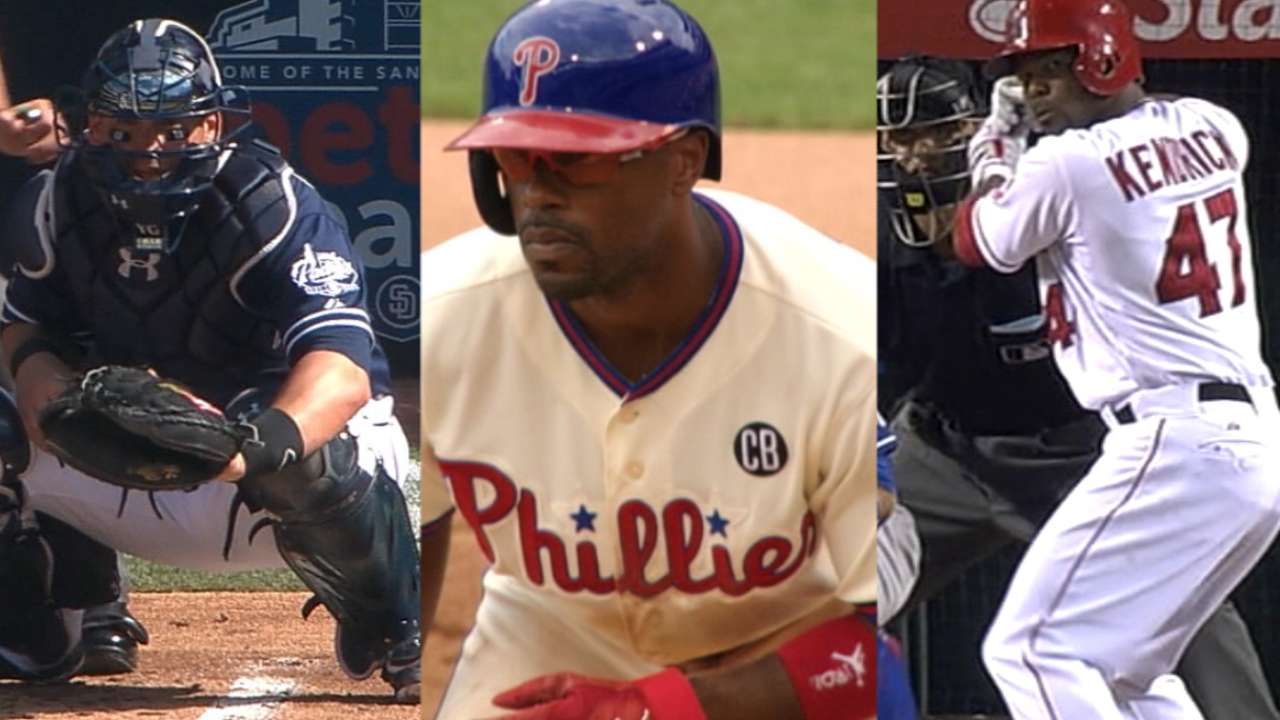 LOS ANGELES -- Andrew Friedman on Friday explained why the Dodgers needed the extreme makeover they've just undergone, including the trade of popular outfielder Matt Kemp to the now-formidable Padres.
"It all gets back to us doing everything we could to mold the roster into a highly functional team, instead of a collection of talent," said Friedman, the president of baseball operations and architect of a flurry of moves that included Friday's confirmation of the acquisition of shortstop Jimmy Rollins and $1 million from the Phillies for Minor League pitchers Tom Windle and Zach Eflin.
Friedman twice used the words "highly functional" in describing the new roster, implying that the team he just broke up had 94 wins despite a degree of dysfunction that he's addressed by acquiring Rollins, second baseman Howie Kendrick, catcher Yasmani Grandal and pitchers Brandon McCarthy and Chris Hatcher in the past 10 days, with pitcher Brett Anderson a physical exam away from joining them.
Friedman, in his job only two months, said he understands how popular Kemp was with Dodgers fans.
"Because of how gifted he is offensively. We get it," Friedman said. "I have a lot of respect for what he can do in the batter's box, but you've got to give up talent to get talent, to put us in position to be a better team. Nothing has been done lightly."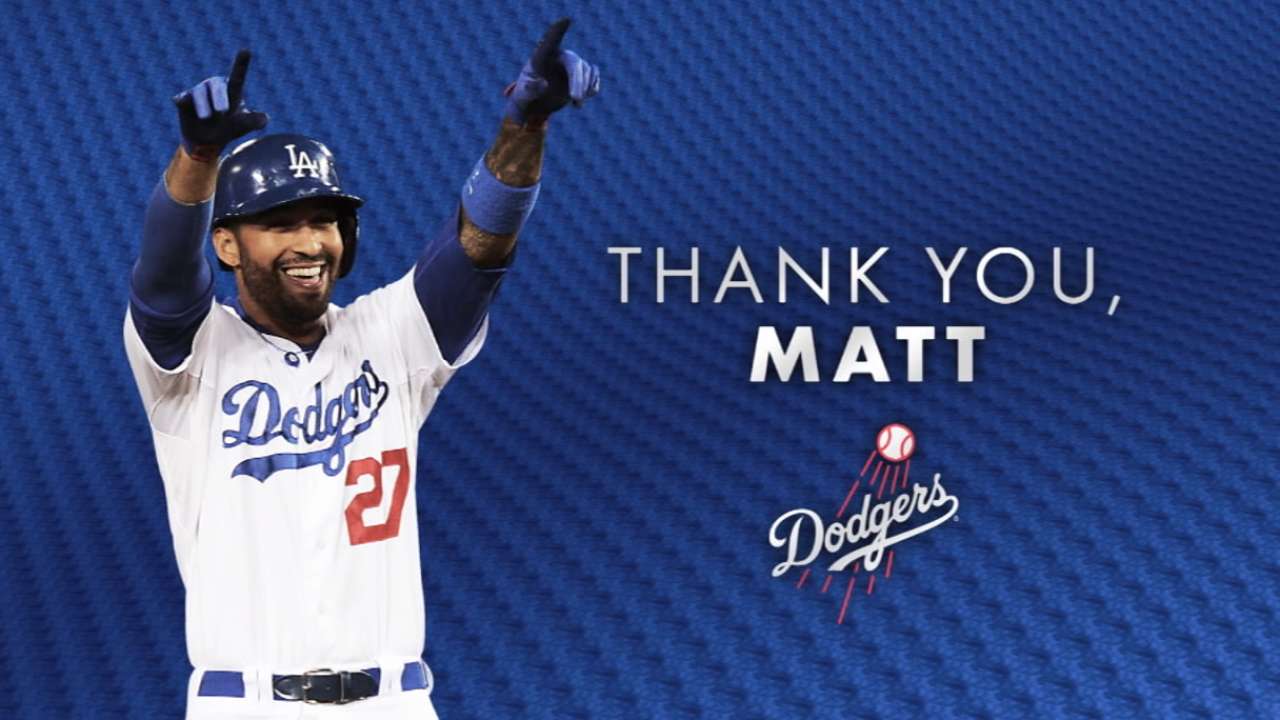 Friedman was told he will be hated by fans if it doesn't work.
"Not any more than we'll hate ourselves," he said. "Look, all of us are focused on winning. The fans' passion here is tremendous and I look forward to experiencing the electricity in the building."
Friedman raved about Grandal, the key player the team received in return for Kemp. Grandal, who will share time behind the plate with A.J. Ellis, was acquired by the Padres from Cincinnati in 2011 by Josh Byrnes, who was then the San Diego general manager and now is the Dodgers' vice president of baseball operations.
Friedman said Grandal has power from both sides of the plate and is a master at pitch framing. He also dismissed concern about Grandal's 50-game suspension in November 2012 for violating MLB's Joint Drug Prevention and Treatment Program, assuring that extensive time was spent researching the character of all the added players.
While Kemp is gone, Friedman wouldn't commit to rookie Joc Pederson being the everyday center fielder, implying that he'll need to win the job in Spring Training.
"In Spring Training we'll assess that, we'll get a feel how he handles things and the discussions with the staff will be ongoing," he said.
Nor would Friedman commit to trading another outfielder, saying he was "open-minded," even though the club has tried to trade Andre Ethier and satisfy his desire to start.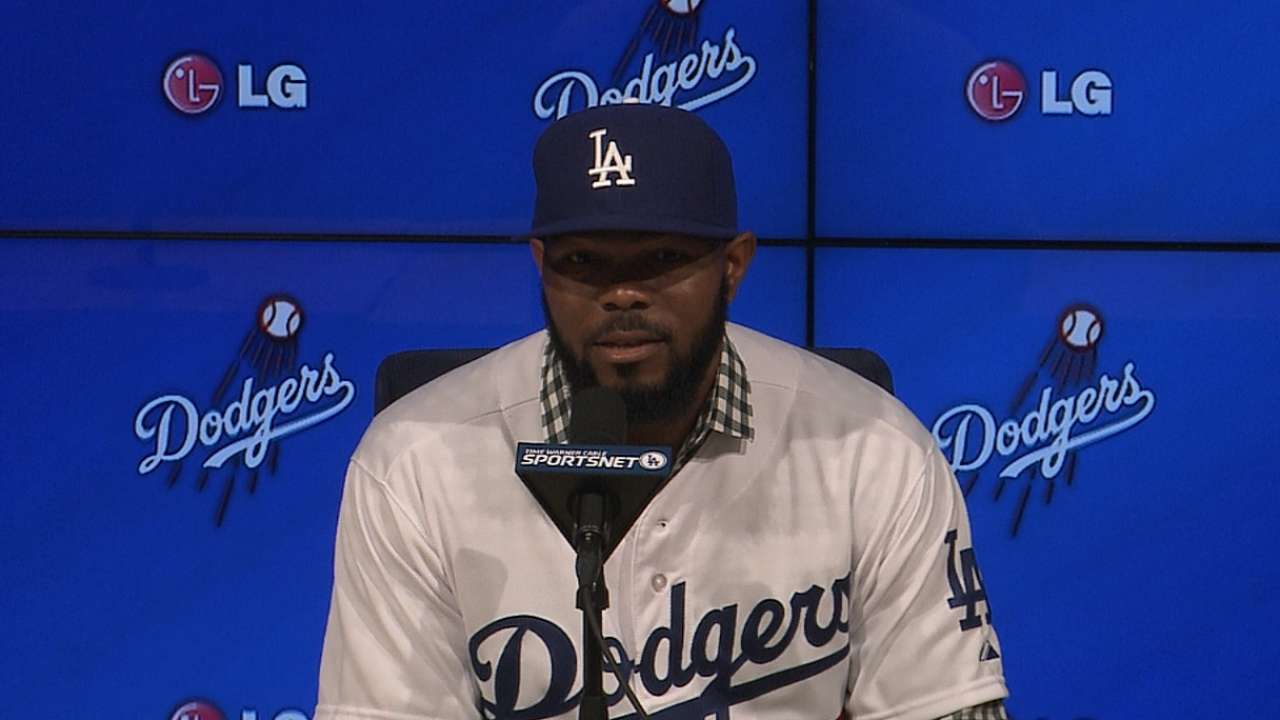 Friedman said the many moves have made his club more balanced and lengthened the lineup, but he was careful as he tried to explain why he now has a pair of 30-something middle infielders, and more specifically, why he felt the Dodgers would be better with Kendrick at second base instead of Dee Gordon, five years younger with four years of salary control.
"They're both really good in different ways," Friedman said, explaining that the trade of Gordon, Dan Haren and Miguel Rojas provided the Dodgers' farm system with three prospects, in addition to top prospect Andrew Heaney, who was dealt to the Angels for Kendrick.
"The micro goal [a young roster] can be one thing, but you can't make every single decision with that in mind if you feel you're making a move that's not as good as you would make otherwise," Friedman said. "The overall theme and mindset is to intersperse young players and not get players on the back of 30-something on long-term contracts riding down the backside of their career. Jimmy is older by age, but his body doesn't show it."
Friedman said he is sure the club will be "significantly better defensively," but he "wasn't ready to say we won't be as good offensively. I need to spend more time on that. Our home run total may be less, but we have a very deep lineup."
Ken Gurnick is a reporter for MLB.com. This story was not subject to the approval of Major League Baseball or its clubs.