Yankees acquire righty Eovaldi, send Prado to Marlins
NY lands versatile Jones, righty prospect German; Phelps dealt to Miami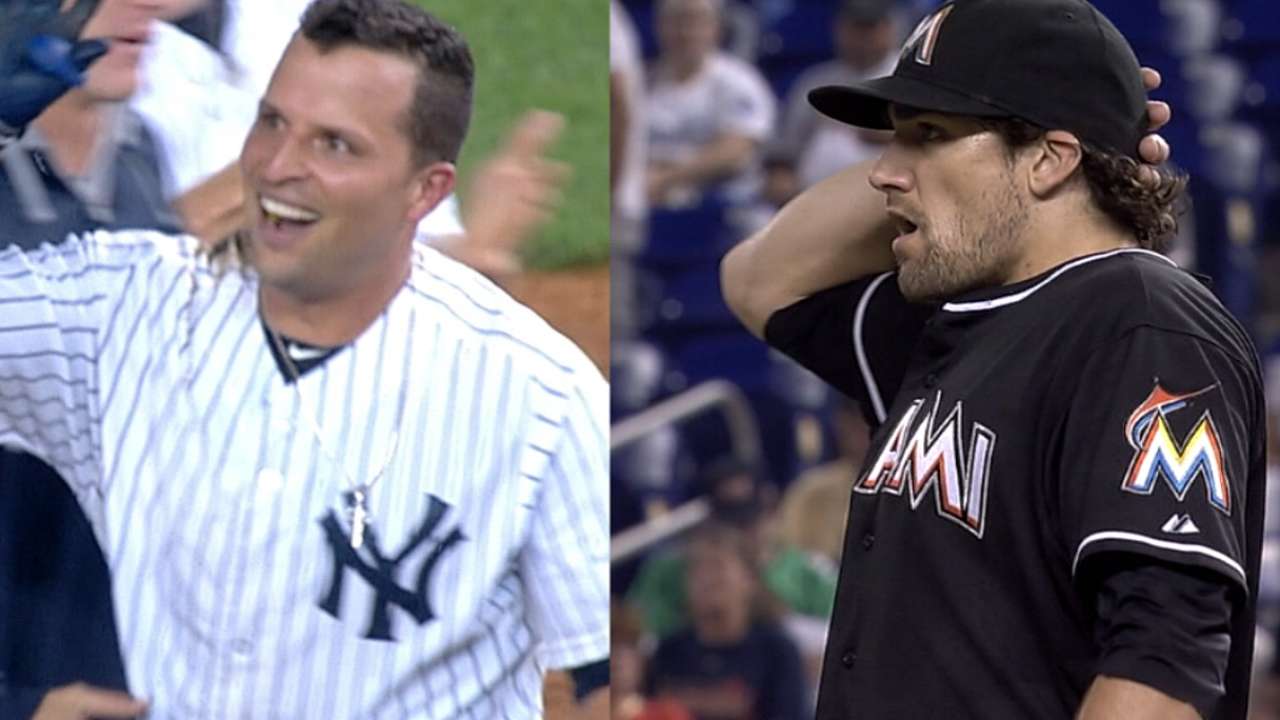 NEW YORK -- The Yankees added another piece to their rotation on Friday, acquiring right-hander Nathan Eovaldi from the Marlins in exchange for infielder Martin Prado as part of a five-player deal.
The full trade involves the Yankees receiving Eovaldi, first baseman/outfielder Garrett Jones and pitching prospect Domingo German in exchange for Prado and right-hander David Phelps.
Before Friday's trade, Prado had been penciled in as the Yankees' starting second baseman after the club re-signed third baseman Chase Headley earlier in the week. Instead, the Yanks now figure to let prospects Rob Refsnyder and Jose Pirela battle it out for the second-base job.
"After we signed Headley, we felt we had these young kids who could compete and take the job there at second," Yankees general manager Brian Cashman said. "Only with the right deal would we move Prado, and we felt this was a deal worth taking a shot at."
That said, it was still difficult for Cashman to pull the trigger on moving, by far, the club's most versatile player. The Yanks will also pay $3 million of Prado's $11 million salary over each of the next two seasons.
"It's not easy," Cashman said. "Not just because of his versatility, but the type of player and person he is. The leadership qualities he possesses, the ability for him to play second, third and the outfield -- those are valuable assets for a manager."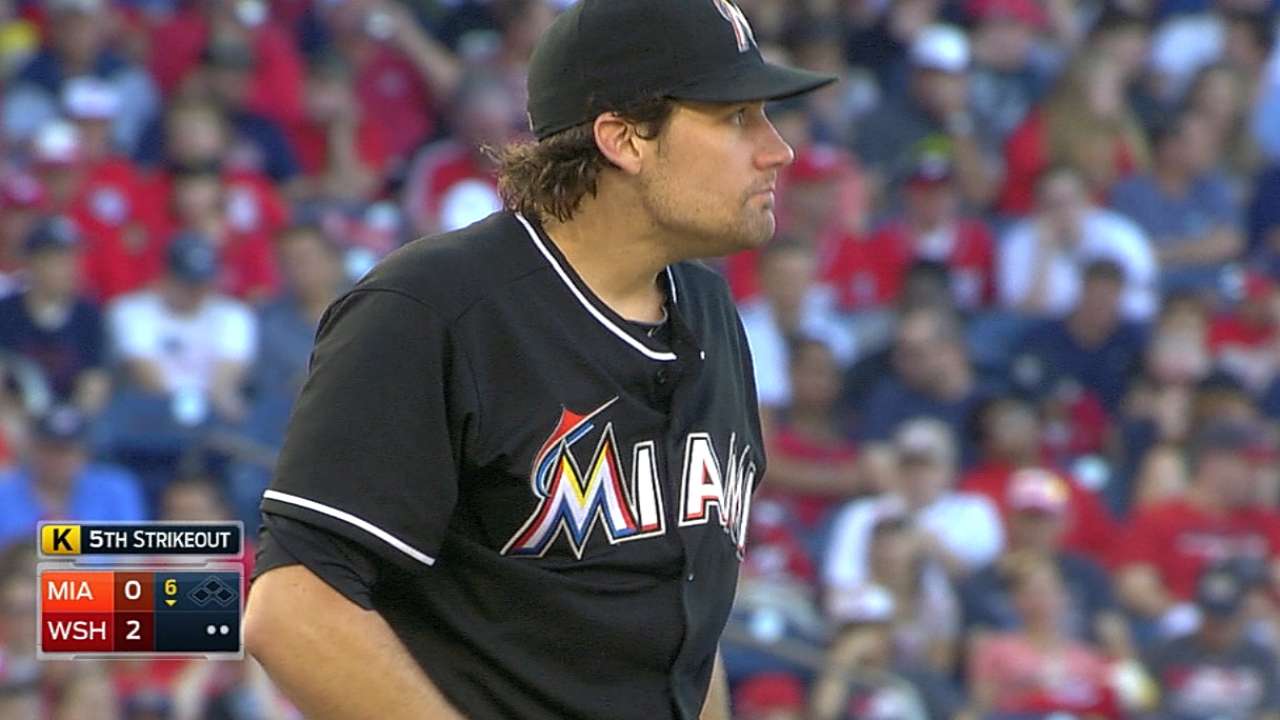 Eovaldi, meanwhile, becomes the second addition to the rotation in less than a week. After adding Eovaldi and signing veteran Chris Capuano on Tuesday, the rotation includes Masahiro Tanaka, CC Sabathia, Michael Pineda, Capuano and Eovaldi. Ivan Nova is still recovering from Tommy John surgery and isn't expected back until late May, at the earliest.
Along with Nova's injury concerns, Tanaka missed two months last season with a partially torn ligament in his elbow, Sabathia is coming off knee surgery and Pineda has been plagued by shoulder issues throughout his career. The additions of Eovaldi and Capuano provide depth and insurance at the back-end of the rotation.
Phelps had previously been expected to compete with Adam Warren and Bryan Mitchell for the final starting spot, which will obviously be assumed by Eovaldi. Though Cashman didn't rule out the possibility of adding another pitcher, he reaffirmed that the club is not in the market for a top starter, such as marquee free agent Max Scherzer.
"We're clearly going to continue to be open-minded to any legitimate opportunities -- and by legitimate, I mean something that fits within our current circumstances," Cashman said. "That will continue as we move forward into Spring Training and into the season. As for where these guys all shake out in the rotation, I feel like we have five starters right now that can all take the ball and give us a chance to win. If I can add to that, that would be tremendous, but we'll see."
Eovaldi, who turns 25 in February, went 6-14 with a 4.37 ERA over 33 starts with the Marlins last season. He racked up a career-high 199 2/3 innings and could again be called upon for 200-plus innings this season, especially given the potential for injury to New York's other starters.
"This team has been lacking in terms of innings, so we're just trying to give ourselves as many of those options as we can," Cashman said. "Given our current payroll and our current committments, if we can find guys that have this type of ability and are cost-controlled and are in the arena that we can afford, it's an easier fit."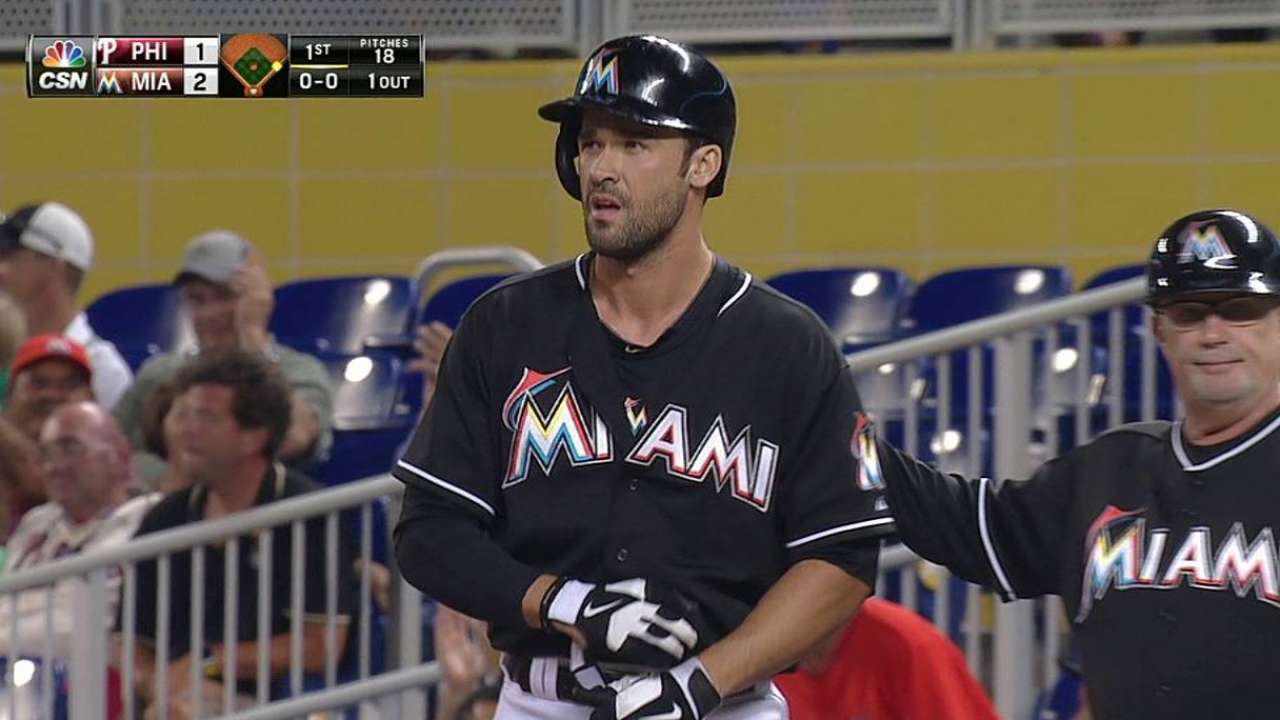 As for the other pieces acquired by the Yankees, Jones provides some left-handed pop off the bench, having hit at least 15 home runs in each of his six full seasons. More importantly perhaps, he gives the team a viable backup for first baseman Mark Teixeira, who was played just 138 combined games over the past two seasons due to a variety of injuries.
"You saw us go through a season last year where we didn't have a legitimate backup first baseman and now we do," Cashman said. "He can also be a choice for our manager to be a DH against right-handed pitching, he can be a backup first baseman, he can go over to right field and, obviously, when he's going right, he can take advantage of our short right-field porch."
German, meanwhile, immediately slots in as one of the Yankees' top pitching prosects. The right-hander racked up a 2.48 ERA over 25 appearances this past season with Class A Greensboro and was ranked as the Marlins' No. 8 overall prospect, according to MLB.com.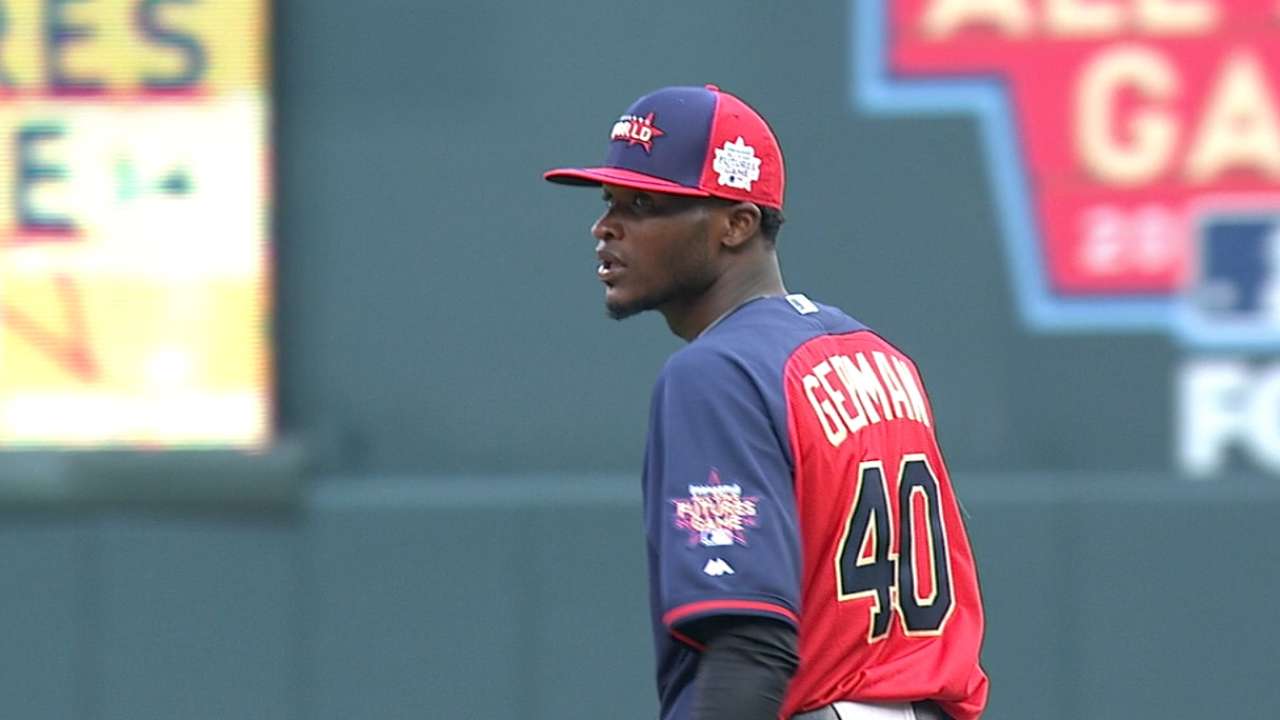 "We had a number of scouting reports that, let's say if he reaches his future potential, we'd be very pleased by that," Cashman said. "It's great to add another lottery ticket, so to speak, into that prospect category for us and I know our people are very excited to add a prospect with his physical tools into our system."
Though the Yankees remained mostly quiet at the beginning of the offseason, they've picked up the pace in recent weeks. In addition to this week's moves, they also recently landed reliever Andrew Miller, shortstop Didi Gregorius and Headley, while parting ways with Prado, Phelps and promising young starter Shane Greene.
"Entering this winter, we had a lot of areas of need to fill and, in doing so, it comes with very difficult choices that have subtracted players that we do like, such as Greene and Prado, amongst others," Cashman said. "But it's all in an effort to hopefully improve us for both the short- and long-term."
Scouting report:
German: After making steady progress through the lower levels of the Minor Leagues, German broke out in 2014. In 123 1/3 innings for Class A Greensboro, he went 9-3 and posted a 2.48 ERA, while striking out 113 and walking 25. His year was highlighted by a trip to the SiriusXM All-Star Futures Game, where he struck out Kris Bryant and Joey Gallo in a scoreless inning. German has an easy delivery, allowing him to pound the strike zone with his full arsenal. He throws his fastball in the low- to mid-90s with heavy sinking action that creates plenty of groundball outs. His changeup is his best secondary pitch, while his curveball lags behind his other offerings. German is still learning his craft and remains raw, but has the tools to develop into a solid starter in time.
-- Teddy Cahill
Paul Casella is a reporter for MLB.com. This story was not subject to the approval of Major League Baseball or its clubs.