Kemp deal proves Padres mean business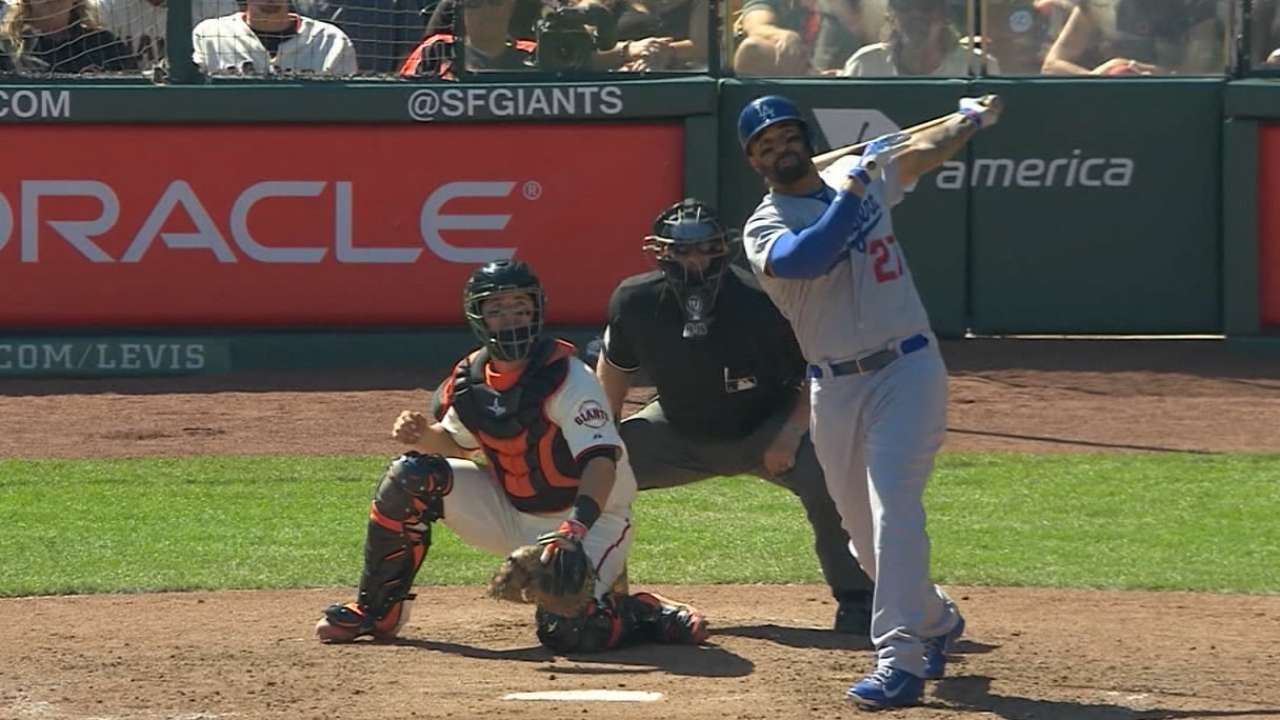 Editor's note: Bill Center, longtime sportswriter for U-T San Diego, is an employee of the Padres.
Clearly, things are changing with the Padres.
You might not have thought so the past couple of weeks when the Padres fell short in the free-agent bidding for Pablo Sandoval and Yasmany Tomas.
Don't try to hide. We saw the tweets.
A lot of you were crying smoke screen. Were the Padres really going after Sandoval and Tomas? Or were they just posturing? Well, the intentions of general manager A.J. Preller and Padres ownership are coming into sharper -- and brighter -- focus.
Acquiring Matt Kemp in a trade with the Dodgers is no smoke screen. It is one of the more significant deals in Padres history.
In my mind, the Padres haven't made a trade of this impact since they acquired third baseman Ken Caminiti and center fielder Steve Finley plus three other players from the Houston Astros for six players. That was back on Dec. 28, 1994. That was 20 years ago.
Yes, the Padres have made major trades since -- Andrew Cashner for Anthony Rizzo; Yasmani Grandal and Yonder Alonso for Mat Latos and the Kevin Brown acquisition come to mind.
But in Kemp, the Padres have acquired a legitimate middle-of-the-order bat at the prime of his career. Kemp is 30 years old, and they have him under control for five seasons.
Yes, he has missed games due to injuries in two of the past three seasons. But the two-time All-Star finished second in the National League Most Valuable Player Award voting in 2011 when he hit .324 with league-leading totals of 39 homers and 126 RBIs.
Kemp is a career .292 hitter. He has averaged a homer every 22 at-bats. Plus, he has a track record at Petco Park. Kemp has hit .322 in San Diego, with seven homers and 34 RBIs in 214 at-bats.
Kemp is the first Padres hitter who will force opposing pitchers to take notice since Adrian Gonzalez was traded after the 2010 season. Seriously.
Plus, Kemp is the embodiment of the commitment Padres ownership pledged to Preller and the fans of the club. Even with the Dodgers picking up around $32 million of his contract over the next five seasons, the Padres' commitment to Kemp is $15 million a year.
Kemp is a huge step in the right direction for the Padres in so many areas. He is an exciting player, an athlete fans should be able to rally around.
Also, it shows that Preller will shrewdly pull the trigger. Acquiring Kemp didn't bankrupt the Padres. Preller didn't have to give up a frontline pitcher to acquire Kemp.
Right-hander Joe Wieland has Major League potential, but he is coming off Tommy John surgery. Zach Eflin is a prospect.
It's all good. It's very good.
Bill Center is a contributor to MLB.com. This story was not subject to the approval of Major League Baseball or its clubs.