Homecoming official with introduction of new trio
Florida natives Morse, Latos, Gordon excited to be teammates on Marlins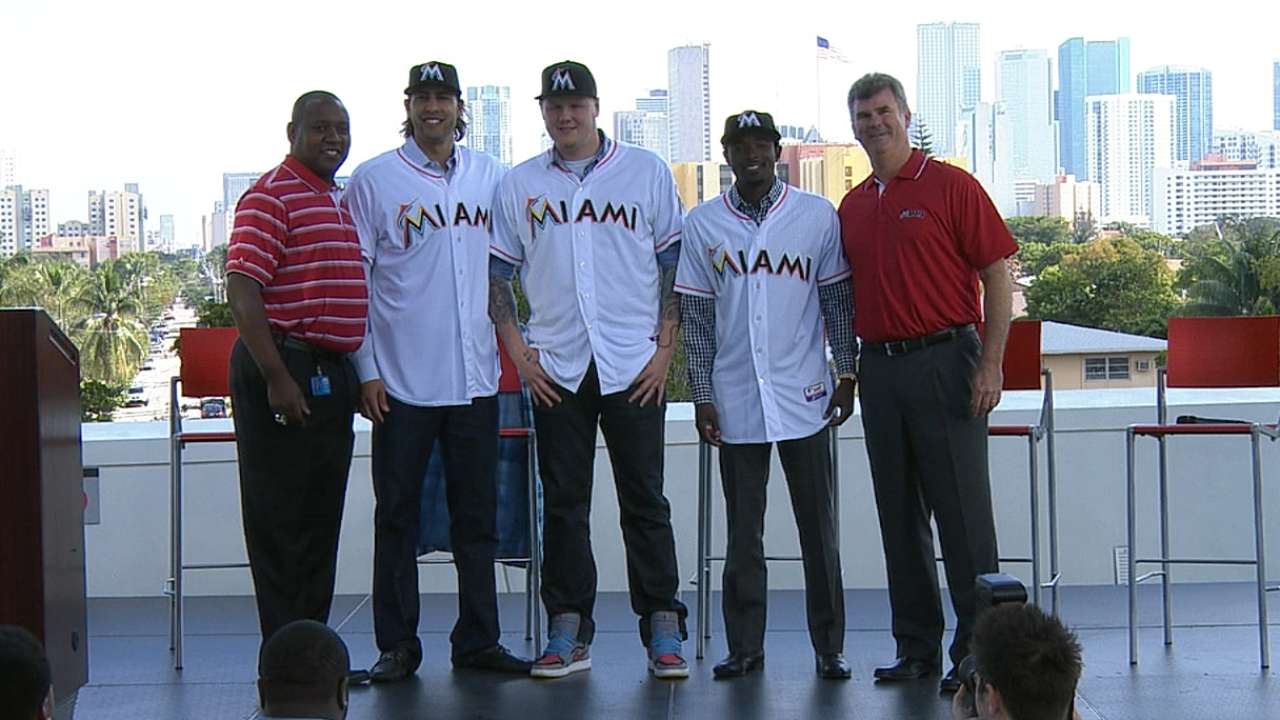 MIAMI -- Sunshine State pride was overflowing at Marlins Park on Friday afternoon during an introductory news conference for Florida natives Michael Morse, Mat Latos and Dee Gordon.
"Talk about Christmas coming early," Miami general manager Dan Jennings said. "This is a great Florida trifecta here. It made us smile as we were putting this together."
Miami has remained extremely active since signing Giancarlo Stanton to a record-setting, 13-year, $325 million contract on Nov. 19. At the Winter Meetings, the club acquired Gordon from the Dodgers and Latos in a trade with the Reds. On Wednesday, Morse signed as a free agent.
In Gordon, the Marlins have a speedy second baseman and leadoff batter. Latos is a proven top-of-the-rotation arm, and Morse is a power bat who takes over at first base after he was part of the Giants' World Series championship team.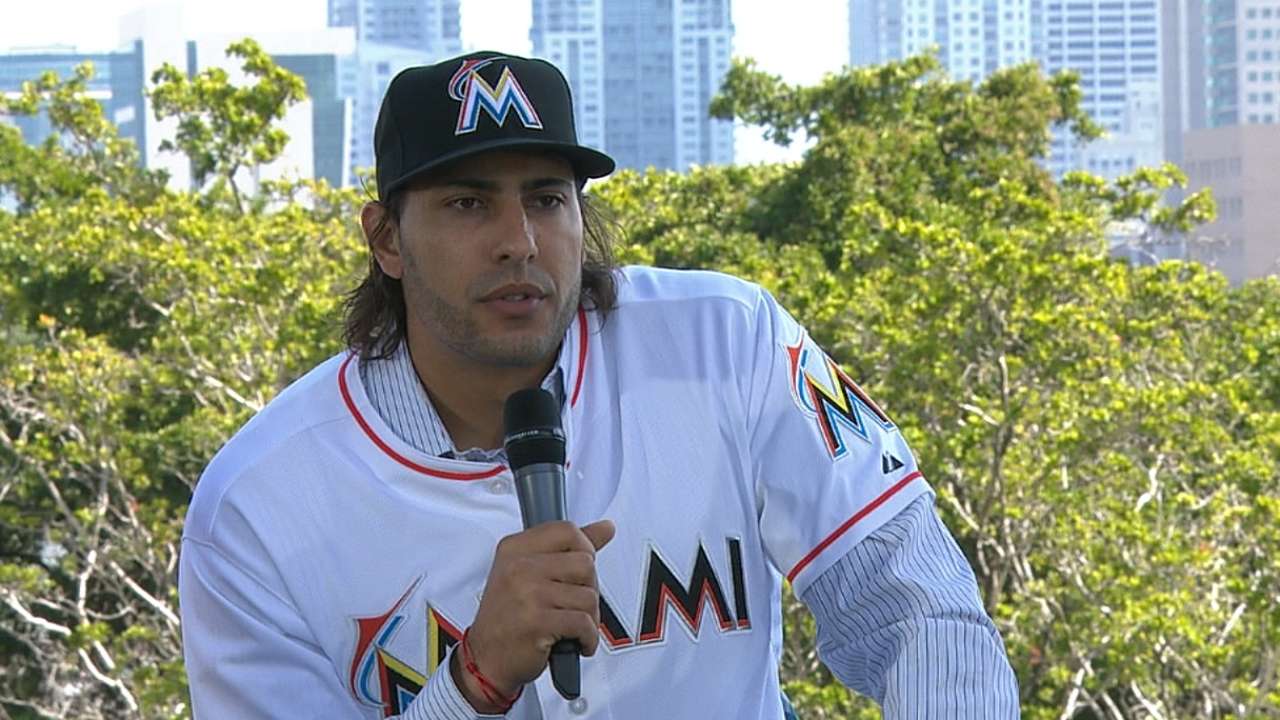 "This is very exciting," Jennings said. "We had some boxes that we felt like we needed to fill and check this offseason. Sometimes things have a way of coming together the right way. There's a constant denominator here that all three of these guys are Florida guys. There is a pride factor in that."
Latos and Morse were raised in Broward County, and Gordon makes Avon Park in Central Florida home.
"Not only to play at home, but to be able to play first base every day," said Morse, who has played first and left field in his big league career. "It's been proven in my career that I'm a better first baseman than I am a left fielder. With this opportunity to play first base and to play at home, it's a dream come true."
The fact the Marlins are an improving team with playoff aspirations makes the situation even more inviting for a player who drove in the winning run in Game 7 of the World Series at San Francisco.
"It's very rare for a player to be in that situation," Morse said. "It's an opportunity I take pretty seriously. I can't wait to get going."
Latos lives in the Cincinnati area in the offseason, but he has family still in South Florida.
Morse and Latos grew up rooting for the Marlins. In fact, they both were at Sun Life Stadium in 1993 for the inaugural game in franchise history.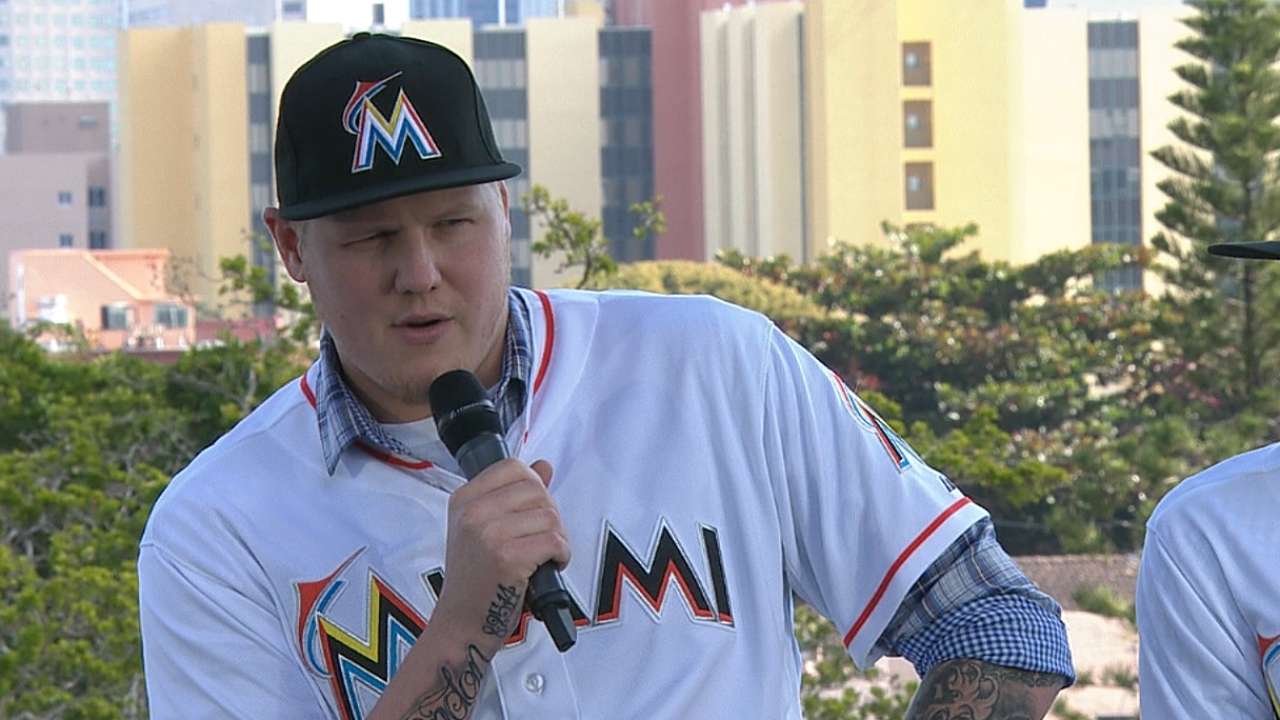 "It's a team you grew up cheering for," Latos said. "It is a blessing to be able to play for a team you grew up watching. You take pride in that. It's like this is your home turf.
"To be able to represent a team and have that name across your chest and your name on the back and being in your hometown, you take a huge sense of pride in that."
Gordon, who paced the Majors with 64 stolen bases last year, spent part of Friday looking at the spacious dimensions of Marlins Park. Although the second baseman lacks power, he has game-changing speed and is a candidate to reach double digits in triples.
Gordon has never hit an inside-the-park homer in the big leagues, and Marlins Park has not yet had an inside-the-park shot. Could the speedster be the first?
Although Morse, Latos and Gordon had never been teammates before, they do share their Florida roots.
"It's amazing, especially if we start playing good baseball, bringing a winning attitude back to our state," Gordon said.
Joe Frisaro is a reporter for MLB.com. He writes a blog, called The Fish Pond. Follow him on Twitter @JoeFrisaro. This story was not subject to the approval of Major League Baseball or its clubs.