It's official: Myers moves to Padres in megadeal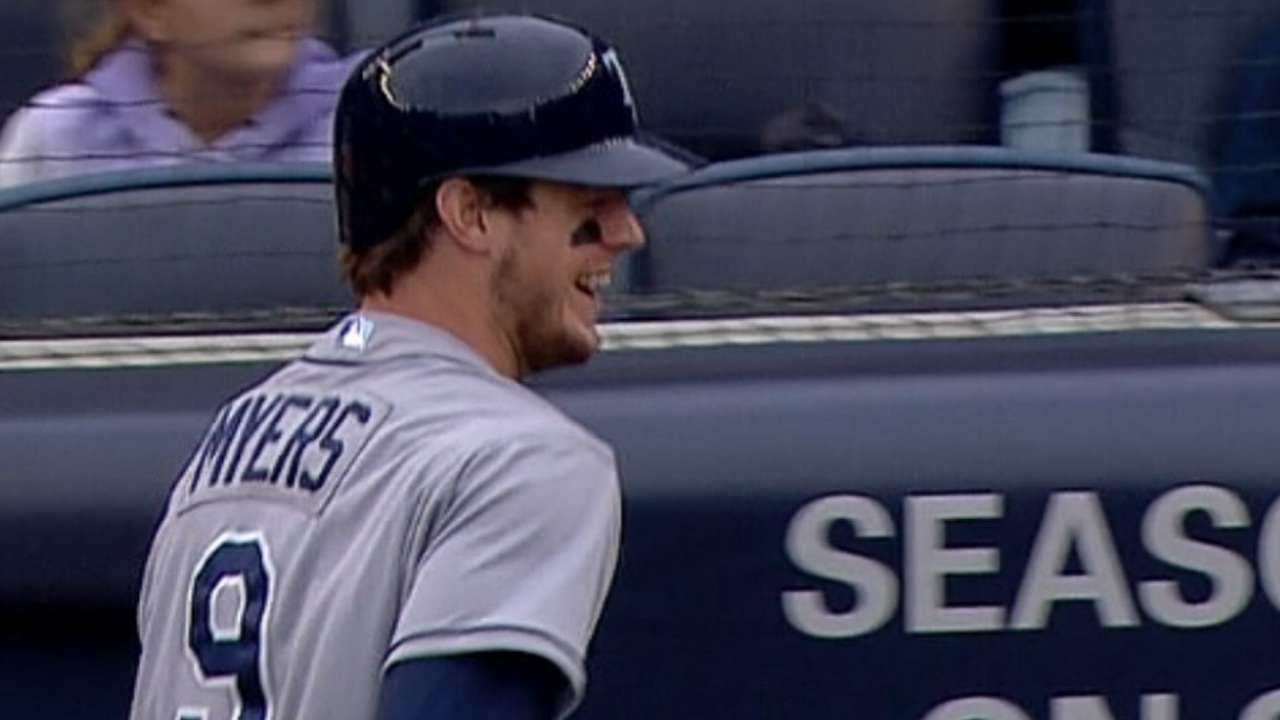 SAN DIEGO -- The Padres' Opening Day starting lineup is starting to take shape, but make sure you use a pencil and not a pen.
On Friday, the Padres officially announced the completion of a three-team, 11-player megadeal with the Rays and Nationals that landed them outfielder Wil Myers and catcher Ryan Hanigan.
The deal was agreed upon on Wednesday but only became official early Friday, which shaped up to be one of the most momentous days in club history.
One day after the official announcement of the deal with the Dodgers that landed them outfielder Matt Kemp, the Padres agreed to a deal with the Braves for outfielder Justin Upton, signed free catcher David Ross and were in the process of dealing Hanigan to the Red Sox for third baseman Will Middlebrooks.
Get all that?
The Upton, Ross and Middlebrooks deals are not yet official and the Padres haven't confirmed the trade or the signing.
But the Myers deal is official, landing the Friars the 2013 American League Rookie of the Year from the Rays.
San Diego traded catcher Rene Rivera, pitcher Burch Smith and first baseman Jake Bauers to the Rays and also sent Minor League pitcher Joe Ross and a player to be named -- believed to be shortstop Trea Turner -- to the Nationals in the deal.
For the Padres, the trade was all about getting Myers, the 24-year-old who tore first tore through the Royals system and was traded to the Rays in the James Shields deal. His 2014 season was waylaid by early-season struggles and an injury to his right wrist that limited him to 87 games.
Landing Myers, who turned 24 on Dec. 10, and pairing him with Kemp and Upton -- the team also made a deal Thursday for A's catcher Derek Norris -- gives the team's indolent offense from last season a significant boost for 2015.
The Padres ranked last in baseball last season in about every pertinent offensive category and dismissed hitting coach Phil Plantier after the season.
Myers hit .222/.294/.320 with six home runs and 35 RBIs in 361 plate appearances for the Rays last season.
Streamer projections on FanGraphs put Myers at .251/.327/.418 with 21 home runs and 72 RBIs, though that was if he remained with the Rays. Dan Szymborski's ZiPS projections have Myers at .266/.335/.441 with the Padres, including an OPS+ of 121 and a 2.5 WAR (Wins Above Replacement).
This is the second major trade these two teams have made this year. In January, under different general managers, the Padres and Rays combined for a seven-player deal that sent pitchers Jesse Hahn and Alex Torres to San Diego.
In Myers, Padres general manager A.J. Preller has landed the kind of player that he has talked about this offseason: a cost-controlled position player. Myers wouldn't be eligible for free agency until after the 2019 season.
This is the second time Myers has been traded. He was dealt from the Royals to the Rays in December of 2012 in the deal that sent Shields to the Royals. He then spent the first half of 2013 playing in the Minor Leagues before joining the Rays in June.
Myers' struggles last season can't all be blamed on the wrist injury, as he struggled before it and then hit .213 after returning from the disabled list. But his sample-size at the big league level remains small and his track record in the Minor Leagues was good and the Padres, apparently, felt there's a lot of upside.
Rivera experienced something of a career revival in 2014, throwing out 29 would-be basestealers while hitting a career-high 11 home runs.
Castillo, an 18-year-old left-hander, has a 5.60 ERA in his first 35 1/3 professional innings. Reyes is a 21-year-old right-hander who had a 4.09 ERA in 33 innings in low Class A last season.
The Padres moved some notable pieces to get Myers. Turner was the Padres' No. 5 prospect according to MLBPipeline.com while Ross was No. 8, Bauers was No. 14 and Smith was No. 16.
Ross, 21, was the 25th overall pick in the 2011 Draft. He has a 15-18 mark and a 3.90 ERA in his first 299 2/3 professional innings and will likely begin the season in Double-A.
Bauers, 19, was drafted in the seventh round in 2013 and had a breakout year in the Midwest League in 2014, hitting .296/.376/.414 with eight home runs and 64 RBIs.
Smith, 24, was an undervalued 14th-round pick in 2011. He made his big league debut in '13, going 1-3 with a 6.44 ERA in 36 1/3 innings. He actually made his Major League debut on the road against the Rays on May 11 of that year and didn't make it out of the second inning.
Smith missed most of last season with flexor muscle issue in his right forearm. He pitched in the Arizona Fall League, going 3-0 with a 5.52 ERA in 14 2/3 innings.
Turner, the 13th overall pick in the 2014 Draft out of North Carolina State, had a big pro debut, hitting a combined .323/.406/.448 in two Minor League stops. He then impressed during on the taxi squad in the Arizona Fall League, hitting .400 in 35 at-bats. He can't officially join the Nationals until June.
Corey Brock is a reporter for MLB.com. Keep track of @FollowThePadres on Twitter. This story was not subject to the approval of Major League Baseball or its clubs.