MLB.com Columnist
Jonathan Mayo
Breaking down the prospects acquired in Upton deal
Left-hander Fried, infielder Peterson among talented young players coming to Braves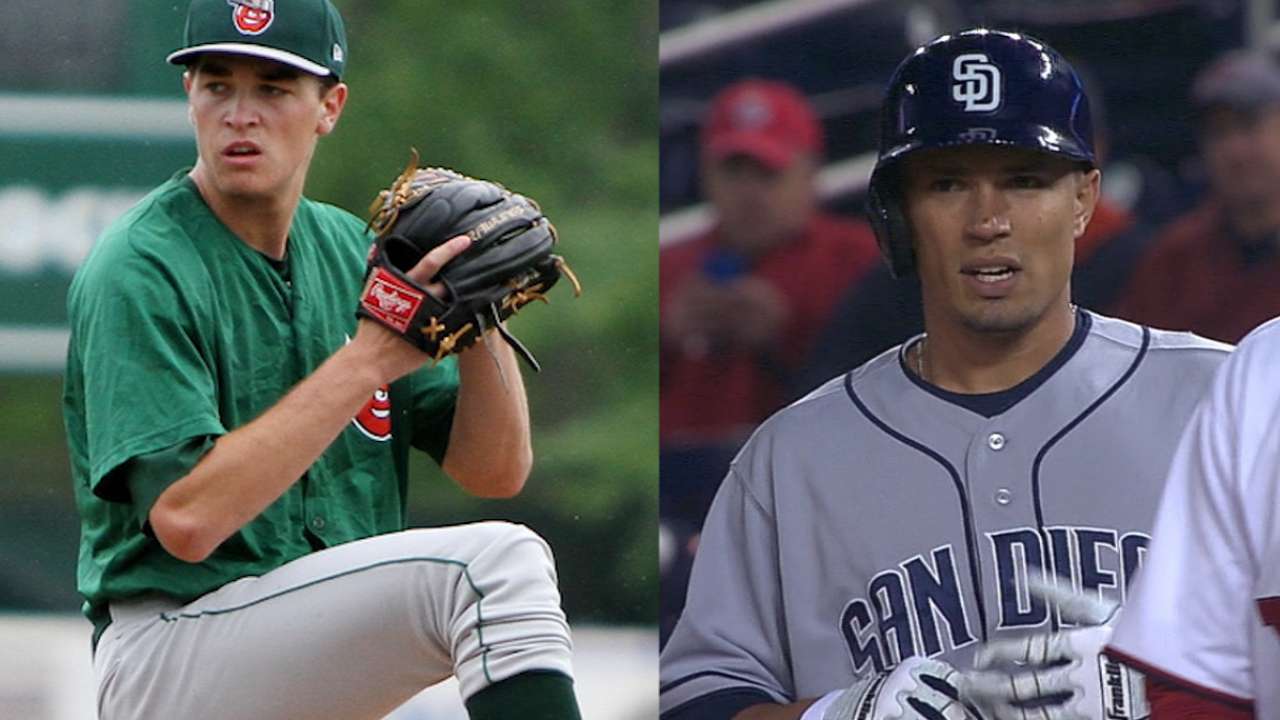 No one can accuse new Padres general manager A.J. Preller of standing pat. News of the huge three-team, 11-player deal that netted him Wil Myers had just settled in when the Matt Kemp deal was finalized. The ink on that one had barely dried when Preller was at it again, this time sending young players to the Atlanta Braves in return for Justin Upton.
Here's a closer look at who the Braves are getting in return for Upton:
Max Fried, LHP: The No. 3 prospect on the Padres' Top 20 (and No. 68 on the overall Top 100) at the time of the trade, Fried will slide into the same spot on the Braves' list once the deal is official. A former high school teammate of Lucas Giolito, the top prospect in the Nationals system, Fried was the top high school pitcher taken in the 2012 Draft (No. 7 overall).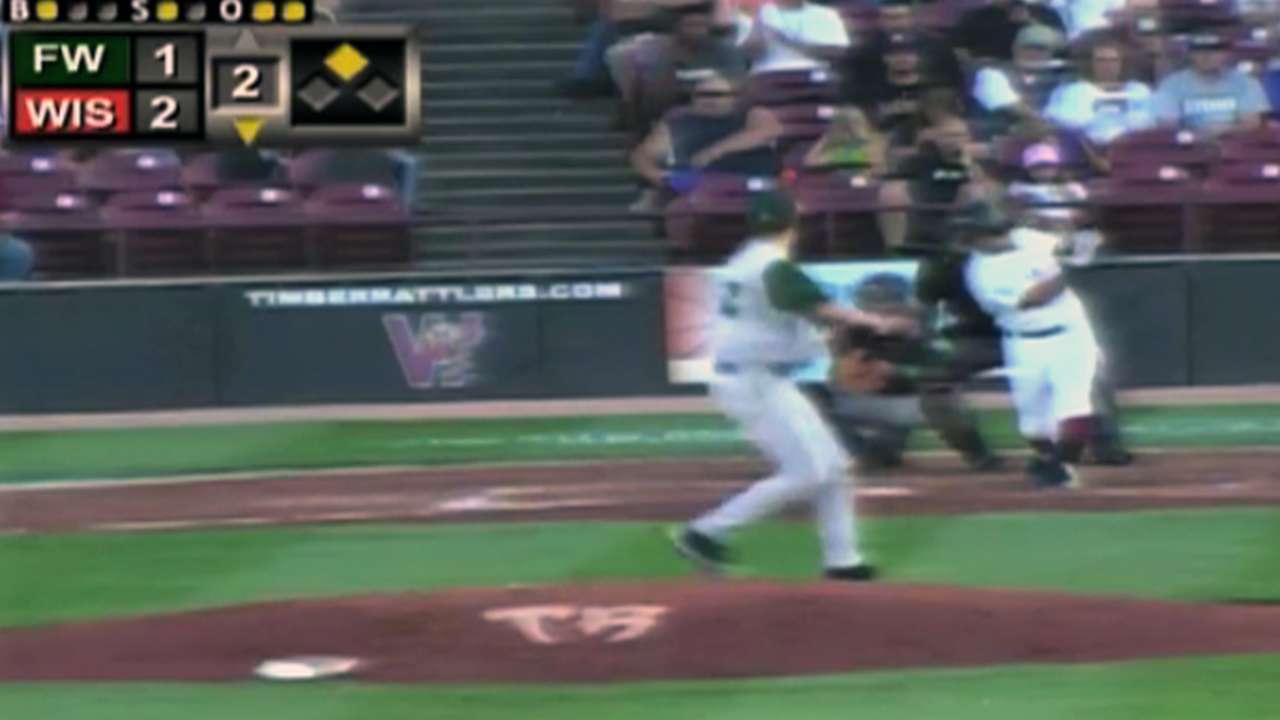 After a solid albeit unspectacular first full season in 2013, Fried got hurt in 2014, pitching just 10 2/3 total innings and ending with Tommy John surgery in August. That means he'll miss most of the 2015 season, but once he's healthy again, the Braves will be getting one of the better left-handed arms in the Minors, one who fires fastballs that sit in the low 90s. Fried also has an outstanding power curve and a changeup that was improving before he got hurt.
Jace Peterson, IF: A supplemental first round pick (No. 58 overall) in the 2011 First-Year Player Draft, Peterson made his big league debut in 2014 and spent a good amount of time in the Majors (thus graduating off of prospect lists because of service time). He only amassed 58 plate appearances, but did see time at both second and third base with the Padres. While the left-handed-hitting infielder didn't show much with the bat during his time in San Diego, he has always hit as a pro, with a .287/.381/.411 slash line in the Minors.
A two-sport star in college, Peterson is a terrific athlete who maximizes his average speed with an aggressive approach on the basepaths that allowed him to steal 93 bases in 2012-13. He's a line-drive hitter with good bat speed, albeit without much power. He didn't play shortstop in the big leagues in 2014, but he has some ability there. He might profile best at second base, a spot he could get a chance to play in Atlanta.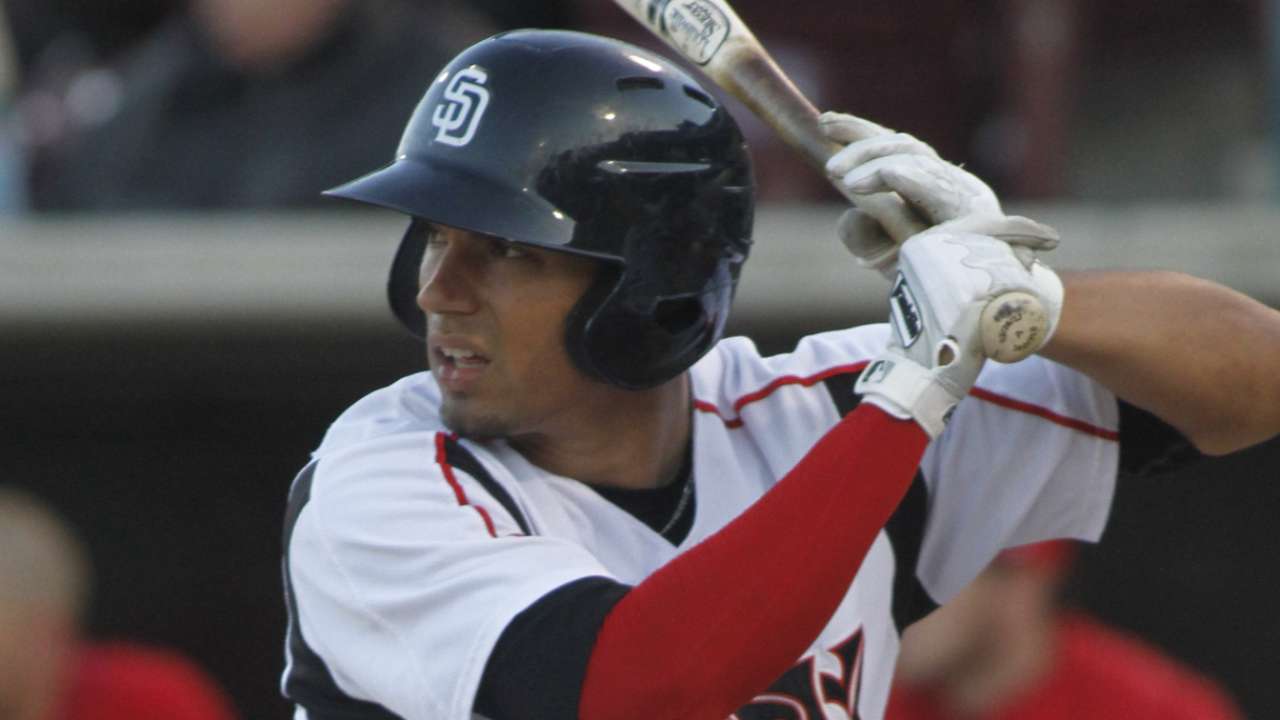 Dustin Peterson, 3B: The younger brother of Mariners prospect D.J. Peterson, Dustin was taken in the second round of the 2013 Draft, 38 picks after his brother. Ranked 10th on the Padres' list at the time of the trade, Peterson scuffled a bit in his first full season, stumbling particularly in the second half.
While Peterson struggled with plate discipline, he does have good bat speed and power potential. He's fairly athletic, though he made the move from high school shortstop to professional third baseman. Some feel he might be best-suited for second base or the outfield when all is said and done. Most feel Peterson will make adjustments and his bat will carry him up the ladder, regardless of what position he ends up playing regularly.
Mallex Smith, OF: There is no question that Smith, No. 20 on the Padres list, can run. One of the fastest players in the Minor Leagues, Smith led the Minors with 88 stolen bases in 2014, a year after stealing 64 in his first full season of pro ball. He understands that his job is to get on base and he isn't afraid to draw walks or bunt for base hits. He uses his speed in the outfield as well and it allows him to make up for mistakes as he continues to improve his reads and routes.
Speedsters like Smith don't always hit when they move to the upper levels, and Smith will have to prove he's more than a one-tool wonder as he advances, though he did perform well in the Arizona Fall League.
Jonathan Mayo is a reporter for MLB.com and writes a blog, B3. Follow @JonathanMayoB3 on Twitter. This story was not subject to the approval of Major League Baseball or its clubs.