MLB.com Columnist
Jonathan Mayo
Bidding ends today for Korean slugger Kang
Giants, A's, Padres, Royals, Nats, D-backs have reportedly shown interest in shortstop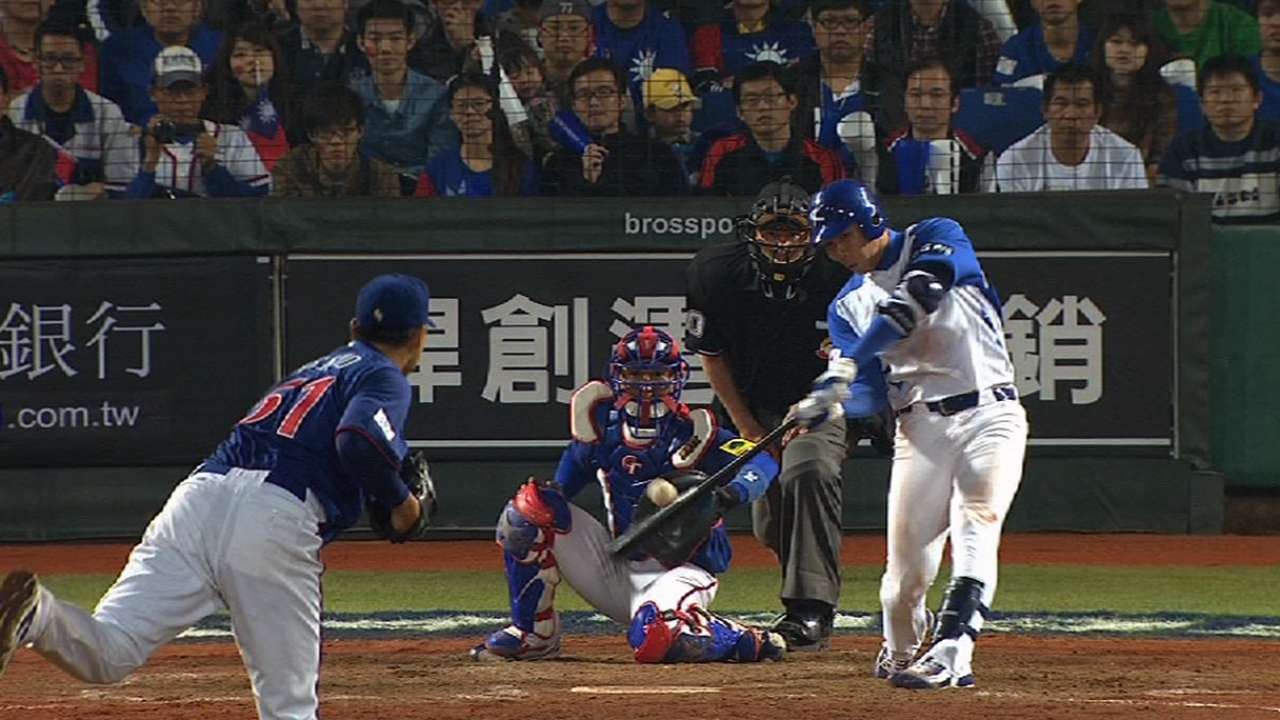 It's only a matter of time until it is known which team earned the right to negotiate with Korean infielder Jung-Ho Kang.
The Korean Baseball Organization officially posted the shortstop on Monday, and Major League organizations have until 5 p.m. ET today to put in bids. It's believed the KBO will announce by the beginning of next week, perhaps Monday, which team won negotiating rights.
There have been a number of teams reported to have interest in acquiring Kang's services, with the Giants, A's, Padres, Royals, Nationals and D-backs mentioned prominently. There have been conflicting reports on whether the Mets are another team in the mix.
An international scout who has scouted Korea told MLB.com that the Giants, A's and Mets were the only teams that scouted Kang during the KBO playoffs -- a reason why those organizations' names surfaced during the Winter Meetings.
Clubs wanting to negotiate are likely intrigued by the 27-year-old infielder's power potential. A star for the Nexen Heroes, Kang is coming off of a career year during which he hit .356 with 40 home runs, 117 RBIs and a 1.198 OPS in 117 games. Those numbers do have to be taken with a grain of salt, given the KBO's reputation as being extremely offensive-minded and the quality of play not approaching Major League Baseball.
Questions about how his offense will translate to the Major Leagues -- along with a lack of a track record of Korean position players successfully making that transition -- could keep his price tag down a bit. Many scouts also don't think Kang will stay at shortstop once he does arrive, feeling he's better-suited at second or third, or perhaps as an offensive-minded super utilityman.
Reports of how much it would take to earn those rights have varied greatly, ranging from $5-15 million. One international scouting director contacted on Thursday estimated the posting number would end up on the lower end of that spectrum because of the above-mentioned concerns.
That scouting director added that he believed the contract Kang would get will be somewhat limited based on those question marks. Early estimates said Kang would command a contract in the $25-30 million range, but the international scouting director believed it would land in the more widely and recently reported $24 million range.
The Giants, should they sign Kang, could put him at third to replace Pablo Sandoval, or at second, moving Joe Panik to third. Likewise, the Padres are also seeking help at third base. The A's need help up the middle, and those who believe Wilmer Flores isn't the answer at shortstop for the Mets might want to give Kang a shot.
Jonathan Mayo is a reporter for MLB.com and writes a blog, B3. Follow @JonathanMayoB3 on Twitter. This story was not subject to the approval of Major League Baseball or its clubs.