Yanks reiterate they won't pursue Scherzer
Club president Levine says Bombers won't give out deal in range of what righty is seeking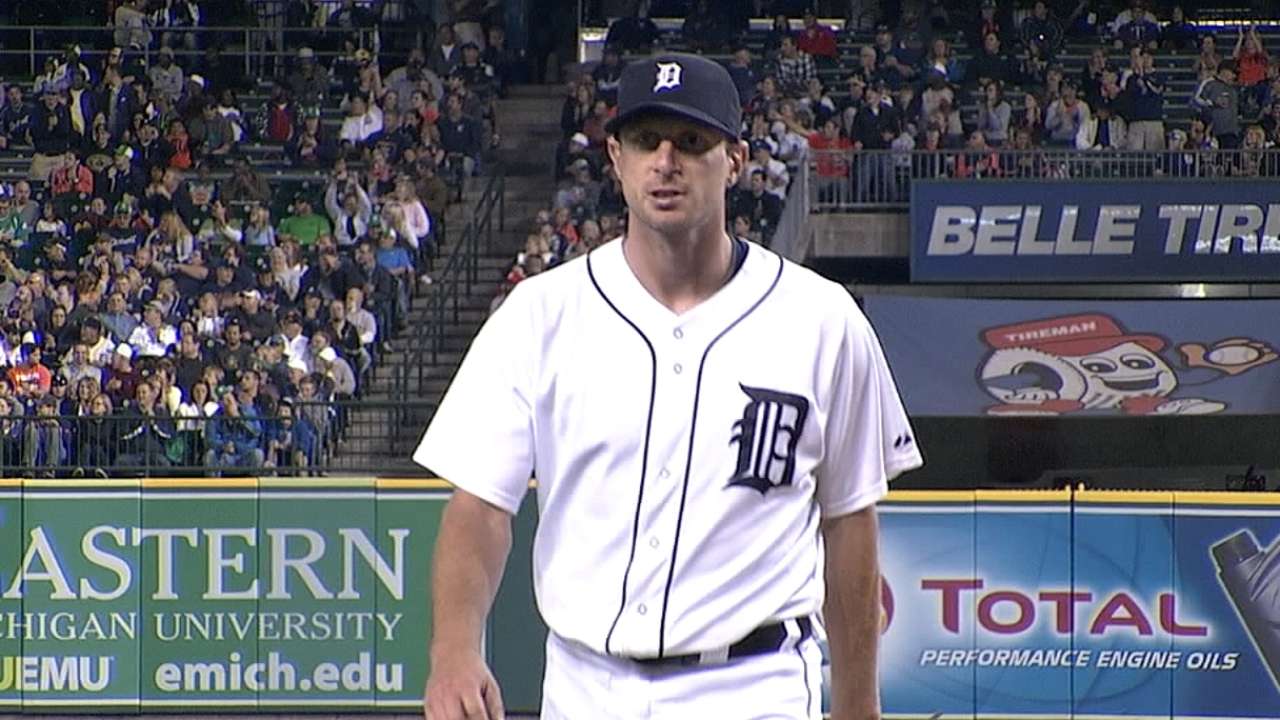 NEW YORK -- The Yankees are continuing to state that they have no plans of dressing Max Scherzer in pinstripes, and will bank on CC Sabathia and Masahiro Tanaka to lead the pitching rotation next season.
Speaking at a NYC Football Club/YES Network news conference on Thursday, team president Randy Levine reiterated earlier comments made by general manager Brian Cashman in saying that Scherzer's expected market will be too rich for them.
"We are out there looking, but it has to be tempered by the reality of the organization," Levine told reporters. "Looking at our pitching staff, for example, we have two guys [Sabathia and Tanaka] with a lot of money, and we have to build around that."
Levine did not mention Scherzer by name, saying that he is not permitted to speak about specific players. Scherzer previously turned down a six-year, $144 million extension from the Tigers and it has been reported that he and agent Scott Boras are seeking a contract in excess of $200 million.
"The chances of us bringing in a guy for six [years] and $25 million or over, in my opinion, is virtually none," Levine said. "At the end of the day you have to be realistic in any organization."
Cashman has largely sidestepped conversations about Scherzer in recent weeks, but did address the hurler by name in a television appearance on Sunday evening when asked about the chances of making Scherzer an offer in the $200 million range.
"I think that's a lot higher level than we're willing to play in right now," Cashman told NBC. "I don't think Yankee fans will be looking at Max Scherzer."
Yankees officials have repeatedly said that they have no intention of issuing another nine-figure contract to a starting pitcher, already having those types of deals on the books for Sabathia and Tanaka. Cashman has said that even Brandon McCarthy, who scored a four-year, $48 million deal with the Dodgers, had a market that the Yankees could not play on.
Instead, the Yanks have aimed for the lower end of the starting-pitching market, signing left-hander Chris Capuano to a one-year, $5 million deal last week to join a rotation that will be headed by Sabathia, Tanaka and Michael Pineda, plus candidates David Phelps, Adam Warren and Bryan Mitchell.
Bryan Hoch is a reporter for MLB.com. Follow him on Twitter @bryanhoch and read his MLBlog, Bombers Beat. This story was not subject to the approval of Major League Baseball or its clubs.