Hits keep coming: Padres acquire slugger J. Upton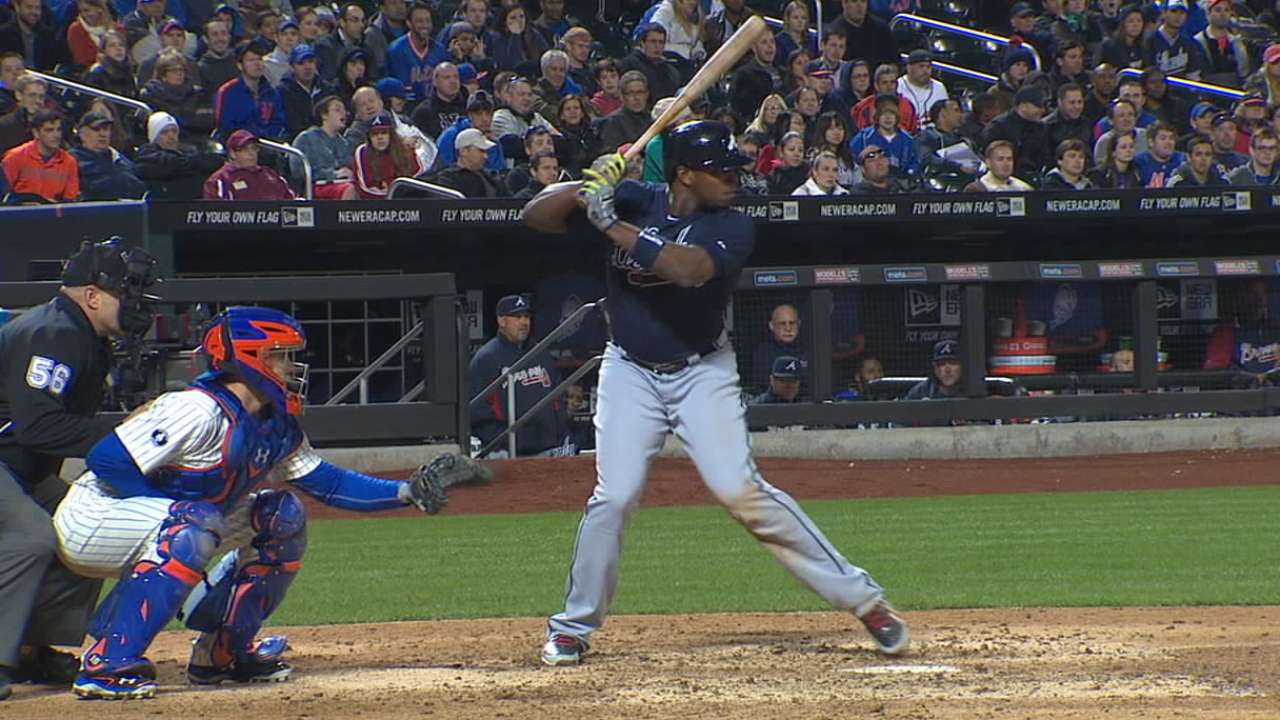 SAN DIEGO -- Most of general manager A.J. Preller's moves during this frenetic week of adding offensive upgrades have held true to two trends -- right-handed hitters and cost-controlled players.
One of Preller's newest additions, outfielder Justin Upton, only fit the bill as a right-handed hitter, as he will be eligible for free agency following the season.
For Preller, though, that didn't scare him away from adding one of the top right-handed power hitters in the game.
• Mayo breaks down the prospects headed to Atlanta
"We view it as attractive to get him here for a year and kind of give us a chance to get that direct access that you're always wondering about from across the field," Preller said. "We'll take the year as we go."
The Padres acquired Upton and right-hander Aaron Northcraft from the Braves in exchange for left-handed pitcher Max Fried, the club's No. 3 prospect, along with infielders Jace Peterson, Dustin Peterson, outfielder Mallex Smith and the Padres' fourth international bonus pool slot.
This deal was originally reported on Friday morning, less than 24 hours after the Padres and Dodgers finalized a five-player trade to bring Matt Kemp to San Diego. The Padres also traded for A's catcher Derek Norris.
Earlier, the club officially announced its 11-player megadeal with the Rays and Nationals, which will bring outfielder Wil Myers to San Diego.
And now the Padres have Upton, a two-time All-Star who turned 27 in August and is coming off a 2014 season in which he hit .270/.342/.491 with 29 home runs and 102 RBIs for the Braves.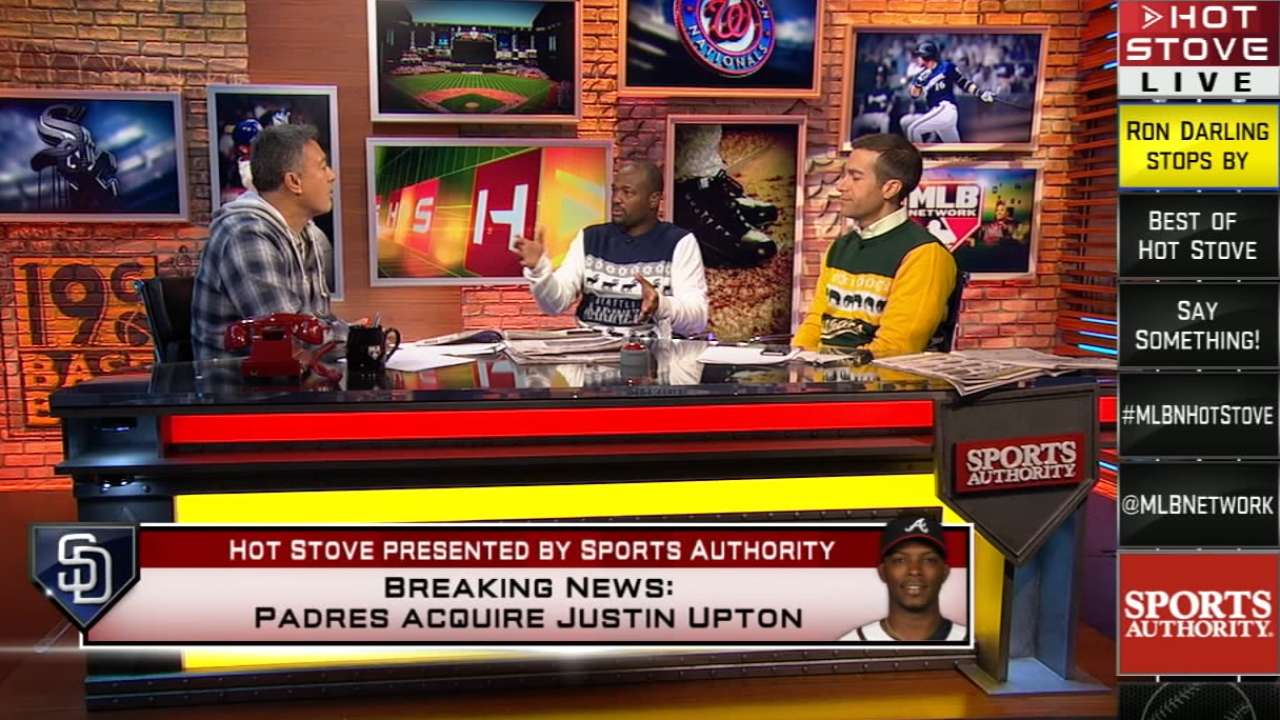 Upton is a career .291/.359/.541 hitter at Petco Park, with 10 home runs and 11 doubles in 192 career plate appearances.
Upton can be a free agent after the season, and he will certainly command a big contract. If the Padres can't reach an extension, they would surely give him a qualifying offer to at least get Draft pick compensation in return.
Upton will make $14.5 million in 2015.
Fried, who turns 21 next month, was the seventh-overall pick in the 2012 First-Year Player Draft. He had Tommy John surgery in 2014 and is expected to miss the '15 season. He is 6-9 with a 3.61 ERA in his first 147 professional innings.
Jace Peterson made his Major League debut in 2014 for the Padres, hitting .113 in 58 plate appearances. The 24-year-old, a shortstop by trade, can also play elsewhere in the infield. He's a .287/.381/.411 hitters in his first four Minor League seasons.
Dustin Peterson, the Padres' No. 10 prospect, is a 20-year-old who was a second-round pick in 2013. He has hit .247/.288/.357 with 10 home runs and 97 RBIs in his first 736 pro plate appearances. He's likely destined to start the year at Class A Advanced playing third base.
Smith, the No. 20 prospect, led the Minor Leagues with 88 steals last season in two stops, hitting a combined .310. He'll could be ready to start 2015 in Double-A.
So where to play Kemp, Upton and Myers?
Upton has spent most of his career in right field, though he played left a year ago for the Braves. That appears to be where he'll start, said manager Bud Black. Myers could start in center field with Kemp slated to start in right field.
As for Northcraft, he's a 24-year-old who was 7-3 with a 2.88 ERA in Double-A a year ago before he was roughed-up in Triple-A, going 0-7 with a 6.54 ERA in 13 games. Between the two stops, he struck out 113 in 130 1/3 innings.
Corey Brock is a reporter for MLB.com. Keep track of @FollowThePadres on Twitter. This story was not subject to the approval of Major League Baseball or its clubs.