Peavy reportedly returning to SF on 2-year deal
Bringing back righty doesn't mean club won't also add another starter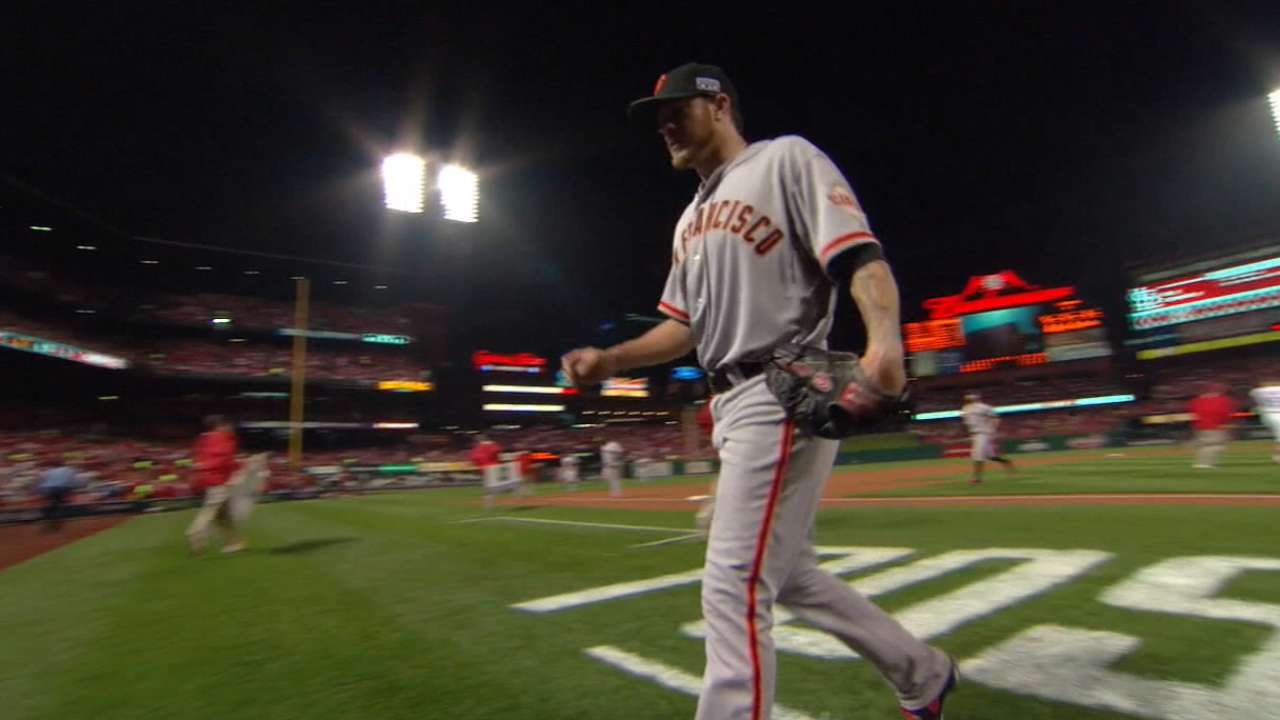 SAN FRANCISCO -- The Giants' agreement with Jake Peavy on a reported two-year, $24 million deal Friday would seem to end their efforts to replenish the starting rotation. "Seem" is the key word in that sentence. For now, it's wiser to inscribe the Giants' probable Opening Day rotation in pencil, not ink. Pursuing another starter is no longer an urgent priority, but could be a possibility.
Peavy's agreement, which has not been confirmed by the club and will become official when he passes the requisite physical examination, gives the Giants a full five-man starting contingent. He joins Madison Bumgarner, Matt Cain, Tim Lincecum and Tim Hudson. And Yusmeiro Petit, who excelled in long relief throughout last season, remains available to replace any injured or slumping starter.
But Petit's so valuable in his relief role that the Giants might prefer to keep him in the bullpen unless they need him to start only temporarily. Should Petit settle in the bullpen, the reigning World Series champions would have no experienced fill-ins if they need another starter. With the possible exception of right-hander Chris Heston, the Giants lack any Major League-ready starters in their farm system. Their collection of promising pitching prospects has not yet advanced beyond the Double-A level.
Several factors could prompt the Giants to seek another starter:
• Cain's health. He's expected to be physically ready for Spring Training following the removal of bone chips and spurs from his right elbow last August. But the Giants might wish to prepare themselves in case Cain falls behind schedule or experiences a relapse in his recovery.
• Lincecum's status. Giants manager Bruce Bochy and general manager Brian Sabean have continued to insist that Lincecum is a bona fide member of the starting rotation, despite his 4.74 ERA and 1.394 WHIP during the 2014 season. Those figures represented Lincecum's second-worst totals in those categories during his eight-year career. Still, the two-time National League Cy Young Award winner has earned the right to remain a starter -- unless the team's brain trust decides otherwise.
• Unforeseen events, such as an injury to a starter or a trade that creates a vacancy in the rotation.
If the Giants opted to add another starter, they probably wouldn't attract a veteran who would balk at having to prove himself in a crowded field of candidates. Therefore, though the door remained slightly open for San Francisco to bring back popular right-hander Ryan Vogelsong, it's unlikely to happen. Vogelsong, the only pitcher besides Bumgarner to start as many as 32 regular-season games for the Giants in 2014, received poor run support all season while finishing 8-13 with a 4.00 ERA.
The Giants are refraining from commenting on Peavy's pact or related matters until he passes his physical. But they were thrilled with the performance he delivered after they acquired him from Boston on July 26 for left-hander Edwin Escobar and right-hander Heath Hembree. Replacing Cain in the rotation, Peavy finished 6-4 with a 2.17 ERA in 12 starts for the Giants, who were winners in his last six starts and eight of his final nine.
Peavy, 33, was widely credited with bolstering the Giants' sagging postseason bid as October approached.
"He is as tough a competitor as you can have," Bochy said.
Peavy proceeded to record a 1-2 mark with a 6.19 ERA in four postseason starts. He pitched 5 2/3 shutout innings to win the NL Division Series opener at Washington, then yielded 11 earned runs in 10 1/3 innings over his next three outings.
Chris Haft is a reporter for MLB.com. Read his blog, Haft-Baked Ideas, and follow him on Twitter at @sfgiantsbeat. This story was not subject to the approval of Major League Baseball or its clubs.