MLB.com Columnist
Richard Justice
Scherzer would be finishing touch on impressive Dodgers offseason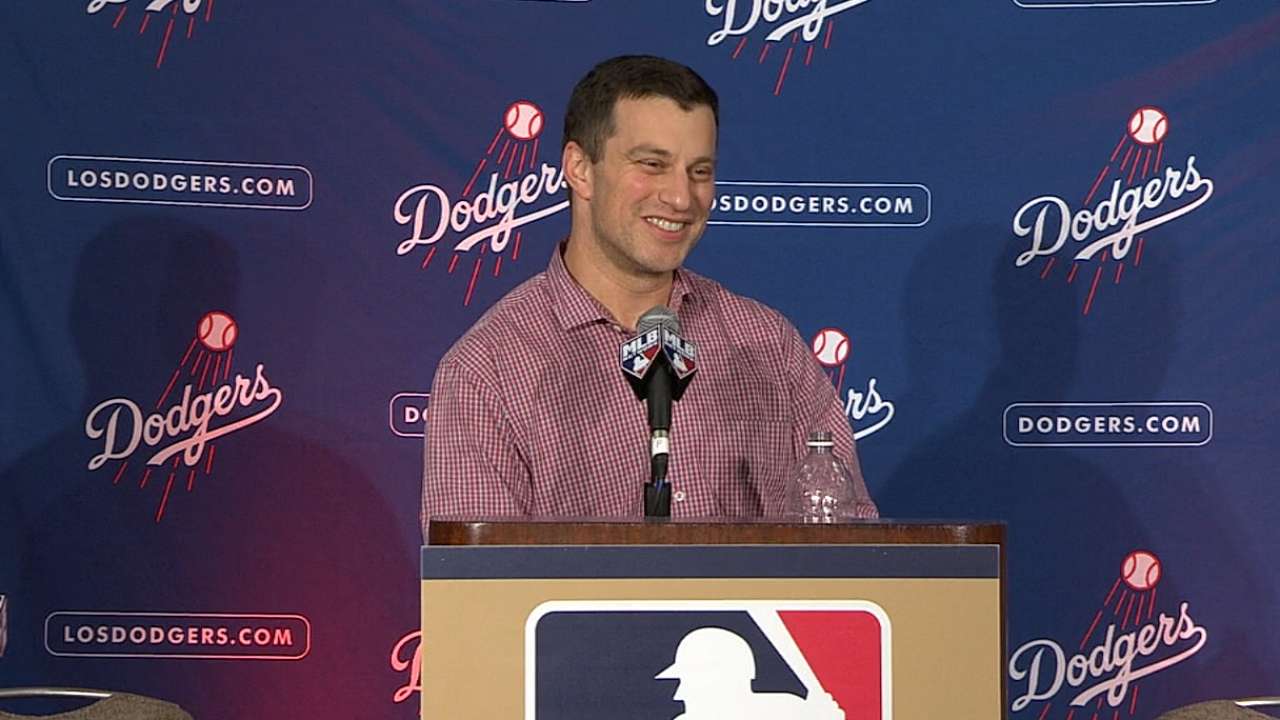 All the Dodgers need at this point is a finishing touch. Swing the bat, circle the bases, tip the hat. Goodnight, everybody, and drive carefully.
Is he the final piece to the puzzle? In fact, he'd put an offseason of dramatic change into an entirely different context. Andrew Friedman has reshaped the Dodgers so dramatically in the last few days that it'll take some time to get our minds around all of it.
When the Dodgers hired Friedman to be their president of baseball operations, some of us thought he might take a go-slow approach. He'd been on the job a month and was joking about still learning names and trying to figure out what needed to be done.
Turns out, he's a quick learner. With a sweeping series of moves, he has cut ties with Matt Kemp, Hanley Ramirez, Dee Gordon and Brian Wilson. This list isn't final.
Give Friedman credit for guts. To remake a team that won 94 games shows both confidence and courage. In the end, though, he did perhaps the hardest thing any baseball executive is ever asked to do.
That is, he saw his club for what it actually was. He saw a rotation that was thin and a bullpen that was shaky. He saw a team that needed a defensive upgrade and also more defined roles.
He may have seen the need to shake things up in the clubhouse, too. That's the part we may not know because Friedman won't say it. Jimmy Rollins at short and Howie Kendrick at second are defensive upgrades over Ramirez and Gordon.
Gordon stole 64 bases, but Kendrick is a tremendous all-around player, a guy who does everything well. Rollins, 36, is still one of baseball's best defensive shortstops and a catalyst near the top of the lineup.
He's also an energetic player, a good teammate, the prototype of the kind of player Friedman wants to add. He's a winner, too, having been a part of Phillies teams that won five straight division championships.
Friedman made the Dodgers better at catcher, too, with the acquisition of Yasmani Grandal from the Padres. And he deepened the rotation by signing Brandon McCarthy and Brett Anderson to line up behind Clayton Kershaw, Zack Greinke and Hyun-jin Ryu. If all five stay healthy, the Dodgers will have a starting group that will rank among the best in the game.
Now about Kemp. He's the tough one. He represents Friedman's biggest gamble even though Gordon's 64 stolen bases will be missed at the top of the lineup.
Still only 30, Kemp seemed finally to recover from two years of leg injuries in the second half of the season. He may never run well enough to be a center fielder, but he homered 17 times in 64 games after the All-Star break and was in the center of everything as the Dodgers sprinted to an National League West championship.
Kemp is the kind of talent a franchise doesn't find very often, and when a team gets a player like that, it doesn't trade him. Friedman either didn't find that his other outfielders had enough value or he felt the time had come for big change.
Kemp missed 185 games in the 2012-2013 seasons, and Friedman may have worries about his long-term health. Despite the trade, the Dodgers have interesting outfield options. Carl Crawford seems set for left, Yasiel Puig for right. Top prospect Joc Pederson may take over in center.
If Pederson isn't ready, the Dodgers can turn to an Andre Ethier /Scott Van Slyke platoon. That's exactly the kind of thing Friedman had so much success with while in charge of the Rays.
So to review, the Dodgers have a better defense and a better rotation. Friedman still has work to do on his bullpen, but there are interesting relievers remaining in free agency.
Still, despite everything, it feels like the Dodgers have one more big move left in them. One big one might create significant space between them and the other four NL West clubs.
Scherzer is the best free agent on the market, and can you imagine a rotation that begins with Kershaw, Greinke and Scherzer? That would be one of the most dominant in recent history and might just make the Dodgers the consensus favorites in 2015.
James Shields, another top-of-the-rotation arm, is also on the market. He and Friedman have a history from their years in St. Petersburg. He, too, would allow Friedman to finish the offseason in style.
Or Friedman may not do one more significant thing outside of his bullpen. With the Giants trying to fill some big holes, the Dodgers will be the NL West favorites regardless of what else happens.
And this is the kind of offseason we'll look back on again and again. It has been wildly entertaining. Friedman's track record says it'll be successful.
Richard Justice is a columnist for MLB.com. Read his blog, Justice4U. This story was not subject to the approval of Major League Baseball or its clubs.