Kemp moved as LA nets Rollins, Grandal, prospects in 2 deals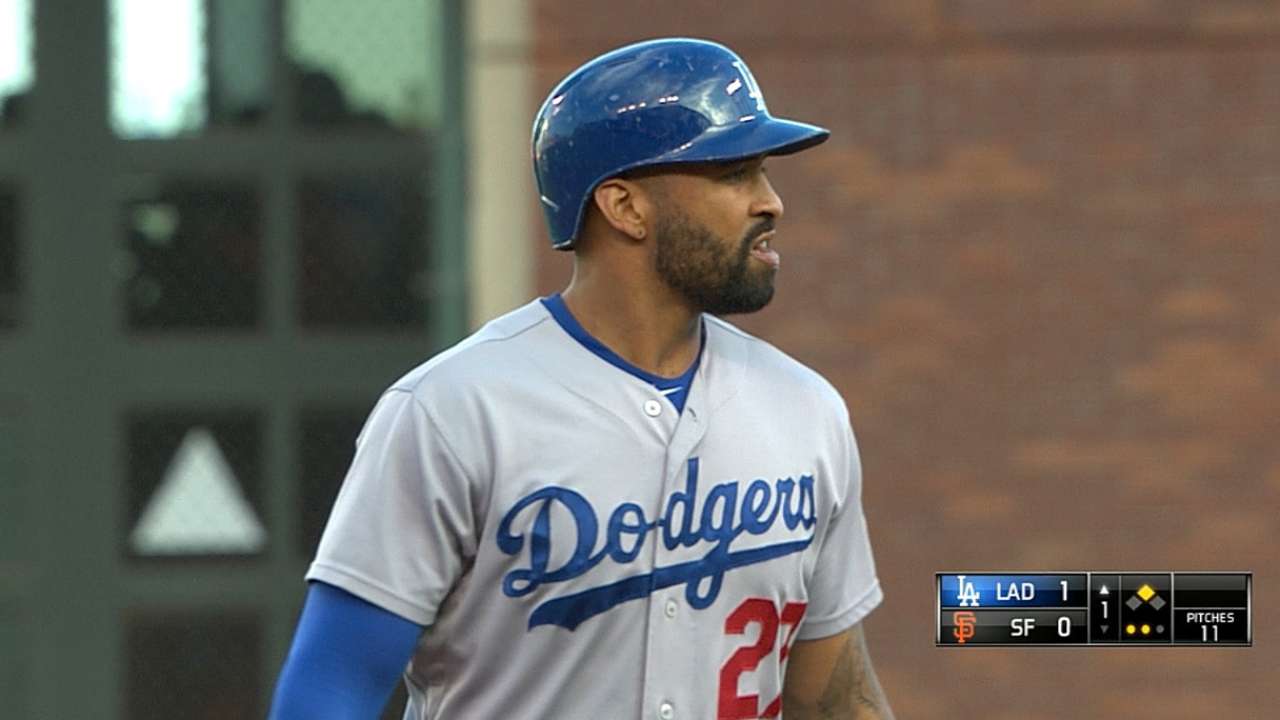 LOS ANGELES -- The Dodgers announced the acquisition of Jimmy Rollins from Philadelphia on Friday to fill their hole at shortstop.
The Dodgers will also receive $1 million from the Phillies in return for Minor League pitchers Tim Windle and Zach Eflin, the latter acquired Thursday night from San Diego in the Matt Kemp trade, which was finally announced after being delayed when a physical exam reportedly revealed that Kemp had arthritis in both hips.
That Padres deal finally was completed as originally structured last week, with Kemp, catcher Tim Federowicz and $32 million going to San Diego in exchange for catcher Yasmani Grandal, pitcher Joe Wieland and Eflin.
The deals relieve the Dodgers' glut of outfielders and plug the hole at shortstop for 2015, although Kemp's impact bat is handed to a division rival that seems determined to become a contender.
Rollins, 36, replaces Hanley Ramirez, who signed with the Red Sox as a free agent. A three-time All-Star, four-time Gold Glove Award winner and Silver Slugger Award winner, Rollins had his best year in 2007, when he was also the National League Most Valuable Player Award winner. Despite his age, Rollins' defensive metrics remain solid, and he should be a significant upgrade from Ramirez.
Rollins has one year remaining on his contract, making him an ideal placeholder for 20-year-old top prospect Corey Seager, who is currently a shortstop in a third baseman's body. Third baseman Juan Uribe's contract also runs out after the 2015 season, so the left side of the infield could be open for Seager in '16.
To make room for Rollins on the 40-man roster, the Dodgers designated outfielder/first baseman Kyle Jensen for assignment.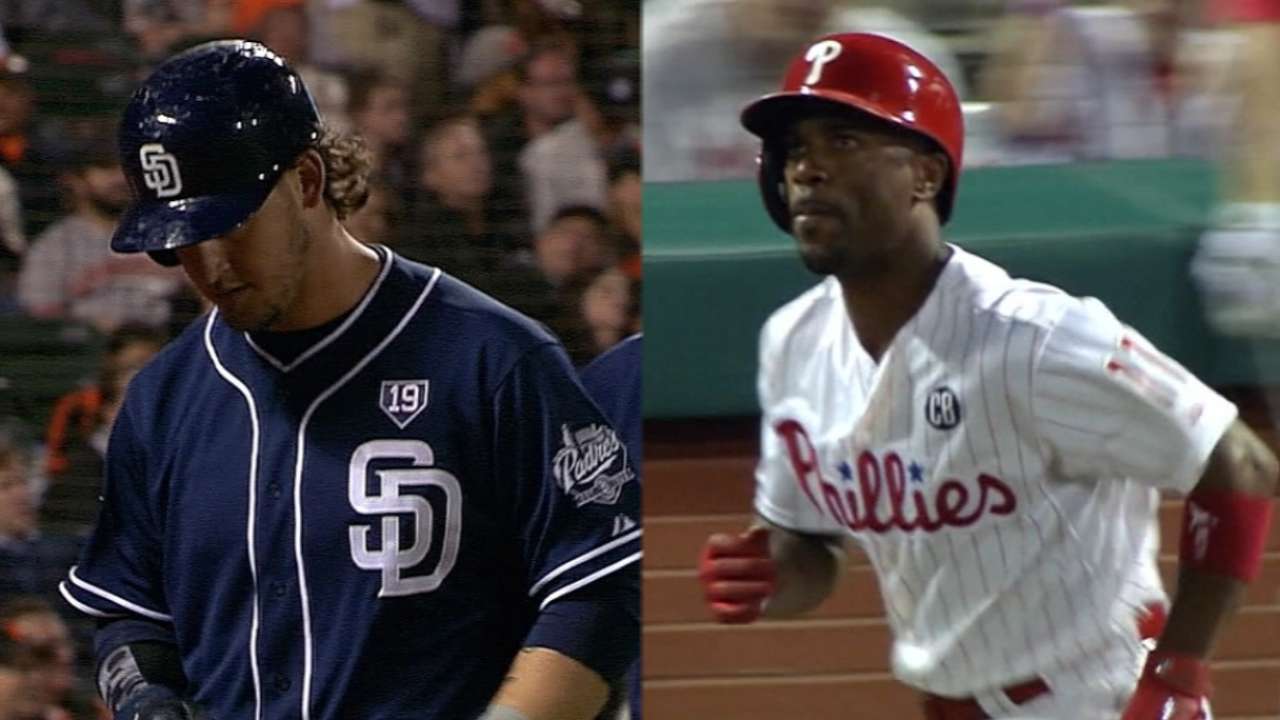 To recap the flurry of acquisitions:
• Rollins and $1 million from Philadelphia for Minor League pitchers Windle and Eflin.
• Reliever Chris Hatcher, catcher Austin Barnes, utilityman Enrique Hernandez and pitcher Chris Heaney from Miami for Dee Gordon, Dan Haren, Miguel Rojas and cash.
• Second baseman Howie Kendrick from the Angels for Heaney.
• Grandal, Wieland and Eflin from San Diego for Kemp, $32 million and Federowicz.
• Pitchers Brandon McCarthy ($48 million/four years) and Brett Anderson ($10 million/one year) as free-agent signings, with the oft-injured Anderson's deal still pending a physical exam.
Since coming aboard two months ago, the new management team has turned over half of the 40-man roster, half of the starting infield, two-fifths of the starting rotation and up to half of the starters at the eight other positions.
Skeptics call it a demolition of a 94-win club. Optimists, like club president Stan Kasten, say it better positions the franchise to win in 2015 as well as the future.
The transactions add a pair of 30-something middle infielders in their free-agent years, a pair of starters with lengthy medical charts and subtract a pair of All-Star caliber players at, or approaching, their prime -- Kemp and Gordon.
The infield around the horn is Juan Uribe, Rollins, Kendrick and Adrian Gonzalez. The outfield has Yasiel Puig in right, Carl Crawford and Scott Van Slyke in left, and rookie Joc Pederson and Chris Heisey in center. Grandal and A.J. Ellis will be behind the plate.
The rotation will be Clayton Kershaw, Zack Greinke, Hyun-Jin Ryu, McCarthy and Anderson. Bullpen returnees Kenley Jansen, Brandon League, J.P. Howell, Paco Rodriguez, Pedro Baez, Carlos Frias and Yimi Garcia are joined by newcomers Joel Peralta, Hatcher, Juan Nicasio and Mike Bolsinger. The bench includes Justin Turner, Alex Guerrero, Darwin Barney and Erisbel Arruebarrena.
The front office made the choice to deal Kemp after deciding Puig was untouchable, because right field is the best spot for both.
Moving out Kemp and sliding Puig back to right assures better defense in center. Before all of the moves, the executive team floated out its willingness to trade away offense for tighter defense. Of all the outfielders other than Puig, Kemp brought the greatest return and moved the most salary.
There is one consistency between the end of Ned Colletti's time in charge and the beginning of Andrew Friedman's -- clinging tightly to top prospects Pederson, Seager and Julio Urias, in keeping with Kasten's belief that to create a sustainable business model the franchise must return to its roots as a factory of player development.
Ken Gurnick is a reporter for MLB.com. This story was not subject to the approval of Major League Baseball or its clubs.