A's to rely on plenty of new faces in 2015
GM Beane has retooled roster in offseason, and more changes could come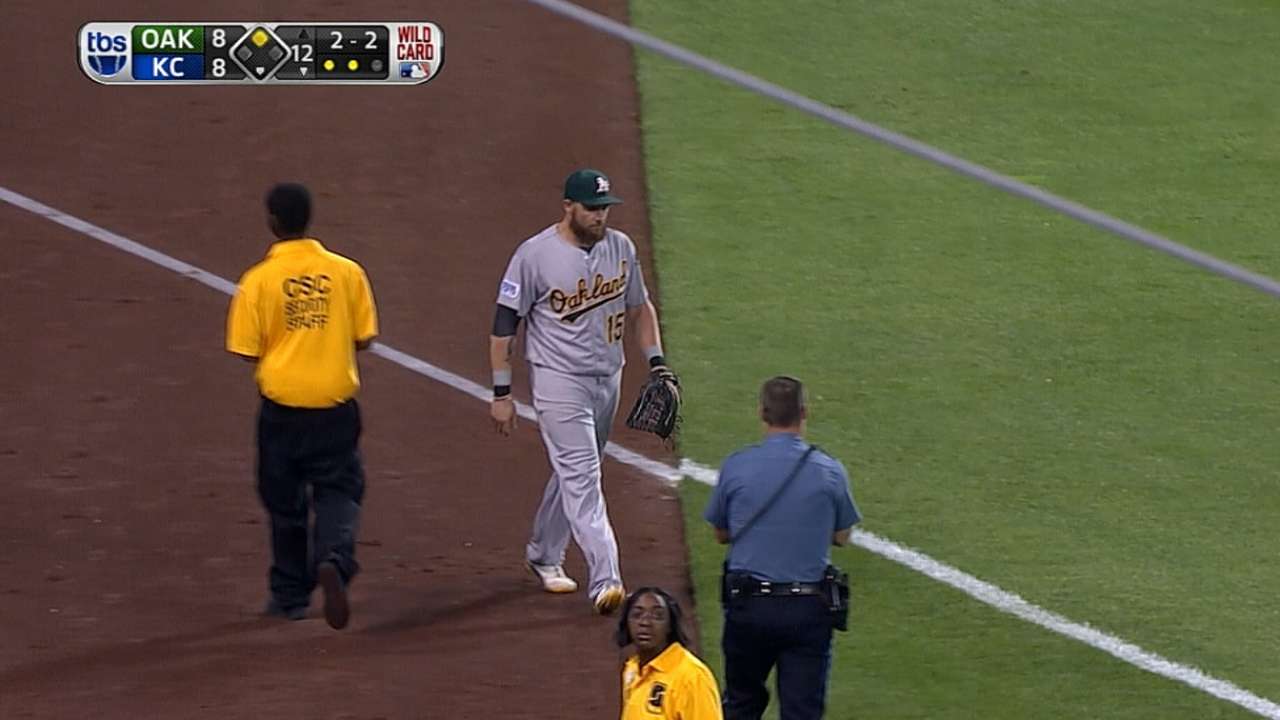 OAKLAND -- When examining the 2014 edition of his club, which sprinted to the top of the standings before sputtering into the American League Wild Card Game, A's general manager Billy Beane saw a team in decline. So he moved swiftly in his offseason maneuvering and moved several of his key parts while acquiring a handful of long-term pieces in return.
As a result, the 2015 A's are hardly recognizable. Gone are Josh Donaldson, Brandon Moss and Jeff Samardzija. Beane's retooling project brought in Billy Butler, Brett Lawrie and Ike Davis, as well as youngsters Marcus Semien and Mark Canha.
With change, of course, comes uncertainty, and there are plenty of questions to be asked of this team in advance of Spring Training:
What will Beane do next?
The A's have a good chunk of change in their pockets after trading Donaldson, Moss, Samardzija and their combined 2015 arbitration salaries, amounting to nearly $20 million. Some of those funds will go toward the A's own arbitration-eligible players, but plenty will be left over for an upgrade or two, if they choose. It remains to be seen just how Beane will decide to allocate these dollars, but it's no secret the A's could use a potent bat in their new-look lineup, which is now void of Donaldson, Moss and Yoenis Cespedes, their Nos. 3, 4 and 5 hitters for much of the last two seasons.
Can the lineup overcome such big offseason losses?
The 3-4-5 names on the lineup card in 2015 will potentially be Lawrie, Butler and Davis. That's certainly a big drop-off compared to last season, particularly when adding up the home runs. Moreover, Lawrie has proven injury-prone in his young career, Butler is coming off a down season and Davis has combined for a .220 batting average over the past two seasons. Each has something to prove, and so do several of their new teammates, bringing to question just how consistently this group will be able to score runs.
How good can Lawrie be?
Like his predecessor, Lawrie is an aggressive, hard-nosed player whose all-out style of play can occasionally be a detriment, if only because it leads to injuries. Staying healthy has been a major issue for Lawrie in the early stages of his career, though he believes getting off artificial turf will help this cause. Lawrie is also still quite young -- he's entering his age-25 season -- and brings high upside to the A's, so if he can avoid the injury bug, there's thought he could potentially match Donaldson's level of play on both sides of the ball.
What can we expect from Semien?
Semien probably isn't the shortstop you conjured in your head when thinking about Jed Lowrie's replacement, but he's a guy the A's have long targeted, and he brings six years of club control with him, along with a surprisingly good dose of power that's often hard to find in a middle infielder. He's compiled an .859 OPS in Triple-A during his career and is also known to draw his fair share of walks. Semien's defense likely won't overwhelm, and neither will his batting average, but the latter should perhaps improve with consistent playing time. Overall, he projects to be a nice piece to the A's puzzle.
Can Davis stick at first base?
Davis might be a little worse than Moss, but there's plenty upside, and it's for less money. Like they did with Moss, the A's are primed to give Davis every opportunity to reignite his career. He's shown before he can hit for power, and his on-base percentage has progressively increased. Putting him in a platoon with Butler should only help, and it's quite plausible this duo combines for numbers rivaling those of Moss in recent years.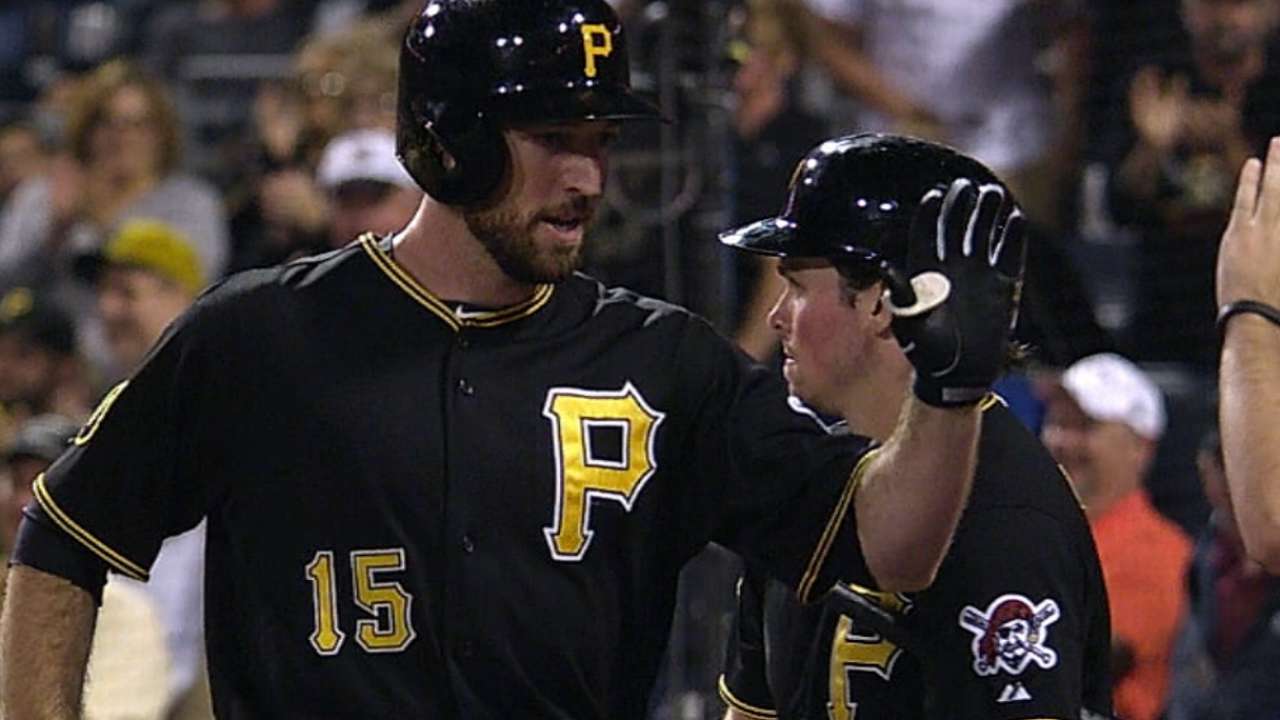 Who's in the rotation?
Sonny Gray and Scott Kazmir will lead the pack. Exactly who follows in order behind them remains to be seen, but the A's aren't lacking in options. They could elect to make Jesse Chavez and Drew Pomeranz full-time starters and leave one final starting spot up for grabs between the newcomers: Chris Bassitt, Kendall Graveman and Sean Nolin. But the Opening Day rotation could include any five of those options, with one or two of them landing in the bullpen in an alternate role. Spring Training will provide these answers.
Can Coco Crisp stay healthy?
This isn't the first time this question has been posed of Crisp, who dealt with the injury bug yet again in 2014, missing several games because of a lingering neck issue. The A's have long depended on him to be their sparkplug at the top of the lineup, and this will especially be of significance for a lineup that's undergone so many changes and is subsequently depending on so many new faces, many of which bring their own question marks. The A's need to at least be able to depend on their veteran, Crisp, and hope the rest of the pieces fall into place. Moreover, his health will determine how much Crisp's utilized in center field and at designated hitter, which obviously has ramifications on the rest of the roster.
What happens to John Jaso?
Jaso, though a valuable contributor to the A's in recent years, could be traded in the coming weeks, if only because there's no room for him on the active roster. Though Jaso wants to catch again, the A's are understandably hesitant in putting him back behind the plate, after a concussion prematurely ended his season for a second straight year. Either way, they already have Stephen Vogt and Josh Phegley on hand, as well as an abundance of first basemen and several players, notably Butler, who can DH.
Can the A's compete in the American League West?
Though the A's did not completely strip down their roster this offseason, they've so far done more subtracting than adding, leaving many wondering how they'll compete in such a tough division that's only improved. However, Beane insists he's not done constructing his 2015 roster, so it's probably too early to be penciling in projections in the standings. This we do know: The Mariners, who finished just one game behind the A's last season, have added to their lineup to match a strong starting staff; the AL West-champion Angels have made small-but-significant improvements; the Rangers should be healthier; and the Astros, though still going through growing pains, should only be better and have made several additions this winter, including Lowrie and Luke Gregerson.
Jane Lee is a reporter for MLB.com. This story was not subject to the approval of Major League Baseball or its clubs.