Andrus wins Sundberg Community Achievement Award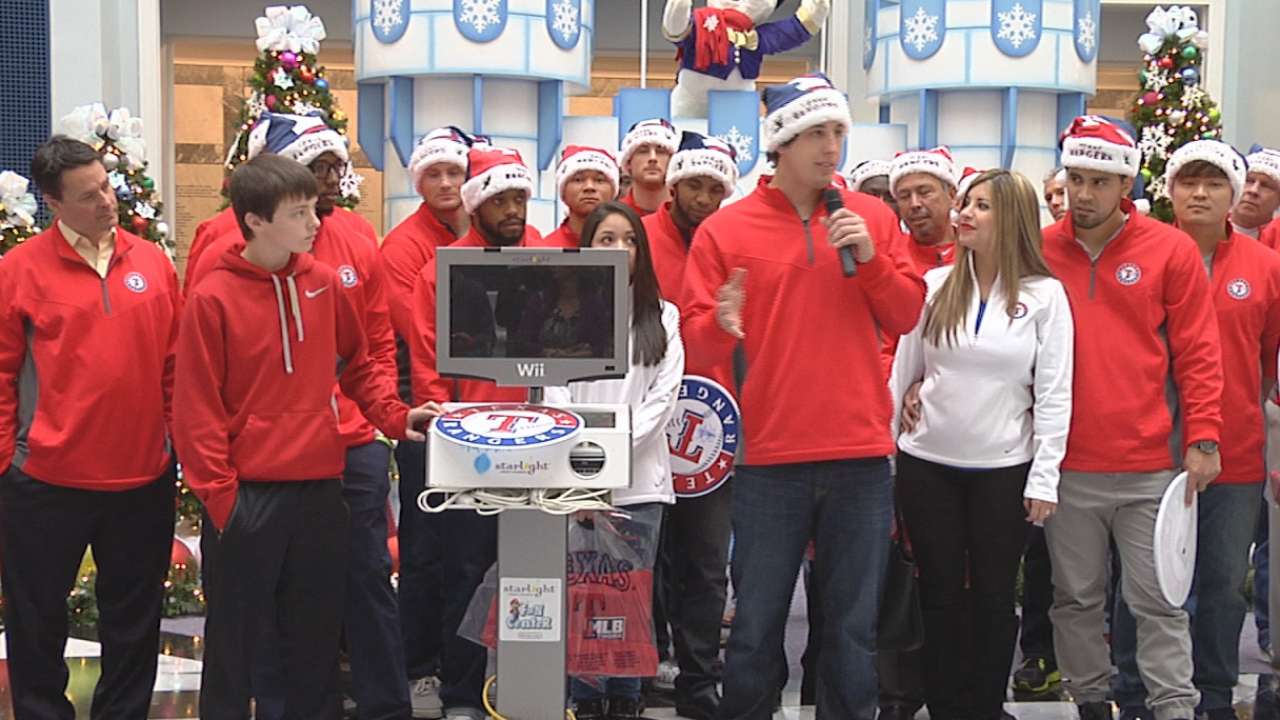 ARLINGTON -- The Rangers recognized shortstop Elvis Andrus' positive role off the field on Thursday, naming him as the recipient of the 2014 Jim Sundberg Community Achievement Award.
Andrus will be honored at the 2015 Dr Pepper Texas Rangers Awards Dinner on Friday, Jan. 23, at the Dallas Omni Hotel. It's the 26th consecutive year the award has been presented to a member of the Rangers organization for significant contributions in the community.
"That's the coolest award that I've ever won," Andrus said. "It's special for me. Everything I do is without expecting something [in return]. It's nice to give back to the community and to this city and this state that has been so great to me and my family. To be able to get this award is a blessing."
The 26-year-old Andrus has been involved in a number of community initiatives in the last several years. He has had a significant role with the Down Syndrome Guild of Dallas, donating $10,000 each of the last two years. He's also participated in a celebrity calendar fundraiser and hosted Down Syndrome families in the "Elvis' Entourage" section for Tuesday night home games at Globe Life Park.
Andrus has donated funds to the Special Olympics Games in Arlington the last two years. He's also participated in a pregame Special Olympics Torch Run at Globe Life Park.
"Just let them know that I want to help with Special Olympics," Andrus said. "I can't wait to keep doing it."
Andrus hasn't stopped there. He's helped families of SafeHaven of Tarrant County, hosted the Venezuelan Senior RBI team in Major League Baseball's RBI World Series in North Texas and donated money to several local baseball organizations.
Andrus also took part in an "Evening with the Rangers" with new manager Jeff Banister on Wednesday night, with proceeds benefiting the Texas Rangers Baseball Foundation. Banister saw up close how beloved Andrus is by Rangers fans.
"You listen to him talk, it's infectious," Banister said. "You see the smile, you see the energy and you know this is a guy who gets it. He understands. He understands that you have to give back."
Tickets for the Rangers Awards Dinner next month, which will honor a number of baseball personalities and feature appearances by Rangers past and present, can be purchased at www.texasrangers.com/awards. Proceeds from the dinner benefit the Texas Rangers Baseball Foundation.
The other 2014 team award winners to be honored on Jan. 23 will include Adrian Beltre, Player of the Year; Yu Darvish, Pitcher of the Year; Rougned Odor, Rookie of the Year; Matt Harrison, Harold McKinney Good Guy Award and Robinson Chirinos, Richard Durrett Hardest Working Man. Additional award winners will be announced in the upcoming weeks.
Todd Wills is a contributor to MLB.com. This story was not subject to the approval of Major League Baseball or its clubs.