Below surface, positives in Marlins' 2014 season
Fernandez's injury stings, but Stanton's commitment backs up club's new culture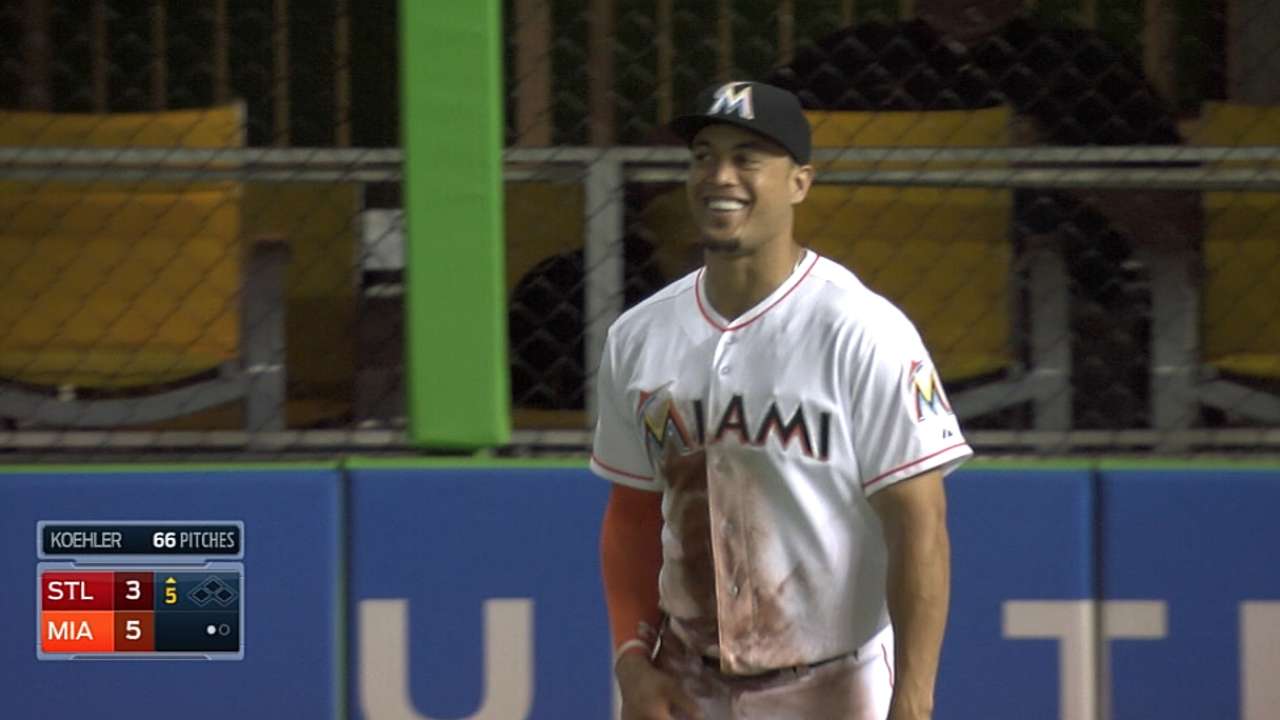 MIAMI -- From the first day of Spring Training, when seemingly no one else believed, the Marlins did. A quiet confidence filtered down from upper management into the clubhouse that 2014 was going to be an eventful season for a team coming off 100 losses.
President of baseball operations Michael Hill, general manager Dan Jennings and manager Mike Redmond implemented a new clubhouse culture in which everybody would be accountable and pull together.
The message sunk in, and those who didn't buy in were quickly weeded out. The result was a 15-game improvement over 2013 and postseason hopes that abruptly faded in mid-September.
Normally, a club wouldn't hang its hat on a 77-85 record and a fifth straight losing season. But 2014 had a completely different feel than years past. It was filled with hope and optimism, with the club continuing to build upon a foundation for a better tomorrow.
With 37 homers, Giancarlo Stanton became the first Marlins player to win an NL home run crown. Casey McGehee was named NL Comeback Player of the Year. Henderson Alvarez blossomed into an All-Star and a capable ace to step up after Jose Fernandez went down with Tommy John surgery in May. There were plenty of highs and lows.
Before glancing ahead to a promising 2015, MLB.com takes one last look at the memorable moments from an encouraging '14 season.
5. Seeing Red through 2017
After years of uncertainty, the Marlins now have some continuity with their manager and coaching staff. Redmond, who would have been entering his final season under contract, was extended through 2017.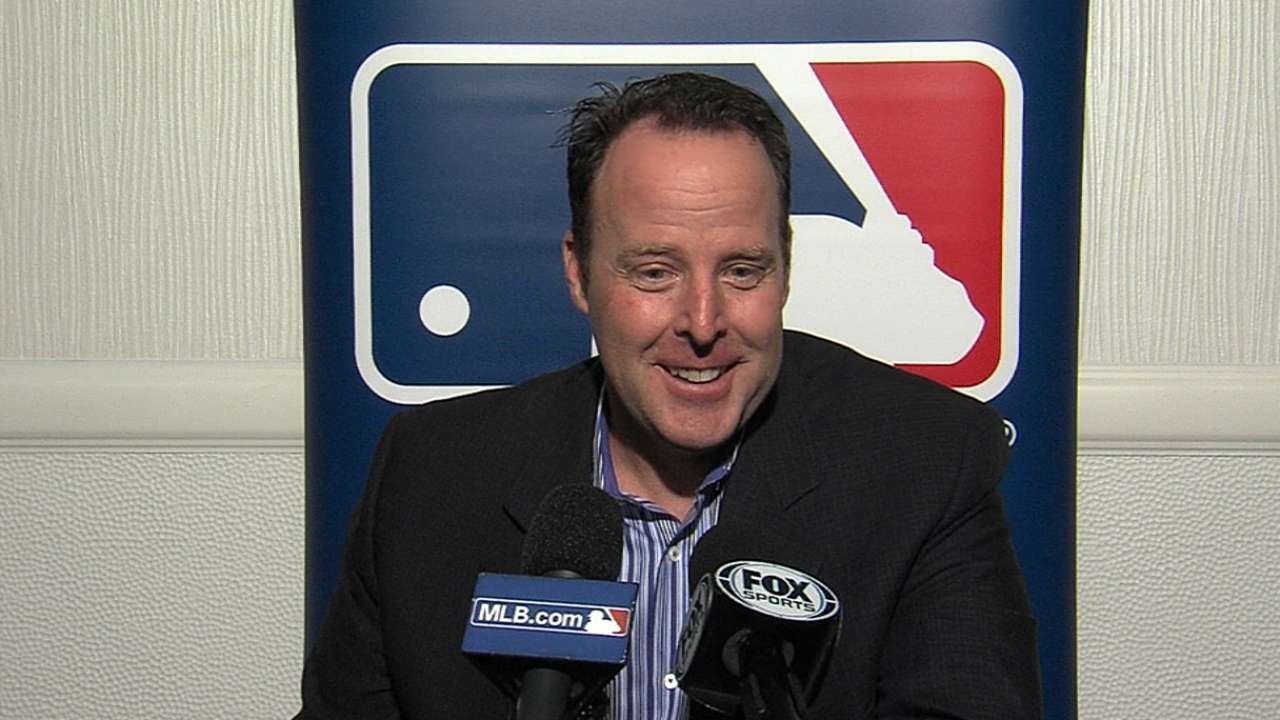 By tacking on two more years, the club retained its voice and leader without creating any uncertainty, rewarding Redmond for his efforts. The entire staff will also return.
4. Coming of age
The addition of veterans like McGehee, Jarrod Saltalamacchia, Garrett Jones, Jeff Baker and Reed Johnson proved valuable to a youthful squad. After the team struggled mightily in 2013, it was clear some proven winners needed to be mixed in with a young core.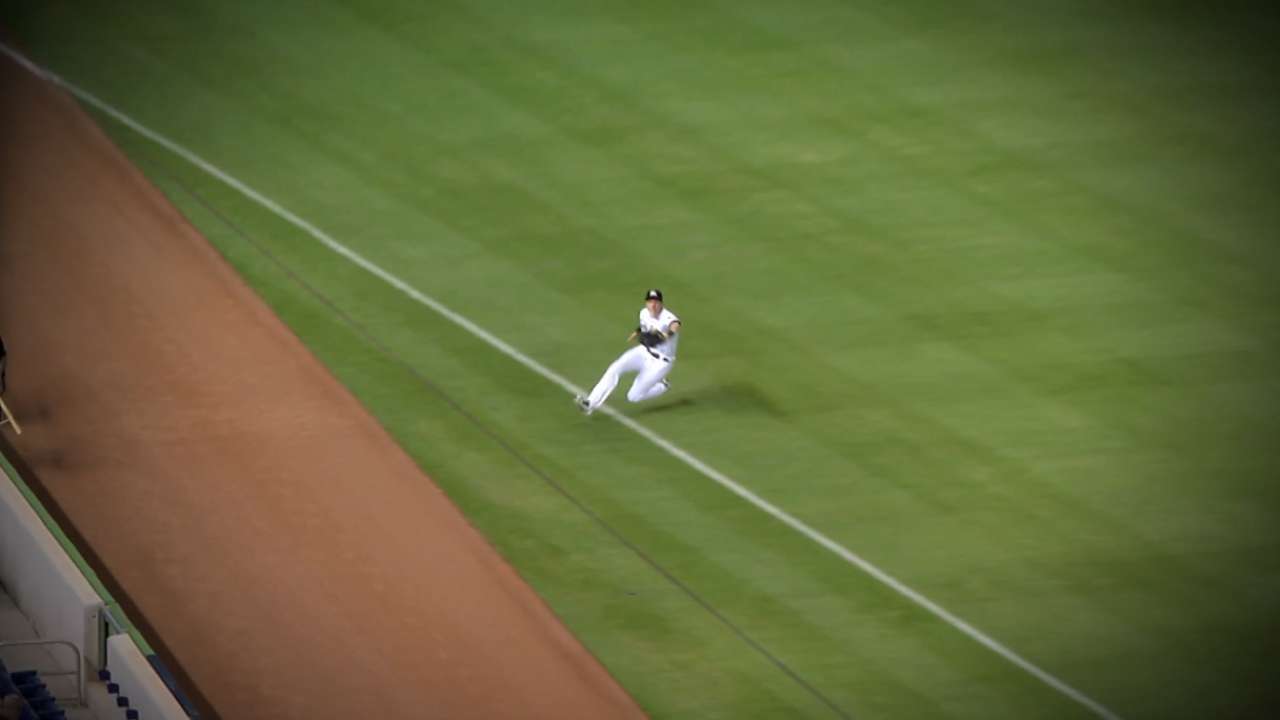 Left fielder Christian Yelich, center fielder Marcell Ozuna and shortstop Adeiny Hechavarria are among the top young players at their respective positions in the game. They each came of age with the help of the Marlins' veteran additions.
3. A face of baseball struck in the face
Ask Stanton how many home runs he predicts he will hit, and you won't get an answer. The slugger doesn't like to throw out a specific number because to him, it is an artificial benchmark that doesn't mean much.
But ask Stanton how many games he wanted to play in 2014, and you'd get an instant response -- all of them. The All-Star right fielder's goal was to play in all 162 regular-season games, and he was well on his way before a scary moment on Sept. 11.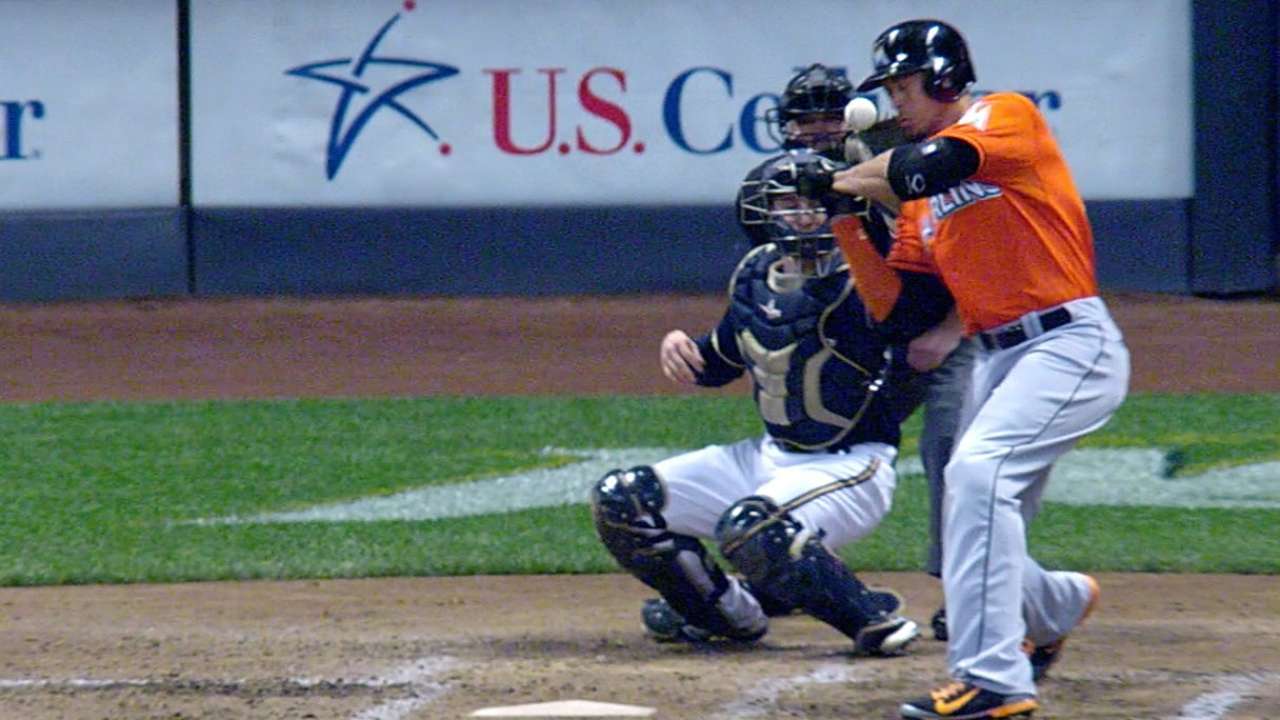 At Milwaukee, Stanton was pegged in the face by a Mike Fiers fastball. The graphic injury left Stanton with facial and dental damage, also ending the slugger's season after 145 games.
The injury was too much for the Marlins to overcome as a team, and they struggled down the stretch. Stanton still managed to finished with 105 RBIs, second in the NL, but a chance to break the franchise's home run mark -- 42, set by Gary Sheffield in 1996 -- and a possible trip to the postseason were lost.
2. No way, Jose
Energetic and upbeat, Fernandez exudes confidence every time he is on the mound. The Marlins and their fans had become accustomed to seeing the 2013 NL Rookie of the Year dominate. So there was naturally some concern when Fernandez experienced a dip in fastball velocity and was hit hard in a May 9 start at San Diego.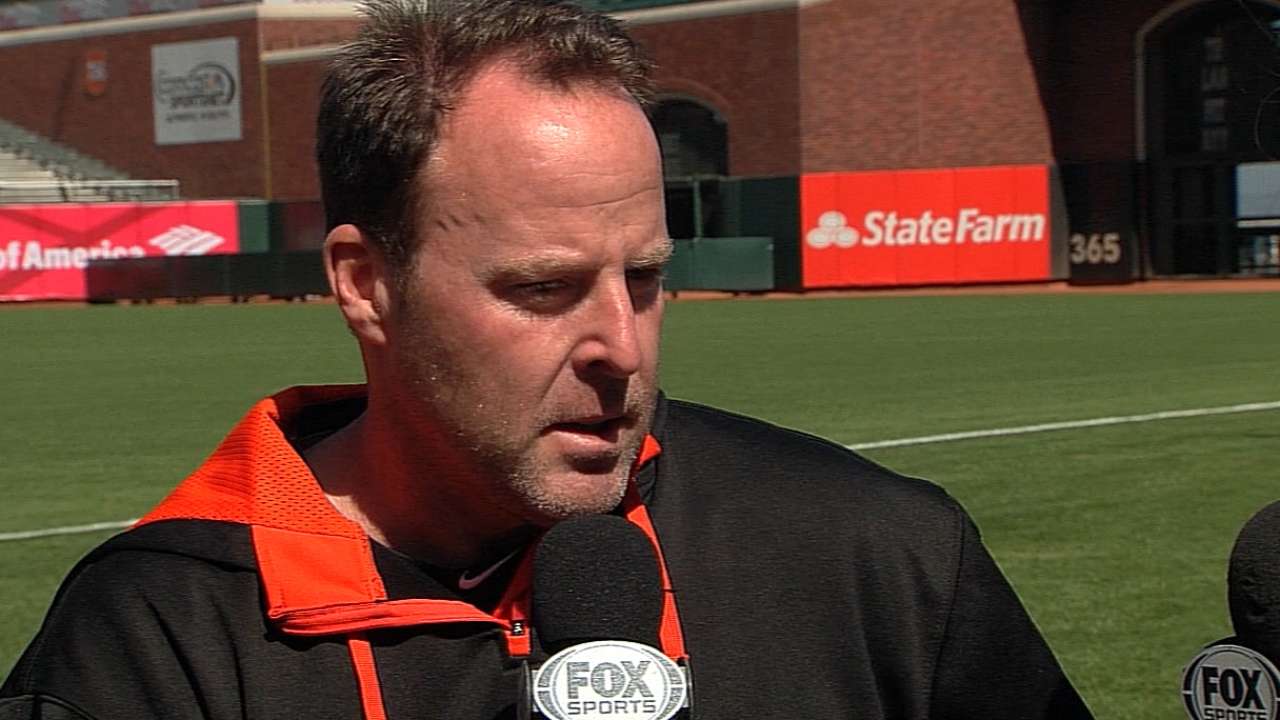 A couple of days later, we found out why. Fernandez was diagnosed with a right elbow ligament tear, which required season-ending Tommy John surgery.
So much of the team's expectations rested on the strong right arm of its young ace. Without Fernandez, the rotation suffered a big blow. While Alvarez emerged as a leader and an All-Star, there wasn't enough overall depth to lift Miami into the playoff picture.
1. Stanton buys in -- and cashes in
Would he or wouldn't he? That was the looming question that hung over the entire season. Stanton, one of the fresh, young faces in the game, kept everyone in suspense when it came to his willingness to sign a long-term deal with Miami.
Despite the organization making it clear it wanted to build around the two-time All-Star, Stanton, who turned 25 in November, insisted on tabling all talks until after the season. Understandably, the slugger had reasons for skepticism.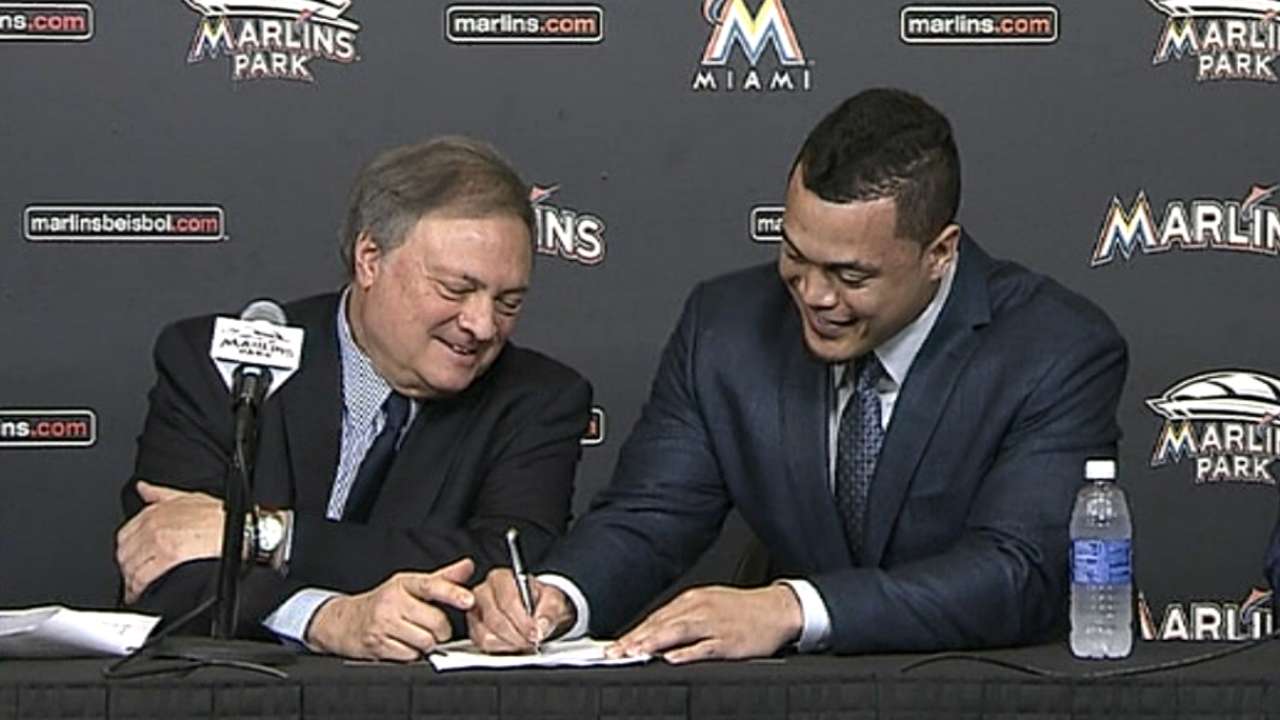 Since making his Major League debut in 2010, Stanton has played for five managers and had five hitting coaches. The slugger had seen numerous core players traded, and a lack of direction.
To win Stanton over, Miami's management team basically had to recruit him as if he were a prized free agent. Club officials presented a compelling argument, spelling out a clear vision. On Nov. 19, Stanton agreed to be part of the plan, signing the richest contract in North American sports history -- 13 years and $325 million.
The signing is monumental for more than just financial reasons. It showed that a player who once had his doubts was willing to be the face of the organization's new beginning.
Joe Frisaro is a reporter for MLB.com. He writes a blog, called The Fish Pond. Follow him on Twitter @JoeFrisaro. This story was not subject to the approval of Major League Baseball or its clubs.