Brewers add pair of Minor Leaguers in deal with LA
Club lands left-handed prospect Martin, versatile outfielder Long for catcher Zarraga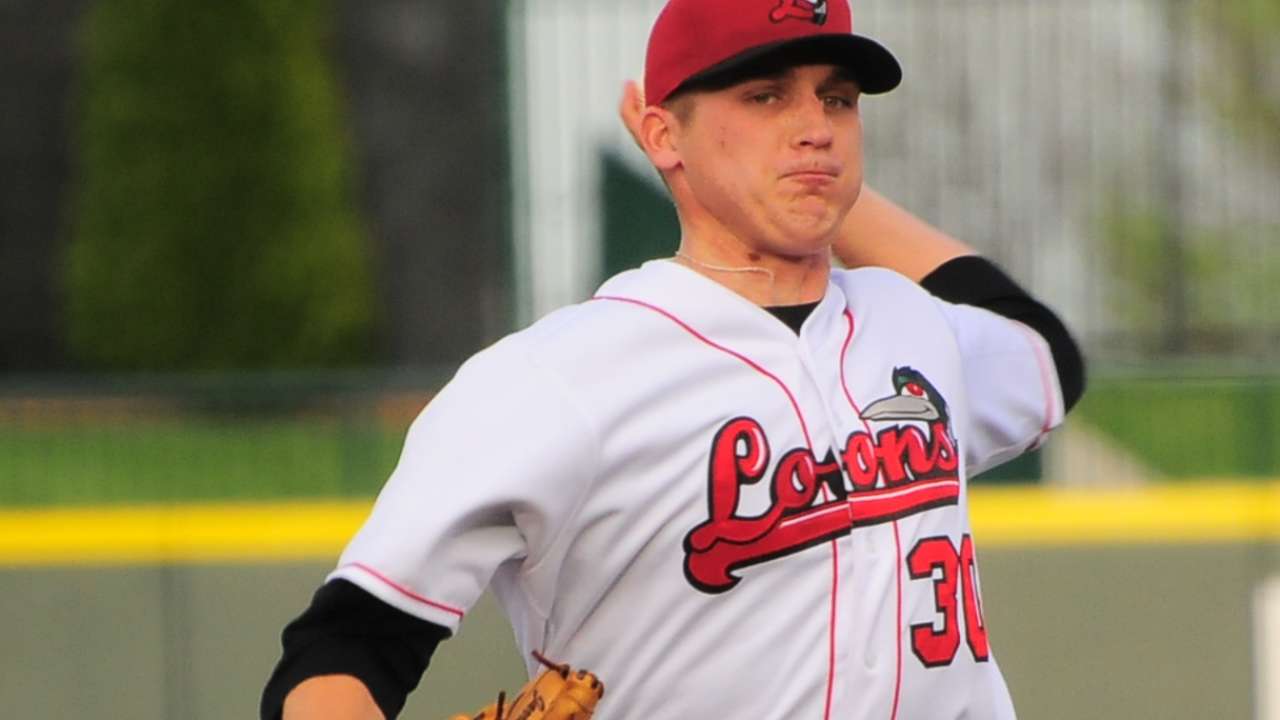 MILWAUKEE -- With all quiet on the Major League front, the Brewers on Thursday continued addressing Minor League needs via a three-player trade with the Dodgers.
Milwaukee sent catcher Shawn Zarraga to Los Angeles in exchange for versatile outfielder Matt Long, who was actually traded twice Thursday, and left-hander Jarret Martin, a reliever who jumped right into MLB.com's list of the Top 20 Brewers prospects, at No. 18.
None of those players were on the teams' 40-man rosters, and, for the moment, neither Long nor Martin are among the invitees to Milwaukee's Major League Spring Training camp. That could change based on need, assistant general manager Gord Ash said.
Martin, 25, has boosted his stock since a move to relief in 2013 and posted the best strikeout rate of his career (10.5 per nine innings) in 46 relief appearances last season at Double-A Chattanooga. His MLB.com scouting report puts Martin's fastball in the 92-96 mph range, with a slider as a secondary pitch and a three-quarters arm slot presenting some command challenges. If Martin solves that problem, the Brewers project he will be a solid Major League reliever.
Milwaukee scouts Marv Thompson, Ryan Thompson and Josh Belovsky, as well as Double-A manager Carlos Subero, all filed positive reports on Martin leading up to the trade.
Long went from the Angels to the Dodgers on Thursday (as a player to be named later from a previous swap) before the Dodgers flipped him to the Brewers. The 27-year-old has appeared at Triple-A in each of the past three seasons, with a .286 average, .365 on-base percentage, 60 home runs and 128 stolen bases in 691 Minor League games.
Long familiarized himself with the Brewers in March when he robbed Scooter Gennett of extra bases during a Cactus League game.
"He doesn't do anything exceptional, but he does everything pretty good," Angels farm director Bobby Scales told the Los Angeles Times that day. "And if you do everything pretty good and you're in the right spot, you can end up in the big leagues."
The Brewers have undergone significant turnover in their Triple-A outfield this offseason, losing Caleb Gindl and Eugenio Velez to free agency, Kentrail Davis and Sean Halton to the Rule 5 Draft and Jeremy Hermida to Japan. Earlier this week, the Brewers signed outfielders Bryan Petersen and Ben Guez to Minor League deals, inviting Petersen to big league camp. Last month, they made a trade with the Braves for outfielder Kyle Wren. The Brewers still have Logan Schafer in the mix as well.
"We just needed to restock, which we've done here in the past few days," Ash said. "That's a big outfield in Colorado Springs [the Brewers' new Triple-A home] so we wanted some guys with foot speed. [Long] has that as well. We're in much better shape than we were, but we'll still continue to look. If we can get better, we will."
The trade highlighted the Brewers' relative catching depth. They acquired Juan Centeno from the Mets in November to provide coverage at Triple-A, and with defensive specialist Adam Weisenburger ahead of Zarraga on the depth chart after that, were able to make a deal when the Dodgers called seeking a catcher.
Adam McCalvy is a reporter for MLB.com. Read his blog, Brew Beat, and follow him on Twitter at @AdamMcCalvy. This story was not subject to the approval of Major League Baseball or its clubs.