Braves being patient as trade market shakes out
Justin Upton, Gattis are potential chips, but Hart not rushing to make deals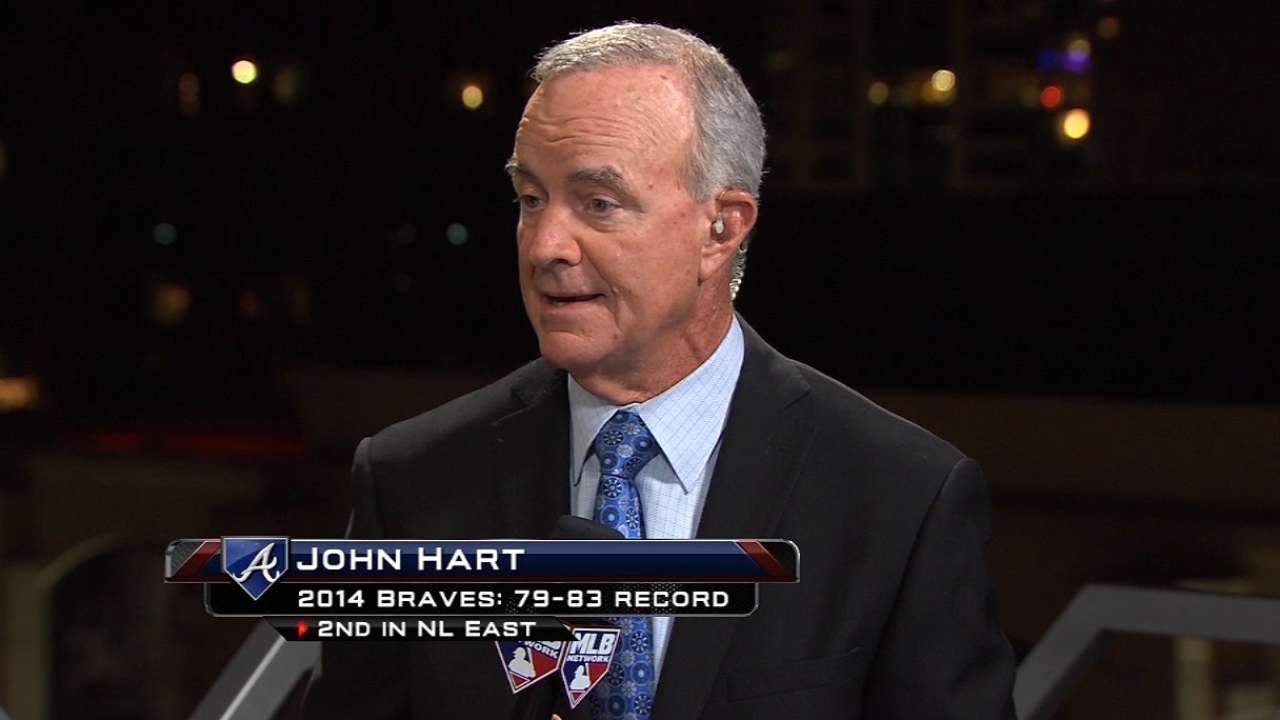 ATLANTA -- As the Braves have spent the past few weeks talking to other clubs about Justin Upton and Evan Gattis, they have shown patience and provided every indication that they will not deal either of these right-handed sluggers unless they gain a significant return.
"We're still having some conversations with people," Braves president of baseball operations John Hart said. "But I think our priority right now for the 2015 club is we're going to attempt to find at least one more [starting pitcher]. There's still some talks that are going to continue to go, possibly into February, with free agents and potential deals.
"I made it real clear from the beginning that we're not looking to trade anybody. We'll certainly entertain whatever might come our way. If there is something that comes along with real value for us, we'll certainly examine it. We have not found that as of yet. It's not us out there trying to drum it up. But for us, it would have to be a deal that would have to make sense, or we're just not going to do it."
As recently as Wednesday, the Braves talked to at least six teams about potential deals that would involve either Upton, Gattis, Chris Johnson or B.J. Upton. In a number of the discussions with other clubs, Johnson has been packaged with Justin Upton and Gattis.
The likelihood of dealing B.J. Upton, who is owed $46.4 million over the next three years, remains remote. But the Braves are continuing to monitor all of their options and the fluidity of the trade market,
The Braves felt they were making progress on a deal with the Padres before the Matt Kemp trade was put into place during last week's Winter Meetings. Over the days that followed, the two teams stayed in contact and San Diego seemed open to the possibility of placing Kemp and Justin Upton in the same outfield.
But the potential match between the Braves and Padres came into doubt again on Wednesday, when the Padres, Nationals and Rays agreed to an 11-player deal that features Wil Myers, who is positioned to become the additional impact outfielder San Diego was seeking.
Before signing Alex Rios on Monday night, the Royals showed some interest in Upton, and it appeared they were at least contemplating a package that would have included Johnson. A person familiar with the details of these discussions indicated Kansas City was toying with the idea of having Johnson platoon with Mike Moustakas, who batted .172 against left-handed pitchers this year.
The Giants, Rangers and Orioles remain among the clubs that might eventually agree to a deal for Justin Upton, who will make $14.5 million before becoming one of the most attractive players on next year's free-agent market.
But Hart has repeatedly said that he does not feel pressured to deal Justin Upton, who would at least provide the value of a compensatory Draft pick if he stays in Atlanta throughout the 2015 season and then exits as a free agent.
"That Draft pick is valued, and getting to have that guy in our lineup for 160-plus games, that is valued," Hart said. "If somebody wants to come in and get involved, it's going to be for something we want, or we don't trade him."
Mark Bowman is a reporter for MLB.com. This story was not subject to the approval of Major League Baseball or its clubs.