Well-traveled Leiper assists young players in South Africa
Blue Jays first-base coach offers instruction at annual African Elite Camp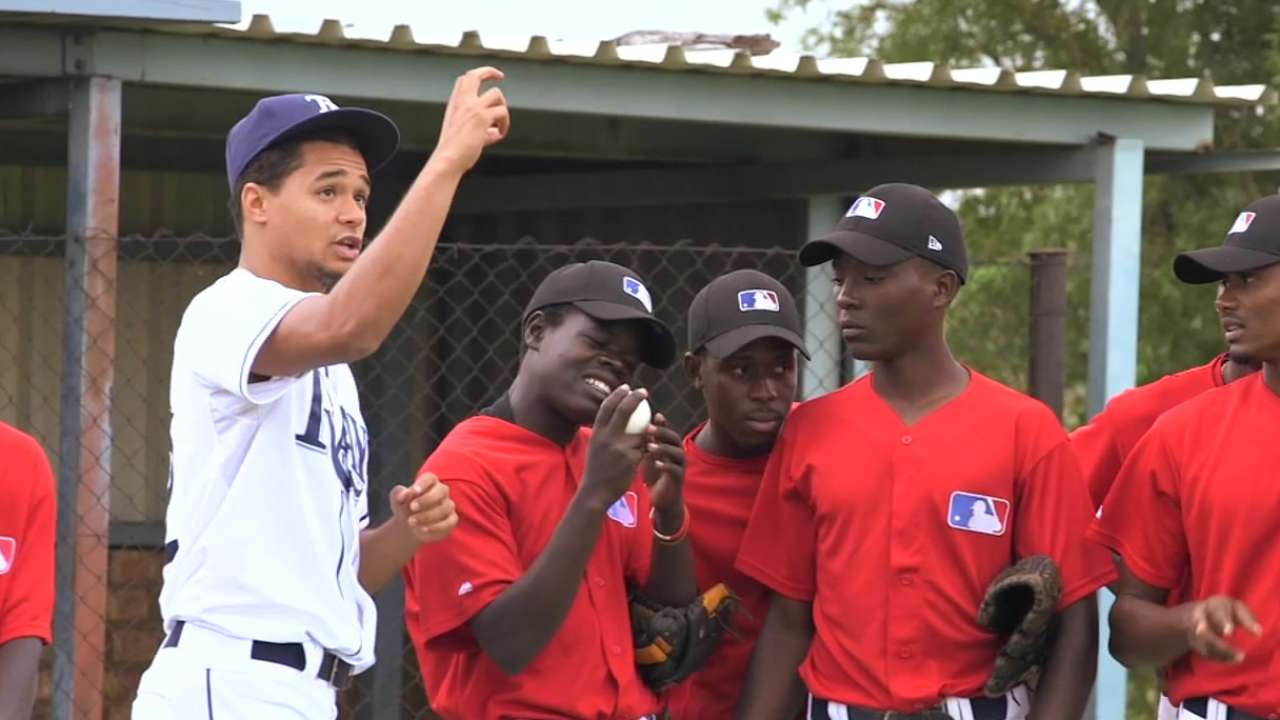 TORONTO -- Baseball has taken Blue Jays first-base coach Tim Leiper all over the world, and this offseason an opportunity to help grow the game even more brought him to the unlikely destination of Johannesburg, South Africa.
South Africa isn't exactly known for its love of baseball, but for the past four years, it has served as the host country for the African Elite Camp. The annual event is the largest baseball development project in Africa and brings the continent's top players together with Major League coaches and instructors.
Leiper joined a staff that also included San Francisco's Hensley Meulens, Pittsburgh's Dave Turgeon and Tampa Bay right-hander Chris Archer. There were 37 young players from Ghana, Kenya, Nigeria, South Africa and Uganda for the event that seems to be growing in popularity.
"It was phenomenal," Leiper said in a phone interview earlier this week. "I went in really not knowing what to expect. I heard it was a great camp, I heard a lot about the players, but you really don't know until you go through it. The experience was great and I was really amazed at how great the players were for how little they get to play."
African nations are well known for their love of rugby, soccer and cricket, but baseball has remained more of a niche sport that a lot of citizens have not been exposed to. There are signs that could be slowly starting to change, and the latest initiative by Major League Baseball is attempting to make the most of the hidden talent.
Since the camp started in 2011, three participants have signed professional contracts and at least one more is expected to follow suit next year. According to Jason Holowaty, MLB International's director of market development for Europe and Africa, the goal is to have an African Major Leaguer within five years.
For this particular camp, players from ages 14-18 went through a selection process by their national programs. A group of coaches also were invited to attend and the 10-day event featured skills instruction, strength and conditioning training and a complete schedule of games.
The initiative hasn't been without its challenges, though, and one of the biggest has been finding places for these young athletes to play.
"Facilities are a little bit rough compared to our standards," Leiper said. "I know right now, the 16-and-under team, they had a tournament in Kenya and when they showed up, the fields weren't ready, so the South African group kind of helped build fields for this tournament that's happening as we speak.
"I think the hardest thing is getting the space for these guys to play. In South Africa it's not as typical because there are a lot of fields, but in these countries that are less developed, having space to play, that seems to be the real challenge."
Leiper's interest in these type of programs dates back to his time with Baseball Canada. He was a coach for the Canadian National team from 2003-06, which included a pair of Olympic qualifiers, the 2004 Olympic Summer Games and the inaugural World Baseball Classic in 2006.
As one might expect in that role, Leiper had the opportunity to build a lot of relationships through the international baseball community. He struck up a friendship with Czech Republic national coach Andy Berglund and the two worked together at a clinic in Germany two years ago.
Berglund mentioned the African Elite Camp and Leiper was immediately interested. The timing couldn't be better, because more than ever, baseball is becoming a realistic dream for a select number of Africans. A perfect example is infielder Gift Ngoepe, who was born and raised in Pietersburg, South Africa. Ngoepe joined the Pirates organization in 2009 and has since advanced to Double-A Altoona.
Ngoepe was on hand for the recent camp in Johannesburg and gave the athletes a first-hand look at how professional baseball might not be completely off limits to some of the continent's top players.
"There is a sense that it can happen and it's kind of neat," Leiper said. "Ngoepe is kind of a guy that came out of a township there, came out of a small town, and I think when kids see that, or see players who have gone to college in the States, it opens those doors.
"I think the biggest key is to increase funding and get everyone together so they can play games because you can see some real talent in these guys. The hardest part is they lack game experience and a chance to play. That's going to be the biggest challenge moving forward, but there's no question the kids are really, really talented down there."
Gregor Chisholm is a reporter for MLB.com. Read his blog, North of the Border, and follow him on Twitter @gregorMLB. This story was not subject to the approval of Major League Baseball or its clubs.