Huge strides get Mariners closer to postseason goal
Addition of Cano, emergence of Seager and Felix's usual dominance highlight '14
SEATTLE -- Looking back at 2014, it's safe to say the Mariners made significant progress on numerous fronts. A new team president, new manager, new superstar player and some impressive new additions across the diamond added up to one of the better single-season improvements in franchise history.
No, it didn't add up to the ultimate goal of landing a playoff berth and making the club's first postseason run since 2001. But an 87-75 season in which they were in the playoff hunt until the final game left a feeling that the Mariners are finally headed in the right direction.
There'll be much anticipation about what comes next, but there's plenty of time for that in the coming days and weeks. For now, before we flip the calendar to 2015, here's a look back at this past year's top storylines:
5. There was a new skip in town
Lloyd McClendon didn't take long to make his imprint on his new Seattle club. The new manager took the time to visit many of his key players at their homes shortly after being hired last offseason, setting a tone of respect and teamwork that quickly grew once the team gathered in Peoria, Ariz., in February.
McClendon carries high expectations for his players, but balances that with his own memory of how difficult the game can be at times. His direct approach seemed to resonate with the players and he earned considerable points when he responded with fierce loyalty after Yankees hitting instructor Kevin Long criticized Robinson Cano's perceived lack of hustle early in Spring Training.
But the biggest measure for any manager -- rightly or wrongly -- is the bottom line: the win-loss record. And McClendon's 87-75 mark wound up being the second-best debut season by a Mariners skipper, behind only the 93 wins for Bob Melvin in 2003.
Though McClendon's background is as a hitting instructor, he handled the pitching staff extremely well and despite injuries to Hisashi Iwakuma, James Paxton and Taijuan Walker, the Mariners posted the best ERA in the American League at 3.17 and the best bullpen ERA in baseball at 2.59.
4. Seager came of age … and took it to the bank
Kyle Seager had been one of Seattle's steadiest and most productive hitters since his rapid promotion in 2011, but the young third baseman took things to a new level as he earned his first American League All-Star bid and first Rawlings Gold Glove Award in a breakout season.
Bolstered by the addition of Cano to the lineup, Seager led the team with 25 home runs, 96 RBIs and 56 extra-base hits, while tying Cano for top slugging percentage at .454. Perhaps the biggest surprise was Seager's improved play at third base, where he posted the best fielding percentage in club history and improved dramatically in all the defensive metrics as well.
All that paid off handsomely for the humble 27-year-old from North Carolina, as the Mariners rewarded him with a seven-year, $100 million contract extension in November that ensures he'll be part of the organization at least through 2021.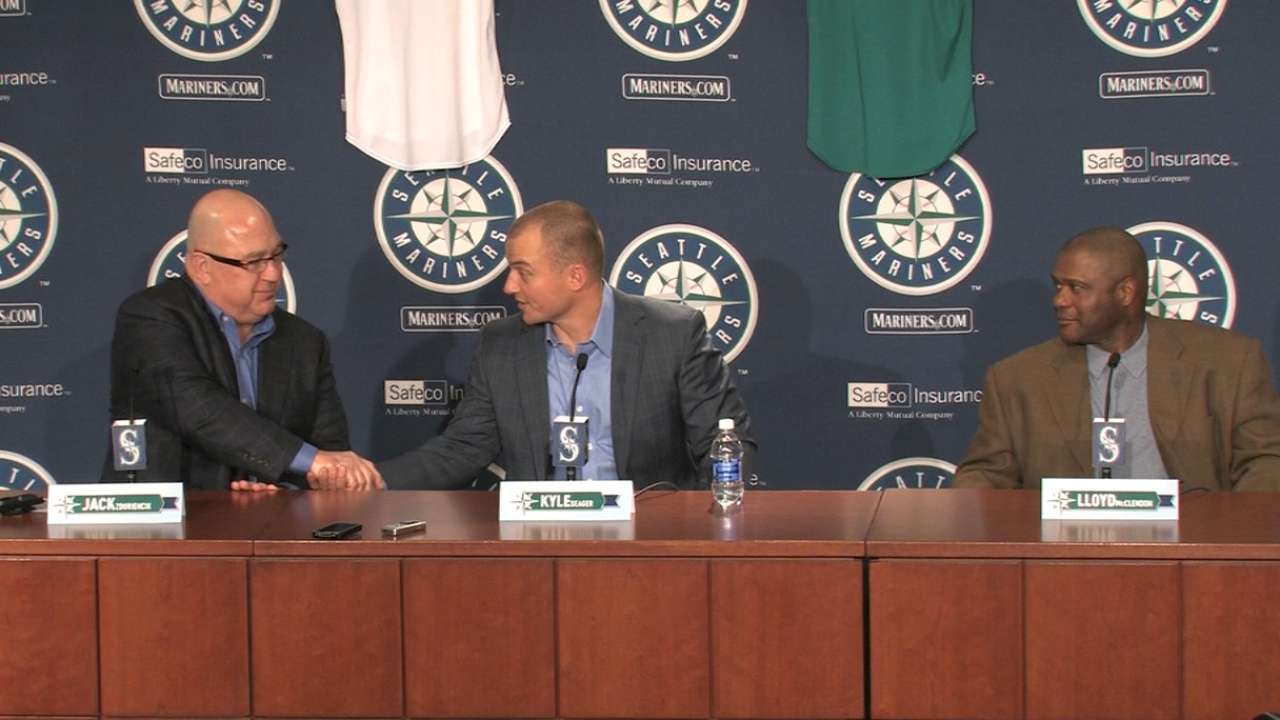 3. Felix had a Cy Young season (almost)
Felix Hernandez had the best season of his outstanding 10-year career, going 15-6 and leading the AL in ERA, WHIP and opponent's batting average while posting a career-high in strikeouts. For good measure, he cranked out a Major League-record 16 straight starts of seven or more innings with two or fewer runs allowed in midseason.
His club-record 2.14 ERA was the lowest by an AL pitcher since Pedro Martinez's 1.74 in 2000 and his 0.915 WHIP was the second-lowest in the league since the DH came into play in 1973. He also became the only pitcher to record 200-plus innings and 200-plus strikeouts in each of the last six seasons, tied for the fourth-longest streak in MLB history behind only Tom Seaver, Roger Clemens and Walter Johnson.
Despite that historically good season, Hernandez wound up a close second in the AL Cy Young voting behind Cleveland's Corey Kluber. He was named the AL Pitcher of the Year in the Players Choice Awards, however, and was a clear No. 1 in the hearts of Mariners fans who lit up Safeco Field and the King's Court for each of his home starts.
2. The decade of Cano begins
When the Mariners laid out $240 million for 10 seasons to lure Cano to Seattle last winter, a lot of eyebrows were raised across baseball. Why would Cano go to the Mariners? And was it wise for the Mariners to invest so heavily in a 31-year-old second baseman, even if he is the best second baseman in the game?
But those answers began to be answered as soon as Cano joined the team, as his star power and presence seemed to lift a young Mariners team that quickly grew up around him. Cano's impact in the lineup was easily visible as he led the club with a .314 average and .382 on-base percentage while cranking out 37 doubles, 14 home runs and 82 RBIs.
Cano was named to his sixth AL All-Star team and finished fifth in AL MVP voting. But Cano's value extended beyond the field as he proved a strong leader in the clubhouse and a valuable recruiter as well, with his good friend Nelson Cruz signing with Seattle in November after leading the AL in home runs with the Orioles.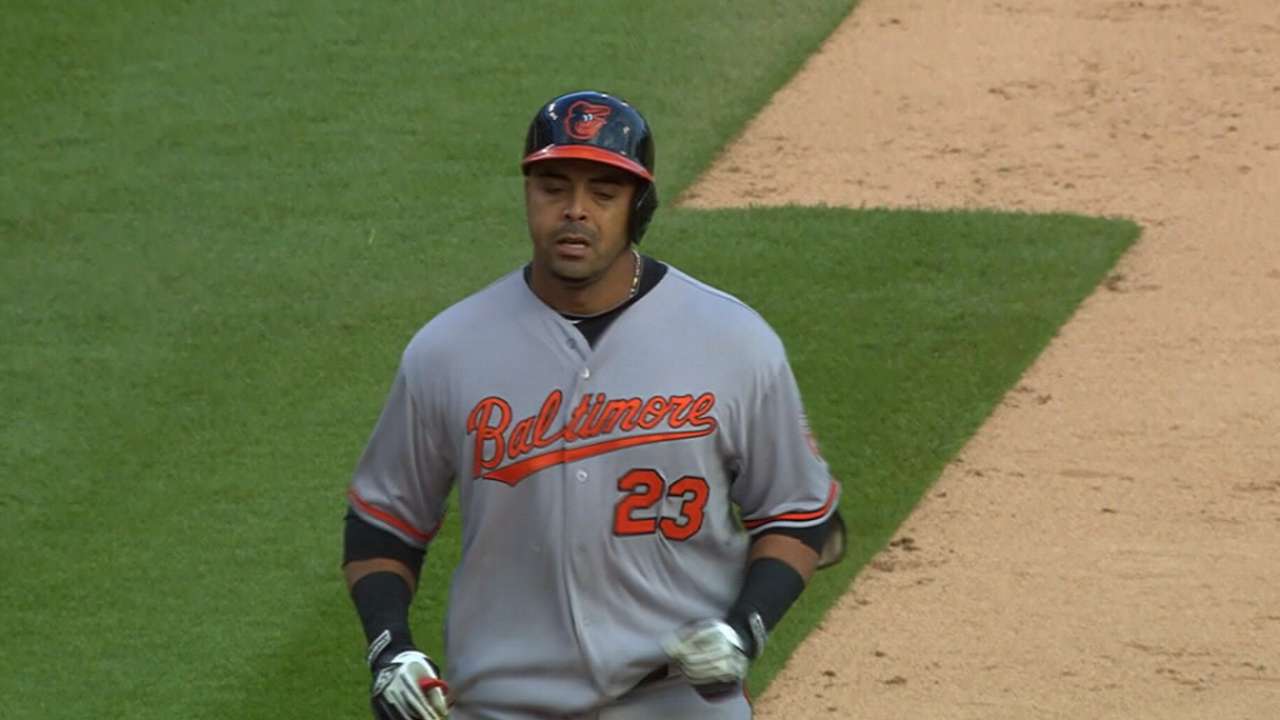 1. One big step forward, but still one painful win short
Despite all the positives, the season ended one win shy of the ultimate team goal, which was to end the 12-year playoff draught. The Mariners entered the season's final day with a shot still to tie for the second AL Wild Card spot, but saw that hope extinguished when the A's finished off a 4-0 win in Texas while Seattle was still in the fifth inning of what turned out to be a season-ending 4-1 victory over the Angels.
As the final score of the A's playoff-clinching win was posted on the Safeco Field's giant video board, a loud groan went up from the crowd of 40,823. But the disappointed fans then did a remarkable thing, rising to their feet en masse to give the Mariners a standing ovation in tribute to their efforts in the turnaround season.
McClendon said seeing that support was one of the proudest moments of his life. And his players -- almost all of whom are returning this spring -- echoed that sentiment and said they were only further motivated to work even harder over the offseason to take that next step in 2015.
Greg Johns is a reporter for MLB.com. Follow him on Twitter @GregJohnsMLB as well as his Mariners Musings blog. This story was not subject to the approval of Major League Baseball or its clubs.