Kemp pumped to join forces with Padres
New right fielder has enjoyed success over years at Petco Park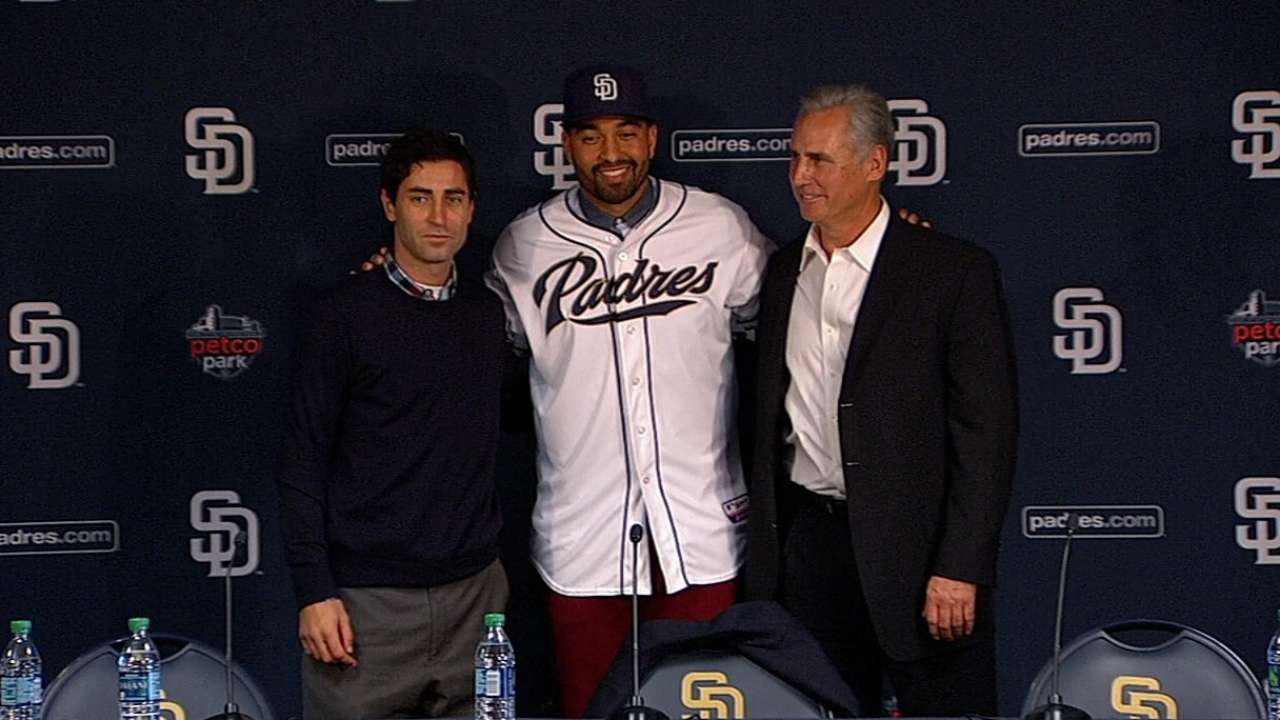 SAN DIEGO -- Nine seasons of making visits to Petco Park as a visiting player left a lasting impression on new Padres outfielder Matt Kemp.
For one, Kemp said on Friday during his introductory news conference, was just how tough San Diego's pitching has been on him over the years. Kemp said he'd like to see that pitching continue to flourish.
"I always hated coming to San Diego ... they had such great pitching," Kemp said.
The other was the masses of Dodgers' fans that migrated to San Diego to watch games, sometimes turning the ballpark blue. That, Kemp said, he'd like to see change.
"We can make this a baseball city again," he said.
Kemp was energized and animated at various points on Friday, meeting with reporters for the first time since the five-player deal between the National League West rivals was consummated late Thursday.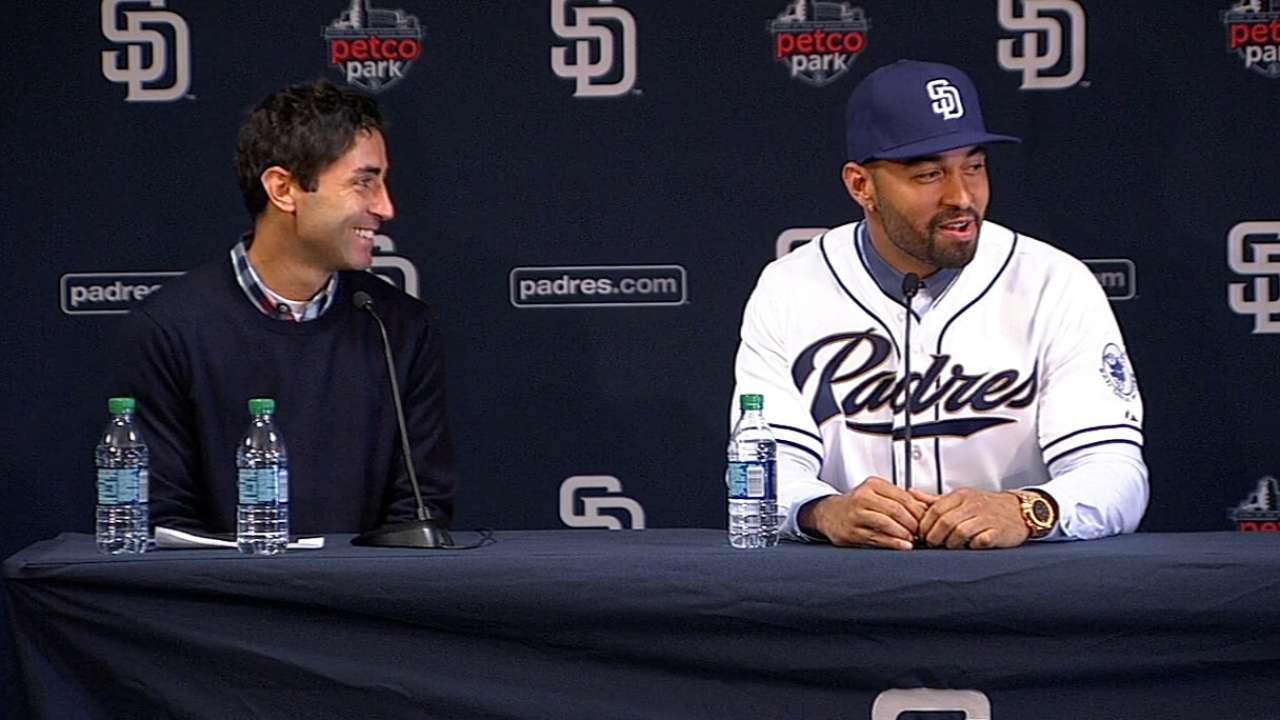 The 30-year-old, who is the middle-of-the-order bat the Padres have long missed, joked and called general manager A.J. Preller, a "GM rock star" for his ability this week to pull off deals that landed Wil Myers from the Rays and Justin Upton from the Braves.
"It seems like he's always got something up his sleeves," Kemp said.
Kemp, who makes his home in nearby Poway, was asked about his physical on Tuesday that revealed arthritis in both hips.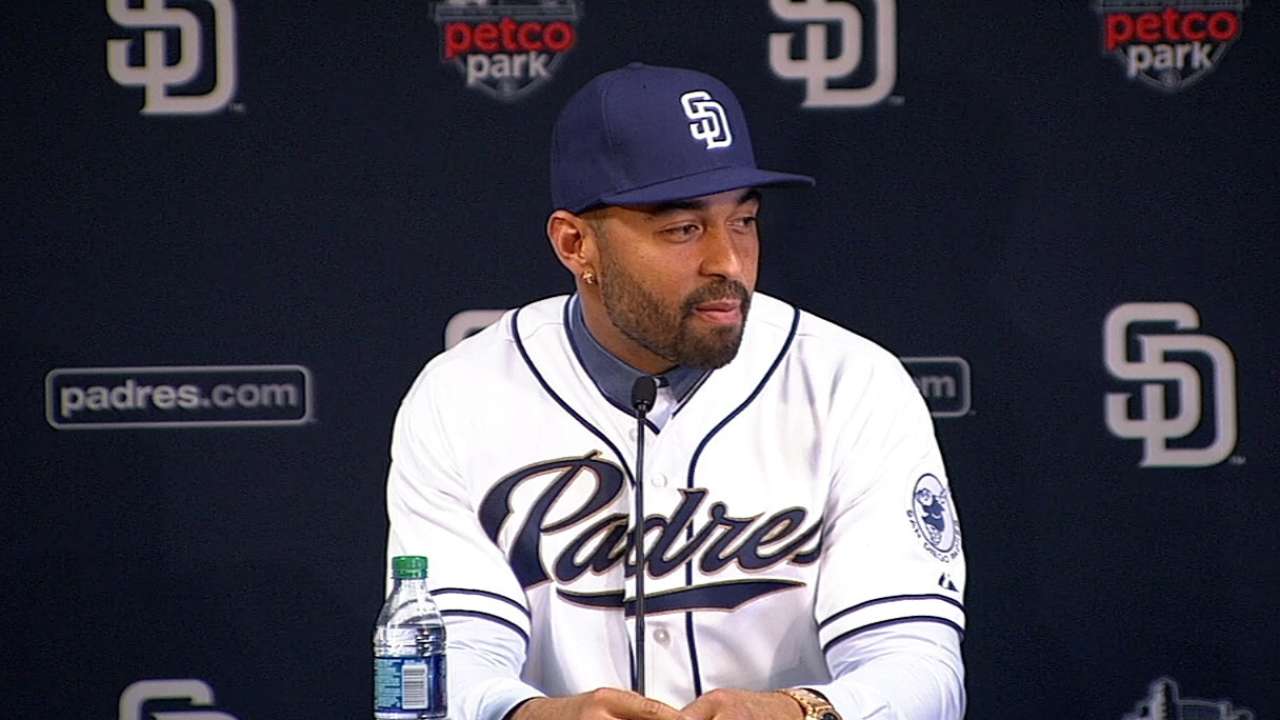 "I think everybody in this room has some sort of arthritis in their body somewhere," Kemp said, smiling, dismissing any concern on his part. "I've always worked through injuries. These hips are unbelievable. You want to see my hips? They're strong hips."
The deal that brought Kemp to San Diego also included catcher Tim Federowicz in exchange for catcher Yasmani Grandal, pitcher Joe Wieland and Minor League pitcher Zach Eflin, who was later dealt to the Phillies. The Dodgers also kicked in $32 million of the remaining $107 million on Kemp's five-year deal.
But, as manager Bud Black said, the opening shot -- and maybe the most notable one -- was first getting Kemp. From there, Preller and his staff pulled off several deals, including the ones that were finished Friday for Upton, Myers and, later on Friday, third baseman Will Middlebrooks from the Red Sox.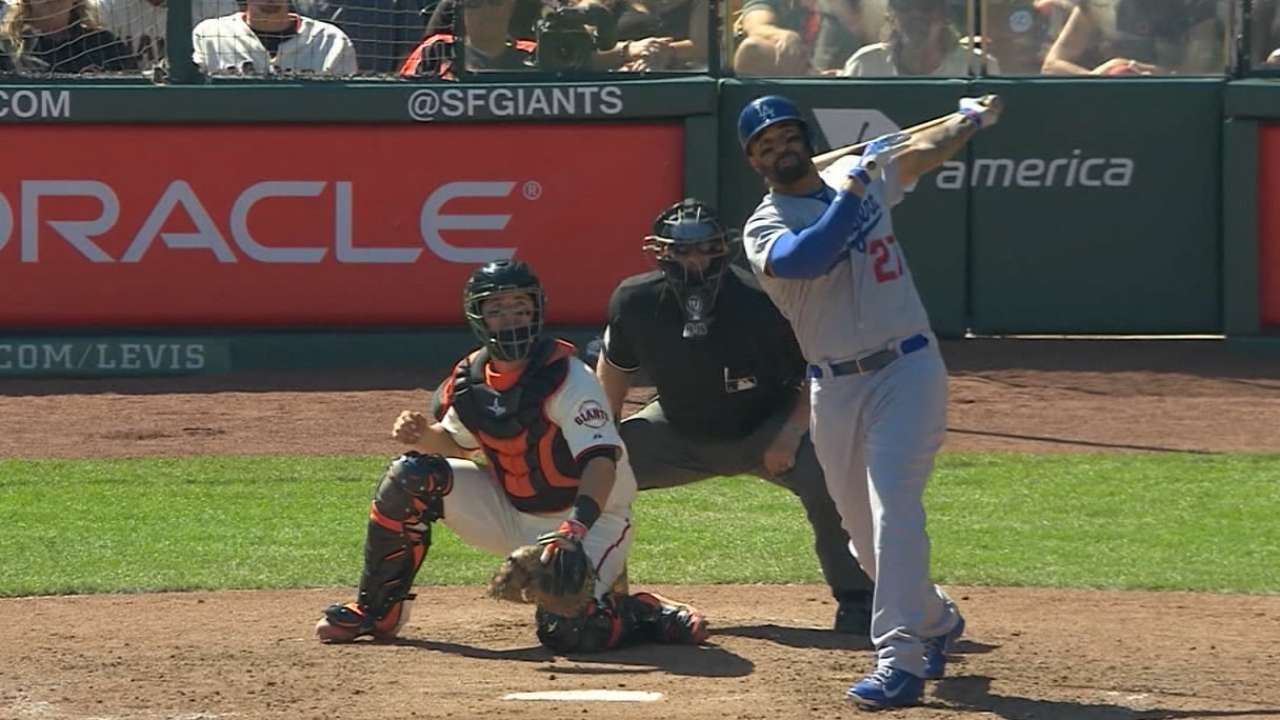 "This is where we wanted to start," Preller said of Kemp, who will play right field.
Kemp has good history at Petco Park, where he has a career .322/.372/.495 line with seven home runs and 34 RBIs in 234 plate appearances. The additions of Upton and Myers give the Padres, last in baseball in nearly every pertinent offensive category, a much-needed lift.
"I like hitting here," Kemp said. "It's a beautiful park. Maybe some of those wall-scrapers I hit to right-center won't go out, but I'll get a lot of doubles and triples."
Kemp is coming off a big second half during which he hit .309/.365/.606 with 17 home runs and 54 RBIs in 263 plate appearances. That production mirrored the kind he gave the Dodgers before hamstring and ankle injuries limited him to a combined 179 games in 2012-13.
But now, Kemp is a Padre and he likes the direction the team is taking under Preller and what it's trying to build.
"From the first conversation I had with those guys, they said they weren't done [making deals]," Kemp said. "They said they were going to go out and get some bats."
Corey Brock is a reporter for MLB.com. Keep track of @FollowThePadres on Twitter. This story was not subject to the approval of Major League Baseball or its clubs.