Putting together the All-Cuban defector team
From 1991 to now, MLB.com selects greatest at each position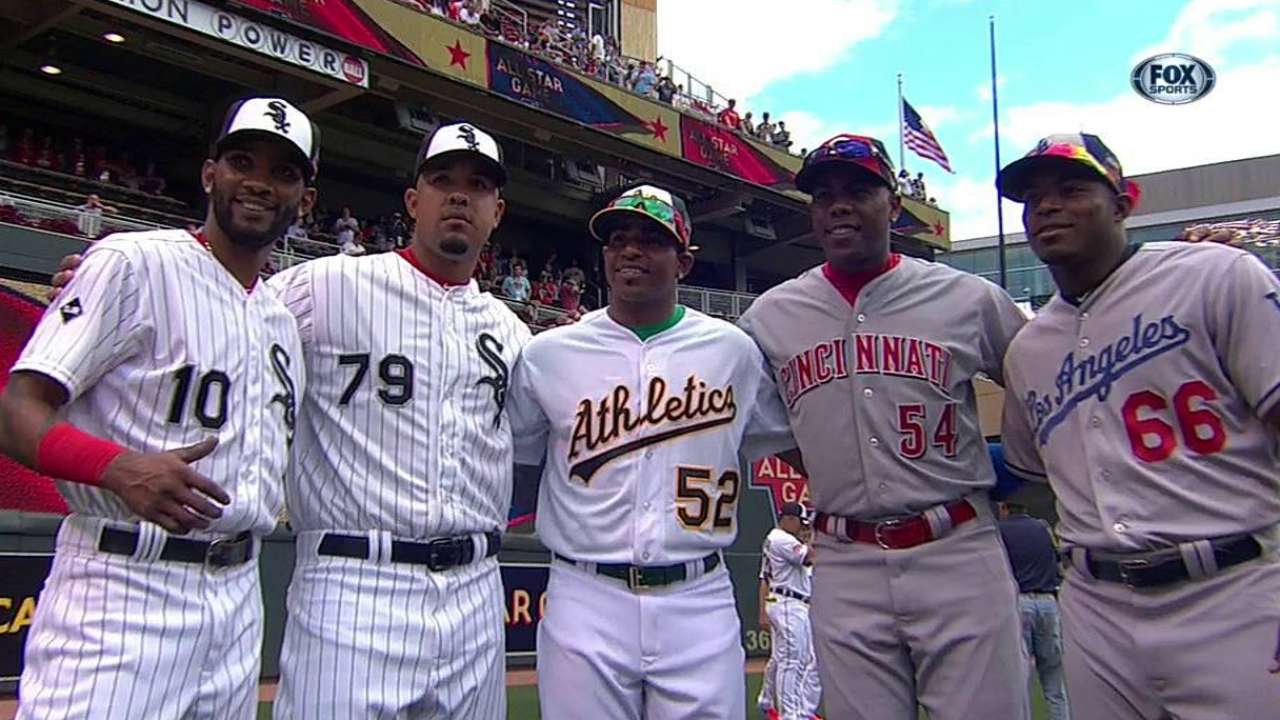 The path to the Majors has not yet changed for Cuban baseball players, but there is hope that the re-establishment of diplomatic relations between the United States and the island nation could change that. It should affect the Cuban players currently in the big leagues, and it may lead to an easier transition for those hoping to one day play in the U.S.
The new wave of Cuban talent began arriving in 1991, when pitcher Rene Arocha became the first player to defect from Cuba's national team. Since then, we've seen a number of stars make a major impact. And if you were to put together a team of the best players who defected from Cuba since then, this is what it might look like.
Starting pitcher: Livan Hernandez
Hernandez was the first Cuban player to make a big impact in the Majors, and he went on to enjoy a 17-year career with the Marlins, Giants, Expos/Nationals, D-backs, Twins, Rockies, Mets, Braves and Brewers. Overall, Hernandez finished his career with a 178-177 record and 4.44 ERA in 519 appearances.
Relief pitcher: Aroldis Chapman
Right-hander Danys Baez pitched 10 seasons in the Majors and made an All-Star team in 2005, but Chapman already has established himself as a premier talent. The flamethrowing lefty signed a six-year, $30.25 million contract in '10. Chapman has made three straight All-Star teams while racking up 113 career saves and a 2.32 ERA to go along with 430 strikeouts in only 252 2/3 innings.
Catcher: Brayan Pena
One of the few catchers to defect from Cuba, Pena has spent a decade in the big leagues. In that time with the Braves, Royals, Tigers and Reds, Pena has put together a .257/.292/.358 batting line with 23 home runs in 521 games.
First baseman: Jose Abreu
Abreu quickly proved this season that he is not simply one of the best players to ever come out of Cuba; he might be one of the most dangerous hitters in the world right now. Abreu hit .317/.383/.581 with 36 homers and 107 RBIs for the White Sox last year, winning the American League Rookie of the Year Award and finishing fourth in AL Most Valuable Player voting.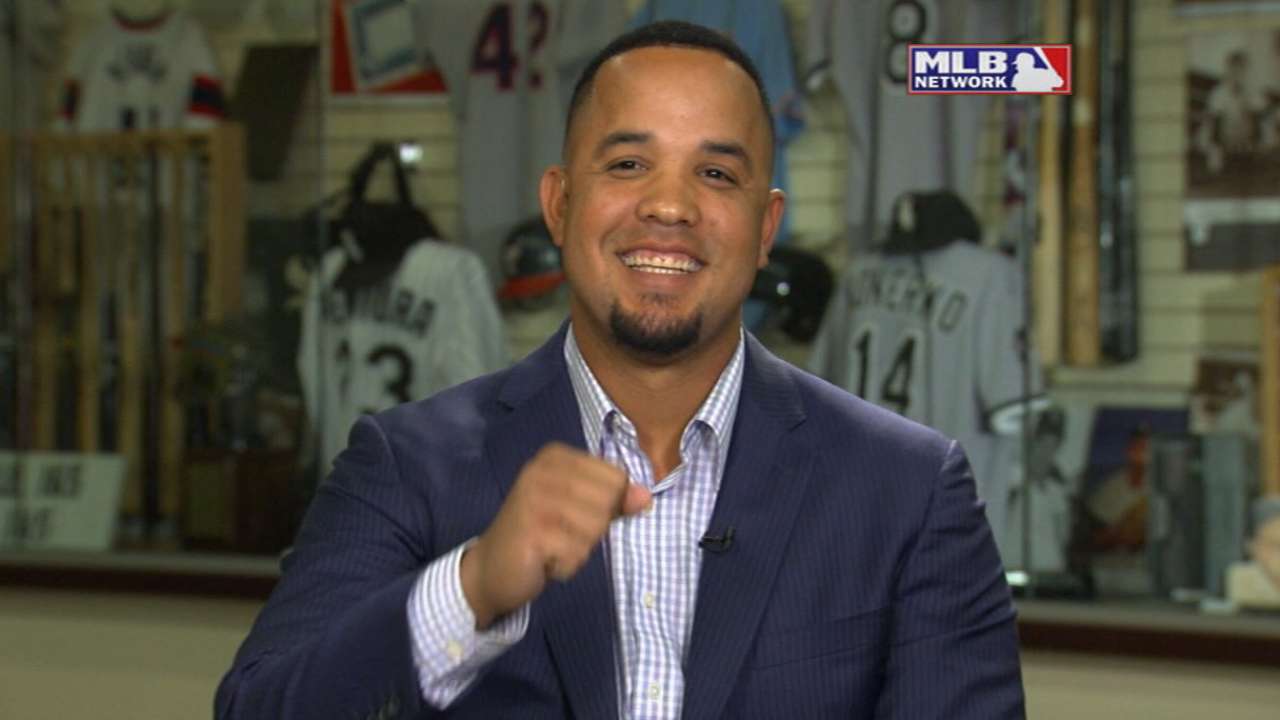 Second baseman: Alexei Ramirez
Ramirez is a shortstop by trade, but there's a relative lack of Cuban second basemen who have made it to the Majors (most of the best Cuban infielders stick at short). Ramirez played 121 games at second as a rookie in 2008, so he fits the bill. Ramirez has hit .277/.314/.405 with 99 homers and 118 stolen bases since joining the White Sox in '08.
Shortstop: Rey Ordonez
This is a competitive field that includes players such as the Rays' Yunel Escobar and young Marlins shortstop Adeiny Hechavarria, but Ordonez gets the nod for his defense and legacy. He earned three straight Gold Glove Awards for the Mets from 1997-99 and finished his career with a .246/.289/.310 batting line in nine seasons.
Third baseman: Jose Iglesias
Iglesias will no doubt be the Tigers' shortstop when he returns, but the crop of Cuban third basemen is also thin. So the nod goes to the 24-year-old Iglesias, who finished second in the AL Rookie of the Year voting in 2013, when he hit .303/.349/.386 for Boston and Detroit while playing 37 games at the hot corner.
Left field: Yoenis Cespedes
Hyped as one of the best all-around talents to ever come out of Cuba, the right-handed slugger agreed to a four-year, $36 million deal with the A's in 2012. Cespedes has delivered on his promise, hitting 71 homers over the last three years and winning back-to-back Home Run Derby titles.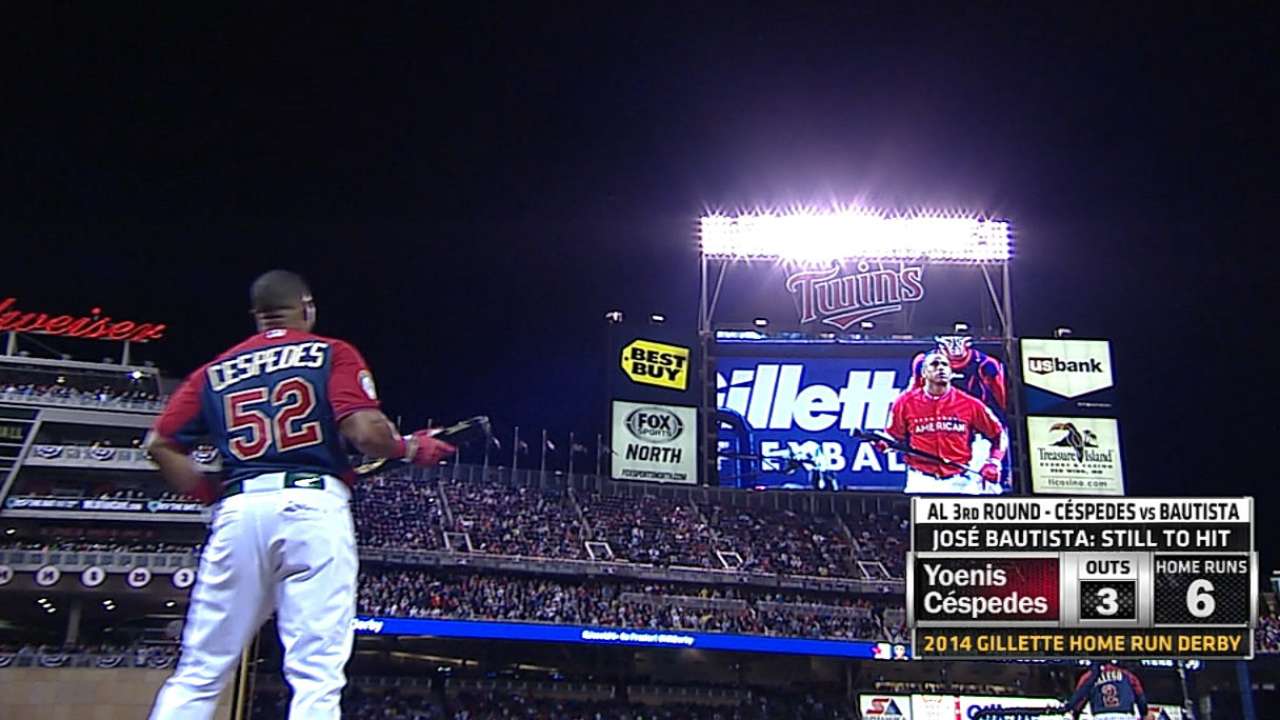 Center field: Leonys Martin
Martin gives this team a true center fielder, and he's emerged as a weapon on the basepaths the last two years with the Rangers. Martin has hit .264/.316/.375 with 70 stolen bases in parts of four seasons in Texas. Last year was his best campaign yet, as he was worth 4.6 Wins Above Replacement, according to Baseball Reference.
Right field: Yasiel Puig
Signed to a seven-year, $42 million deal in 2012, Puig has become one of the most entertaining players and personalities in the Majors. He's hit .305/.386/.502 with 35 homers and 111 RBIs for the Dodgers over the last two years while making highlight-reel outfield catches and bat flips.
Designated hitter: Kendrys Morales
Recently signed by the Royals, Morales is still a threat with the bat at age 31. From 2006-13, he hit .280/.333/.480 with 102 homers and 345 RBIs despite missing all of '11 due to injury. Morales' best year came in '09, when he batted .306 with a .924 OPS, 34 home runs and 108 RBIs in 152 games for the Angels.
Adam Berry is a reporter for MLB.com. Follow him on Twitter at @adamdberry. This story was not subject to the approval of Major League Baseball or its clubs.