Angels' six-month surge quickly erased in October
ALDS sweep at hands of Royals caps season of highs for Trout, Pujols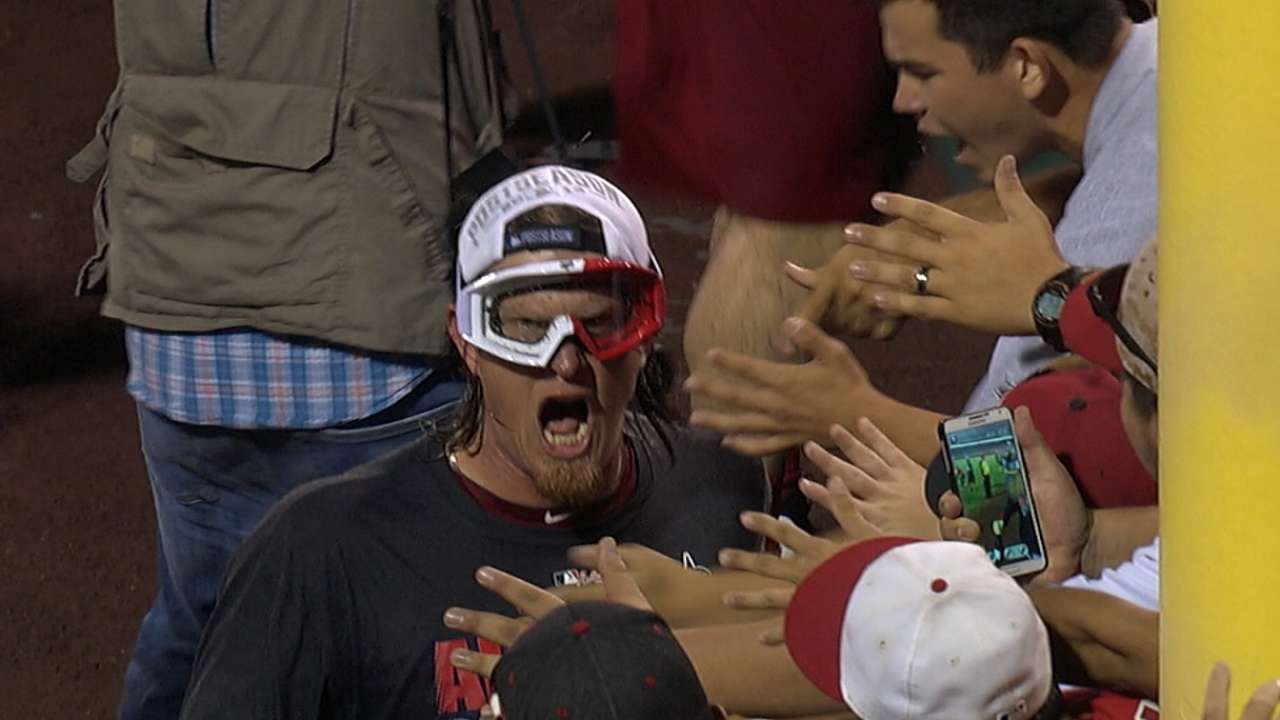 ANAHEIM -- From extending a 22-year-old Mike Trout to striking a deal with a 20-year-old Roberto Baldoquin. From a no-doubt-about-it Most Valuable Player Award to a surprising Rookie of the Year contender. From a resurgent Albert Pujols to a reeling Josh Hamilton. From acquiring Huston Street to trading Howie Kendrick. From an exhilarating six months to a disappointing October.
The 2014 calendar year was an eventful one for the Angels.
Below are the five storylines that stood out.
5. Pujols re-emerges
Perhaps it didn't compare to the dominant seasons he consistently put up in St. Louis, but Pujols returned to form after a 2013 season hindered by plantar fasciitis.
He posted a .272/.324/.466 slash line, hit 28 homers -- including the 500th of his career -- drove in 105 runs, played in 159 games and returned to playing Gold Glove-caliber defense at first base, all while keeping his lower half healthy throughout the season. Pujols turns 35 in January and the Angels owe him $189 million over the next seven years, but they believe -- hope, at least -- he can replicate a few more seasons like 2014.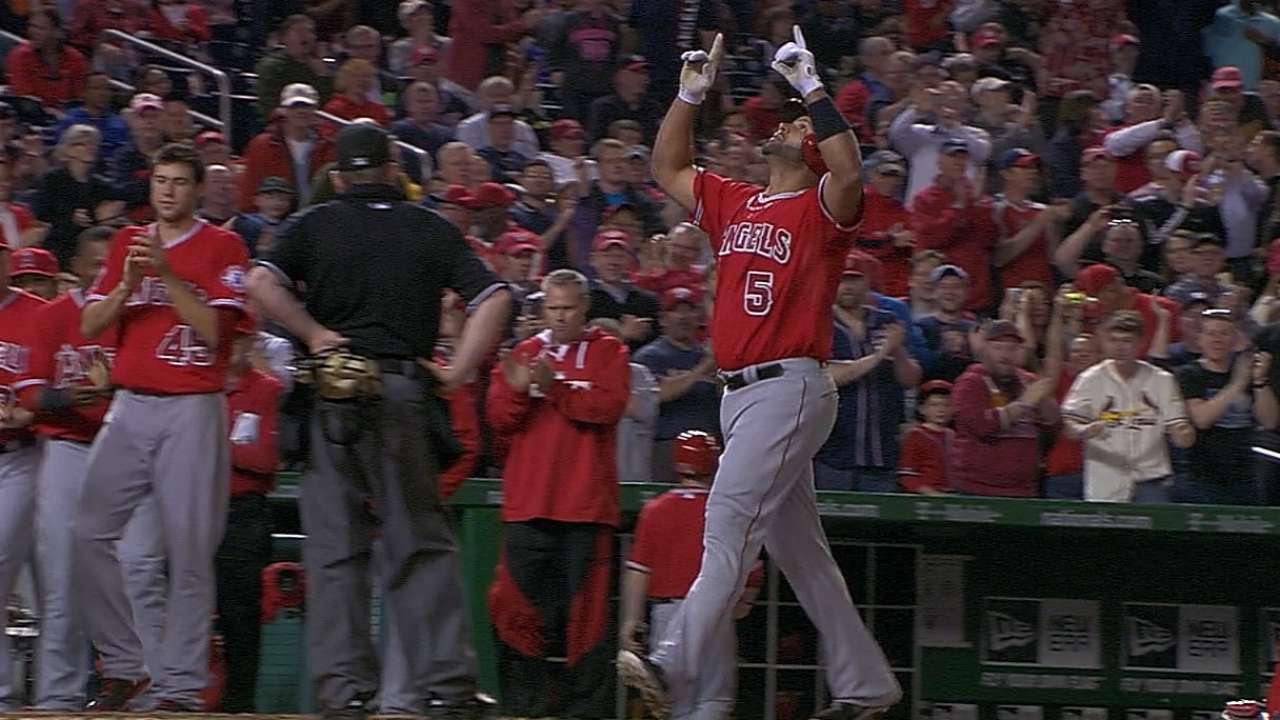 Pujols actually believes he can be better, because he feels his right knee -- surgically repaired two offseasons ago -- will finally be strong enough to let him consistently drive the ball to the opposite field.
4. Ex-Rangers struggle
Two of the lasting images from the Angels' brief playoff exit was Hamilton struggling through an 0-for-13 performance and C.J. Wilson being yanked six batters into Game 3 of the American League Division Series against the Royals, rolling his eyes as manager Mike Scioscia signaled for the bullpen.
The 2014 season was quite unkind to the former Rangers stars.
After an impressive 2013 in which he won 17 games, posted a 3.39 ERA and took his turn every five days, Wilson had his worst year as a Major League starting pitcher in '14. He posted a 4.51 ERA, led the AL in walks with 85 and went on the disabled list for the first time in six years. The 34-year-old left-hander is owed $38 million over the final two years of his contract.
Hamilton went from posting a .250/.307/.432 line over 151 games in his first season with the Angels to posting a .263/.331/.414 line across 89 games in his second season with the club. He looked great out of the gate, missed 10 weeks while recovering from left thumb surgery, struggled to hit for power upon returning and spent all of September rehabbing injuries to his right side.
The Angels owe Hamilton $90.2 million over the next three years, and with Kendrick gone, they badly need Hamilton to bounce back.
3. Angels' window is larger than it appears
The Angels have stayed away from blockbuster free-agent signings again this year, and in the process, they may have improved their staying power.
With so much money tied to aging veterans like Pujols, Hamilton, Wilson and Jered Weaver, and a budget that requires them to stay below the luxury-tax threshold of $189 million, the Angels badly need players who produce in the early stages of their prime and -- usually as a direct result -- are more cost effective.
In 2014, they took a big step in that regard.
In Spring Training, the Angels locked up Trout with a six-year, $144.5 million extension. During the season, pre-arbitration players like Kole Calhoun, Garrett Richards, Matt Shoemaker, Tyler Skaggs, Mike Morin and C.J. Cron stepped up. And in the offseason, the Angels got even younger, reaching a deal with Baldoquin to improve their middle-infield depth and trading a couple of local favorites to shore up their starting-pitching depth -- Hank Conger to the Astros for Nick Tropeano, then Kendrick to the Dodgers for Andrew Heaney.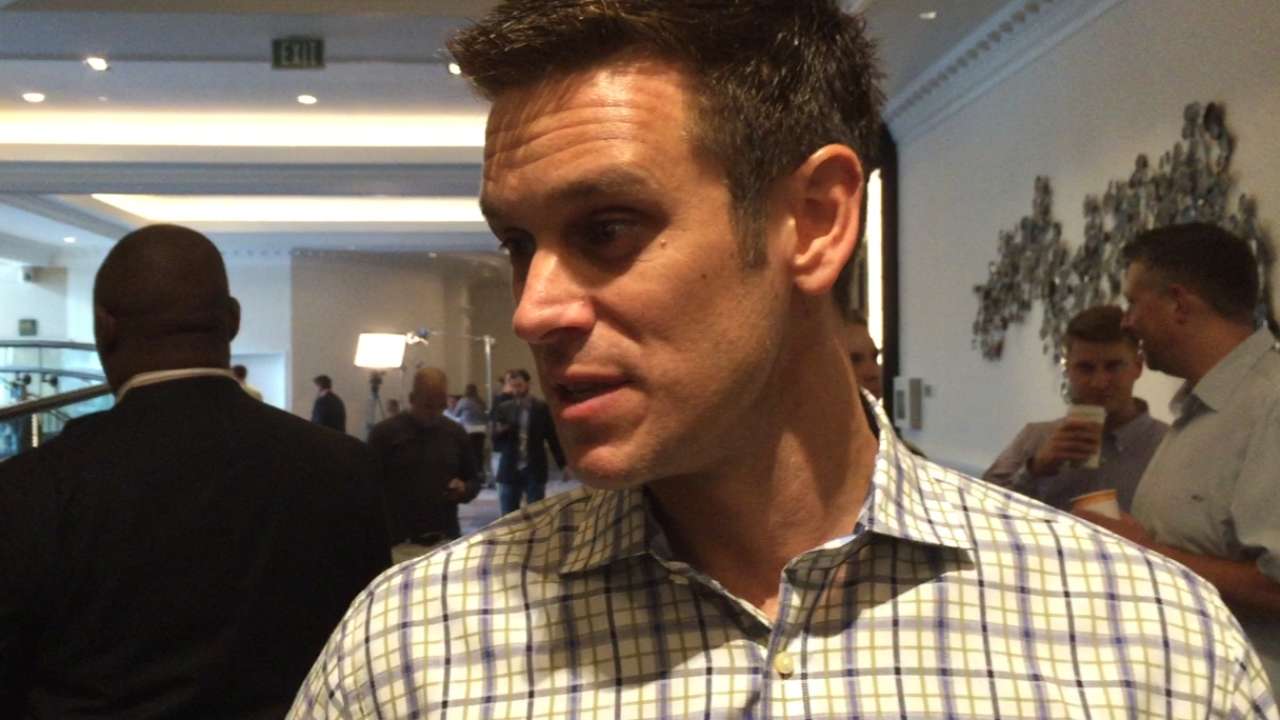 The Angels hope those players -- not to mention the ones they drafted, thanks to a first-round pick in 2014 for the first time in three years -- will offset a top-heavy payroll and a recovering farm system to keep them in contention a while longer.
2. Trout gets his due
There was no debate this time. No back-and-forth over the value of residing on a winning team, no standoff between lovers of sabermetrics and those who still lean on traditional statistics, no endless discourse over the merits of Wins Above Replacement.
Heck, there wasn't even a dissenting vote.
After back-to-back second-place finishes to Miguel Cabrera, Trout was named AL MVP unanimously. In his age-22 season, the Angels' superstar center fielder hit a career-high 36 homers, drove in an AL-leading 111 runs, batted .287, led the Majors in WAR for a third straight season and ranked fifth with a .939 OPS.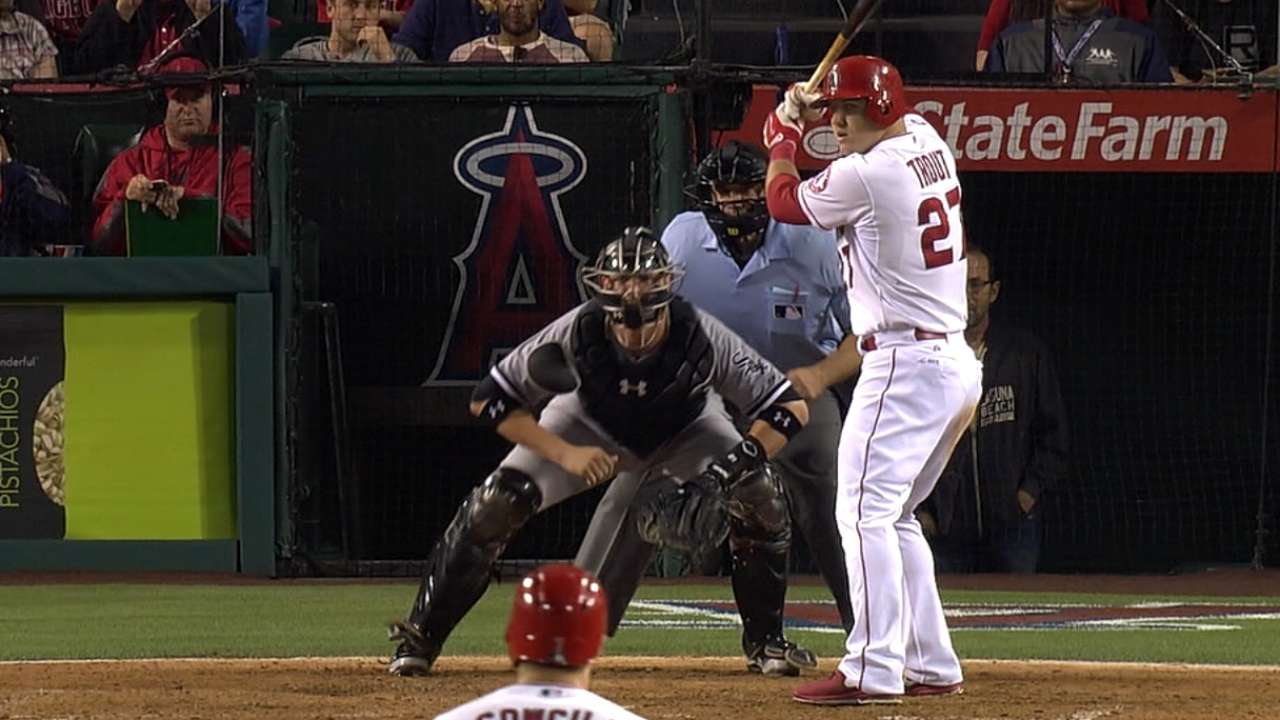 Sure, his strikeouts were up (an AL-high 184, the most ever for an MVP) and his stolen bases were down (16, after he totaled 82 the previous two years), but Trout proved once again that he is already the best all-around player in the game.
Finally, he has the trophy to back it up.
1. Thrilling summer, bitter fall
For six months, from the start of April to the end of September, no team was better than the Angels.
And then, five days into October, the quest for a championship was over.
The Angels finished the regular season with a Major League-leading 98 wins, then -- three games into their first postseason in five years -- ran into a buzzsaw, getting swept by an upstart Royals team.
The Angels' offense overcame serious injuries to Hamilton, Calhoun and David Freese to lead the Majors in runs. Their bullpen got a big boost from the midseason additions of Street and Jason Grilli to turn into one of the strongest units in the game. Their rotation was bolstered by the steadiness of Weaver and the emergence of Richards, Shoemaker and Skaggs to become a strength.
And their resolve was evident after Richards suffered a season-ending left knee injury on Aug. 20, an event the Angels rallied from by winning 20 of their next 27 games to run away with an AL West title few thought they could win.
But in Games 1 and 2 of the ALDS, they didn't hit enough. And in Game 3, they were overwhelmed by Kansas City despite striking first.
There's always next year.
Alden Gonzalez is a reporter for MLB.com. Read his blog, Gonzo and "The Show", and follow him on Twitter @Alden_Gonzalez. This story was not subject to the approval of Major League Baseball or its clubs.