Picture-perfect end to Jeter era capped Yanks' 2014
Captain's fitting farewell took sting out of campaign with no postseason trip
NEW YORK -- It was a year that started with Joe Girardi remarking that he had not been hired to put on a farewell tour, but as the Yankees' playoff chances dimmed, the mission for the final weeks of the 2014 season morphed into providing Derek Jeter with a proper and perfect sendoff.
Jeter did his part to create memories with his last swings in pinstripes, including a walk-off single to beat the Orioles in his final Yankee Stadium game on Sept. 25, but the captain surely would have traded it all for one more dance in October.
Alas, the Yankees were absent from postseason play for a second consecutive year, notching 84 victories and finishing second in the American League East.
Before we turn the calendar ahead to the new year, this is a good time to take a look back at the top five Yankees storylines of 2014 -- what went right, what went wrong, and what might be around the corner.
5. Surpassing Sandman
Embracing newfound freedom in his first year of retirement, Mariano Rivera occasionally made afternoon visits to the home clubhouse at Yankee Stadium, and the all-time saves leader was proud to see how smoothly the torch of his bullpen was passed.
Yankees managing general partner Hal Steinbrenner identified David Robertson as the closer in January, and after proving himself as an elite setup man under Rivera, Robertson showed little difficulty in meeting the ninth-inning challenge.
Robertson converted 39 of 44 save opportunities with a 3.08 ERA in his first season as a full-time closer, holding opponents to a .192 batting average and averaging 13.43 strikeouts per nine innings. Yet even more impressive was Dellin Betances, who pitched his way onto the Opening Day roster with a stellar spring and never stopped dominating hitters.
Named to the All-Star team, Betances posted a 1.40 ERA in 70 appearances and shattered Rivera's 1996 franchise record for strikeouts by a reliever, fanning 135 men in 90 innings. Betances' U-turn from floundering prospect to standout setup man swayed the Yanks to cut ties with Robertson, who scored a four-year, $46 million deal with the White Sox. Whether it's as the closer or in a setup role, the Yankees are counting on Betances for more big outs in 2015.
4. Fixing it on the fly
For a second consecutive year, the Yankees could have benefited from installing a revolving door at the entrance of their clubhouse, where a total of 58 players were asked to suit up -- a franchise record, breaking the 2013 record of 56.
From early on, general manager Brian Cashman's objective was to pull the trigger on incremental upgrades. As a result, the roster that the Yankees fielded in August and September appeared markedly different from the one that came north from Spring Training in April.
Nowhere was the shuffling more apparent than in the rotation. The Yanks had four of their five Opening Day starters land on the disabled list -- only 39-year-old Hiroki Kuroda stayed healthy for the entire season -- and used a total of 13 starters, including Brandon McCarthy, who parlayed 14 outings in pinstripes into a $48 million deal with the Dodgers.
3. Hal bets big on free agent bats
The Steinbrenners went back to their 2008-09 playbook in retooling a roster that did not qualify for postseason play, wasting little time stealing the early Hot Stove headlines. Brian McCann arrived first, inking a five-year, $85 million deal, and the Yankees had a legitimate offer on the table to re-sign Robinson Cano.
Instead, Cano jumped to the Mariners for a larger 10-year, $240 million pact, leaving the Yankees with enough cash to splurge on Jacoby Ellsbury (seven years, $153 million) and Carlos Beltran (three years, $45 million).
Ellsbury gave the Yanks pretty much what they expected, ringing up his most games (149), home runs (16) and RBIs (70) since 2011. Even though he seemed miscast for a great deal of the year as a No. 3 hitter, Ellsbury led the team in hits (156), doubles (27) and steals (39).
McCann seemed to have trouble adjusting to New York and had a first half that he described as "horrible," but seemed to be a different player after the All-Star break, including an 11-game hitting streak in July and a September in which he slugged eight homers with 18 RBIs.
Very little went right for Beltran, who had patiently waited nearly a decade for his chance to play in pinstripes but saw his season wrecked by injuries, particularly a bone spur in his right elbow that required surgery after the season.
2. Masahiro Tanaka arrives, dominates
The otherworldly numbers popped off the page: a perfect 24-0 record and sparkling 1.27 ERA with the Tohoku Rakuten Golden Eagles in Japan, soon to be joined by some other impressive figures -- seven years and $175 million, including a $20 million posting fee payable to Rakuten.
From the first nasty splitters that dropped McCann and Francisco Cervelli to their knees in Tampa, Fla., it was apparent that the Yankees had invested in something special. Big league hitters soon agreed, as Tanaka quickly emerged as the Yanks' most dominant starter, going 12-3 with a 2.27 ERA in his first 17 outings.
The storyline changed, perhaps forever, on the evening of July 8 in Cleveland. Tanaka didn't look right, allowing five runs and 10 hits to the Indians, and was sent back to New York. An MRI taken there revealed a partial tear of Tanaka's right ulnar collateral ligament.
The Yankees accepted the chance of imminent Tommy John surgery, but four specialists agreed that rehab was the proper route. Tanaka returned for two September starts and went home to Japan as a healthy player in the Yanks' eyes, and they hope that Tanaka can follow Chris Carpenter's model of being successful even after a UCL tear.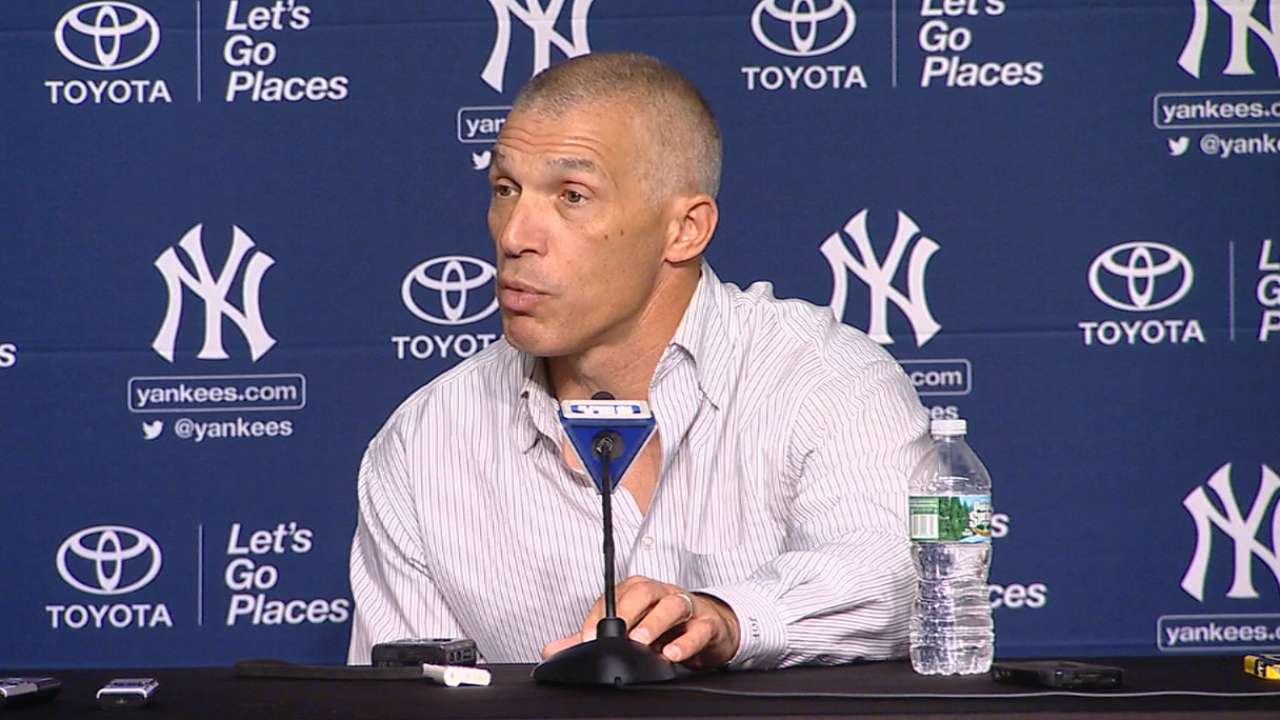 1. Farewell, Captain
The plaudits started almost instantly on the morning of Feb. 12, when Jeter gave his final approval to the Facebook post that he'd spent the previous evening crafting. The countdown was on to the final game of Jeter's illustrious career.
As with Rivera in 2013, Jeter was lauded in each of the Yanks' road stops, waving his cap and accepting gifts in pregame ceremonies that he never seemed completely comfortable with. As he'd later remark, it almost felt like attending his own funeral, but he tried to enjoy the kind words as much as possible.
It was an emotional season for Jeter, coming back from an injury-ruined 2013 in which he'd played just 13 games, and even more so for the fans. The numbers paled in comparison to some of Jeter's elite dynasty years, but Girardi resisted the outside cries to drop him from the No. 2 spot in the batting order. His rationale was that Jeter had done it before and would do it again.
So Jeter scripted one last improbable, perfect moment on Sept. 25, a couple of innings after blinking away tears at shortstop and praying that the ball wouldn't be hit to him. Jeter was content with the story to that point, but Robertson coughed up a late lead and Jeter was nudged to the plate for one more Stadium at-bat.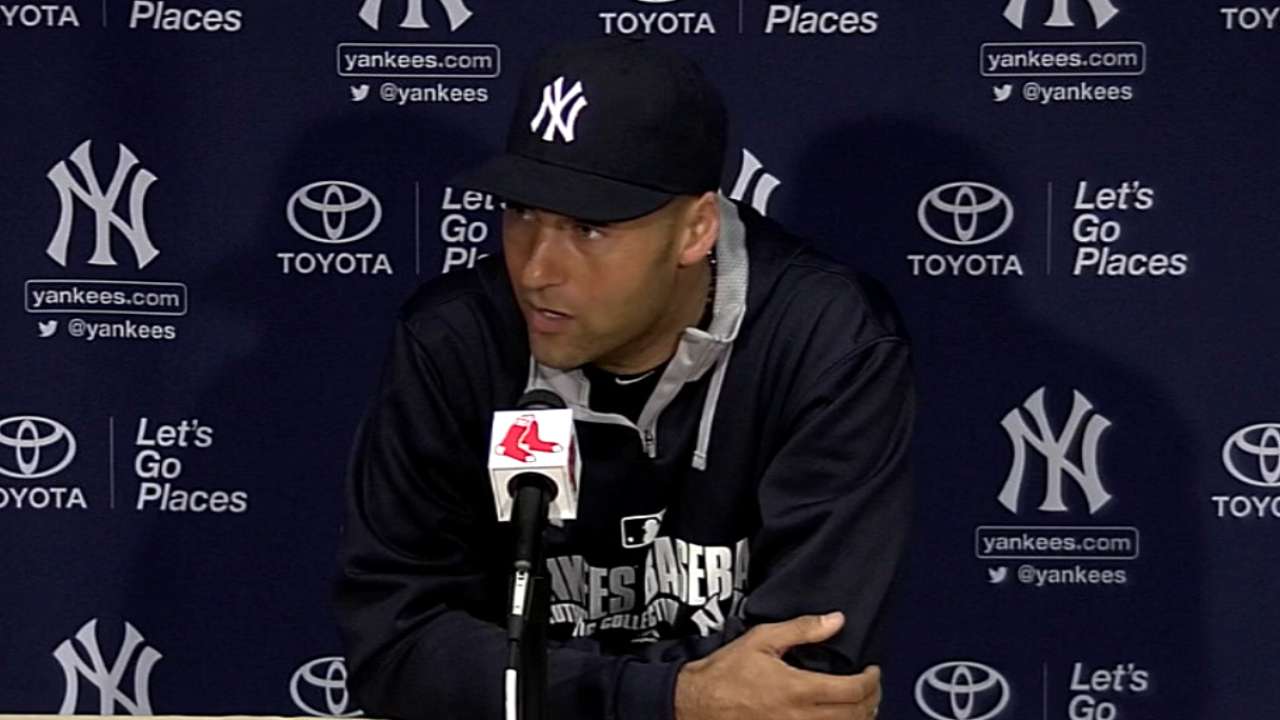 With a sellout crowd roaring and his parents, Charles and Dorothy, watching from the front row, Jeter flicked his wrists at an Evan Meek fastball and laced an opposite-field single to right field, sending pinch-runner Antoan Richardson home from second base with the game-winning run.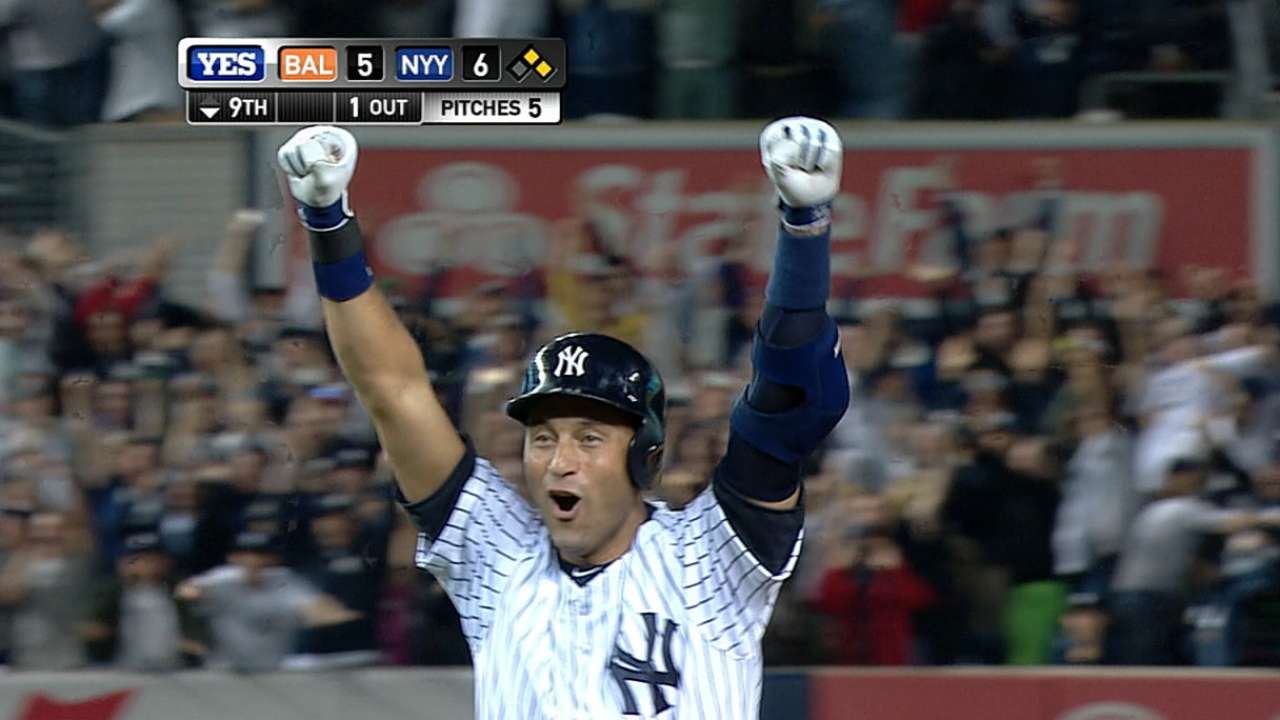 Three days later, Jeter completed his career with an infield single at Fenway Park, calling for a pinch-runner after legging out a chopper to third base. He retired with a .310 average and 3,465 hits, good for sixth place on the all-time list, plus five World Series championship rings. Enshrinement in Monument Park and the Hall of Fame are surely next to come.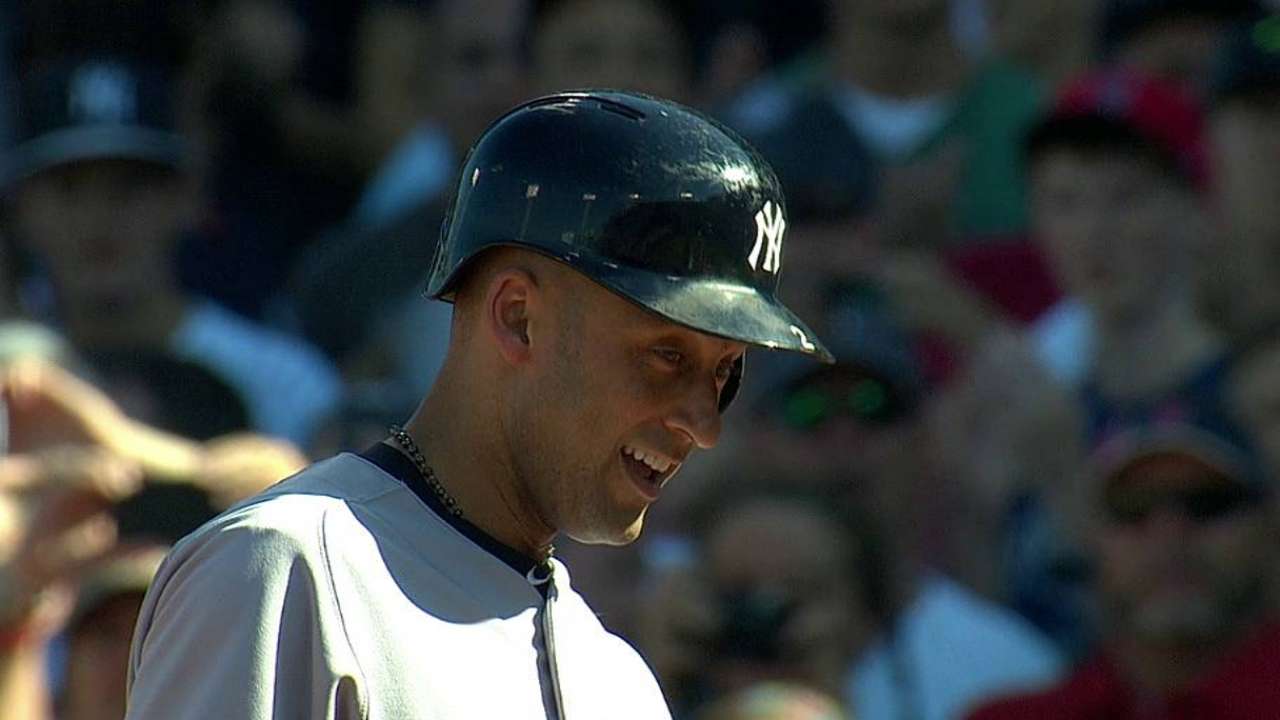 "This is all I've ever wanted to do, and not too many people get the opportunity to do it," Jeter said. "It was above and beyond anything that I've ever dreamt of. I've lived a dream since I was 4 or 5 years old, and part of that dream is over now."
Bryan Hoch is a reporter for MLB.com. Follow him on Twitter @bryanhoch and read his MLBlog, Bombers Beat. This story was not subject to the approval of Major League Baseball or its clubs.