Yankees' 2015 questions begin with rotation
With Tanaka, CC returning from injuries, NY may make another splash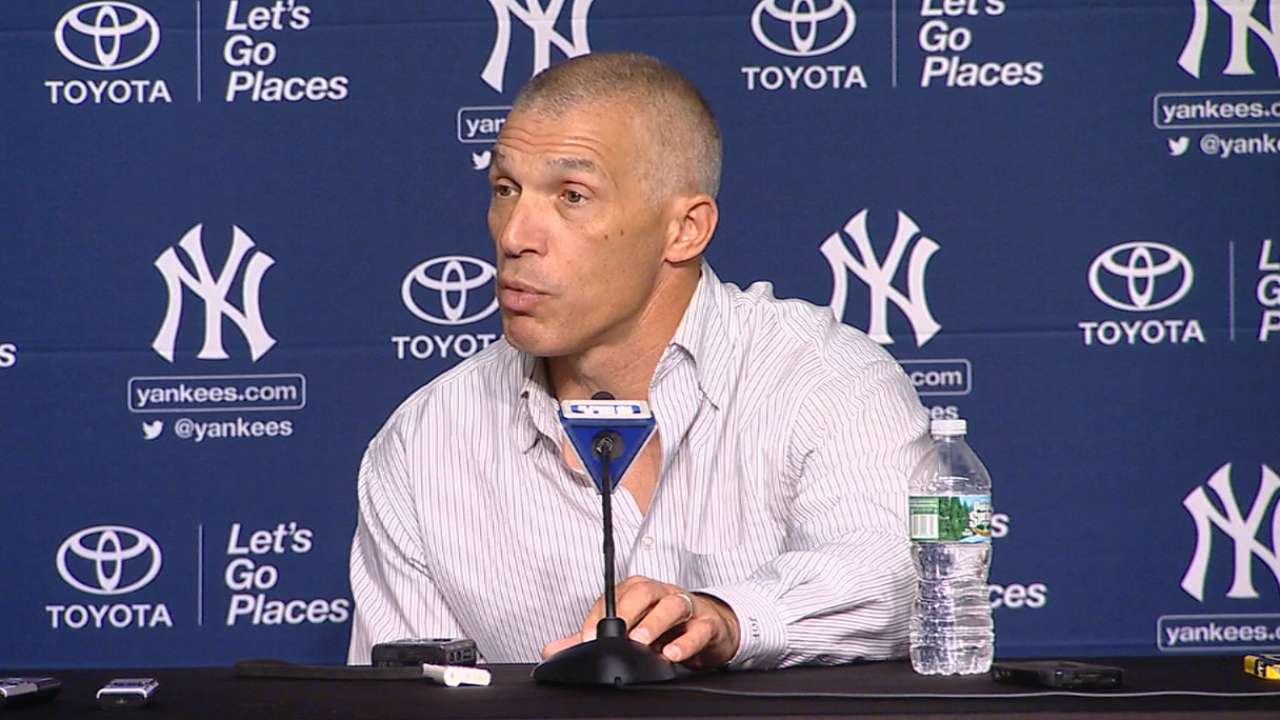 One working theory that the Yankees have voiced going into the 2015 season is that if last season were to be played out a hundred times, more often than not the results would have been better than 84 victories and a second-place finish.
That's part of the reason why general manager Brian Cashman has not pushed the panic button in reshaping the roster, one season after the Yankees spent nearly a half-billion dollars of Steinbrenner money to bring in stars like Brian McCann, Jacoby Ellsbury, Carlos Beltran and Masahiro Tanaka.
There have been upgrades and additions along the way: Chase Headley flipped a two-month audition into a four-year, $52 million contract, Nathan Eovaldi and Didi Gregorius are now on the roster as young, promising players on the rise, and left-hander Andrew Miller provides a dominant arm for the bullpen. On New Year's Day, the club continued to upgrade the bullpen, dealing for right-hander David Carpenter and lefty Chasen Shreve.
The Yankees have brought back other members of the '14 club in left-hander Chris Capuano and outfielder Chris Young, while trading for left-hander Justin Wilson. They'll also have Alex Rodriguez back on the roster following his season-long suspension.
For what it's worth, the Yanks' Pythagorean win-loss record was calculated to be 77-85 in 2014, so manager Joe Girardi deserves credit for a job well done. Will it be enough to bring back a similar roster, or -- as some rival executives believe -- are the Yankees gearing up to make yet another a big winter splash?
Here are the Yankees' 10 biggest questions as they head into 2015:
10. Do they need to hold their breath with Tanaka?
Two September starts -- a good one against the Blue Jays and a clunker against the Red Sox -- comprises all of the information that the Yankees have about where Tanaka is after rehabbing his partially torn right ulnar collateral ligament. It is better than nothing, of course, and the Yankees were pleased that Tanaka was able to snap off a few splitters against big leaguers and return to Japan healthy.
It's their hope that a few months of rest will permit Tanaka to recapture the form he showed in his first 17 starts of an All-Star season; if so, he should be the Yanks' ace. Chris Carpenter is a good example of a pitcher who continued to have success after a UCL tear, but the Yanks can't let their guard down. They know that any one pitch could be Tanaka's last of the year.
9. Can they count on CC Sabathia as a workhorse, and if not, who can be?
It's no secret that the Yankees worked Sabathia hard in his first four seasons, continuing to log miles after he was similarly pushed by the Indians and especially by the Brewers. Sabathia never complained; he loved having the ball in his palm, and he rewarded the Yanks with a World Series title and three All-Star selections.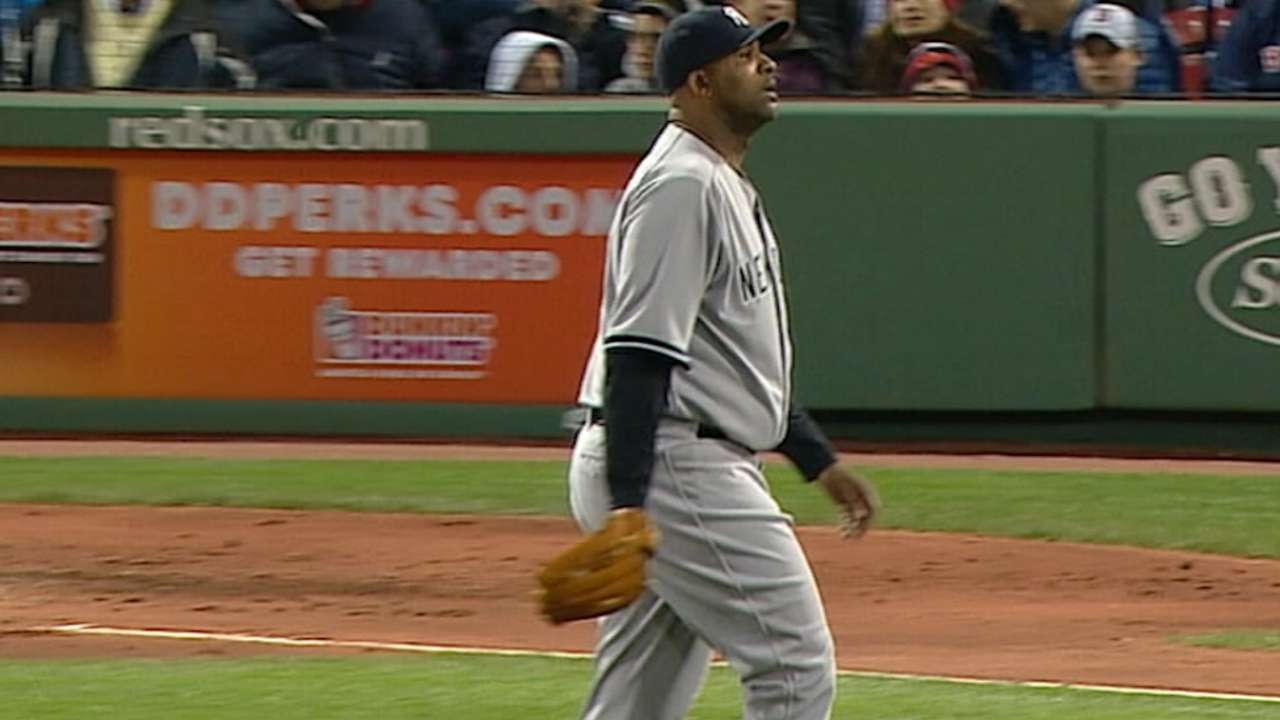 That wear and tear has showed up over the last two years, as Sabathia posted a career-worst 4.78 ERA in 2013 and was limited to just eight starts in '14. Sabathia had arthroscopic surgery on his degenerative right knee in July and has been working out regularly at Yankee Stadium, saying that he feels close to 100 percent and wants to take on a full 32-start workload in '15.
The Yankees would welcome that, given the number of other pitching questions they have. In addition to Tanaka, Michael Pineda's Yankees time has been either dominant or disabled, and they won't have Ivan Nova back until at least May. Eovaldi and Capuano project to fill out the rest of the rotation.
8. Are the Yanks really out on Max Scherzer and company?
Which brings us to this point -- the rotation would look more solid with a name like Scherzer at the front, or even a pitcher like James Shields to muscle things up. Thus far, Yankees people are saying they have no interest in another big pitching deal after cutting big checks to Sabathia and Tanaka, and they never dipped in the Jon Lester pool. Even Brandon McCarthy's four-year, $48 million deal with the Dodgers was too rich for the Yanks' blood.
Still ... can you ever truly count the Yankees out for a big free agent? Agent Scott Boras dangled Scherzer in front of the Yanks' eyes at the Winter Meetings, opining that the Yanks need 50 wins and 600 innings from their top three pitchers to get where they want to be. Do they already have that?
7. Who should be the next closer?
It's difficult to believe, but the Yankees will be installing their fourth full-time closer in four years in 2015. Someone is going to follow Rafael Soriano (2012), Mariano Rivera (2013) and David Robertson (2014), and thus far it looks like Dellin Betances might be the best in-house fit.
Betances was lights-out as an All-Star setup man in '14, shattering Rivera's 1996 franchise record for strikeouts by a reliever, fanning 135 men in 90 innings. He said that he would embrace the opportunity to close, as would Miller, who excelled last year for Boston and Baltimore and is tough on both lefties and righties.
The Yanks have other choices to help out, including Wilson, but Girardi would like to define roles by the end of the spring. Betances and Miller are the likeliest choices to scoop up the ninth inning, and club officials believe the next Yankees closer is already on this roster.
6. Which McCann will the Yankees have behind the plate?
When the All-Star balloting updates came out each week in 2014, McCann shook his head at the support he was receiving in the race for AL catcher -- not leading, mind you, but still within striking distance. Battling the Mendoza Line at the time, McCann said he didn't deserve to be on that list, and later called his first half "horrible."
McCann found a reset button of sorts at midseason and came back in a much better frame of mind, reaching base in 19 straight July games and slugging eight of his 23 homers in September. That's a lot closer to the frontline catcher that the Yankees thought they were getting, and they hope that McCann's adjustment period is completely in the rearview mirror as they go into the second year of a five-year contract together.
5. What'll be on the back of Mark Teixeira's baseball card?
It was only a few years ago that Teixeira would confidently speak about believing that the back of his baseball cards would have at least 30 homers and 100 RBIs by season's end. He hasn't made it there since 2011, and ongoing issues with his surgically repaired right wrist made that production impossible in 2014, when he posted a disappointing .216 batting average.
Pointing to the past performance of players like Jose Bautista and David Ortiz, both of whom bounced back from similar wrist ailments, Teixeira and the Yankees believe that better production will be on display in '15. Teixeira has acknowledged that he's on the back nine of his career, and repeating his terrific 2009 numbers is probably out of the question. The Yanks would be happy just to have him in the lineup regularly, hitting for power and providing Gold Glove Award-caliber defense.
4. Will the "real" Beltran show up?
Remember the offseason of 2004-05? The Yankees were still reeling from watching the Red Sox reverse the curse when Beltran shook hands with George Steinbrenner in Tampa, Fla., telling The Boss he wanted to be a Yankee. Steinbrenner liked Beltran, but he wanted pitching (Randy Johnson, Carl Pavano and Jaret Wright) more. Besides, the Yanks already had Bernie Williams in center field.
So Beltran had an up-and-down marriage with the Mets and finally slugged his way to a World Series appearance with the Cardinals in 2013, setting up an opportunity to wear the pinstripes he coveted. The 37-year-old's body didn't cooperate with that nice storyline, and now the Yankees expect Beltran will return from right elbow surgery to be the everyday right fielder they envisioned. If not, the DH role will be crowded.
3. Time to have youthful "second" thoughts?
Headley's four-year, $52 million contract to play third base didn't only solidify A-Rod as a full-time DH going forward, it also freed Martin Prado from being the starting third baseman. Prado did play 17 games at second base for the Yanks in 2014 and looked sharp there, but the club chose to flip him to the Marlins in a five-player deal on Dec. 19.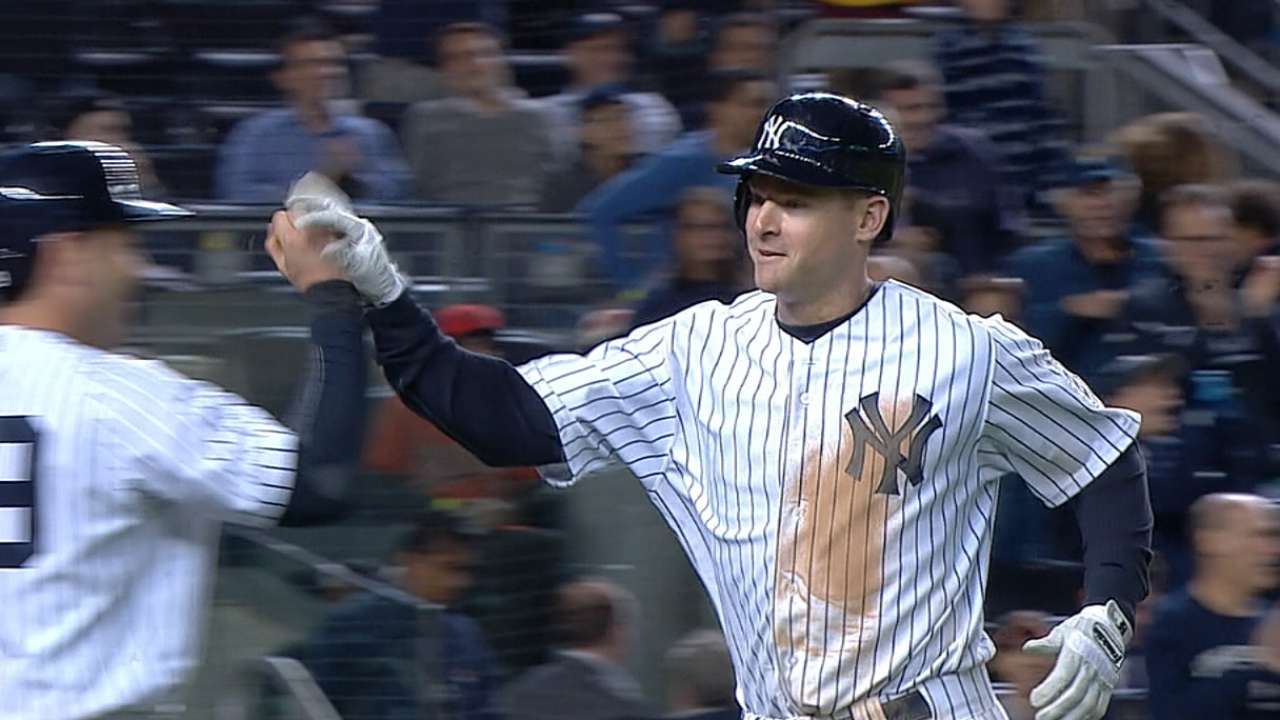 That opens the door for a look at young prospects Rob Refsnyder and Jose Pirela, who are still in line to compete for roster spots during the spring. Both players performed well enough to be on the radar last year, and Pirela even got a cup of coffee in September. The Yankees want to give a good look to Refsnyder in particular, who posted a .300/.389/.456 split line last year at Triple-A Scranton/Wilkes-Barre.
2. How will Gregorius handle following Derek Jeter?
Gregorius said all the right things after his trade to the Yankees, mentioning how he'd always wanted to play in New York and watch Jeter play; now, he gets to follow in his footsteps and take over as the everyday shortstop. In Gregorius, the Yanks feel that they have a young (25) and athletic performer to solidify the middle of the infield, and Gregorius' defensive range up the middle should make the pitching staff happy.
There are legitimate questions about his bat, and though the Yanks believe there is more in the tank, they still plan to have Gregorius platoon with Brendan Ryan to begin the year. Gregorius has hit just .184 in 163 career at-bats vs. lefties, though he seems eager to take on that challenge in the future.
1. A-Rod is back -- now what?
The final out of the World Series reinstated Rodriguez to the active roster, and it's only a few short weeks before the satellite trucks park at the Himes Avenue Minor League complex in hopes of recording every practice grounder hit in Rodriguez's direction. With A-Rod coming off a season-long suspension, having played just 44 games in the last two years and turning 40 in July on a pair of repaired hips, Cashman said that the Yankees could get "every color on the rainbow" from the veteran.
There is no urgency to push him back into duty as an everyday third baseman because of the Headley signing, but it would be helpful if he's capable of backup duty there. Rodriguez and Girardi plan to talk about some first-base reps in the spring, but from the sounds of everything right now, the Yankees are fine with the idea of Rodriguez as their full-time designated hitter in 2015.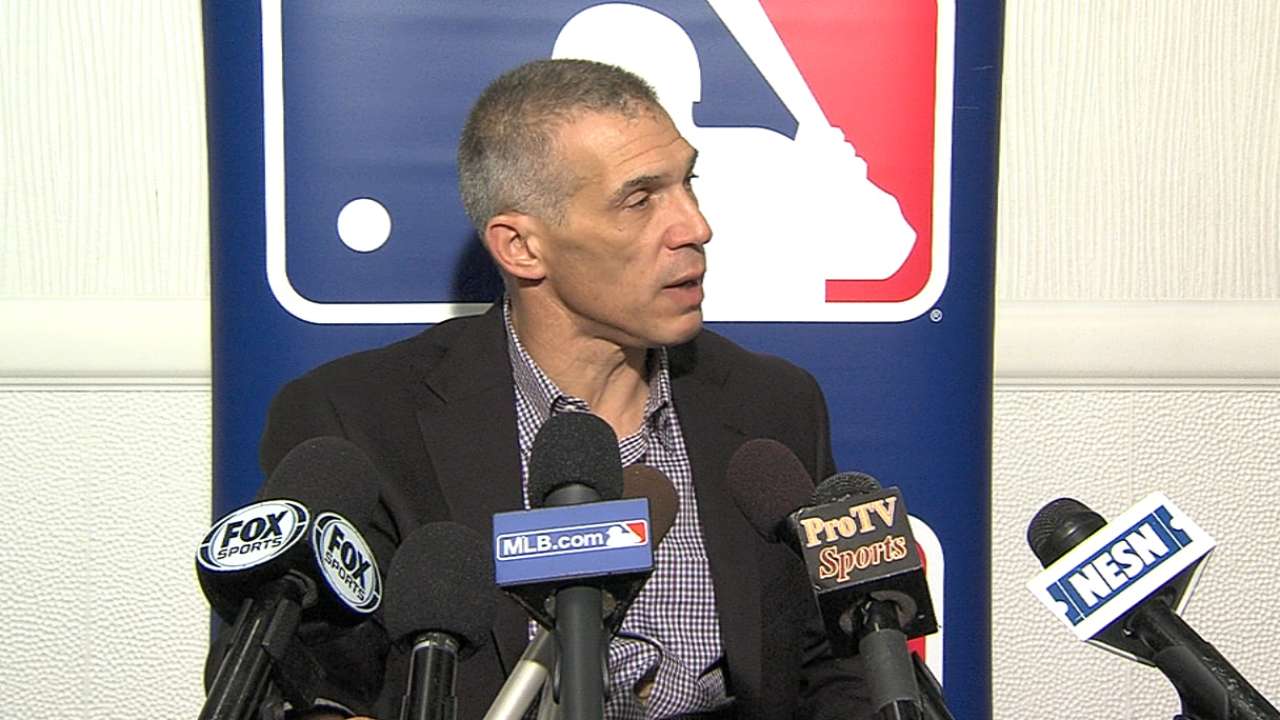 Only a full spring will determine what to expect of Rodriguez's bat speed and health, but the Yanks have little doubt that he'll arrive in his best possible condition. That's never been an issue with him. Even in those last weeks of 2013, when Rodriguez was nowhere near his MVP-level production, he managed to post a .771 OPS in 156 at-bats. That's a number that would have been quite welcome in the '14 Yankees lineup.
Bryan Hoch is a reporter for MLB.com. Follow him on Twitter @bryanhoch and read his MLBlog, Bombers Beat. This story was not subject to the approval of Major League Baseball or its clubs.