MLB.com Columnist
Richard Justice
Padres go for gold in blockbuster deal for Myers
Rays, Nationals jump in trade mix with hopes of future gains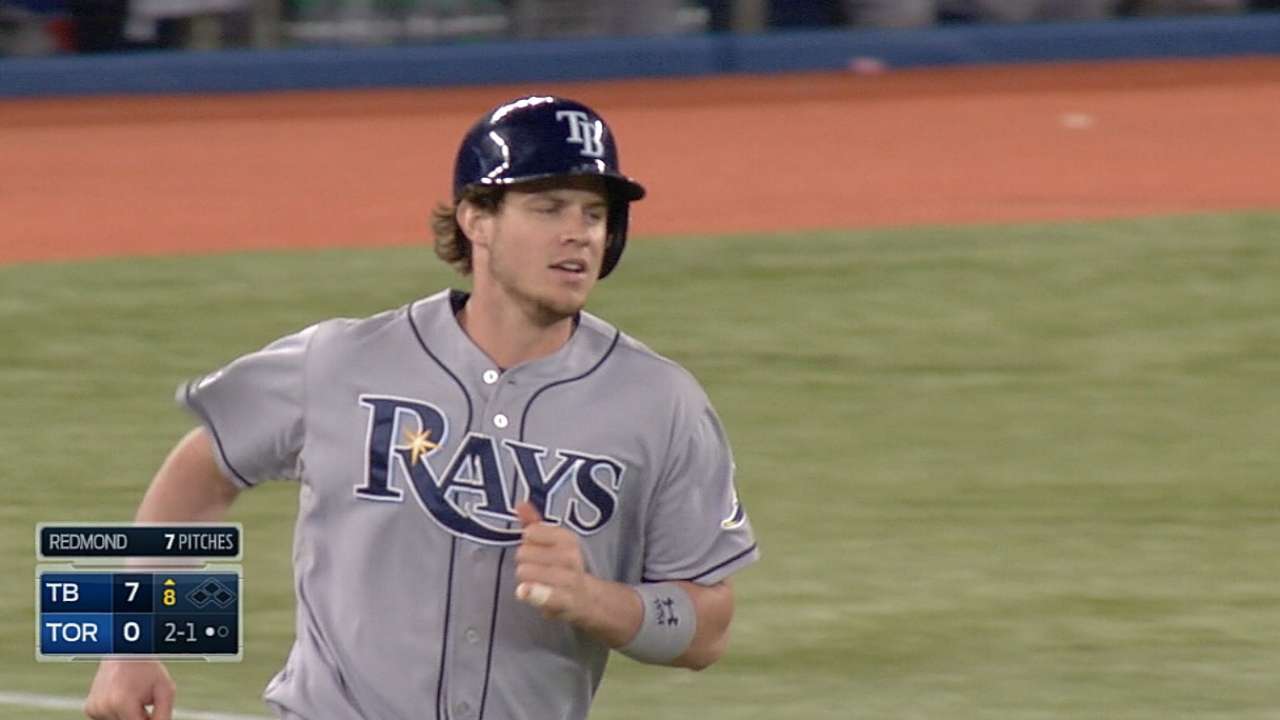 Right there at the beginning, the Rays found out Wil Myers had a chance to be special.
In just his sixth game, Myers stepped to home plate in the top of the sixth inning with the bases loaded and the Rays trailing, 3-1, at Yankee Stadium. There in front of a packed house, with the crowd roaring, he fell behind CC Sabathia, 0-2.
Myers was 22 years old. He was toast. What was he going to do with Sabathia at 0-2?
Looking back on it, the Rays will tell you that Sabathia did not make a particularly bad pitch. He threw a fastball on the outside part of the plate, not a great pitch, but not a bad one, either.
Was Myers jumpy? No. Anxious? Absolutely not. Instead, he waited, waited, waited, and at the last moment, was dead on Sabathia's fastball on the outside half of the plate.
And this kid, this 22-year-old who could have passed for 17, silenced Yankee Stadium with a towering grand slam to right field.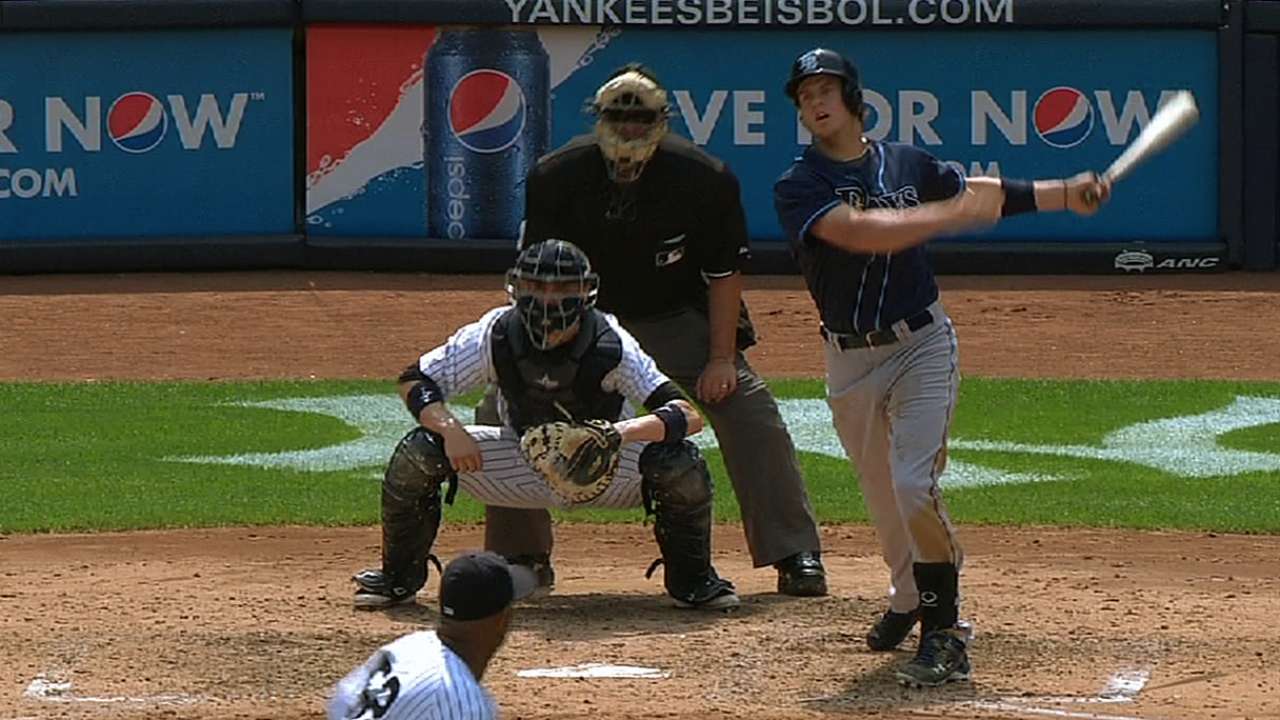 Welcome to the big leagues, kid.
Afterwards, Myers seemed like the least surprised guy on the planet. Actually, he didn't seem to be feeling much one way or the other. He nodded and smiled and laughed some. Myers just did what he'd always done. He wasn't overwhelmed by the moment.
That at-bat was a springboard to a tremendous rookie season, one that got Myers voted the 2013 American League Rookie of the Year. And the San Diego Padres have looked at it a few dozen times the last couple of days as they worked toward acquiring him from the Rays.
They did just that on Wednesday by completing a massive three-team, 11-player deal with the Rays and Nationals. If these things came with guarantees, they wouldn't be nearly as much fun.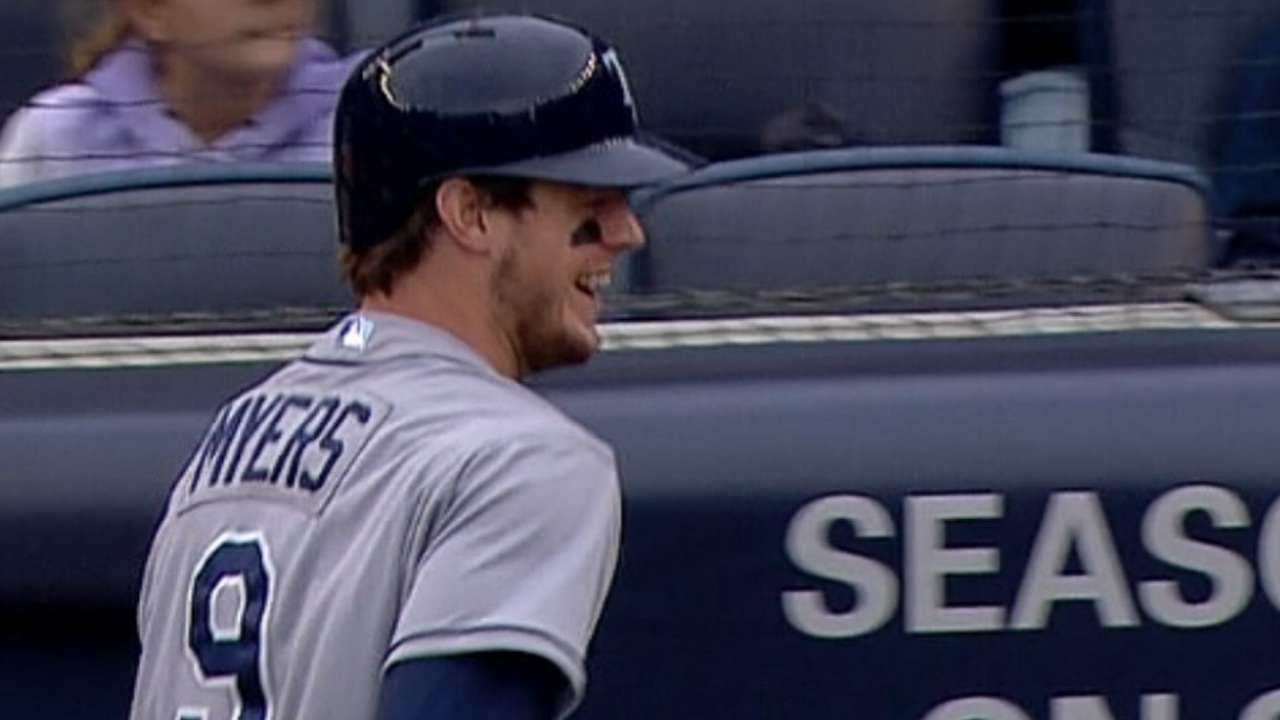 The best thing about this one is that these three general managers -- A.J. Preller of the Padres, Matt Silverman of the Rays and Mike Rizzo of the Nationals -- were absolutely fearless in completing it.
That it was such a large, complicated deal, that it included so many players with so much potential, didn't bother any of these guys. In the end, all three of them walked away with what they wanted.
If it looks different a year from now or three years from now, so be it. It has been that kind of offseason in baseball. With so many teams closely bunched together in talent, there's pressure for every executive to make the one move or the three moves that gets his team into the heart of the matter.
So let's unwrap the highlights.
The Padres were 30th in runs last season. In a season when a very solid pitching staff emerged, the club knew it had no chance to compete until it added some offense.
Padres get:
Wil Myers, OF (TB)
Ryan Hanigan, C (TB)
Gerardo Reyes, RHP (TB)
Jose Castillo, LHP (TB)
Rays get:
Steven Souza, OF (WSH)
Rene Rivera, C (SD)
Jake Bauers, 1B (SD)
Burch Smith, RHP (SD)
Travis Ott, LHP (WSH)
Nationals get:
Joe Ross, RHP (SD)
Player to be named (Trea Turner, SS) (SD)
First, Preller reached an agreement to acquire Matt Kemp from the Dodgers. Like Myers, he has some health issues. Like Myers, he has an incredibly high upside.
If Kemp is healthy, he can be the hitter that other teams build their game plans around, the hitter who makes every other guy in the lineup better.
Myers, 24, is potentially one of those guys, too. He played just 88 games his rookie year, and with 23 doubles, 13 home runs and an .831 OPS, he had the look of a franchise-changing player.
Myers was a shadow of the 2013 version of himself in 2014. A sore right wrist limited everything he did and was responsible for his playing just 87 games and hitting only .222.
This trade won't be completed until the Padres look carefully at his wrist. If he's healthy, Myers can be one of those special players, and the Padres will have control of him for five more seasons.
That the Padres would surrender five players, including some of their best prospects, tells you how convinced they are that Myers will do great things.
As for the Rays, they made the trade because they have other priorities. Don't think this means they're willing to take a step back and reconstruct their roster.
They are not. Instead, Tampa Bay found a deal that made sense. The Rays made it because they got five players, including four between the ages of 19 and 24.
They made this deal because they're going to flip two of those kids to the Nationals for outfielder Steven Souza Jr.
Souza is 25 years old and has put up nice numbers (1.022 OPS) in 96 games at Triple-A. The Rays think he might be a solid, middle-of-the-order hitter, a guy who just might contribute to winning immediately.
Again, the Rays do not look at this deal as signaling that they're giving up on 2015. With Alex Cobb and Chris Archer at the front of their rotation, with Evan Longoria in the middle of their lineup and with a reliable bullpen, the Rays believe they're going to be far better than people think.
The Nationals? They probably have the National League's best team. They're so set that Souza wasn't going to play in 2015. They made this deal with an eye on the future, getting 21-year-old shortstop Trea Turner and 21-year-old right-hander Joe Ross.
Again, this is a trade that may look different a year from now and different still three years from now. Yes, we intend to keep score.
Has there ever been an offseason more interesting than this one? There has been so much movement that we won't know the winners and losers for months and months. OK, who has next?
Richard Justice is a columnist for MLB.com. Read his blog, Justice4U. This story was not subject to the approval of Major League Baseball or its clubs.